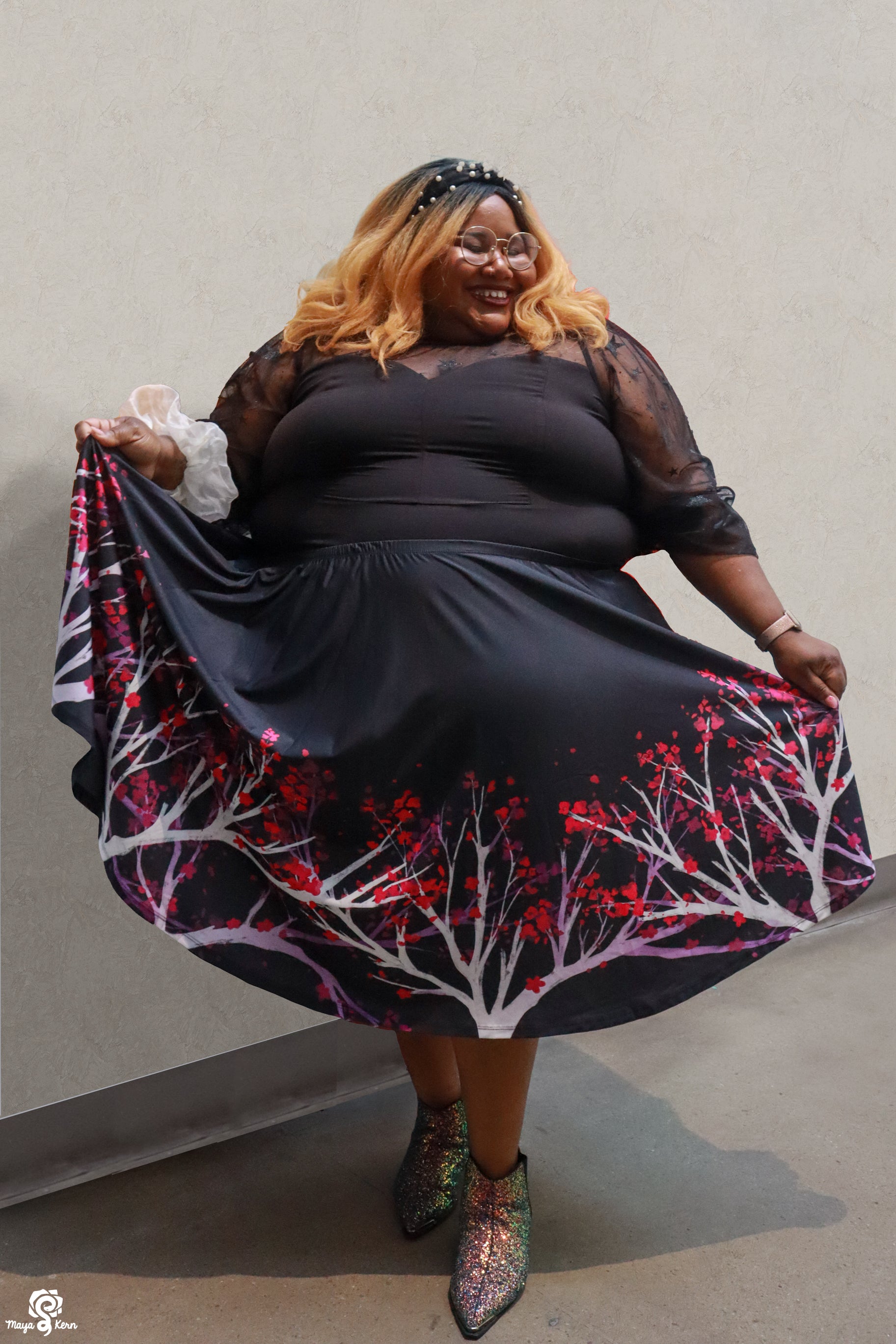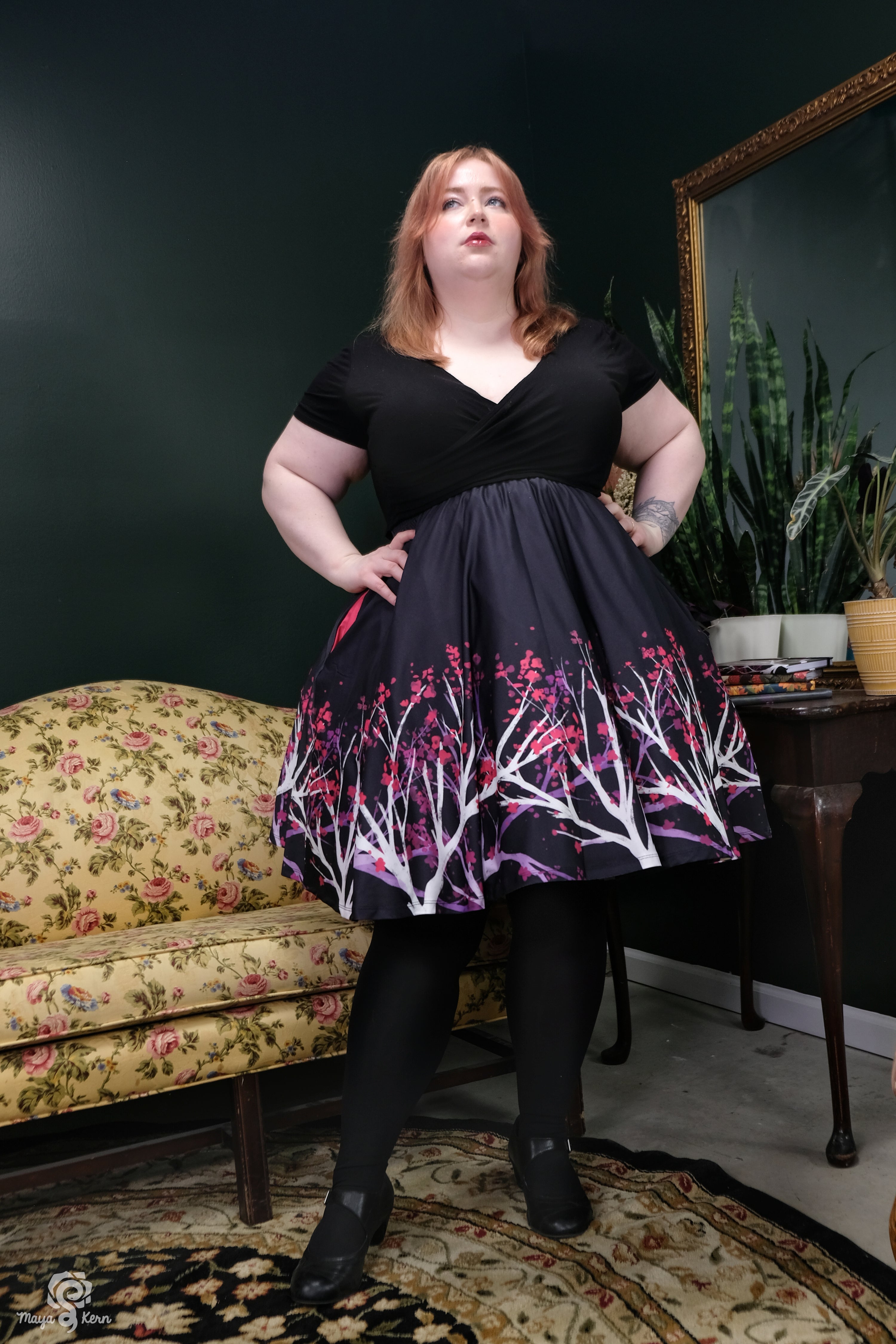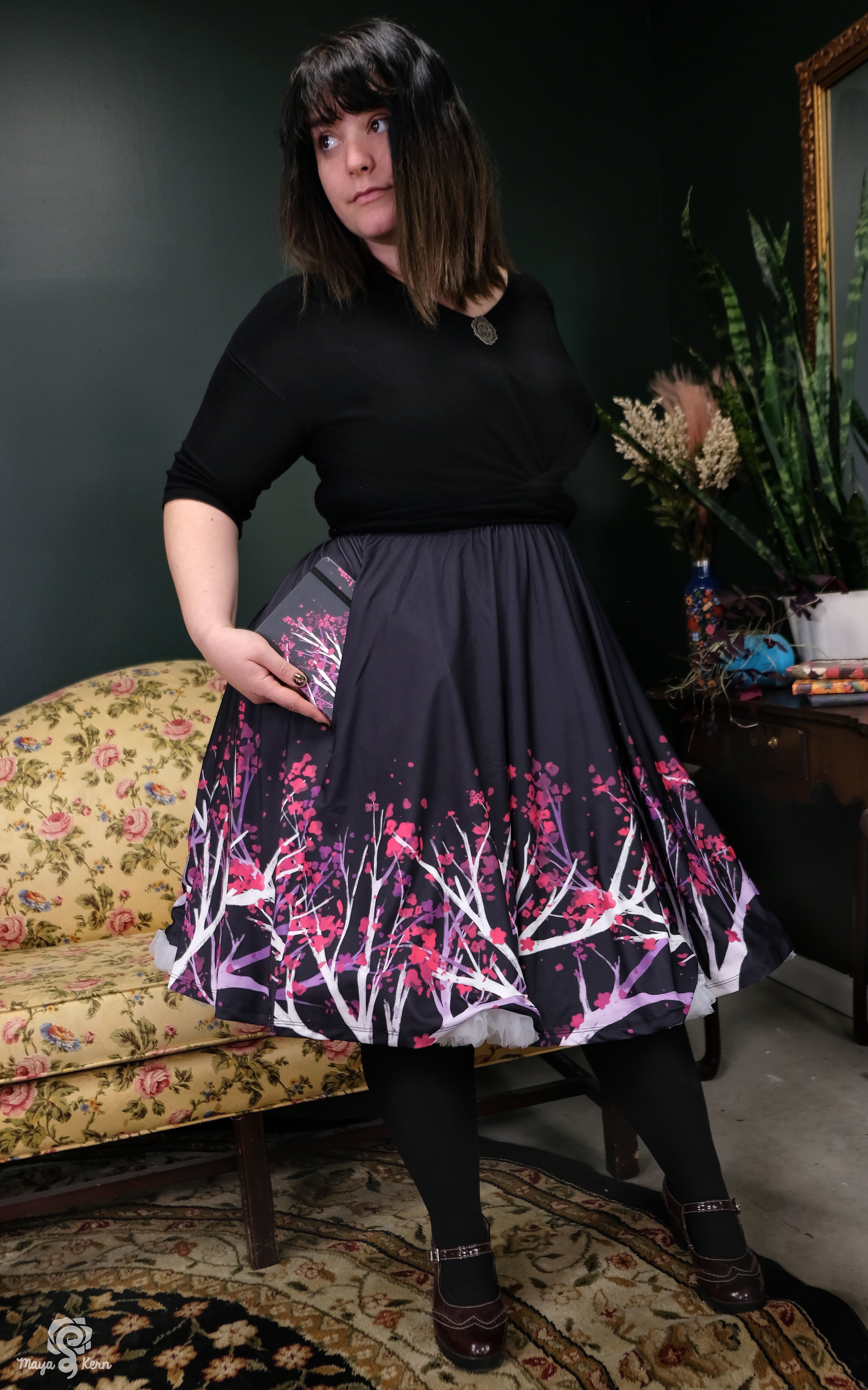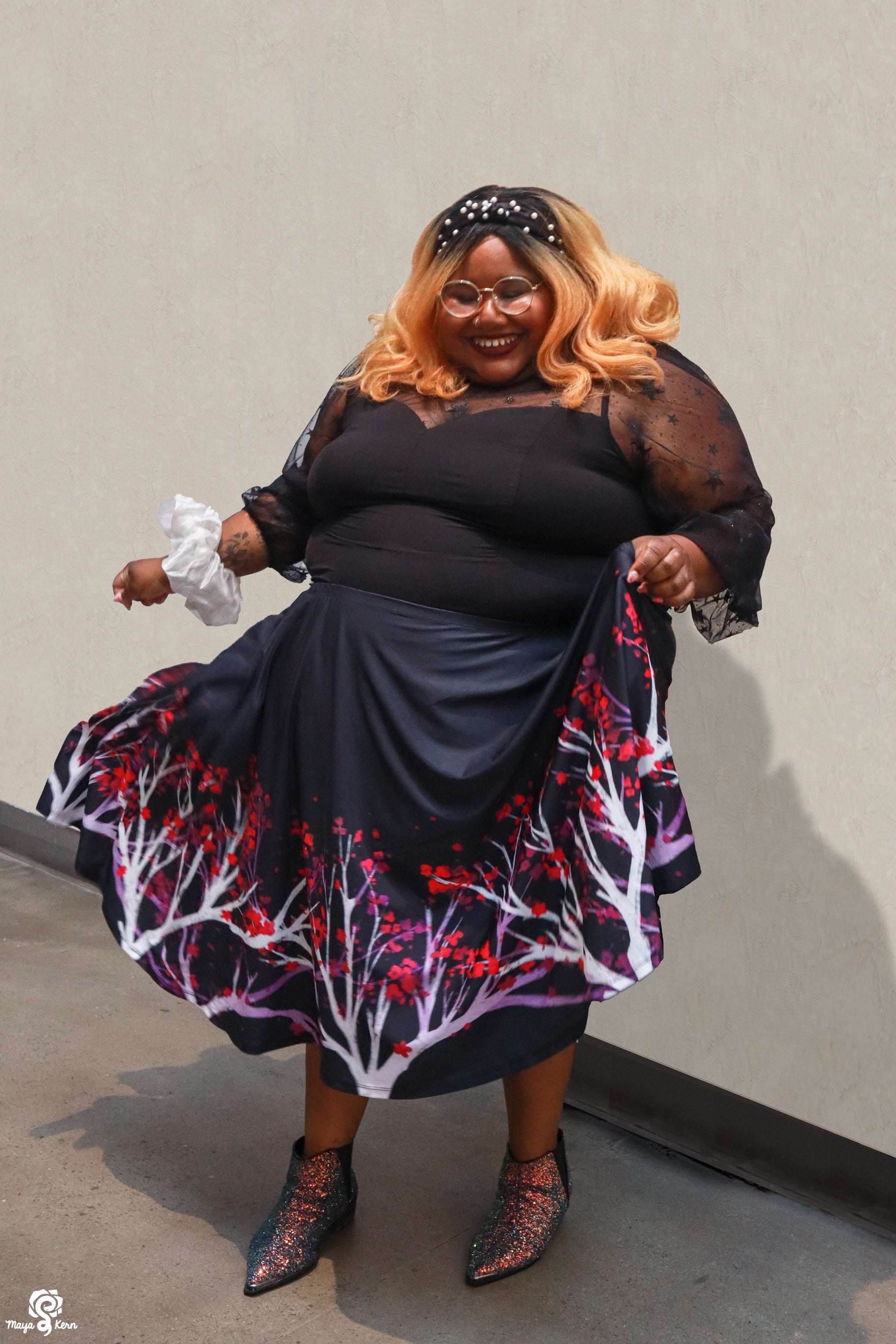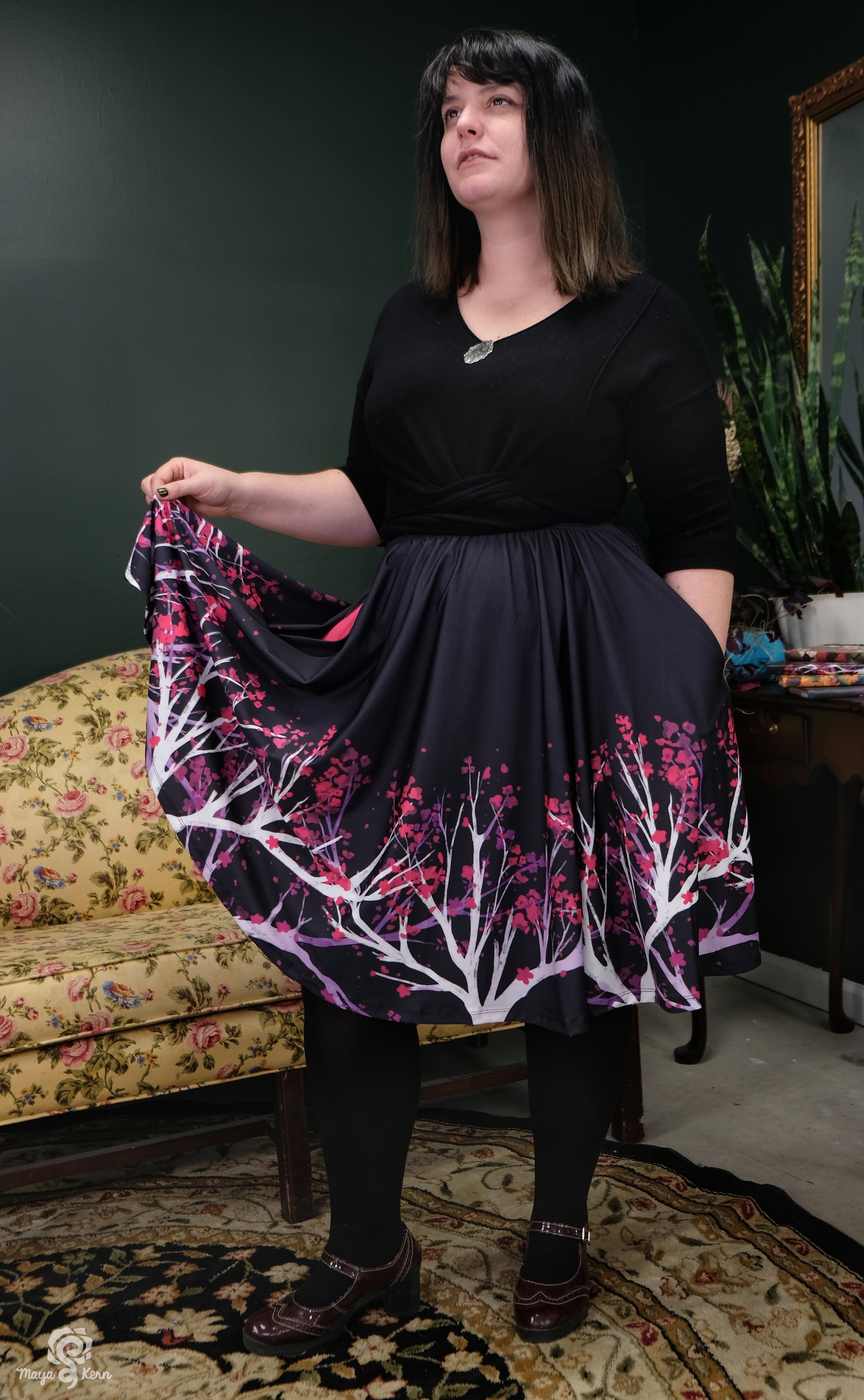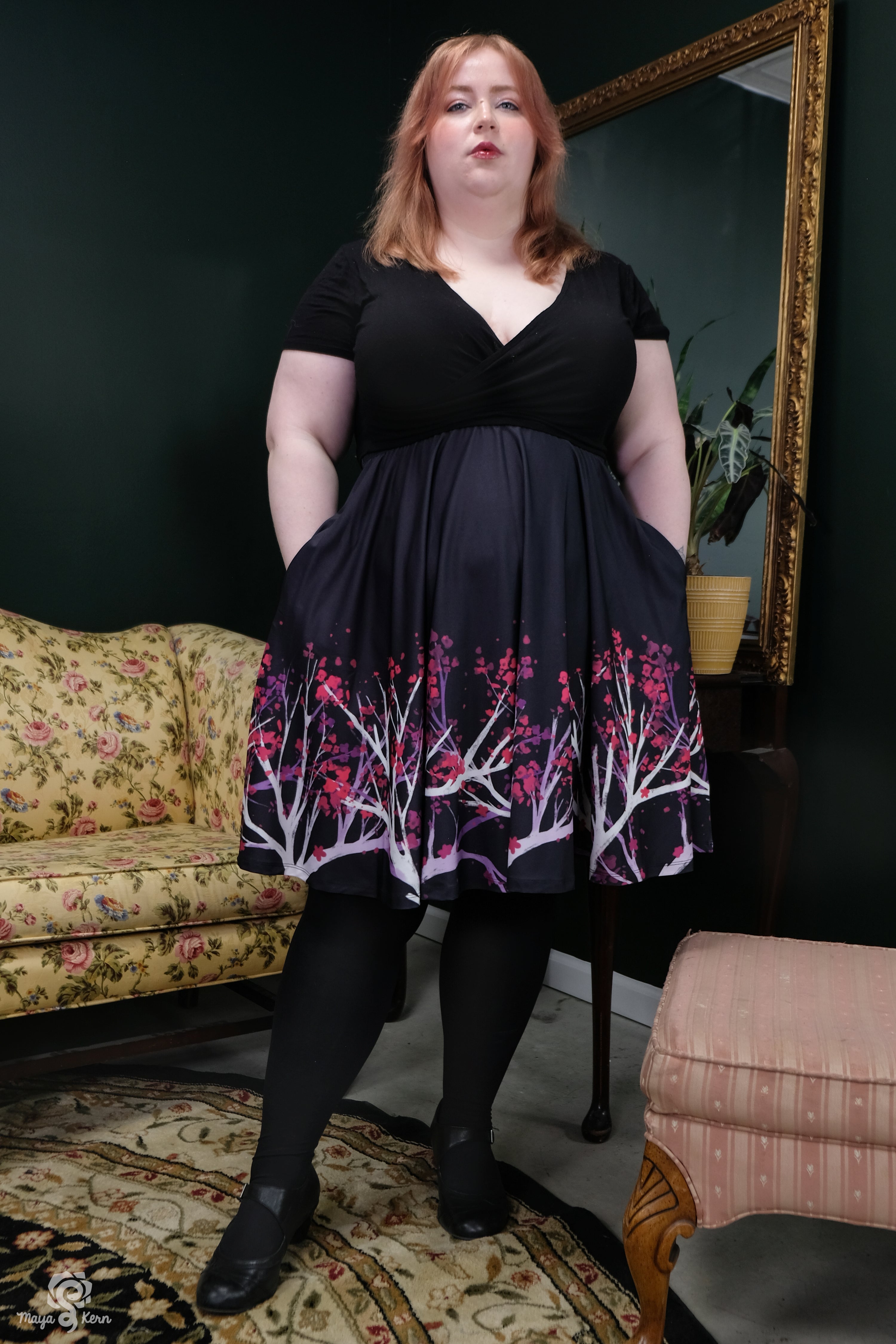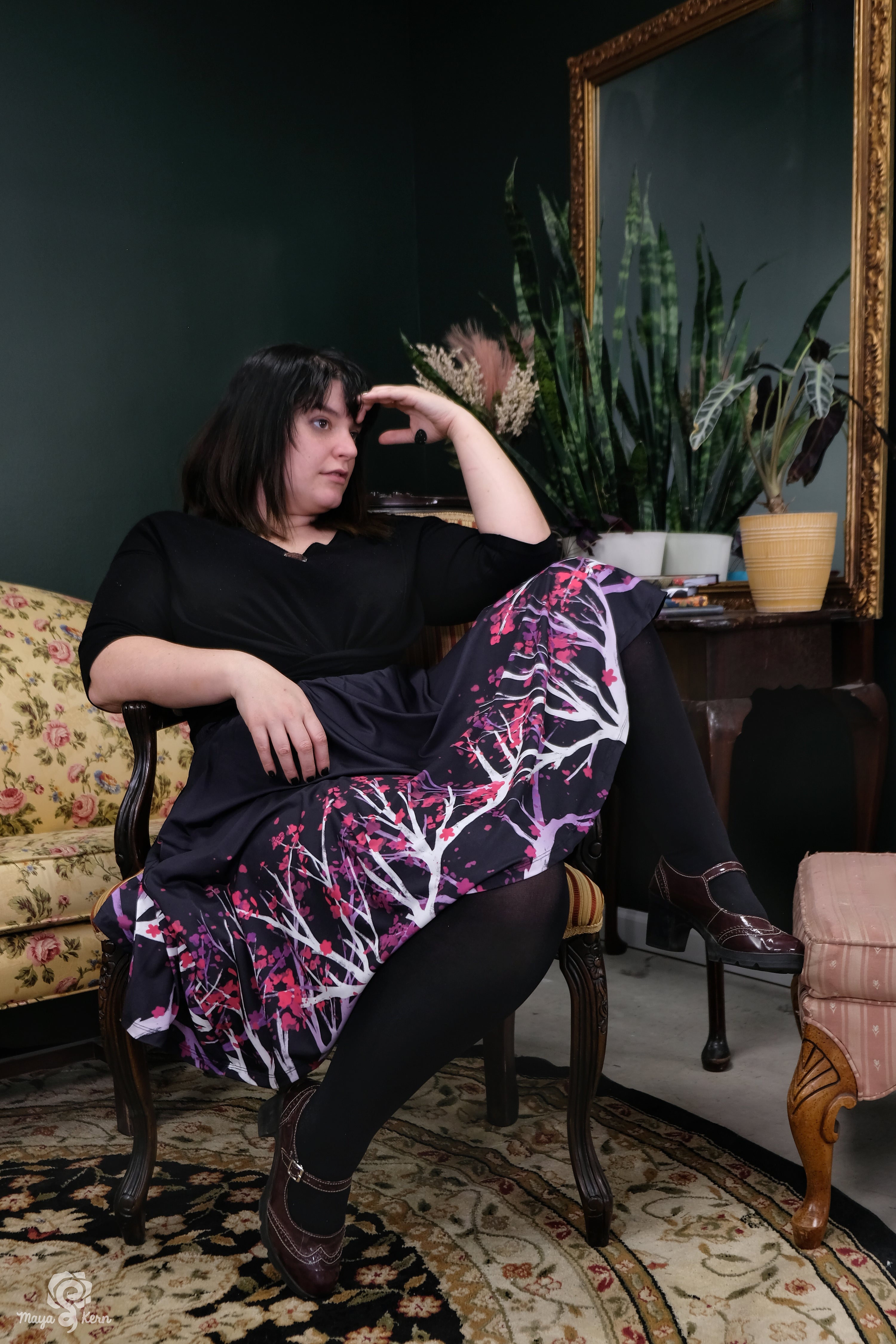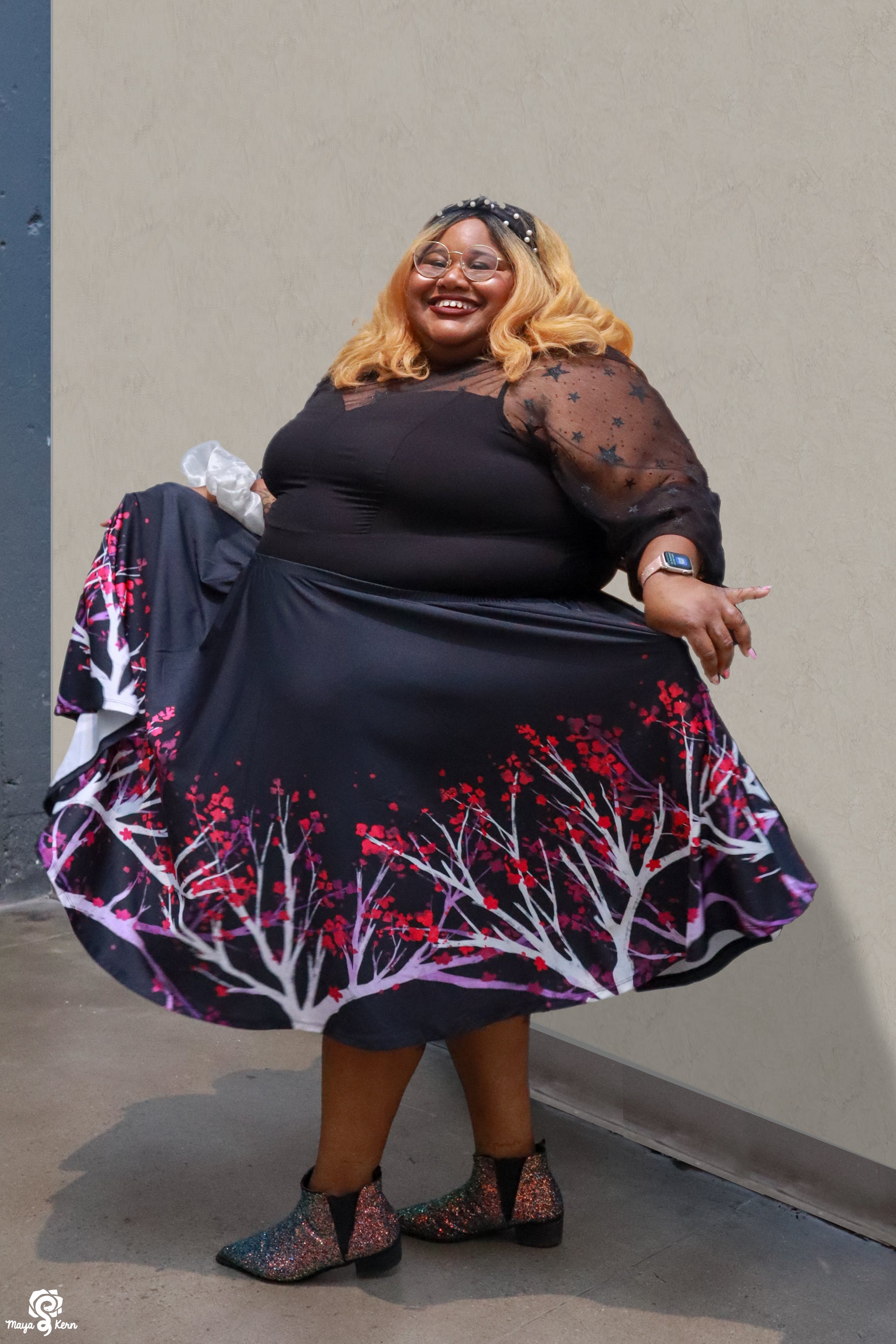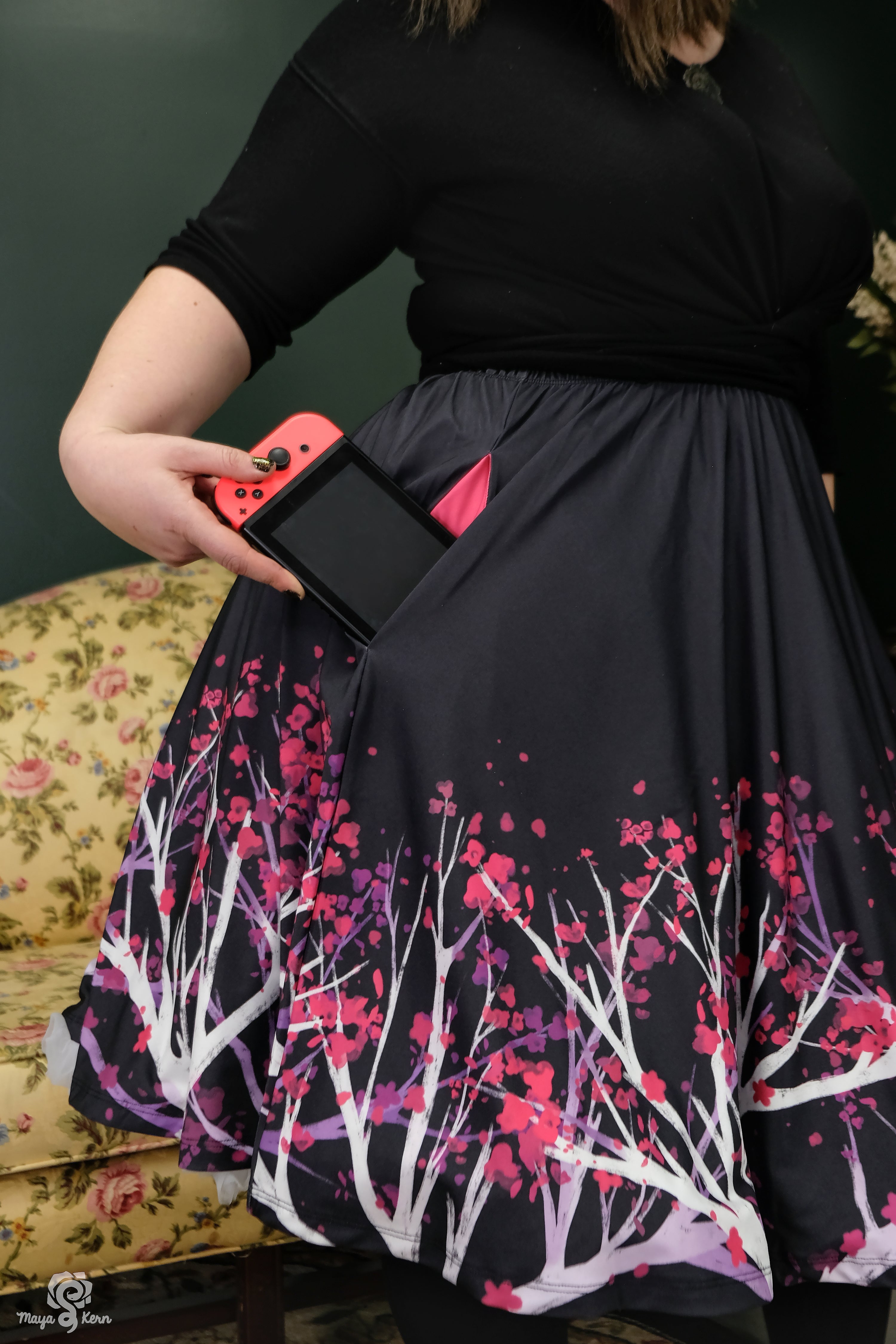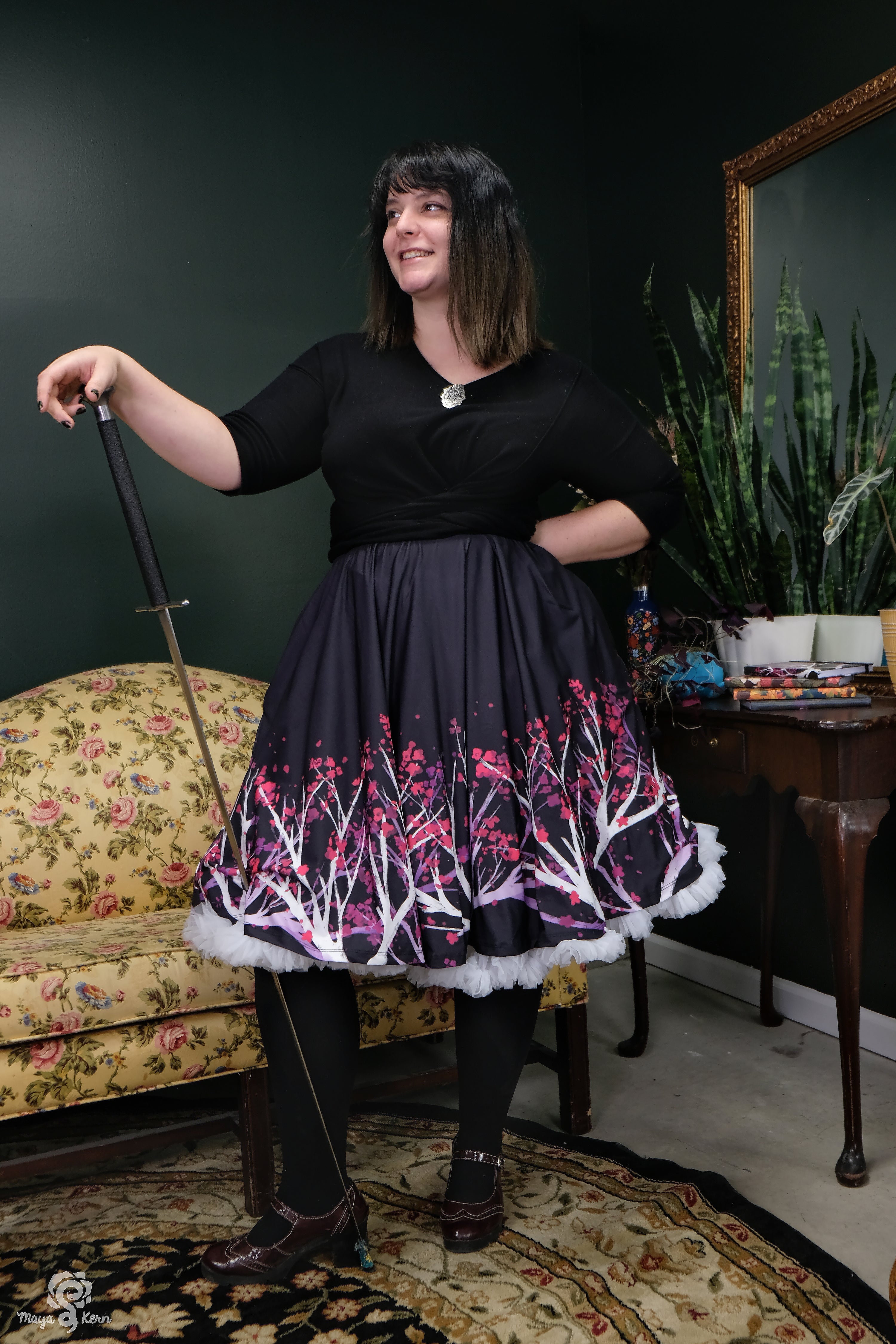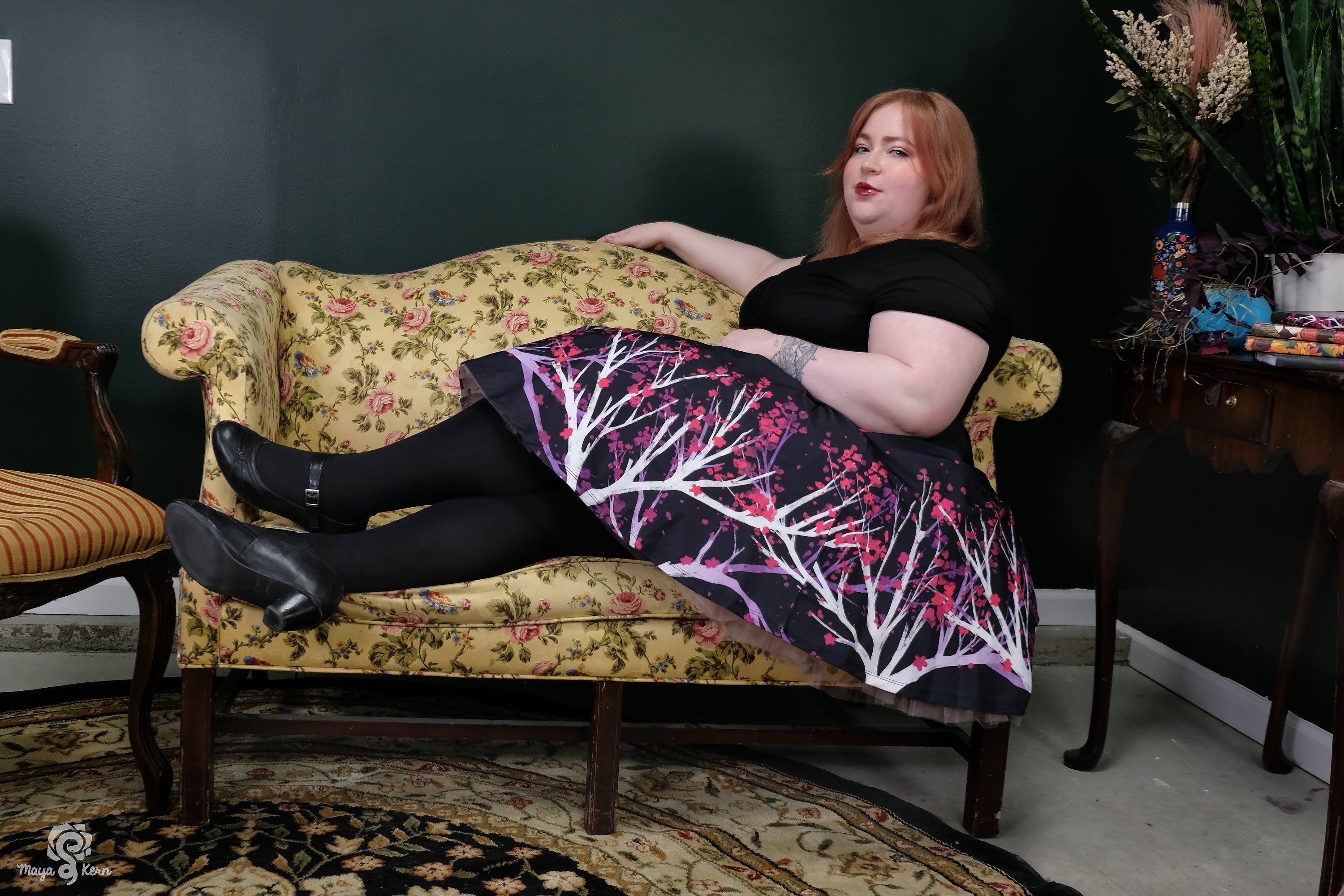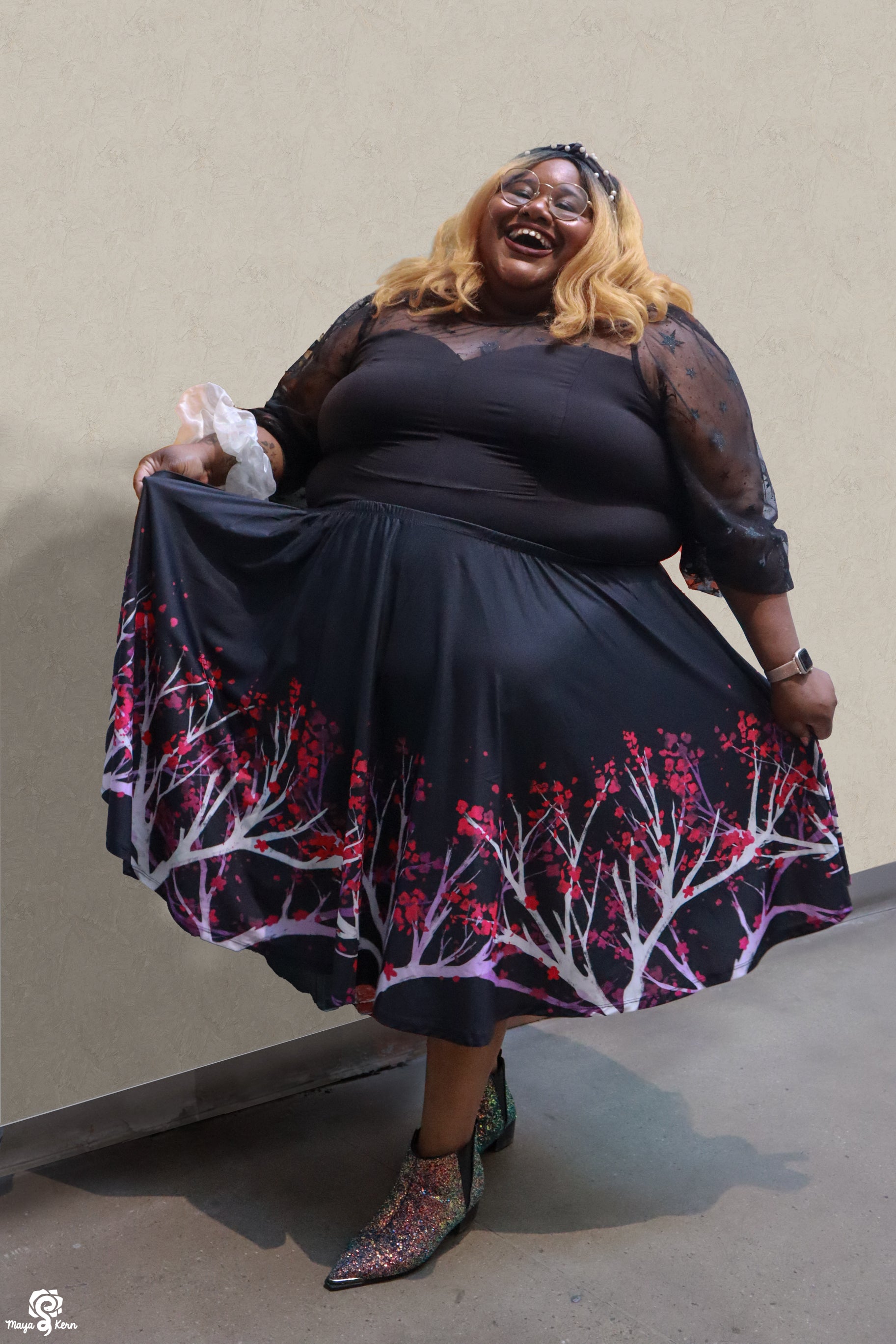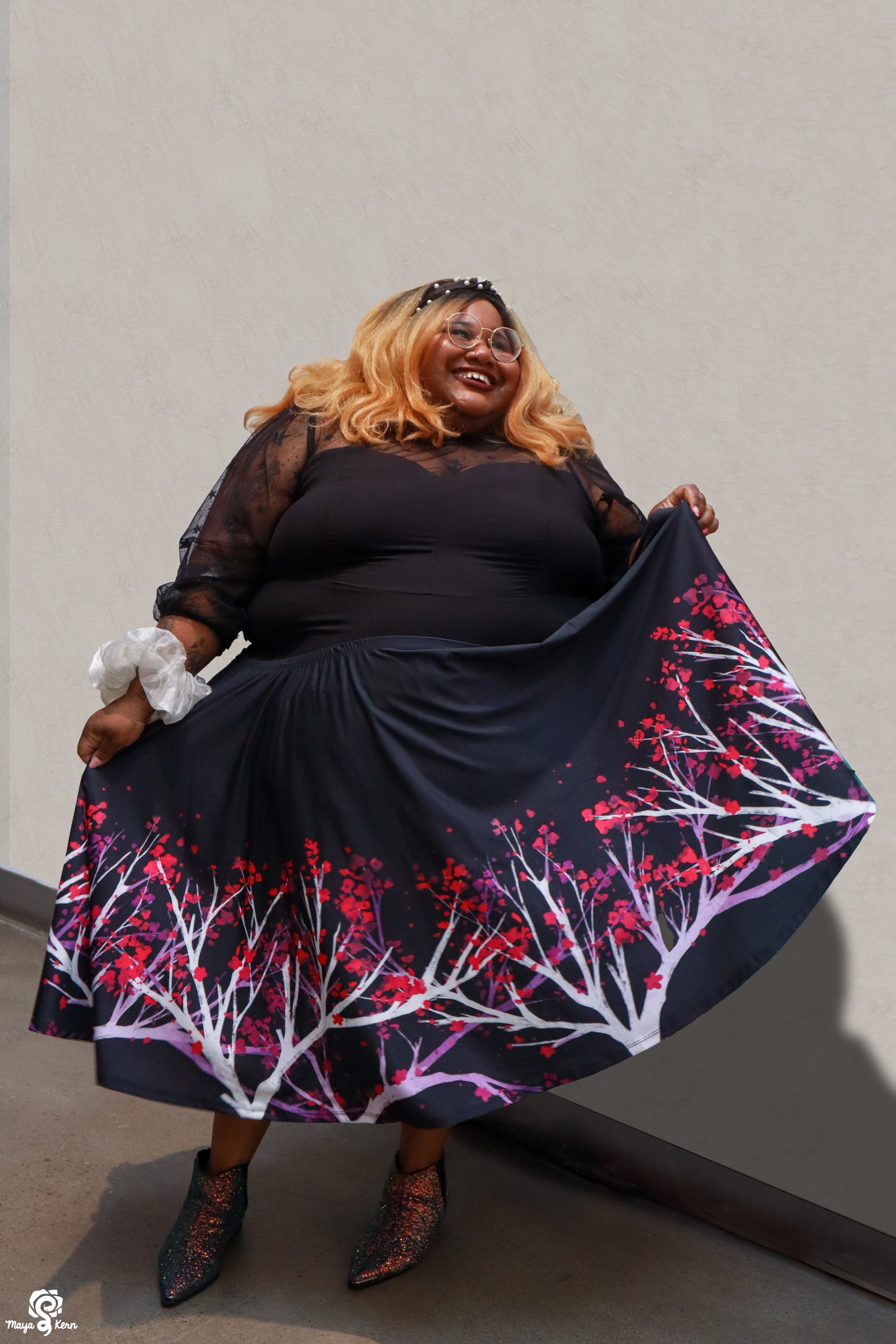 Maya Kern
Sycamore Midi Skirt
Sale price
$60.00 USD
Regular price
Stretchy circle skirt featuring my Sycamore design. These skirts have pockets large enough to fit your phone, DS, Switch, hands, and maybe a small cat.  Petticoat not included.
This first batch of skirts from our new manufacturer has different pocket placement from our classic skirts. The pockets are sewn into the side seam and are not attached to the waistband. Future skirt batches will have the pocket attached to the waistband.
These skirts come in four sizes:
SIZE A
22"-35" (56cm-89cm) waist
25″ length
SIZE B
30"-45" (76cm-114cm) waist
25″ length
SIZE C
40"-60" (101cm-152cm) waist
25″ length
SIZE D
55"-85" (139cm-216cm) waist
27" length
These skirts are very stretchy and the sizes have a lot of overlap! If you can't decide between sizes it comes down to preference; a smaller size will fit tighter and may stay up easier if you plan on filling your pockets, and a larger size will fit looser!
These skirts are made of a polyester/spandex blend
Made in Turkey in a Supplier Ethical Data Exchange and OEKO-TEX Standard 100 certified factory. SEDEX certifies ethical labor practices and OEKO-TEX Standard 100 certifies responsible textile production, ensuring there are no harmful substances present.
Maya
Wearing skirt size B, shirt size 2XL
Height: 5' 5" (165cm)
Bust: 52" (132cm)
Waist: 42" (106cm)
Hips: 58" (147cm)

Ariel
Wearing skirt size A, shirt size L
Height: 5' 5" (165cm)
Bust: 41" (104cm)
Waist: 30" (76cm)
Hips: 50" (127cm)

Devin
Wearing skirt size A, shirt size S
Height: 5' 7" (170cm)
Bust: 32" (81cm)
Waist: 27" (68cm)
Hips: 37" (94cm)

Keda


Wearing skirt size D




Height: 5' 3" (160cm)




Bust: 64" (164cm)




Waist: 65" (165cm)




Hips: 69" (175cm)
--CARE--
Wash skirts in cold water and tumble dry normally.
Fantastic skirt
Fits well, so nice and flowy!!
Amazing!
I admit I prefer maxis, as I have trouble finding good midis that don't fall too short, but this is FANTASTIC!!! Even with the elastic being messed up and not extending as much as the usual size D skirts, this fits SO WELL! I'm honestly thinking of sizing down to a C, because I do have a tendency to load down the pockets, and this different elastic means the skirt doesn't droop or sag at all. It's not too thin of an elastic either, so it doesn't dig in or get uncomfortable after wearing it for a while. I was slightly apprehensive about the fabric, as a lot of printed fabrics can set off my texture sensitivities (autism ftw) but this is so PLEASANT!! It's not scratchy or zippy, if that makes sense, it's Just Smooth And Soft, so I had a FANTASTIC time wearing it!!!! Too often I find I have to make compromises on one thing or another simply because people my size can't find cute pieces, but this is an absolute home run!!! Sustainable, ethical, pocketed, comfortable, adorable, AND it's wildly affordable when you consider all the work and supply that goes into it!!!!!!!! AMAZING!!!!! I cannot wait to wear this with my wife and her matching button-up!!!! 💞💞💞
PS - Shoutout to the ABSOLUTELY GORGEOUS Size D model!!!!!!!!! Genuinely made it so much better to figure out what the skirt will look like on my own body!!!!!!!!!!!!!!!
Comfy and pretty!
Great quality, extremely comfortable to wear, pockets for all your needs!
Incredibly comfortable and stylish
the sizing is excellent and goes wonderfully with my other clothes
Perfect!
Perfect fit, length, material, and huge pockets! No notes.