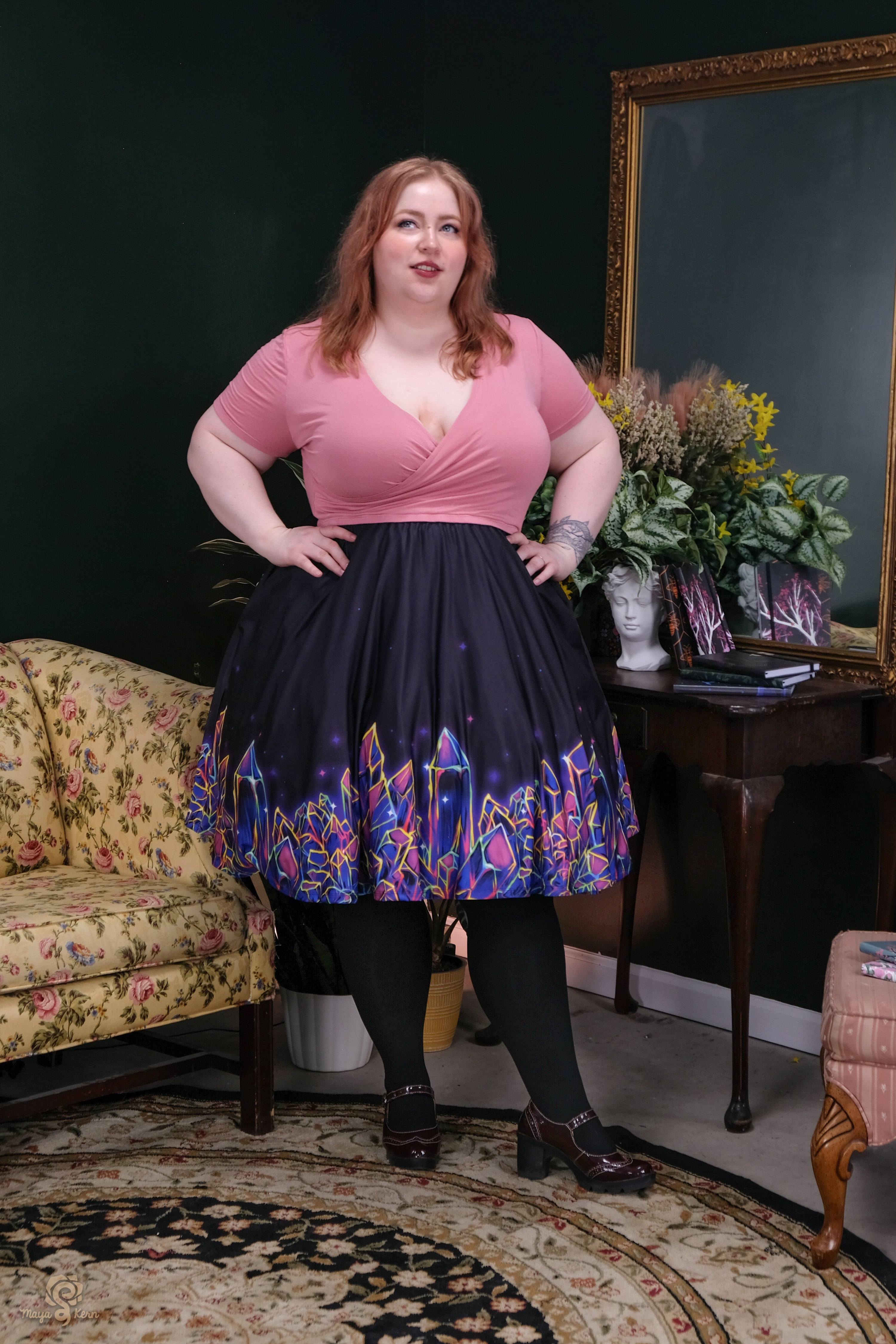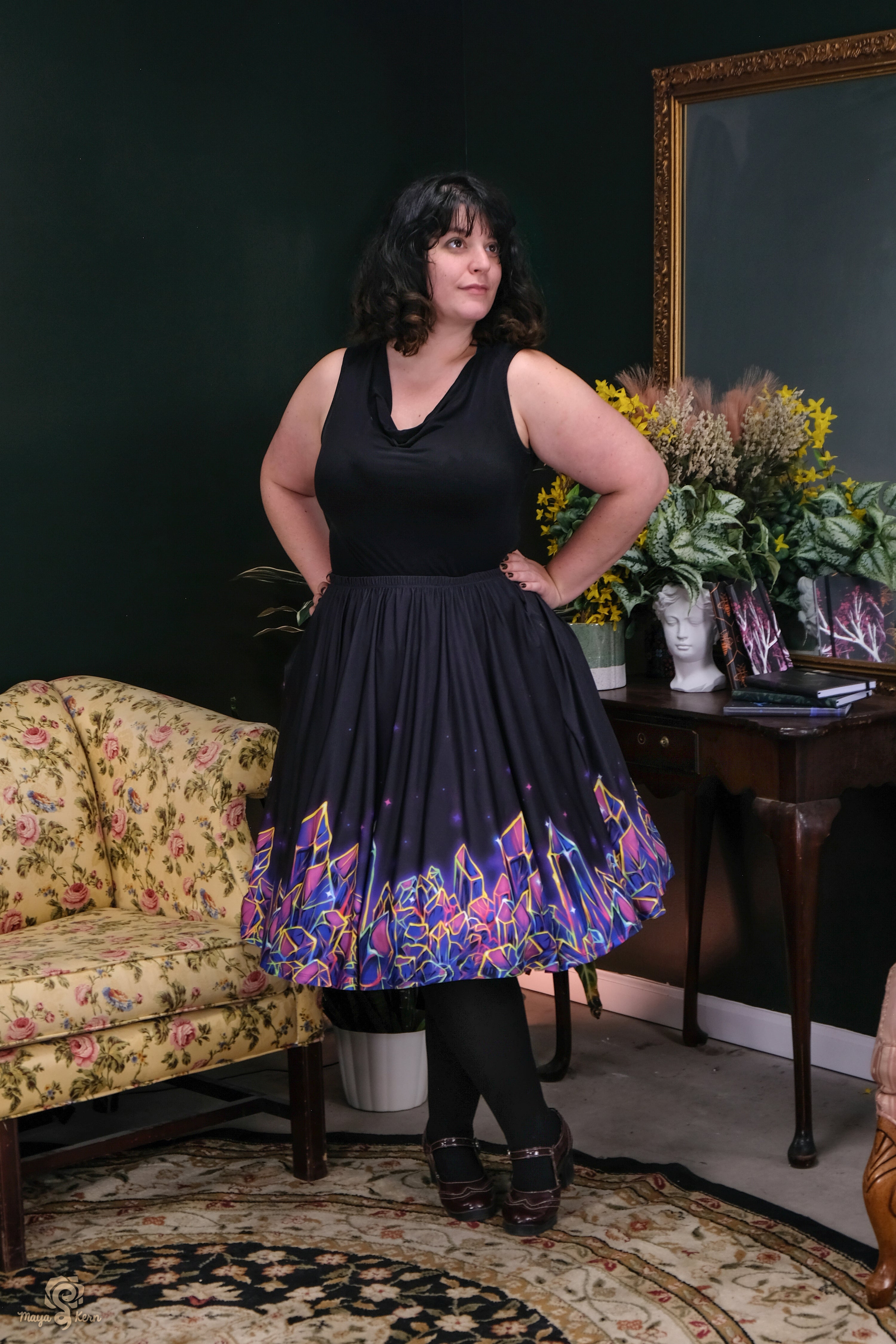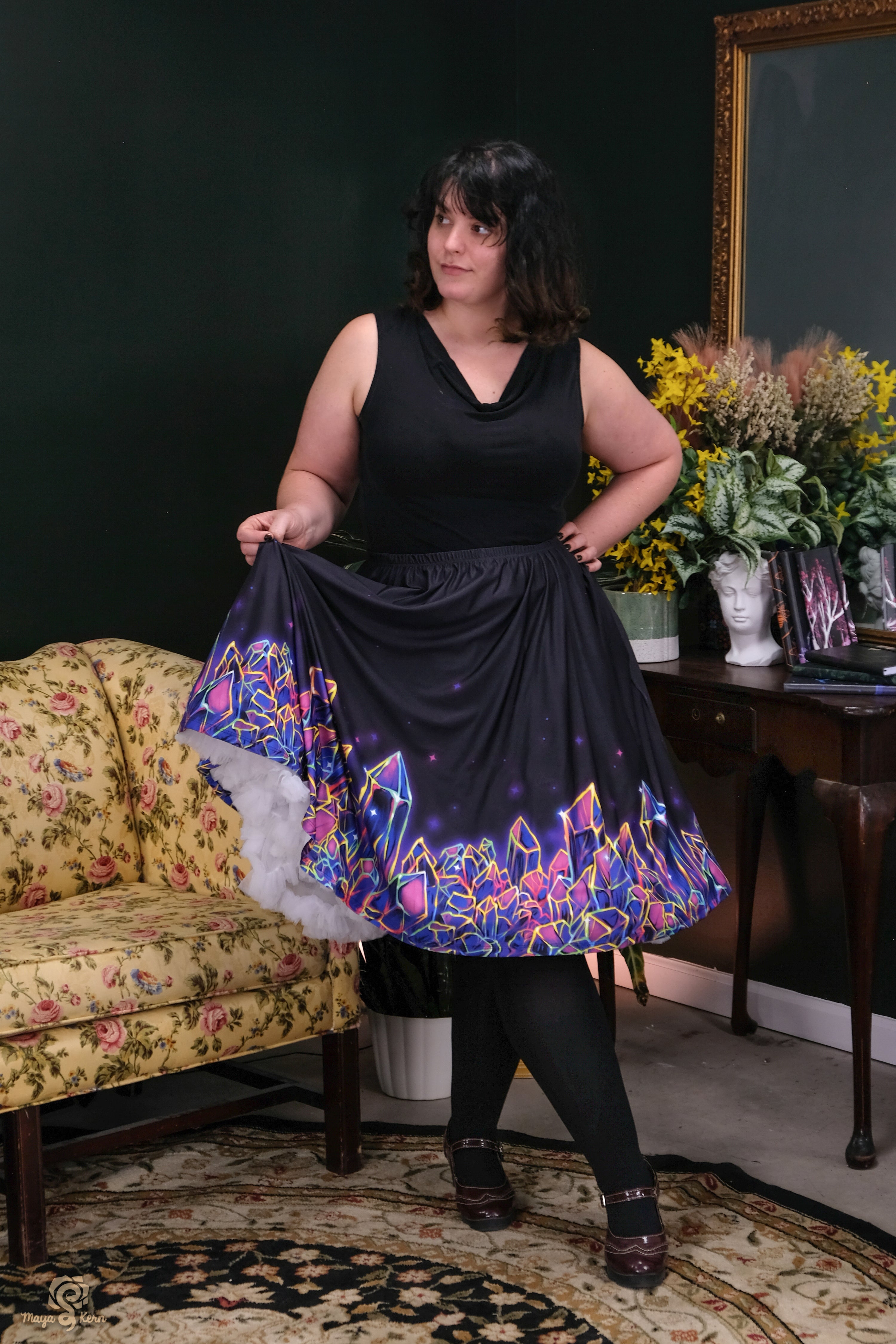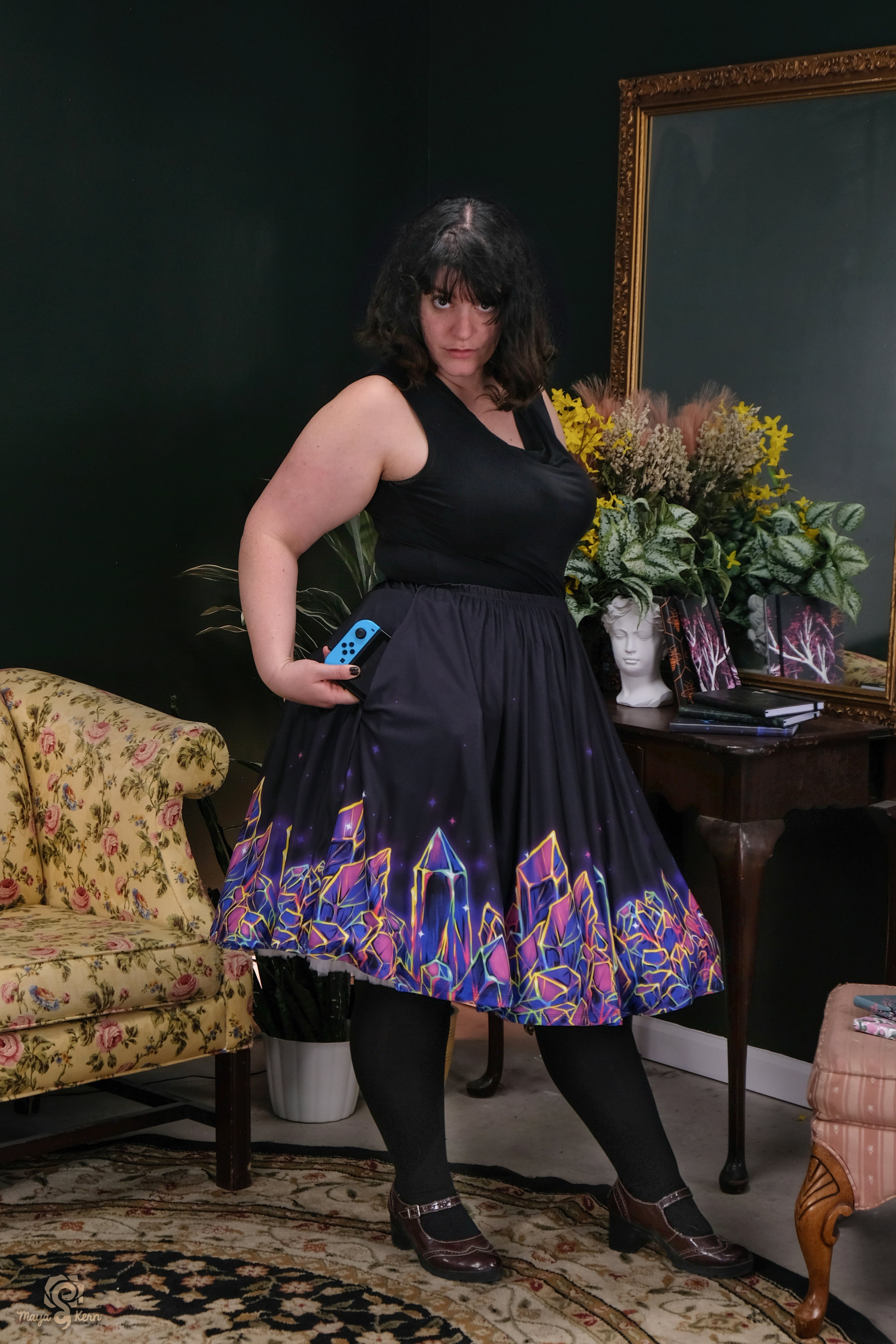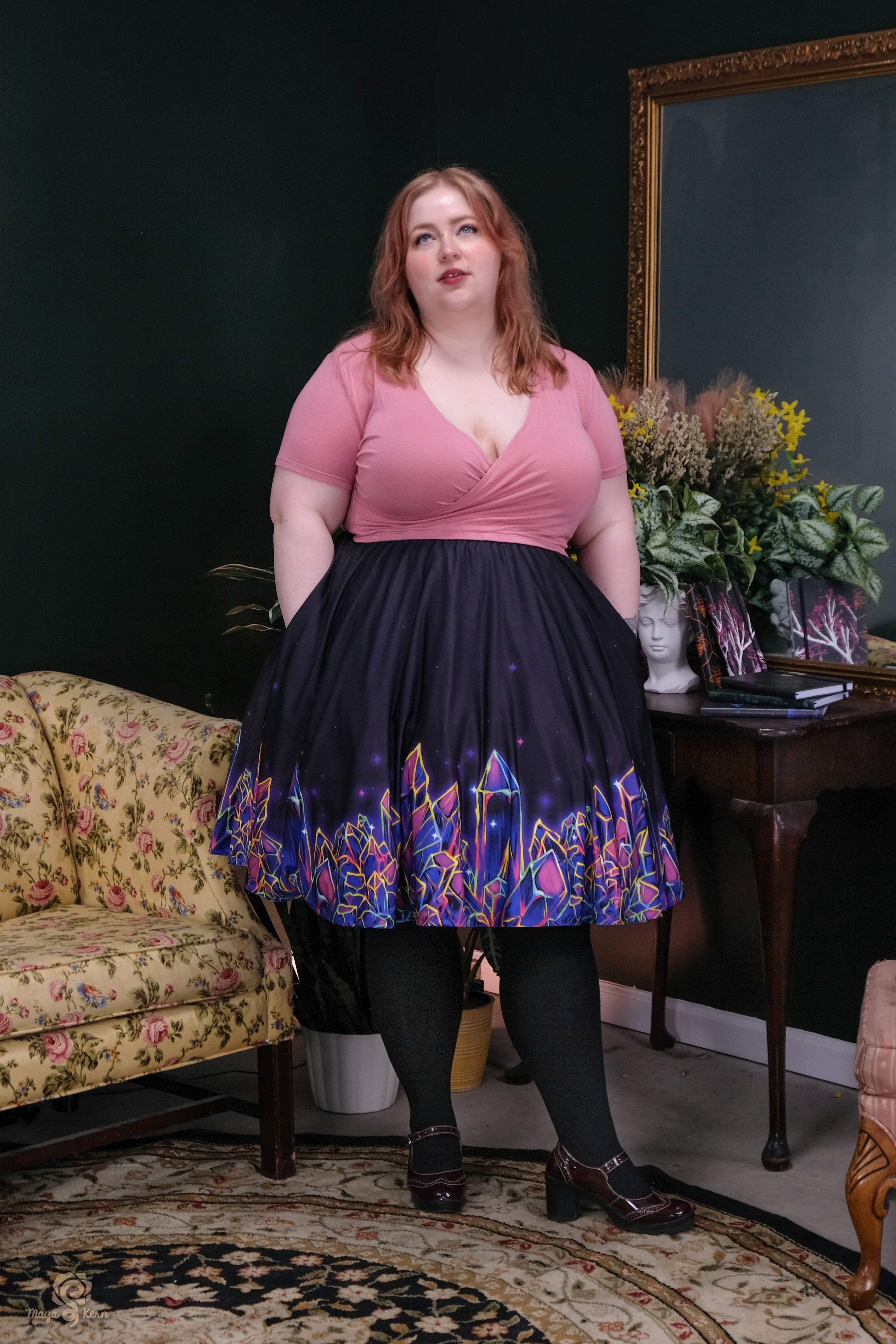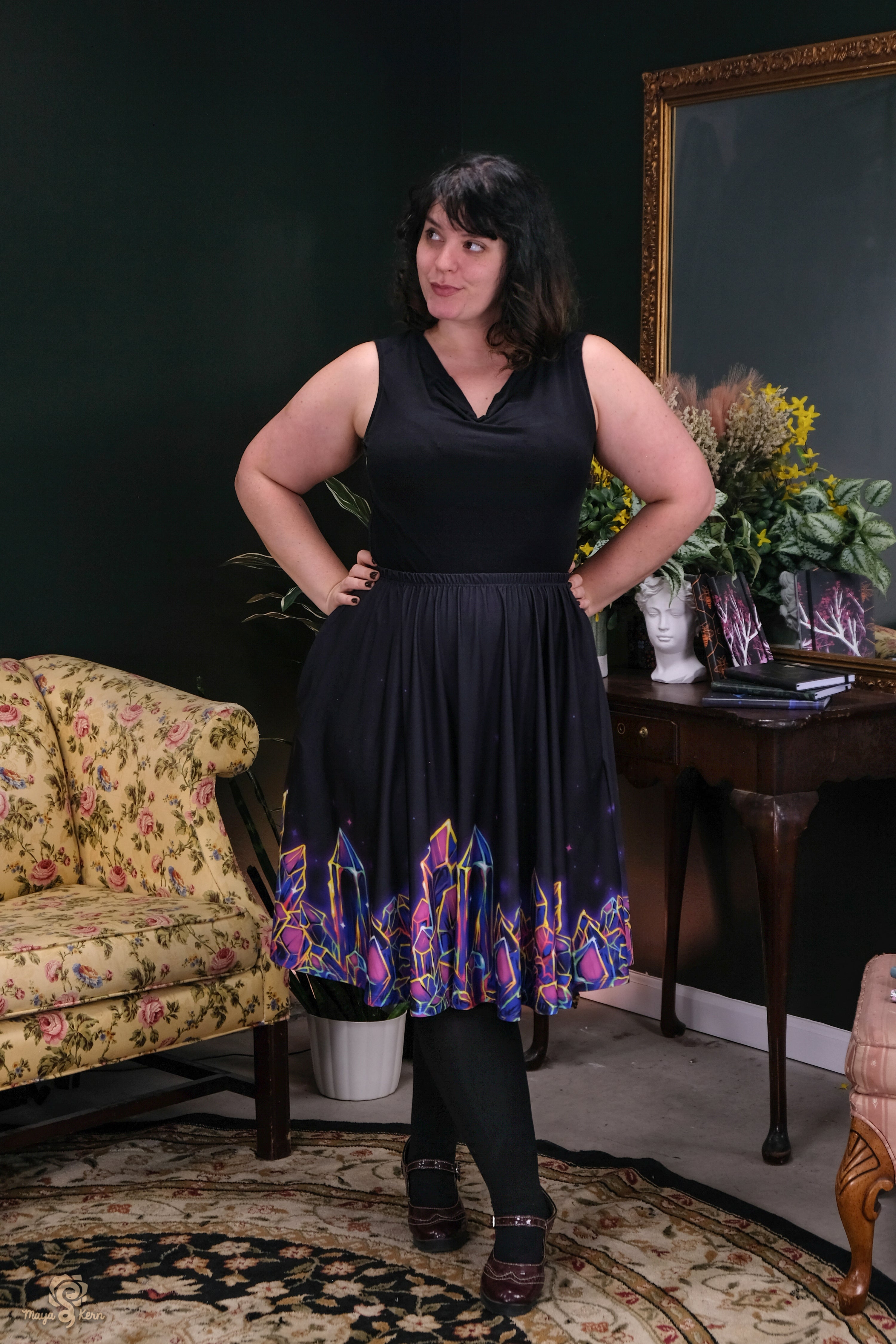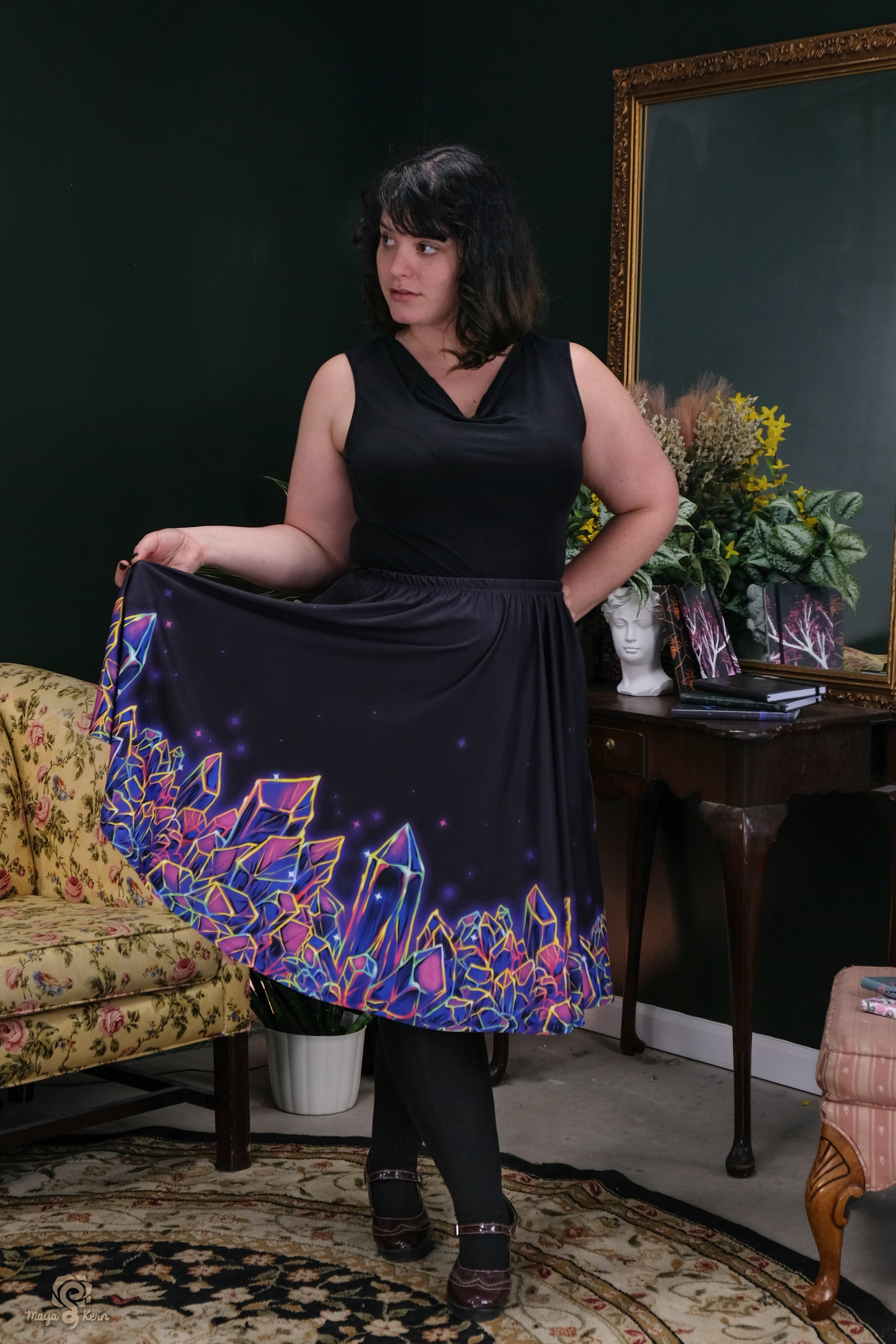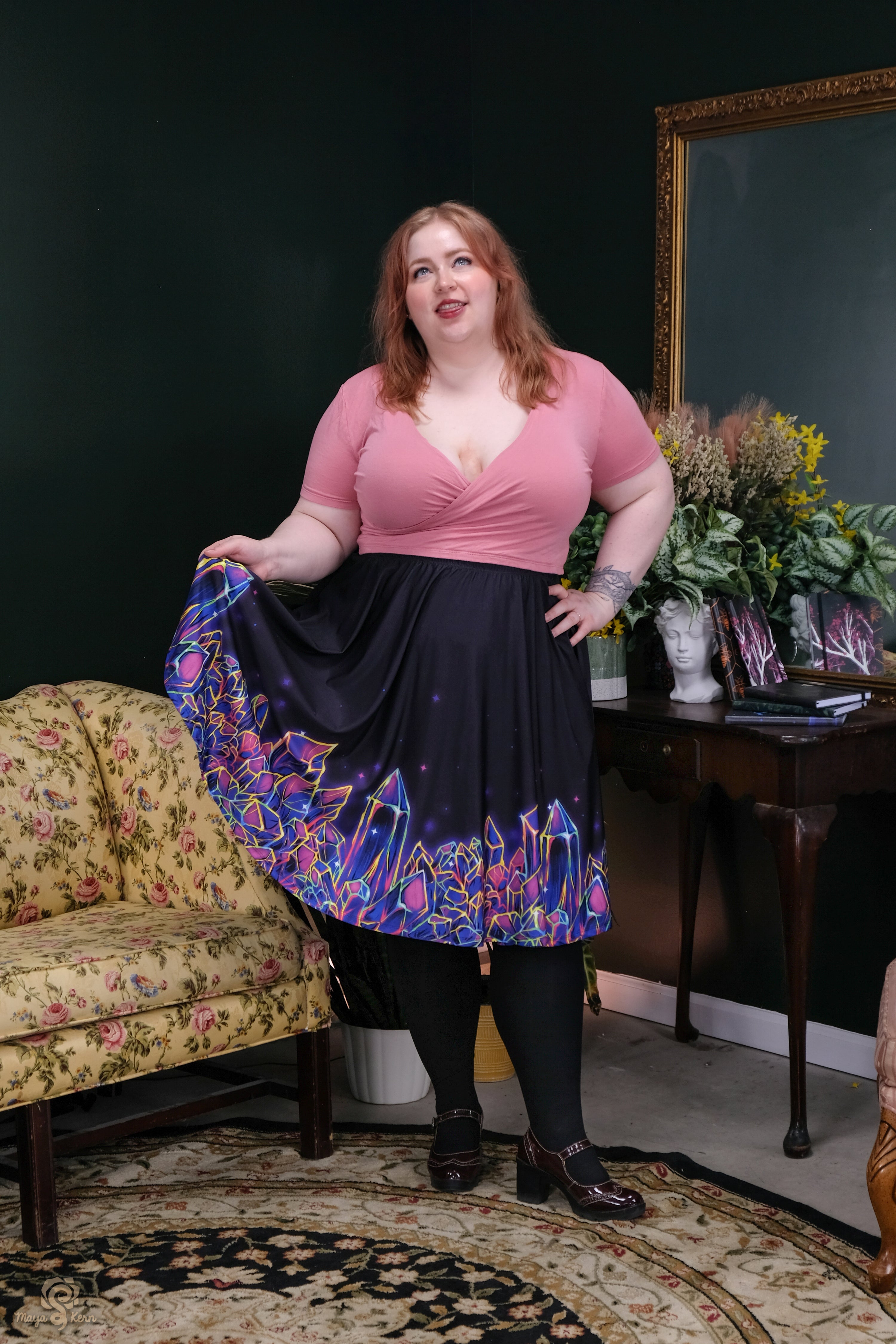 Maya Kern
Crystal Cluster Midi Skirt
Sale price
$60.00 USD
Regular price
Stretchy circle skirt featuring my Crystal Cluster design. These skirts have pockets large enough to fit your phone, DS, Switch, hands, and maybe a small cat.  Petticoat not included.

This first batch of skirts from our new manufacturer has different pocket placement from our classic skirts. The pockets are sewn into the side seam and are not attached to the waistband. Future skirt batches will have the pocket attached to the waistband.
These skirts come in four sizes:
SIZE A
22"-35" (56cm-89cm) waist
25″ length
SIZE B
30"-45" (76cm-114cm) waist
25″ length
SIZE C
40"-60" (101cm-152cm) waist
25″ length
SIZE D
55"-85" (139cm-216cm) waist
27" length
These skirts are very stretchy and the sizes have a lot of overlap! If you can't decide between sizes it comes down to preference; a smaller size will fit tighter and may stay up easier if you plan on filling your pockets, and a larger size will fit looser!
These skirts are made of a polyester/spandex blend
Made in Turkey in a Supplier Ethical Data Exchange and OEKO-TEX Standard 100 certified factory. SEDEX certifies ethical labor practices and OEKO-TEX Standard 100 certifies responsible textile production, ensuring there are no harmful substances present.
Maya
Wearing skirt size B, shirt size 2XL
Height: 5' 5" (165cm)
Bust: 52" (132cm)
Waist: 42" (106cm)
Hips: 58" (147cm)

Ariel
Wearing skirt size A, shirt size L
Height: 5' 5" (165cm)
Bust: 41" (104cm)
Waist: 30" (76cm)
Hips: 50" (127cm)

Devin
Wearing skirt size A, shirt size S
Height: 5' 7" (170cm)
Bust: 32" (81cm)
Waist: 27" (68cm)
Hips: 37" (94cm)
--CARE--
Wash skirts in cold water and tumble dry normally.
One of my new favorites
The skirt hits me just below my knees worn regularly and I love the vibrant crystals at the bottom. Add that to the pockets the size of my face, this skirt is worth every penny. My waist is currently a 52 inch and size c fits comfortably
a wardrobe need
Since I've gotten this skirt the amount of compliments I've received on it are too many to count. Every time I wear it I'm stopped by at least one person about it. Not only is the design stunning and eye-catching, but these skirts are SO COMFORTABLE! I get to feel all the coziness of PJs while walking around in a fashionable look. The pockets are HUGE and it has honestly ruined any other skirt options for me. I know I'll be getting more it's only a matter of time.
Crystal Cluster Midi Skirt
Stunning
Super flowy, deep pockets, and absolutely adorable all around