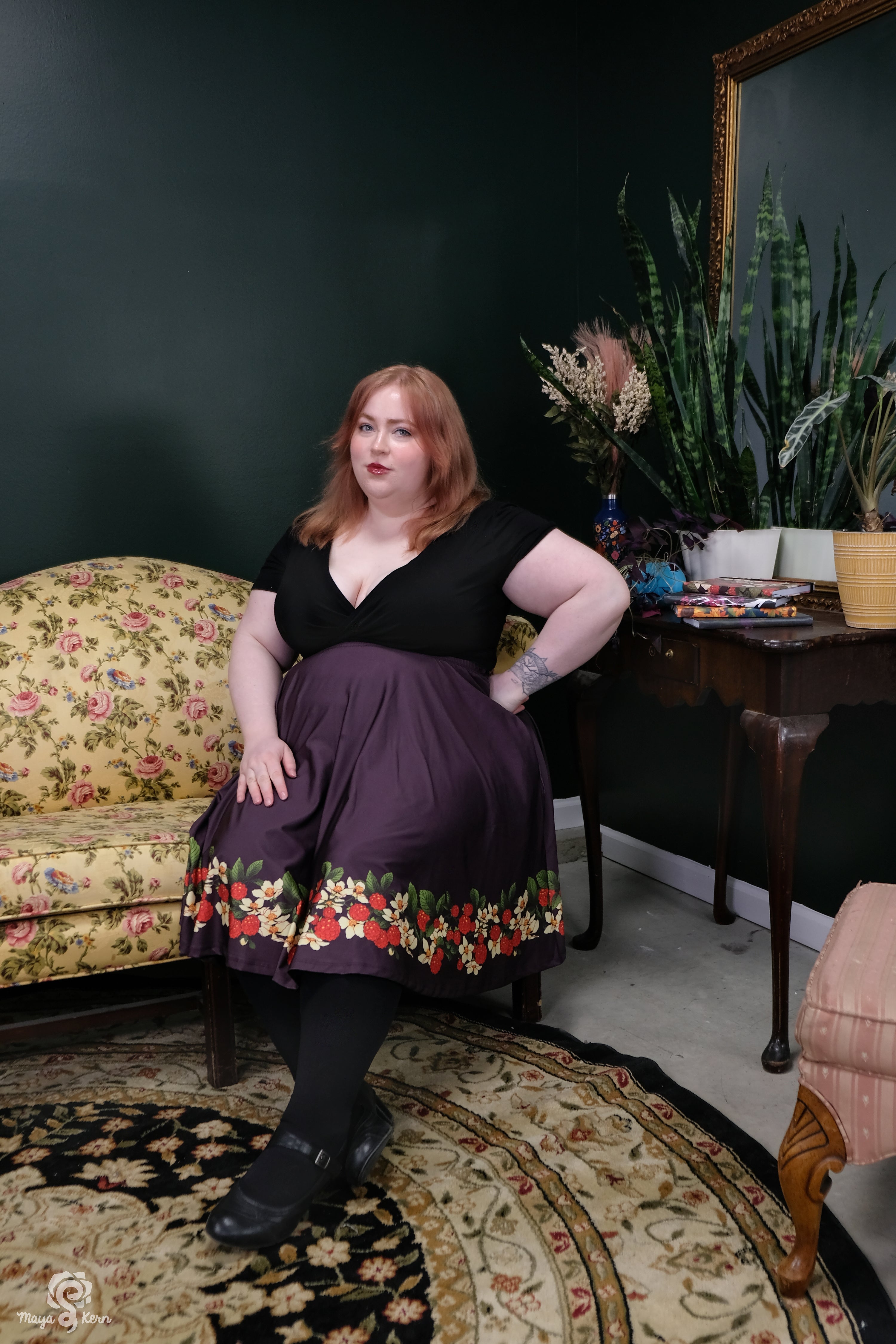 Maya Kern
COLLAB: Rii Abrego Raspberry Midi Skirt
Sale price
$60.00 USD
Regular price
Stretchy circle skirt featuring Rii Abrego's Raspberry design. These skirts have pockets large enough to fit your phone, DS, Switch, hands, and maybe a small cat.  Petticoat not included.
This first batch of skirts from our new manufacturer has different pocket placement from our classic skirts. The pockets are sewn into the side seam and are not attached to the waistband. Future skirt batches will have the pocket attached to the waistband.
These skirts come in four sizes:
SIZE A
22"-35" (56cm-89cm) waist
25″ length
SIZE B
30"-45" (76cm-114cm) waist
25″ length
SIZE C
40"-60" (101cm-152cm) waist
25″ length
SIZE D
55"-85" (139cm-216cm) waist
27" length
These skirts are very stretchy and the sizes have a lot of overlap! If you can't decide between sizes it comes down to preference; a smaller size will fit tighter and may stay up easier if you plan on filling your pockets, and a larger size will fit looser!
These skirts are made of a polyester/spandex blend
Made in Turkey in a Supplier Ethical Data Exchange and OEKO-TEX Standard 100 certified factory. SEDEX certifies ethical labor practices and OEKO-TEX Standard 100 certifies responsible textile production, ensuring there are no harmful substances present.
Maya
Wearing skirt size B, shirt size 2XL
Height: 5' 5" (165cm)
Bust: 52" (132cm)
Waist: 42" (106cm)
Hips: 58" (147cm)

Ariel
Wearing skirt size A, shirt size L
Height: 5' 5" (165cm)
Bust: 41" (104cm)
Waist: 30" (76cm)
Hips: 50" (127cm)

Devin
Wearing skirt size A, shirt size S
Height: 5' 7" (170cm)
Bust: 32" (81cm)
Waist: 27" (68cm)
Hips: 37" (94cm)

Keda


Wearing skirt size D




Height: 5' 3" (160cm)




Bust: 64" (164cm)




Waist: 65" (165cm)




Hips: 69" (175cm)
--CARE--
Wash skirts in cold water and tumble dry normally.
COLLAB: Rii Abrego Raspberry Midi Skirt
Love it!
fits great, deep pockets, and a beautiful design with great colors! what's more to love?!
Beautiful, comfy, incredibly swishy, and fantastic pockets! I've gotten so many compliments and admiring statements about this skirt
Raspberry (and every other) Skirt
I am so, so happy to be able to get cute skirts in my size! I'm at the D size and it can be so difficult to find anything nice. I've put this skirt and three others (Ye Olde Cats, Hiss From a Rose, and Deadly Florals) into my regular rotation for work! They are so comfy and the pockets are so useful!
Very cute, very flowy
Super cute design, nice and flowy, fits well and the stretchy band keeps it from being too tight. Love the pockets. Will definitely order more from this shop in the future. Only thing I'm iffy on is the fabric of the skirt but it's more due to personal preference than it being due to the quality.