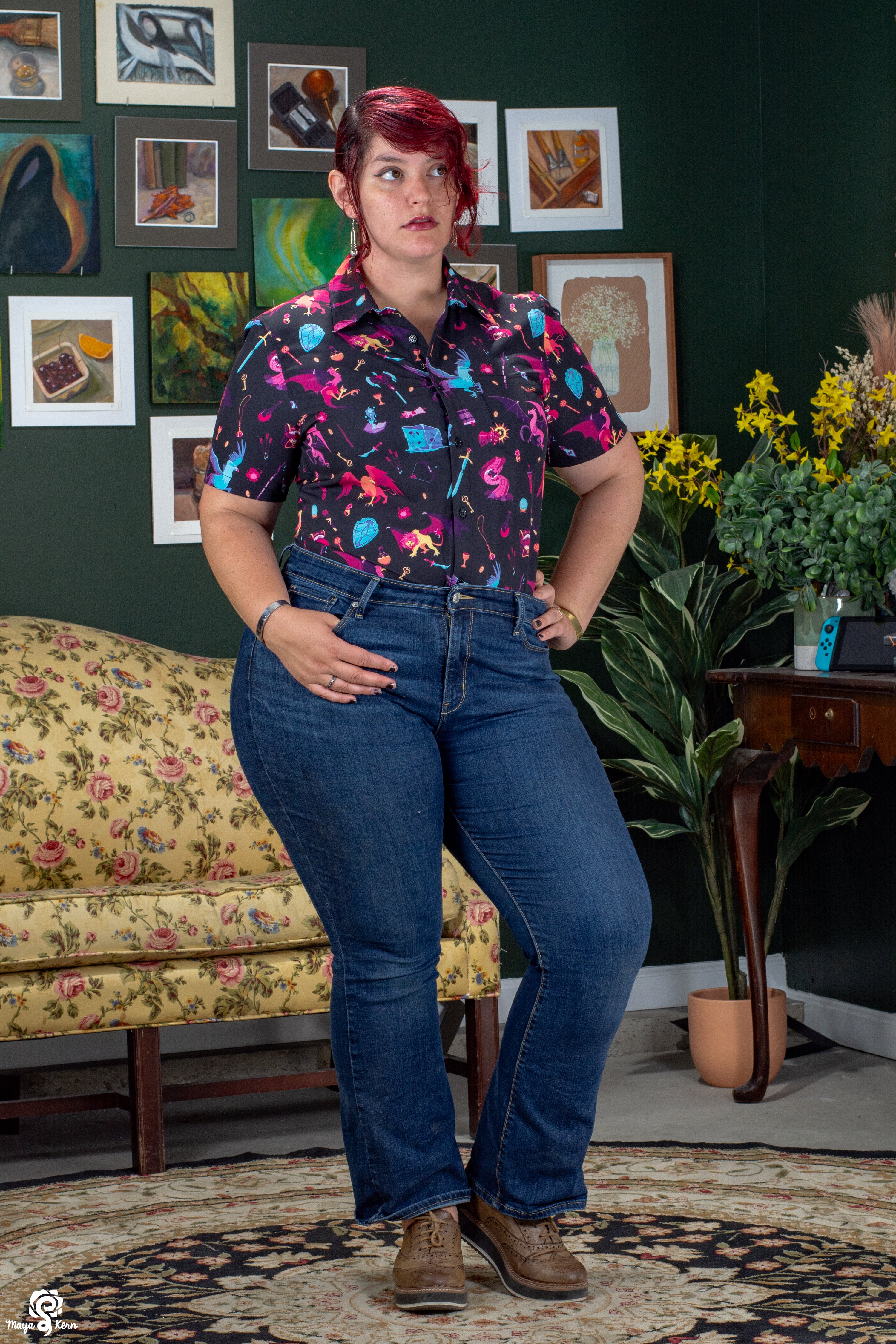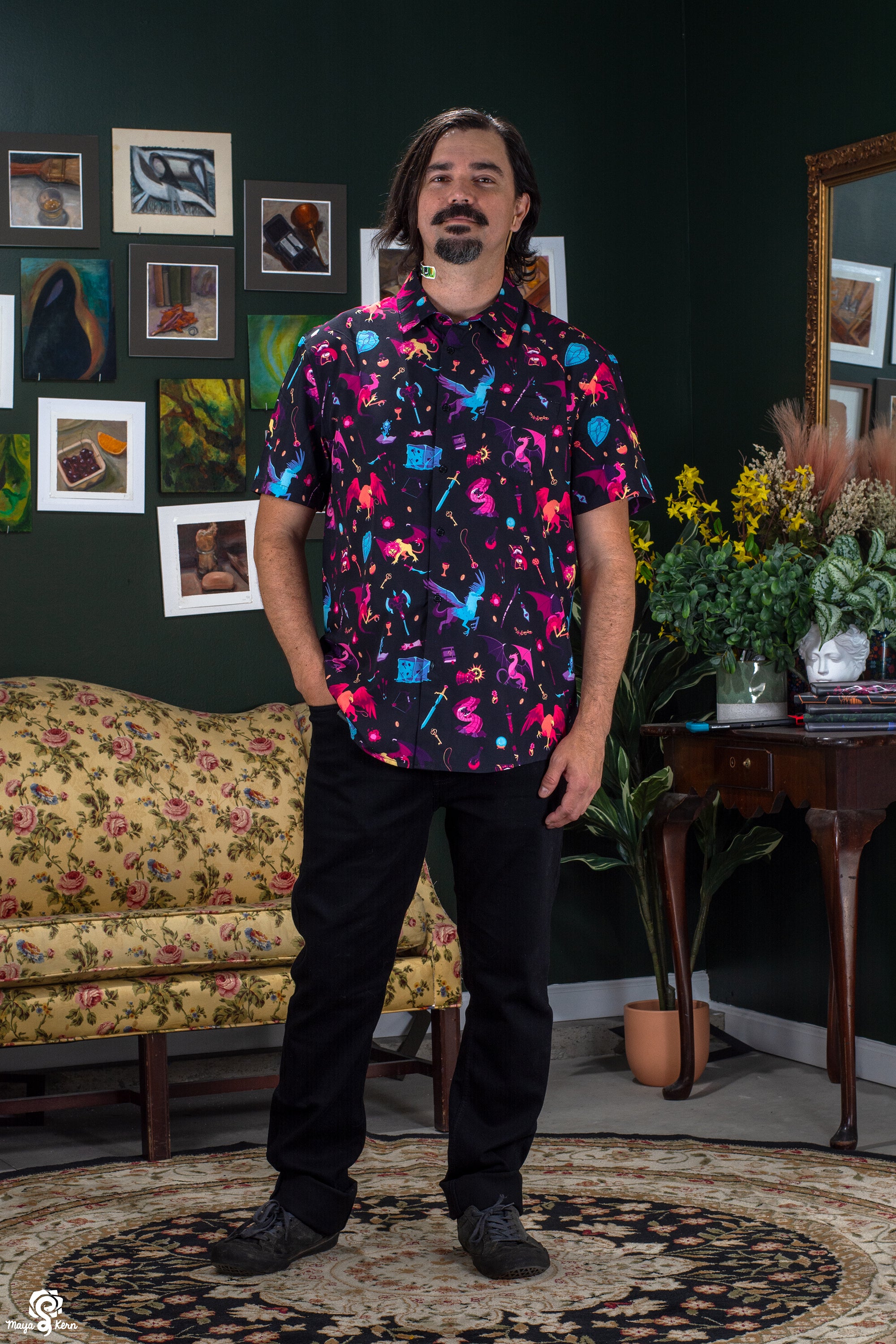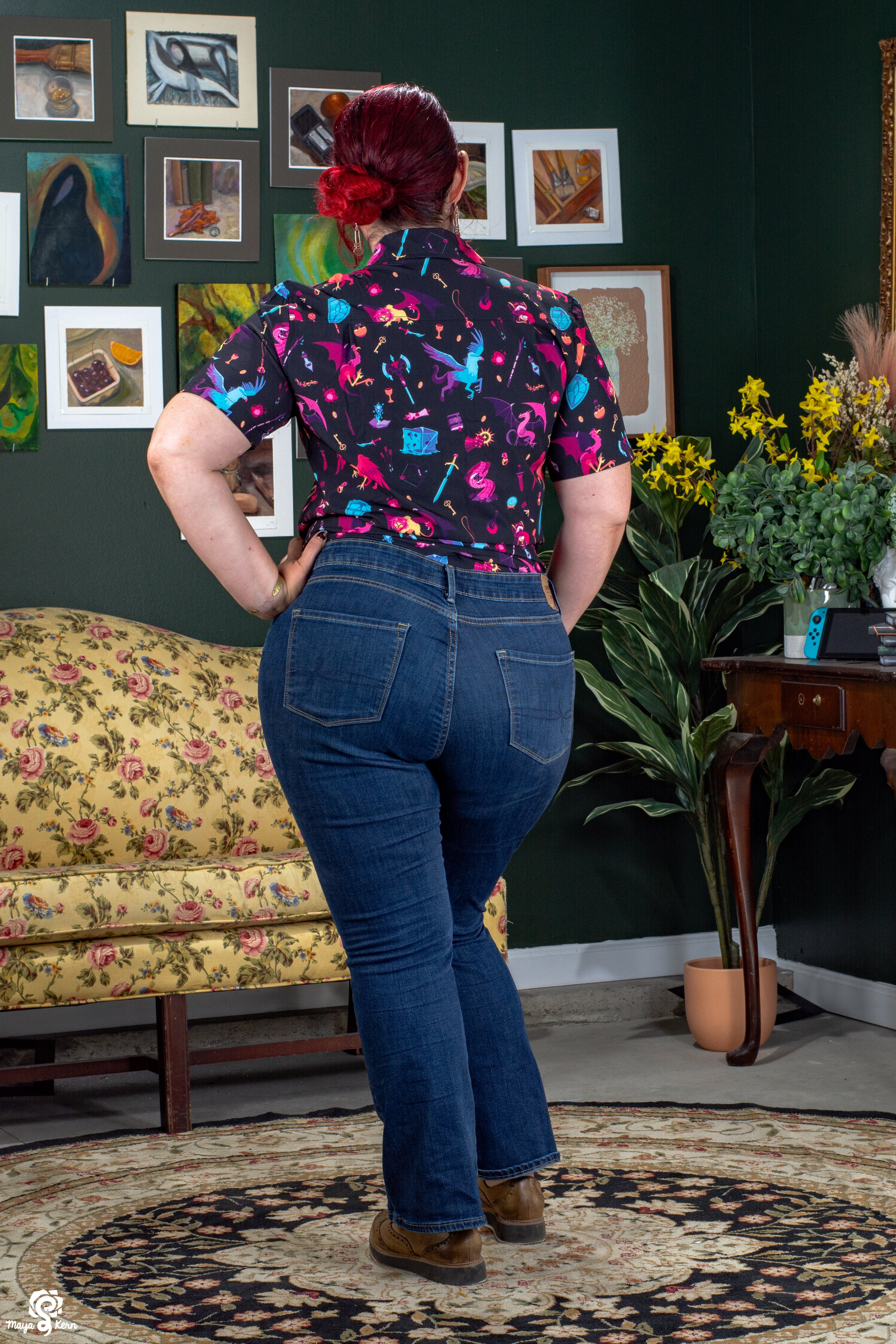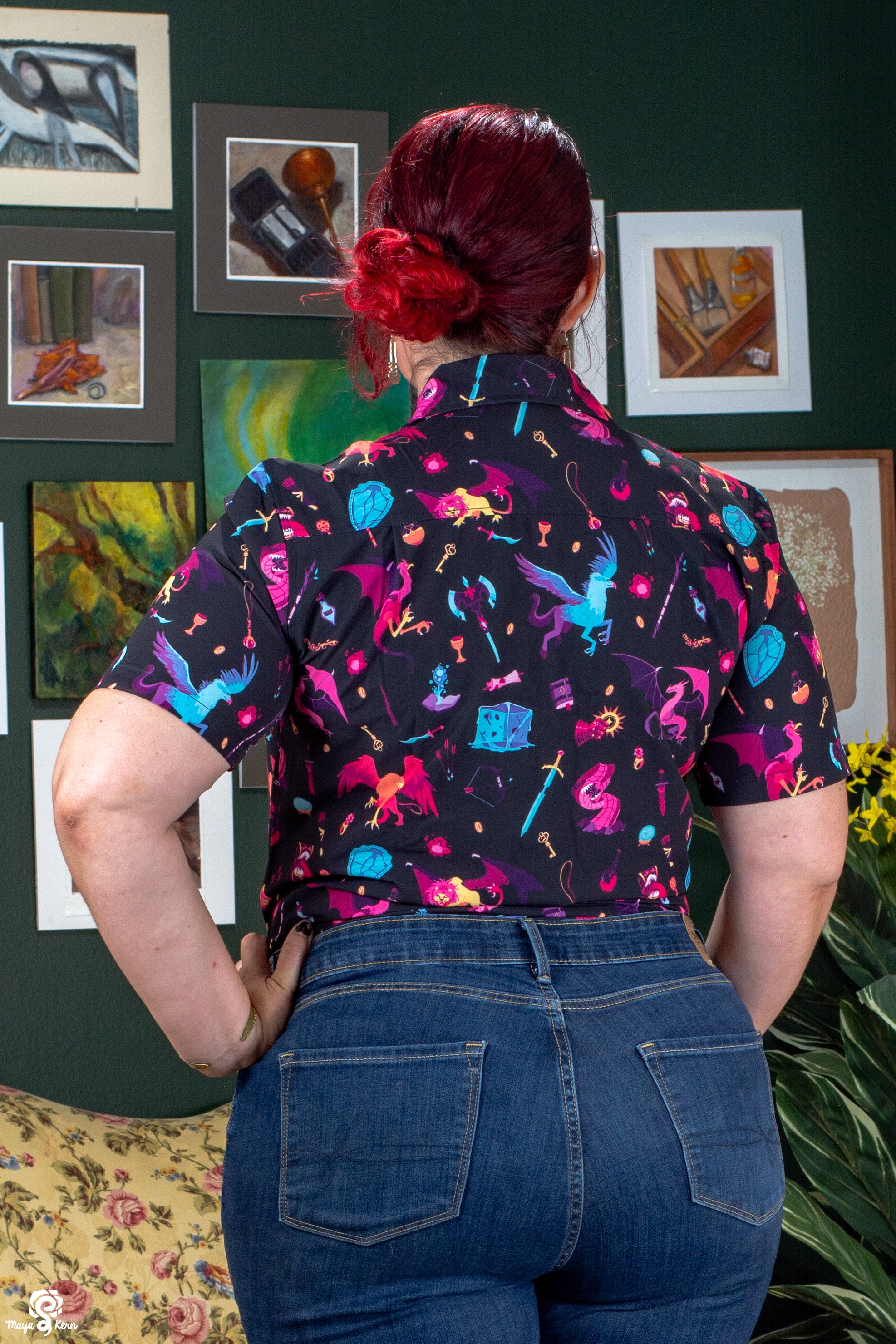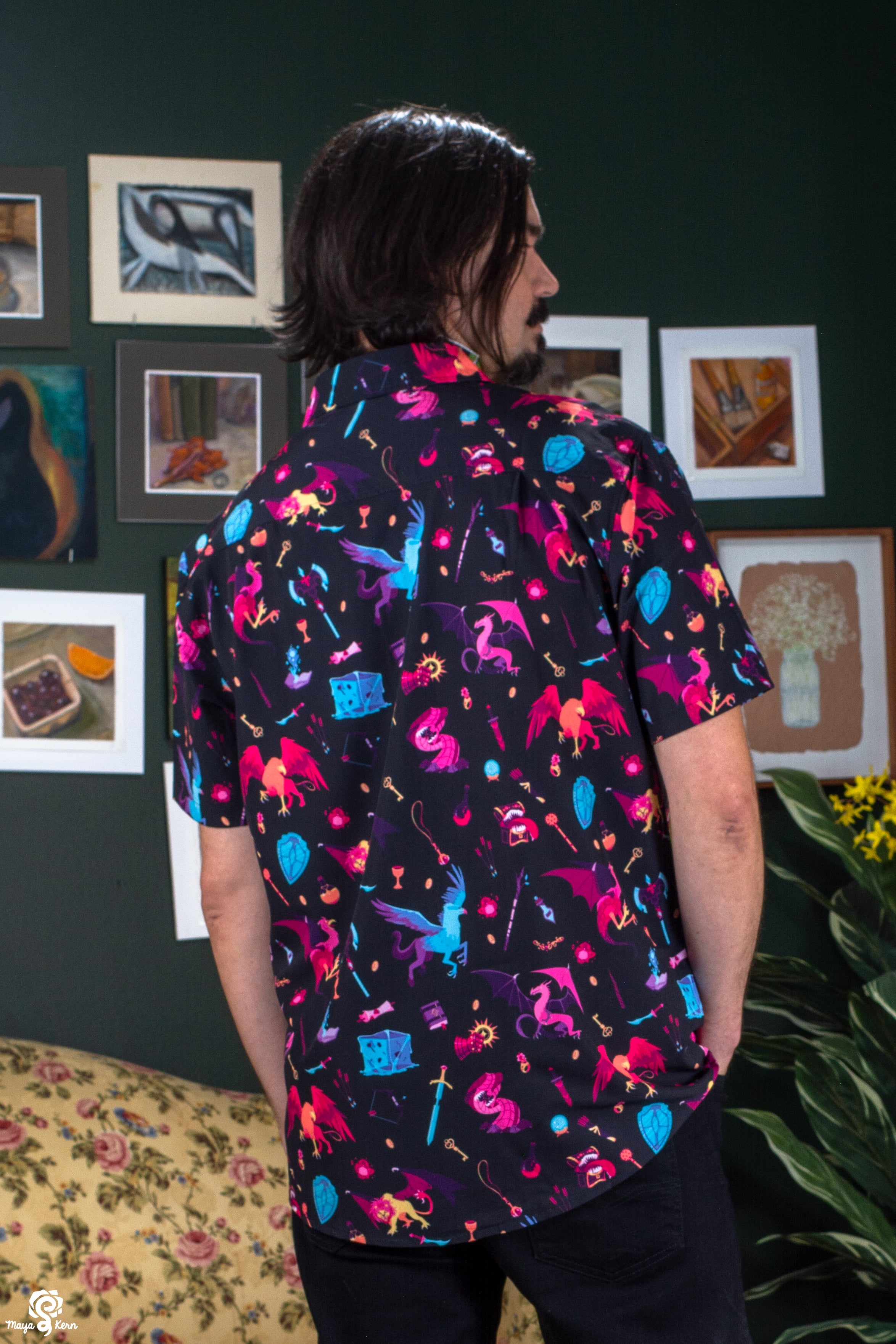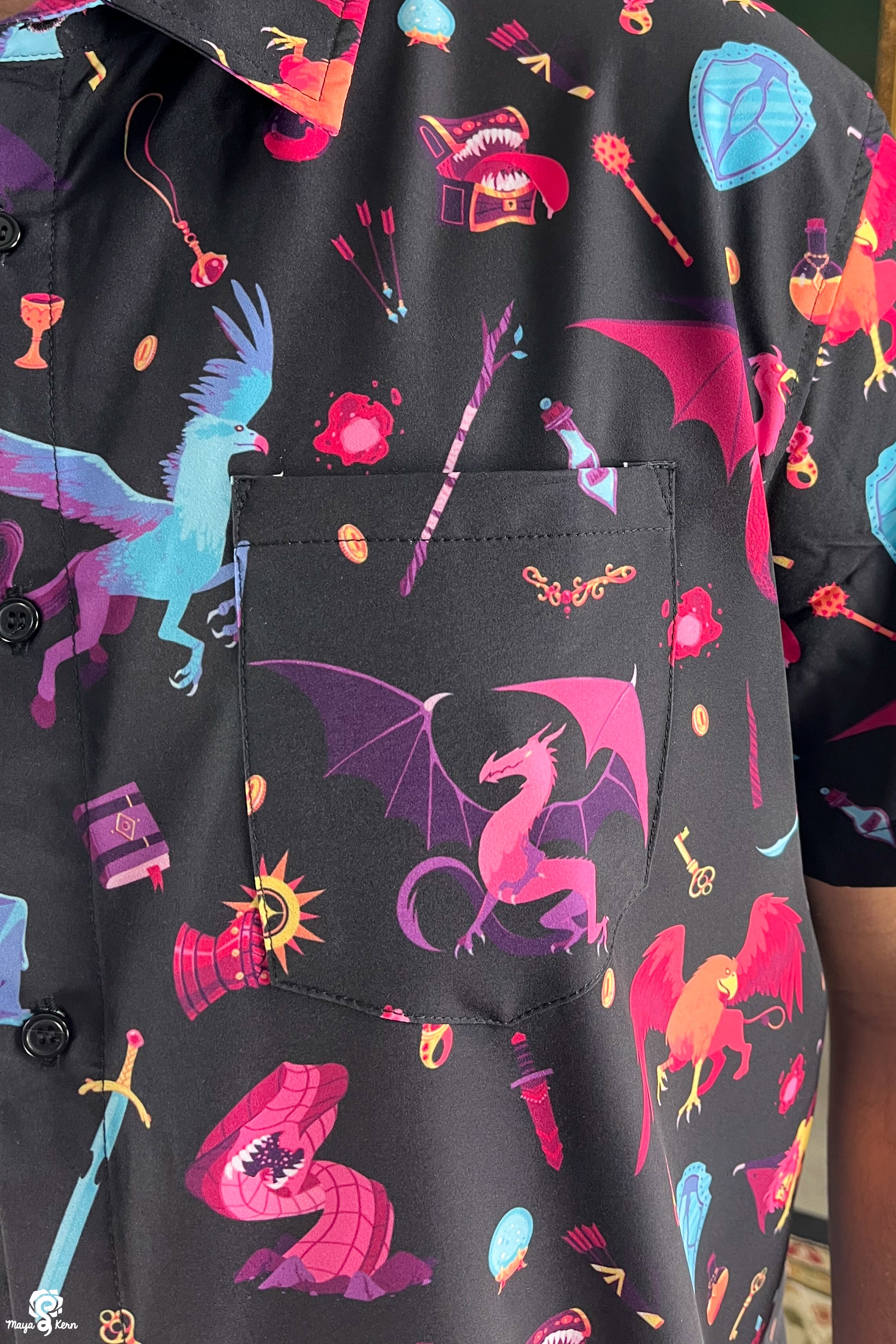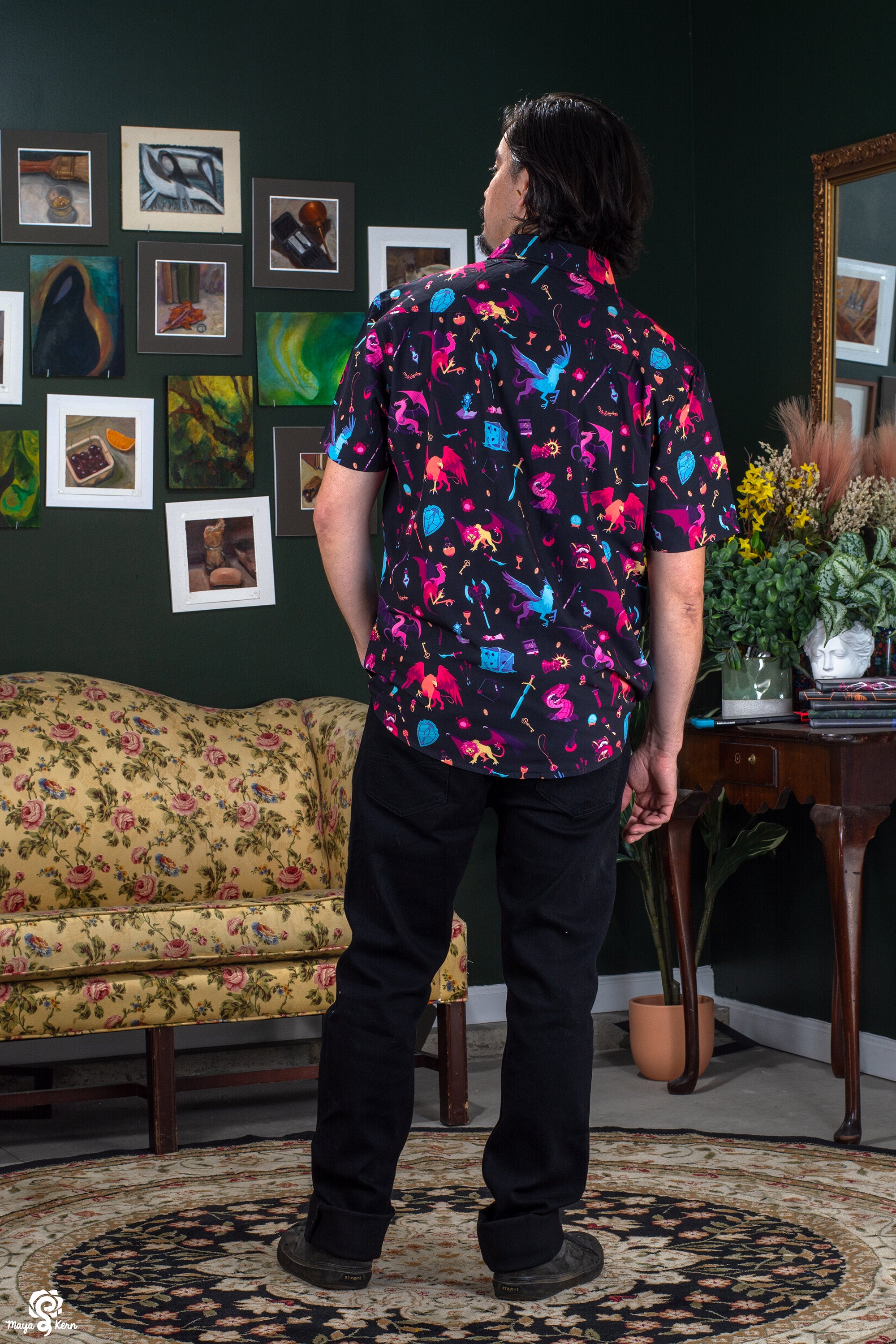 Maya Kern
Dungeon Delver Button-Down Shirt
Sale price
$50.00 USD
Regular price
Button-down shirt featuring my Dungeon Delver design. These shirts feature three hidden hook and eye closures between the second, third, and fourth buttons to prevent gaping in the chest. 
Please read the size chart. Sizes across brands are never universal. The size chart is available in both inches and centimeters and will ensure the best fit for you.
Maya
Wearing shirt size 2X
Height: 5' 5" (165cm)
Bust: 52" (132cm)
Waist: 42" (106cm)
Hips: 58" (147cm)

Ariel
Wearing shirt size Medium
Height: 5' 5" (165cm)
Bust: 41" (104cm)
Waist: 30" (76cm)
Hips: 50" (127cm)

Victor
Wearing shirt size Large
Height: 5' 11" (180cm)
Chest: 42" (106cm)
Waist: 34" (86cm)
Hips: 43" (109cm)

Devin
Wearing shirt size Small
Height: 5' 7" (170cm)
Bust: 32" (81cm)
Waist: 27" (68cm)
Hips: 37" (94cm)
Made in China

95% Polyester 5% Elastic
--CARE--
Wash shirts in cold water and tumble dry normally.
Dungeon Delver Button-Down Shirt
Dungeon Delver Button-Down Shirt
The best shirt I ever bought
The fit? Perfect. The feel? Incredible (I have sensory issues). It is the best shirt I have ever bought and everyone has complimented it! I need to buy more!!
Perfect for DnD Nights
I love this shirt so much! It's very comfortable, true to size, and the pattern is so pretty and nice. The print has vibrant colors and the shirt is good quality.
I also really love the hidden hooks between the buttons. As a full-chested plus size woman, this is basically the first time that I can wear a button-down shirt without wearing a tonk top underneath - there is absolutely no gaping at all. This has become my go-to outfit when I am running my DnD games as a Dungeon Master! :) <3
Top Quality Shirt
I watched this shirt for ages waiting for the leftover supply to be posted, and I'm so happy I did. It's as bright in person as it looks in the photos, if not miraculously more so. The design is so fantastical and fun, and by far the nerdiest shirt in my closet!
I'm absolutely thrilled with the cut. I have a hard time finding things that fit both my shoulders (kinda small by men's shirt standards) and my belly (not small), and this shirt is the perfect fit. It took me a minute to get used to the hooks and eyes, but I love them - they make the shirt lay in a very flattering way.
The fabric is like nothing I've ever felt before. It's a little bit slippery in a way that's odd (though not bad) for my texture sensitivities. With that said, it's sturdy and high-quality, and the unique texture works wonderfully in the collar. I usually find collared shirts to feel constricting if the fabric is stiff, but this fabric makes the collar hardly noticeable.
As other reviewers have said, well worth the price! This is a shirt that's built to last, and to look and feel amazing the whole time.