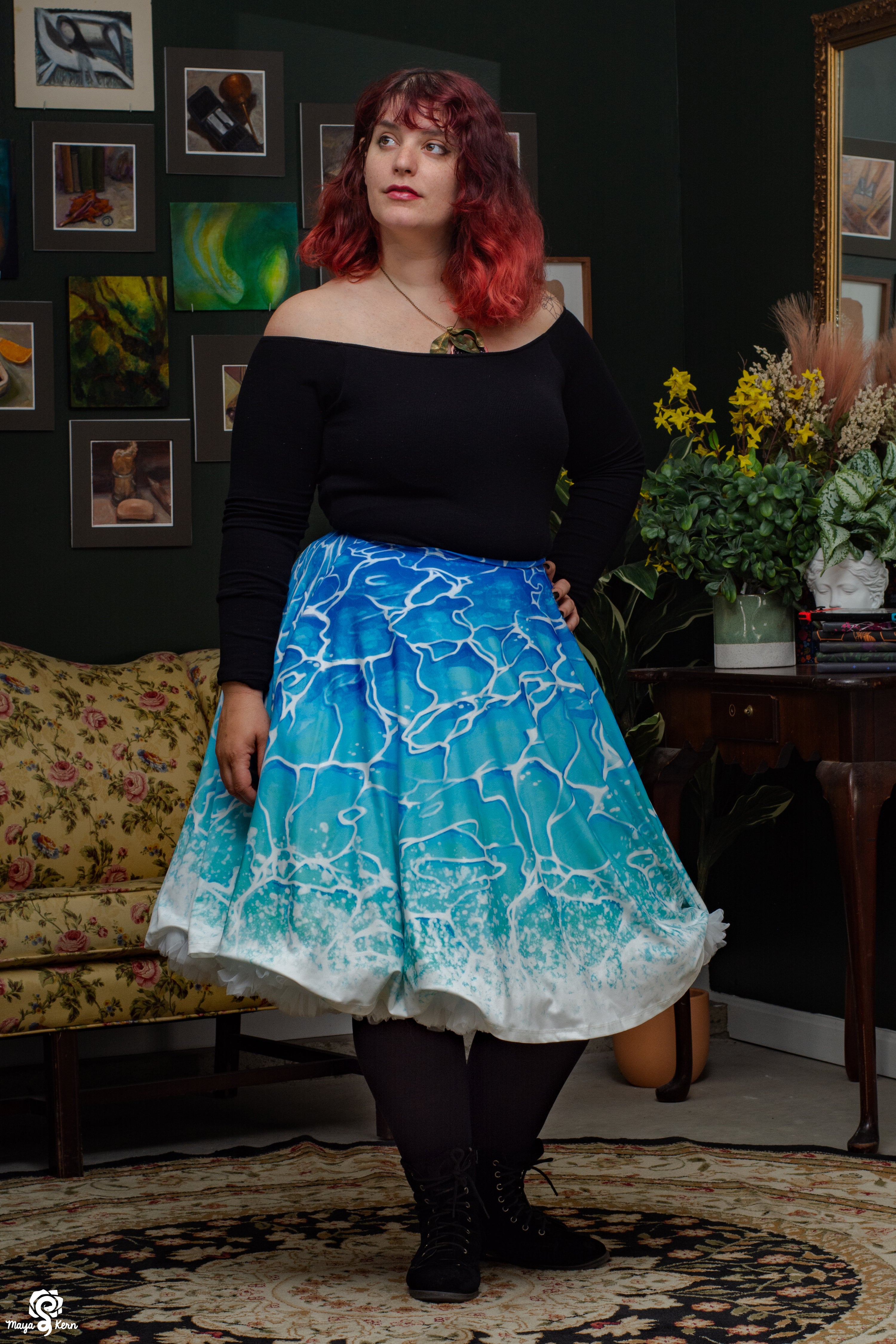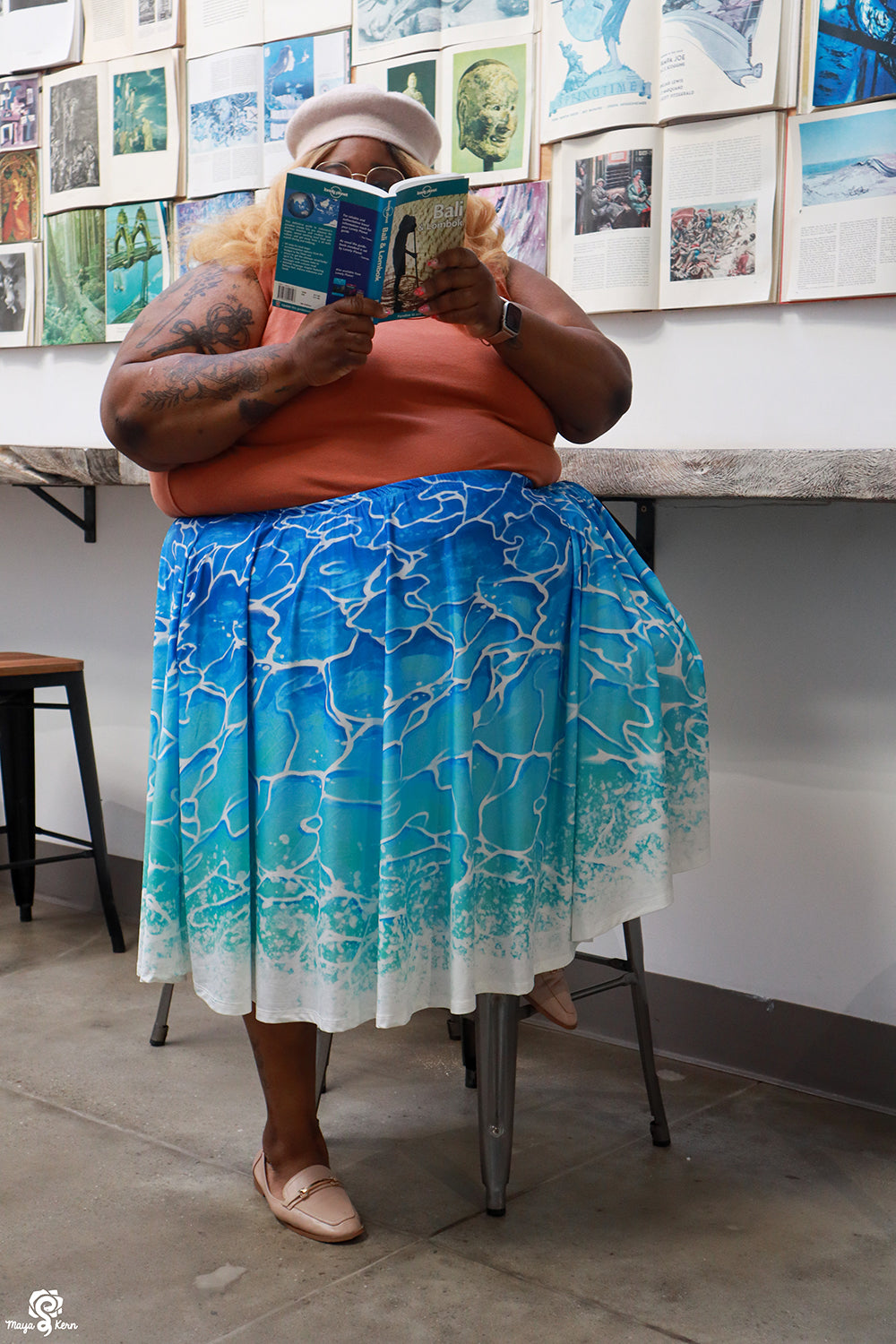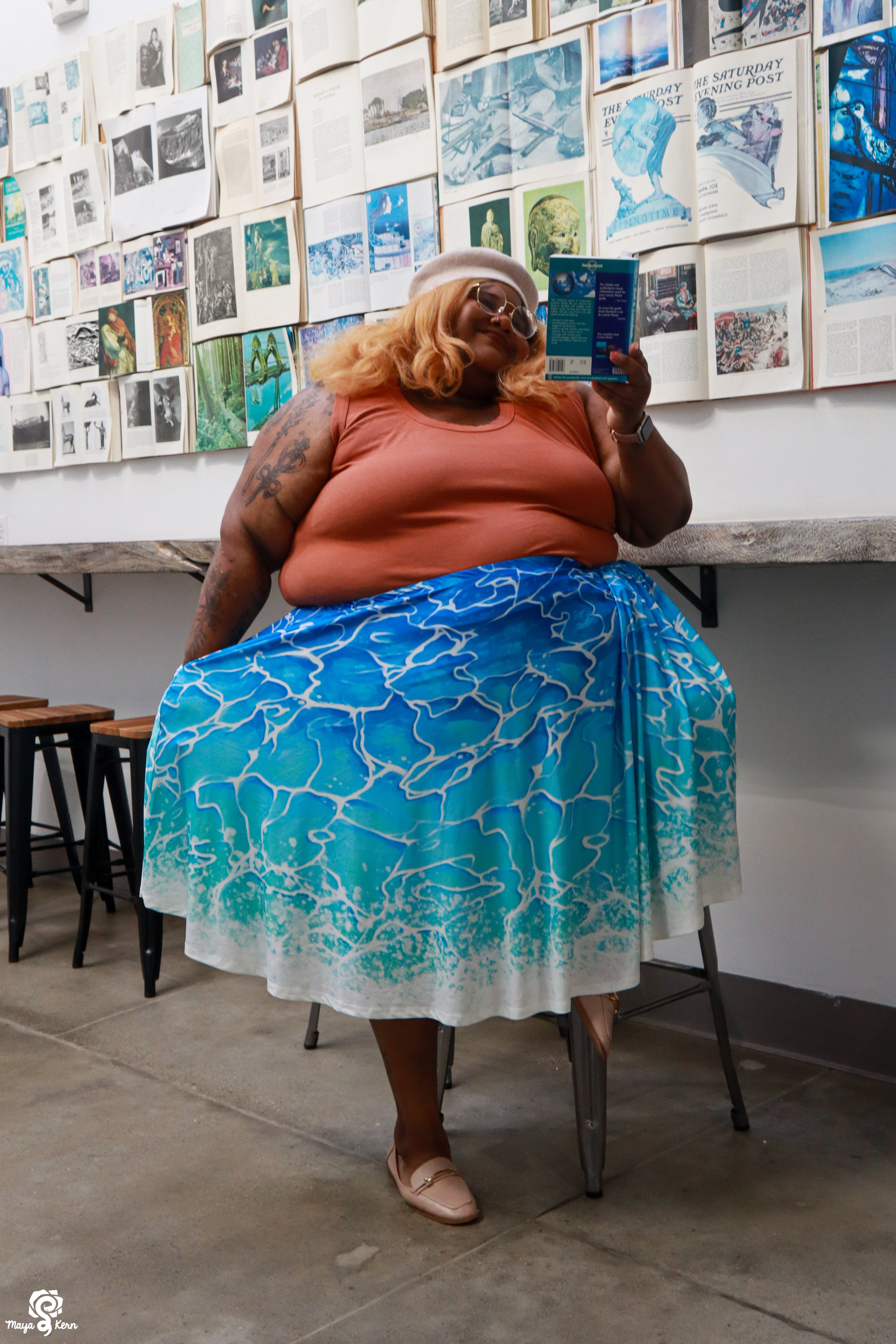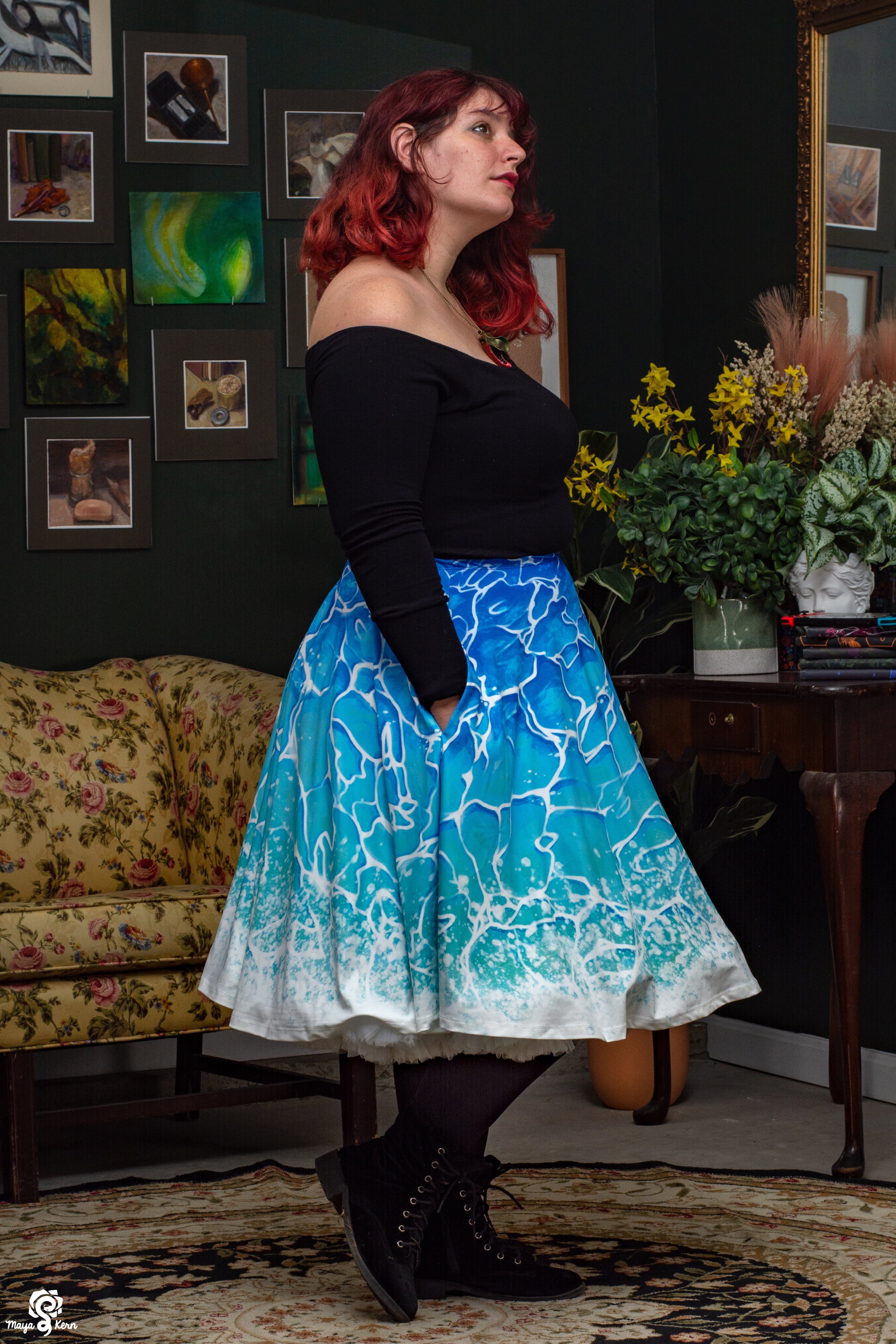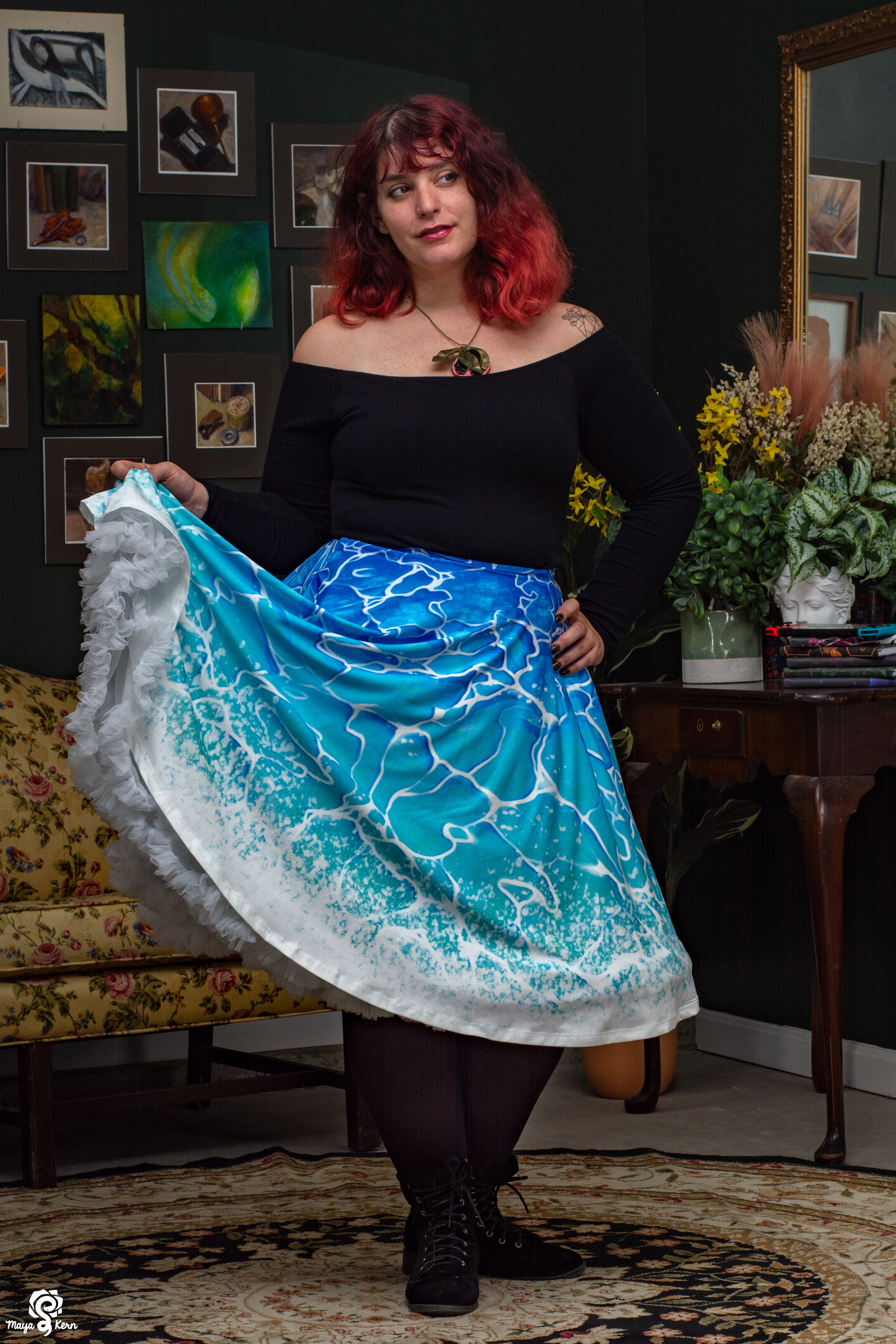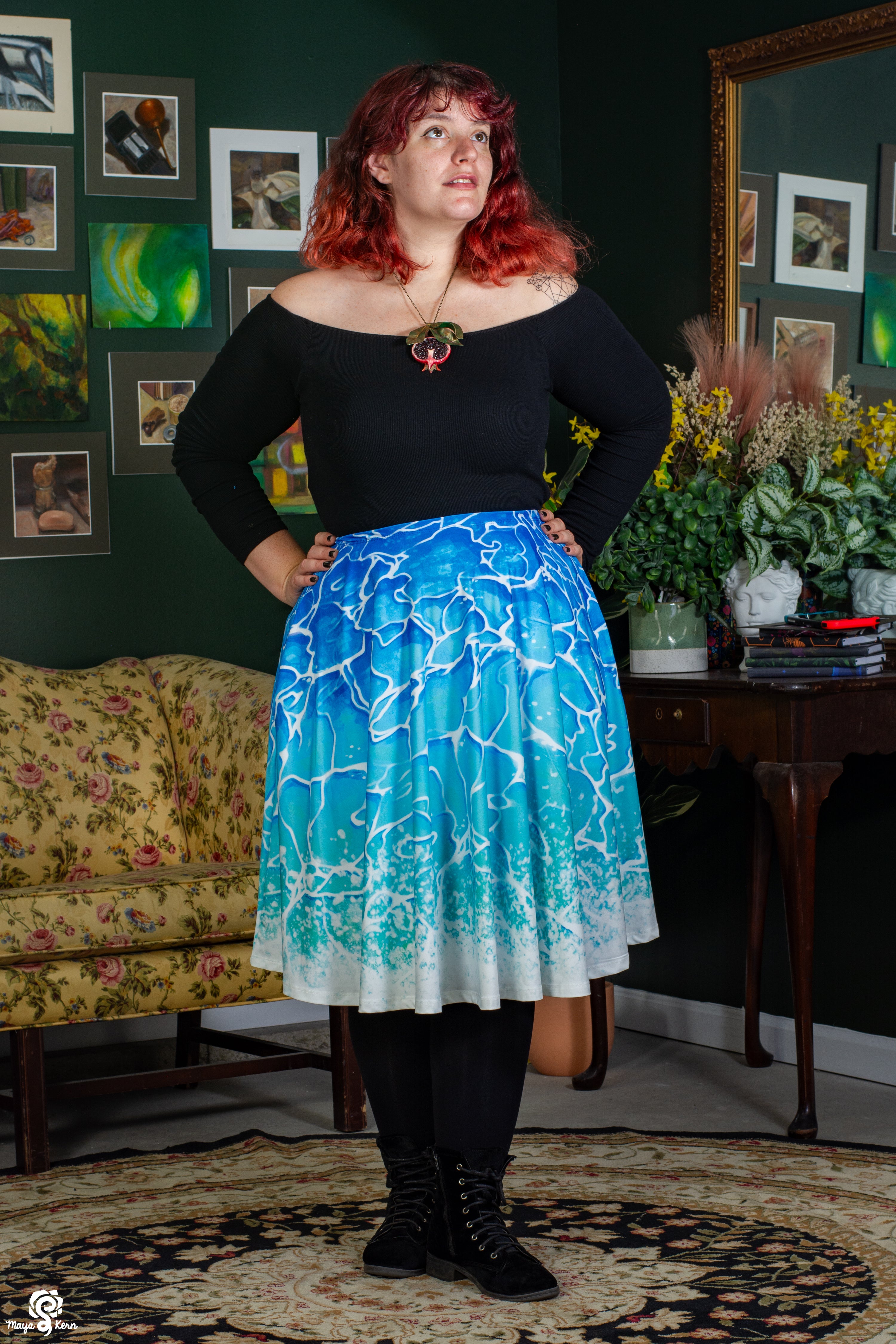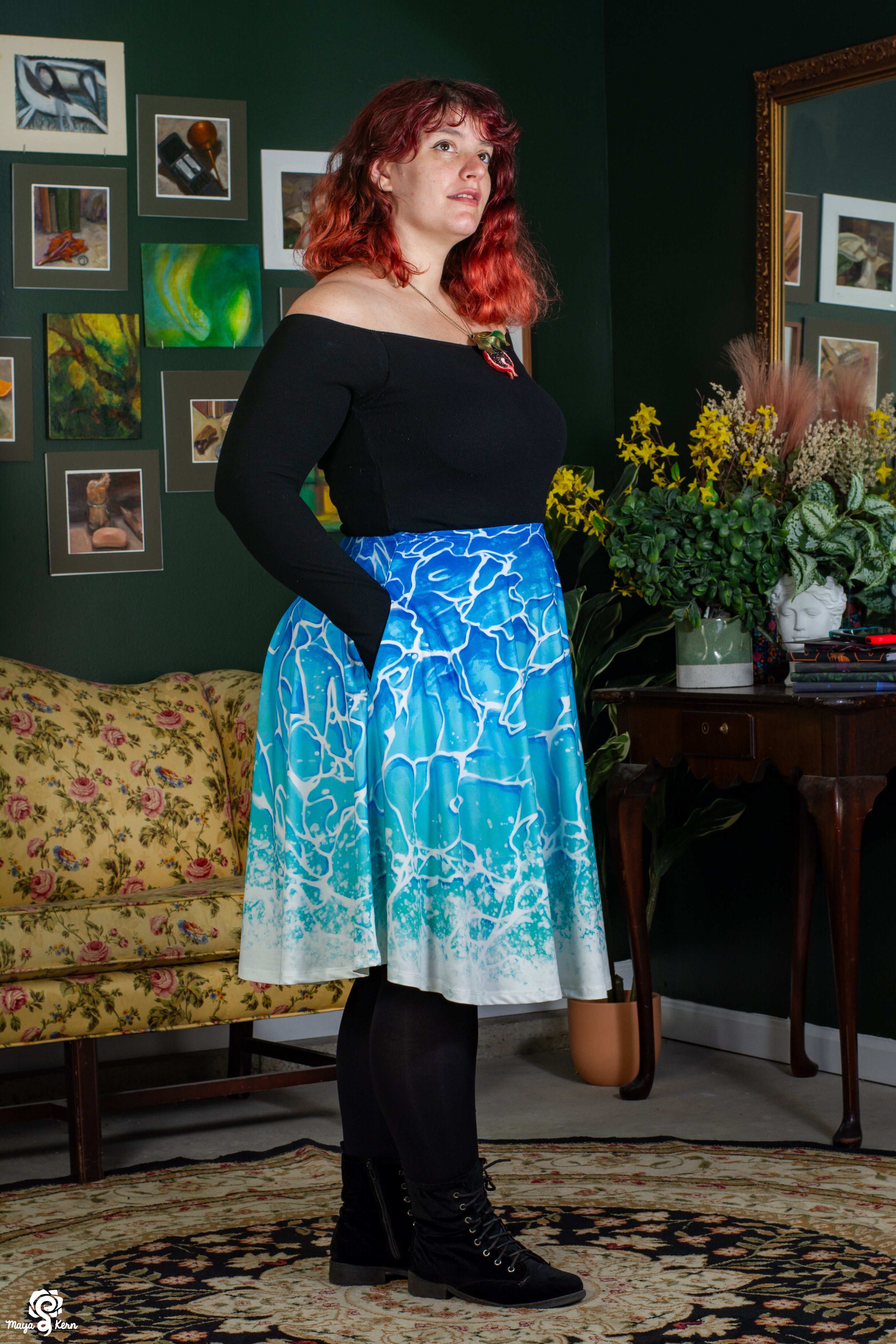 Maya Kern
Ocean Midi Skirt
Sale price
$60.00 USD
Regular price
Stretchy circle skirt featuring my Ocean design. These skirts have pockets large enough to fit your phone, DS, Switch, hands, and maybe a small cat.  Petticoat not included.

This first batch of skirts from our new manufacturer has different pocket placement from our classic skirts. The pockets are sewn into the side seam and are not attached to the waistband. Future skirt batches will have the pocket attached to the waistband. Only size D is affected by this defect.
These skirts come in four sizes:
SIZE A
15-30" (38cm-76cm) waist
25″ length
SIZE B
30"-45" (76cm-114cm) waist
25″ length
SIZE C
40"-60" (101cm-152cm) waist
25″ length
SIZE D
55"-85" (139cm-216cm) waist
27" length
These skirts are very stretchy and the sizes have a lot of overlap! If you can't decide between sizes it comes down to preference; a smaller size will fit tighter and may stay up easier if you plan on filling your pockets, and a larger size will fit looser!
These skirts are made of a polyester/spandex blend
Made in Turkey in a Supplier Ethical Data Exchange and OEKO-TEX Standard 100 certified factory. SEDEX certifies ethical labor practices and OEKO-TEX Standard 100 certifies responsible textile production, ensuring there are no harmful substances present.
Maya
Wearing skirt size B, shirt size 2XL
Height: 5' 5" (165cm)
Bust: 52" (132cm)
Waist: 42" (106cm)
Hips: 58" (147cm)

Ariel
Wearing skirt size A, shirt size L
Height: 5' 5" (165cm)
Bust: 41" (104cm)
Waist: 30" (76cm)
Hips: 50" (127cm)

Devin
Wearing skirt size A, shirt size S
Height: 5' 7" (170cm)
Bust: 32" (81cm)
Waist: 27" (68cm)
Hips: 37" (94cm)

Keda


Wearing skirt size D




Height: 5' 3" (160cm)




Bust: 64" (164cm)




Waist: 65" (165cm)




Hips: 69" (175cm)
--CARE--
Wash skirts in cold water and tumble dry normally.
A beautiful and comfortable skirt that I'm so happy I took the plunge and bought! Just as good If not better than the pictures
I love everything about this skirt!!
Highly recommended! Comfortable smooth fabric. Huge pockets. Beautiful design!
I had mainly bought Maya Kern's miniskirts before. I'm short (~5'2") and was worried about the midi length (Size A). But when I saw this beautiful ocean design, I knew I needed it in the longer midi length!
What I Love:
-The longer length shows off the ocean design and really evokes the ocean and beach shore vibes!!
-The drape and swirl of the fabric is mesmerizing!
-The fabric feels so good and smooth on the skin. Smooth, not fully matte and clingy but also not too slick and shiny.
-The elastic waistband is very comfortable and lets me pull the skirt up to my neck when I'm feeling chilly, like a poncho.
-The length hits me about mid-calf and is still short enough for me to easily walk up stairs without worrying about stepping on the hem and tripping.
-I get tons of compliments from family, friends and strangers!
-Huge pockets for me to carry phone, wallet, snacks, etc!
I've bought 2 more midi skirts now (the Meyoco bunnies and the Black ecoverose). And my mother has also fallen in love and is getting her first midi skirt with my next order. I basically converted all bottoms in my wardrobe to skirts now thanks to Maya Kern's designs and HUGE pockets that are bigger and more convenient than any pants I've owned.
In love with this print!
Ahhh, I absolutely love this print pattern so much: it's interesting without being too complicated! Skirt quality is as lovely as ever, super soft and flowy. Love the pockets and super happy with my purchase, thank you!
Cute and comfortable
I keep coming back to Maya's designs because they are extremely comfortable with deep pockets and delightful patterns. I wear the skirts all the time.
Loves midi skirt
Thank you for resendin midi skirt out so promptly She love it. Do you want the mini one back. Thank you again always great items. You do a fantastic job. Debbie