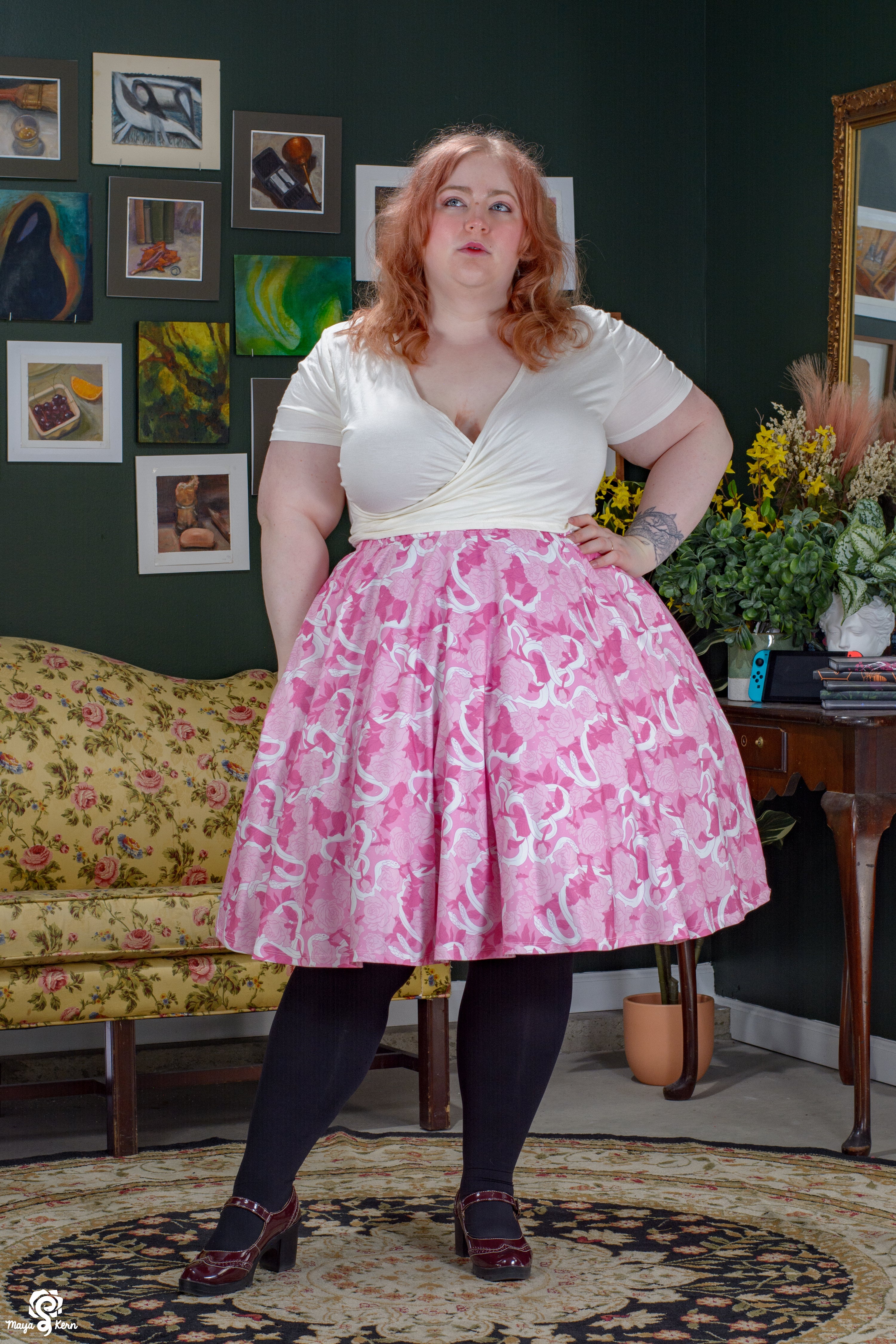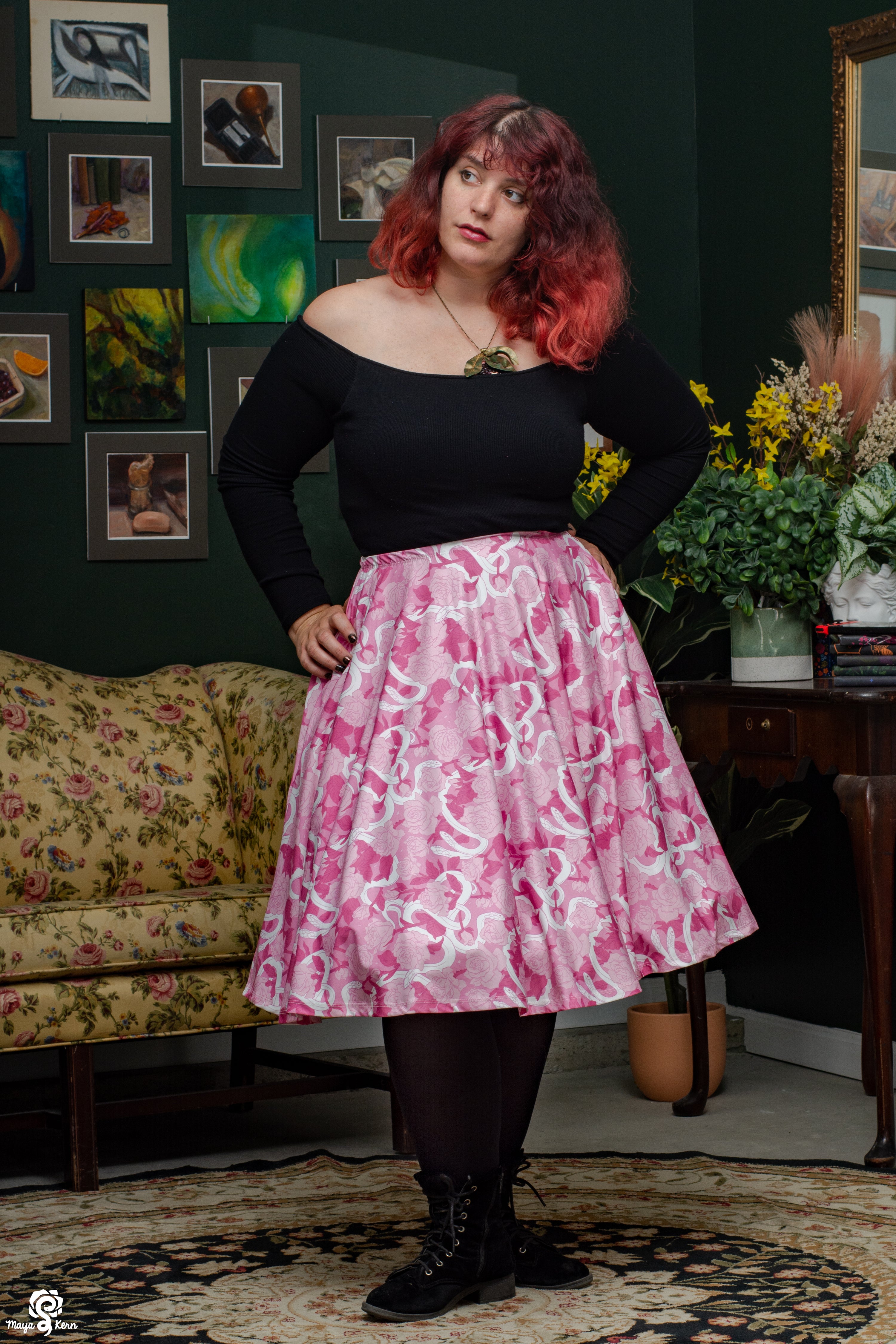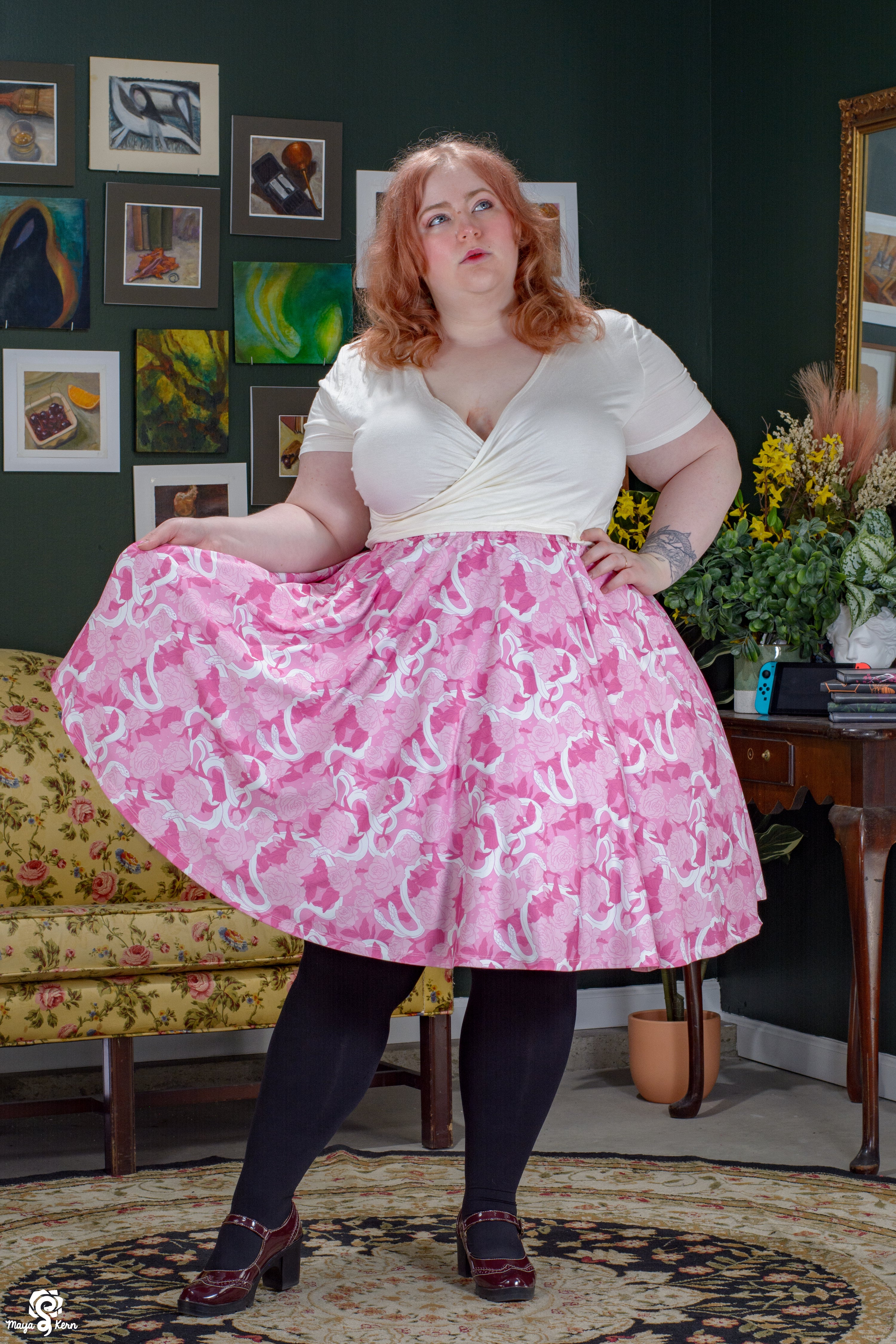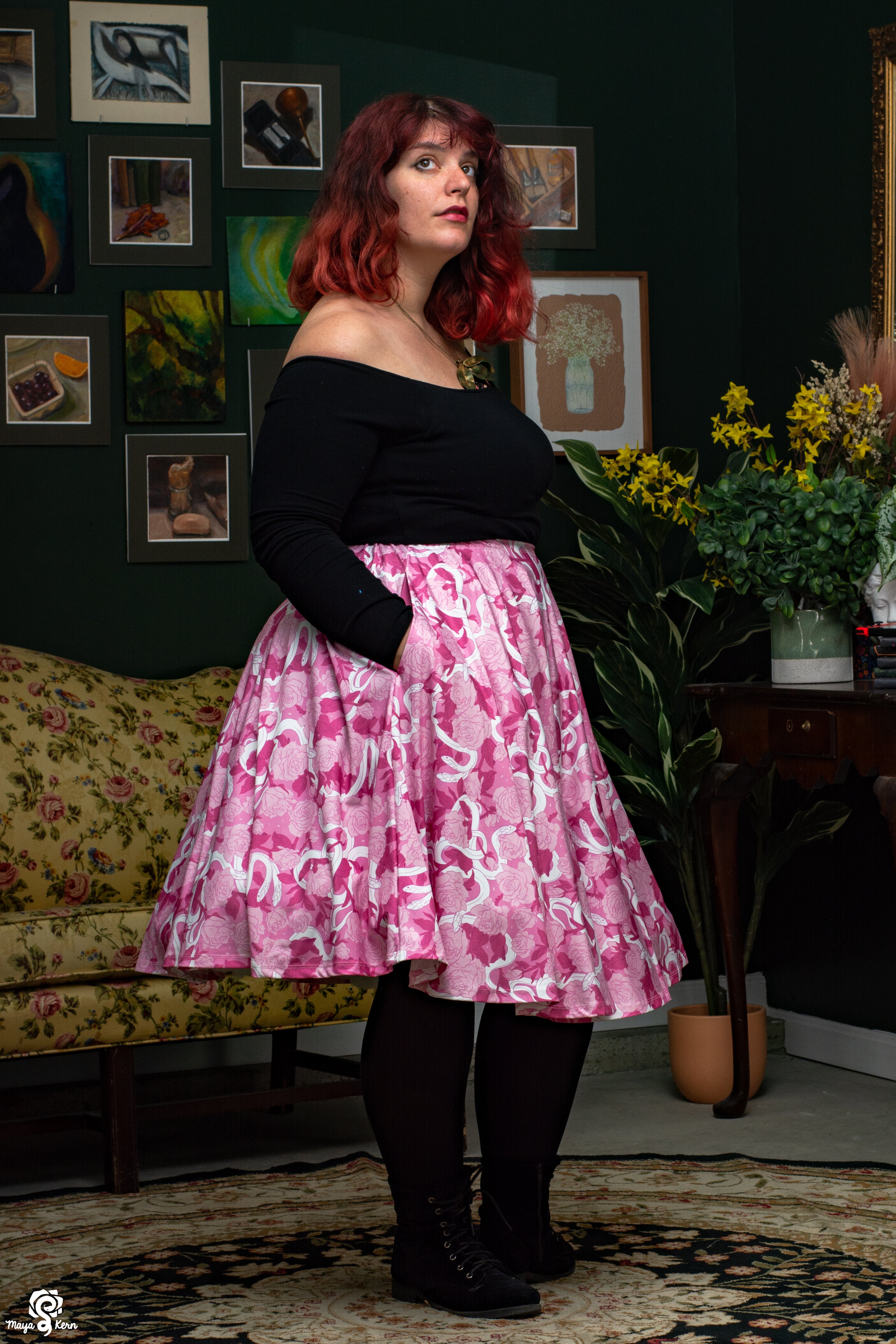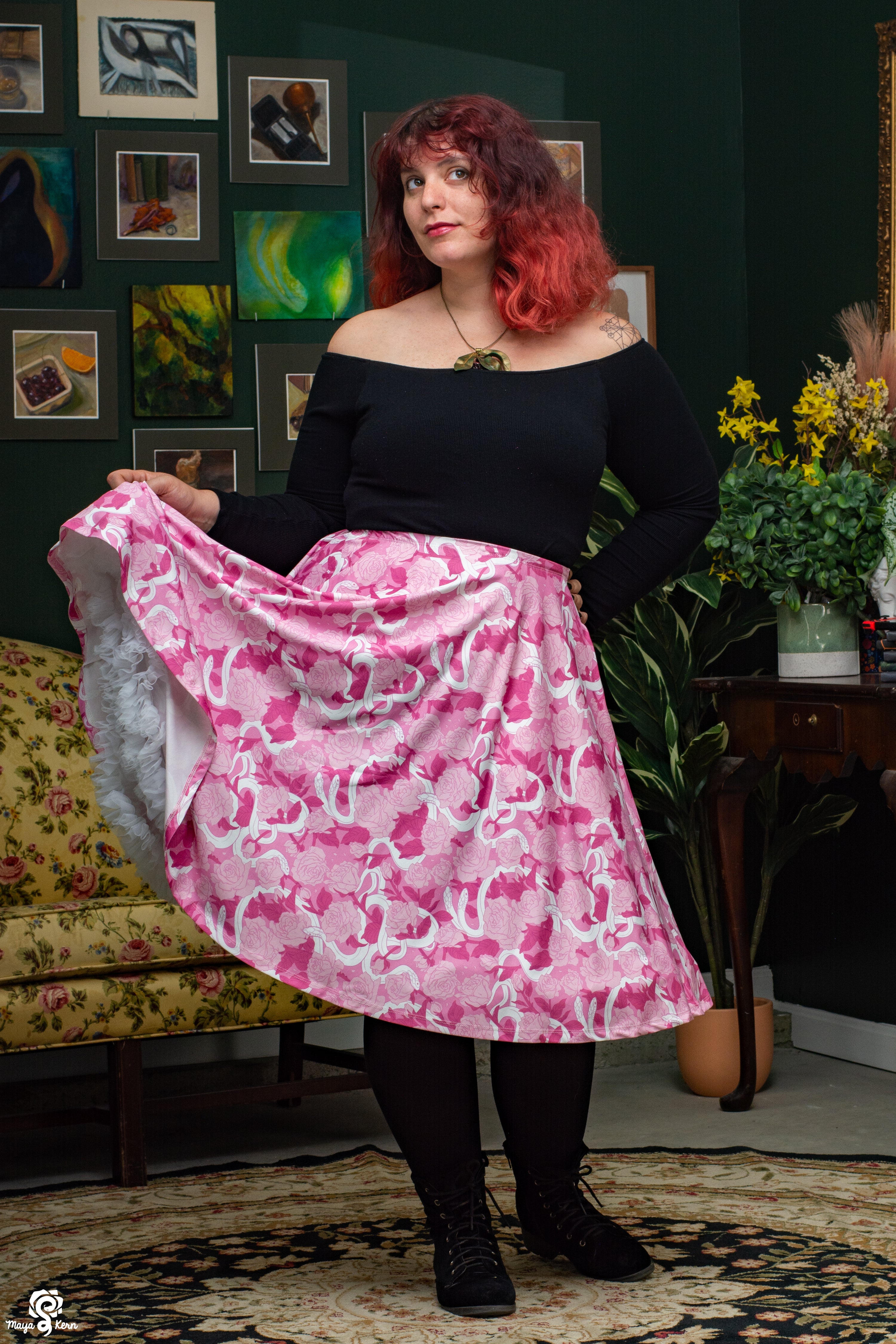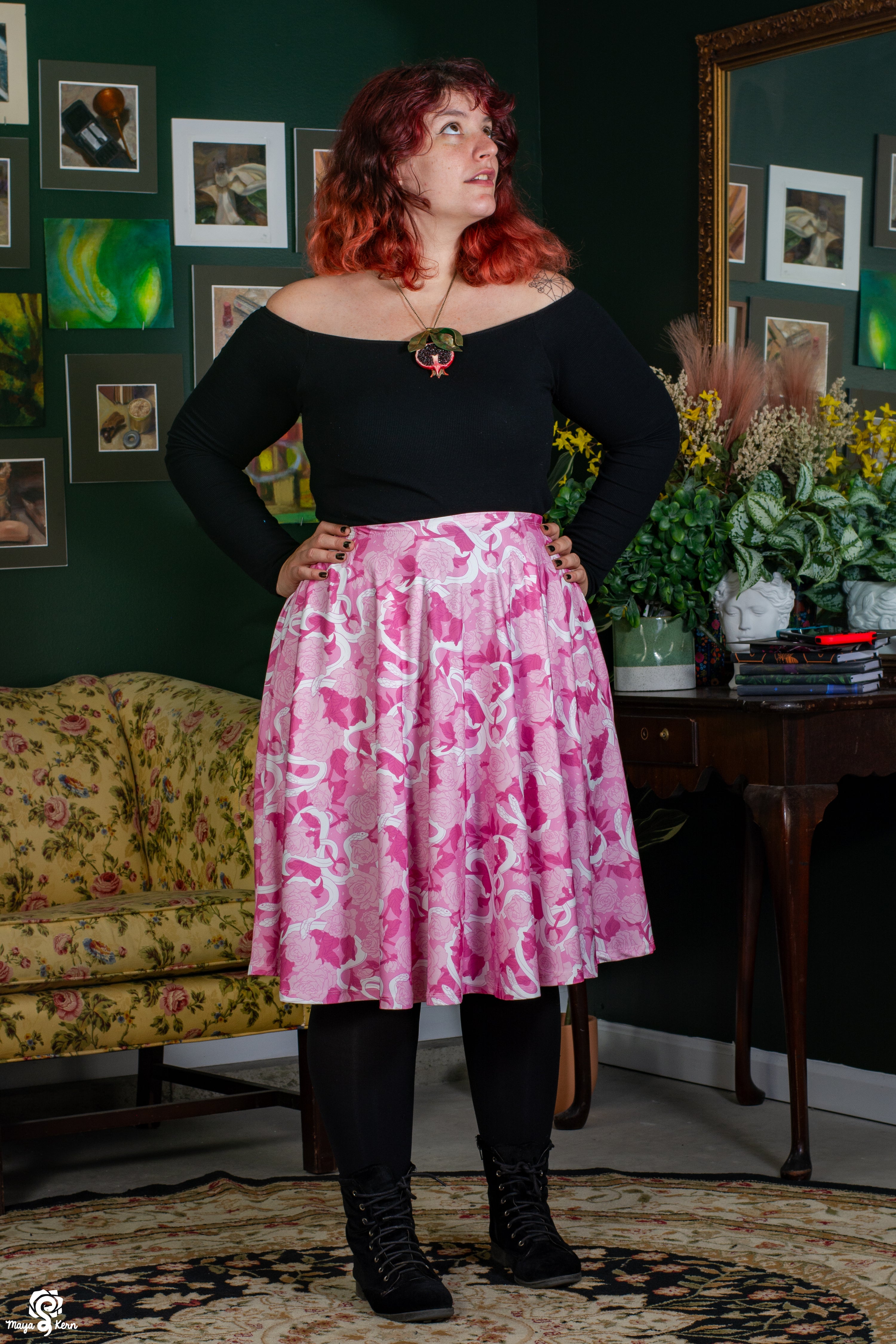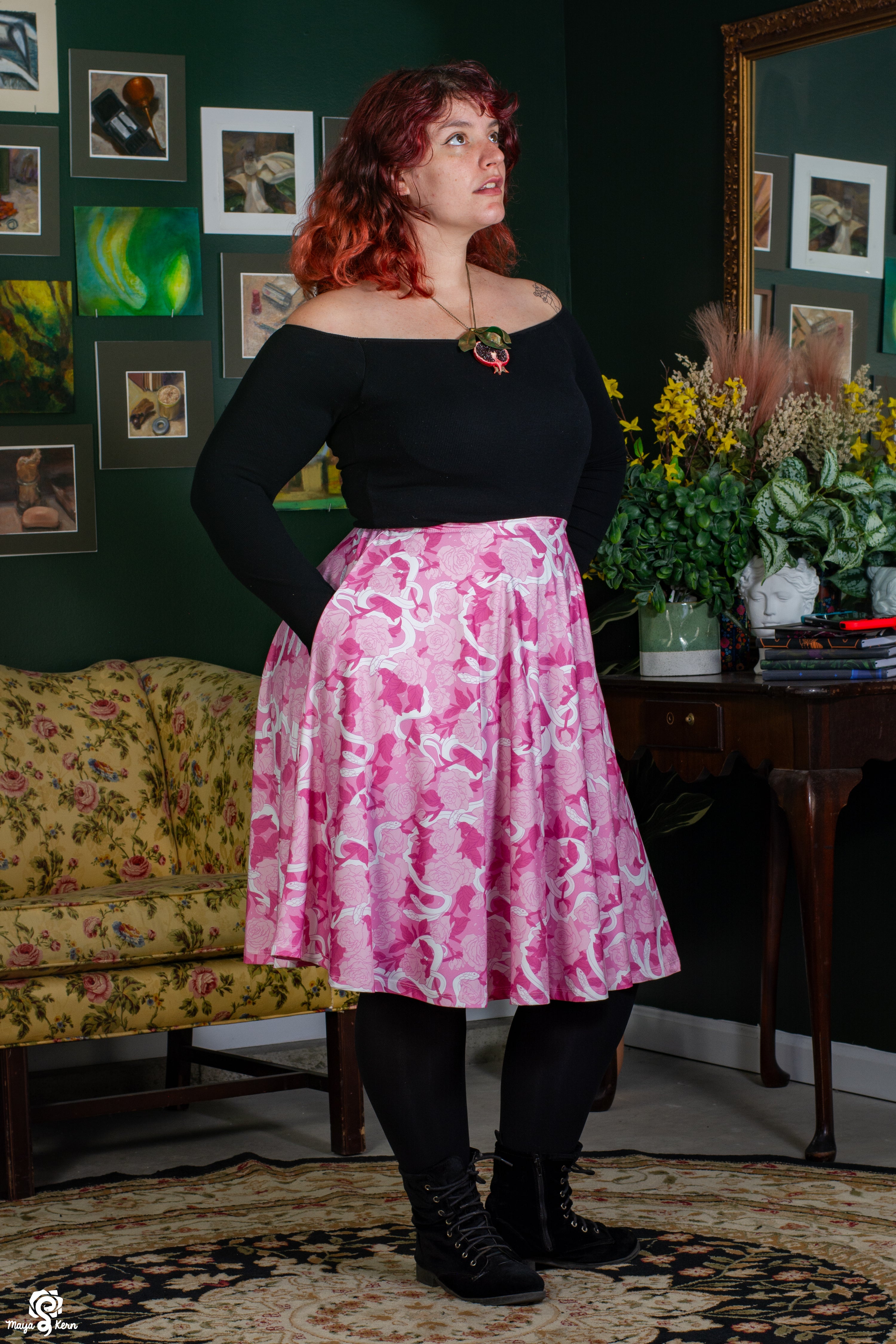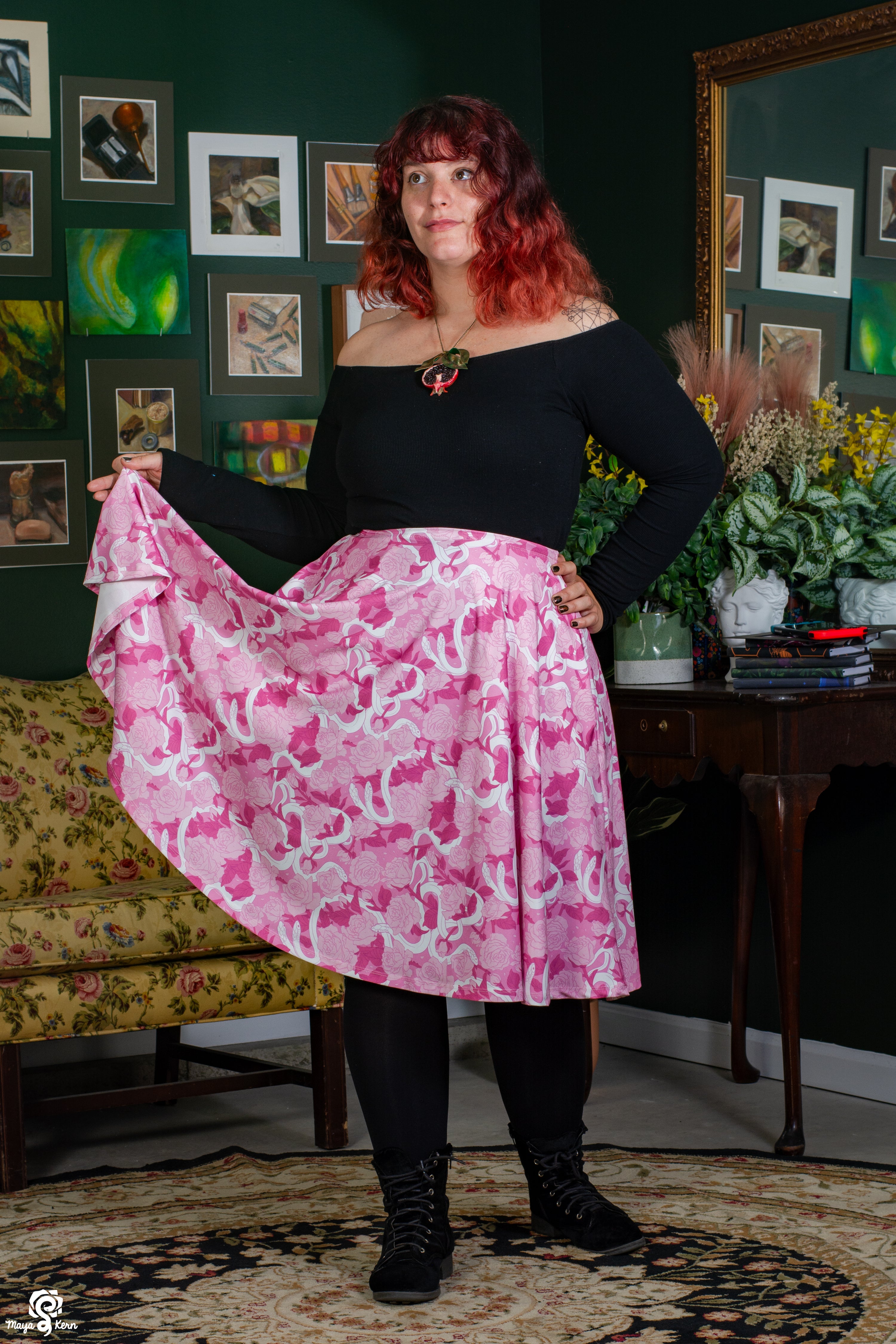 Maya Kern
Hiss from a Rose: Valentine Midi Skirt
Sale price
$60.00 USD
Regular price
Stretchy circle skirt featuring my Hiss from a Rose: Valentine design. These skirts have pockets large enough to fit your phone, DS, Switch, hands, and maybe a small cat.  Petticoat not included.
These skirts come in four sizes:
SIZE A
15-30" (38cm-76cm) waist
25″ length
SIZE B
30"-45" (76cm-114cm) waist
25″ length
SIZE C
40"-60" (101cm-152cm) waist
25″ length
SIZE D
55"-70" (139cm-216cm) waist*
27" length
*This batch of skirts was made with faulty elastic and doesn't stretch up to our typical 85" waist
These skirts are very stretchy and the sizes have a lot of overlap! If you can't decide between sizes it comes down to preference; a smaller size will fit tighter and may stay up easier if you plan on filling your pockets, and a larger size will fit looser!
These skirts are made of a polyester/spandex blend
Made in Turkey in a Supplier Ethical Data Exchange and OEKO-TEX Standard 100 certified factory. SEDEX certifies ethical labor practices and OEKO-TEX Standard 100 certifies responsible textile production, ensuring there are no harmful substances present.
Maya
Wearing skirt size B, shirt size 2XL
Height: 5' 5" (165cm)
Bust: 52" (132cm)
Waist: 42" (106cm)
Hips: 58" (147cm)

Ariel
Wearing skirt size A, shirt size L
Height: 5' 5" (165cm)
Bust: 41" (104cm)
Waist: 30" (76cm)
Hips: 50" (127cm)

Devin
Wearing skirt size A, shirt size S
Height: 5' 7" (170cm)
Bust: 32" (81cm)
Waist: 27" (68cm)
Hips: 37" (94cm)
--CARE--
Wash skirts in cold water and tumble dry normally.
Beautiful design, high quality workmanship
This was my first attempt at ordering a skirt from Maya Kern since the transition to the new manufacturer. I can see why they like the new place. The colors on this skirt really pop and the printing quality is great. I love the fit and the way the fabric moves. Also the design is gorgeous - I'm not usually much of one for pink, but I've been waffling over Hiss from a Rose patterns for years now and this is the first one where the color values really worked for me. When I saw that this is the last time they plan to run this pattern, I had to leap on it even if I hadn't gotten the chance yet to sample the fabric and see how I feel about the textures. Totally worth it, too. It's absolutely beautiful.
My one issue with the skirt is that the texture of the fabric feels like swimsuit fabric, and that's really mostly a personal preference thing. I was a bit hesitant about the fabric going in because I tend to prefer more natural fibers, and I do think I'll stick to the viscose skirts (which are *fantastic*) in the future unless I stumble across a design I can't resist. That said, it's a very smooth fabric with a nice weight and shine to it. The skirt is well made and I wouldn't be surprised if this fabric is relatively fade resistant. I imagine it's going to appeal to a lot of people.
Best thing in my wardrobe!
Absolutely beautiful skirt, literally have people stop me in the street to ask about it whenever no wear it! Super comfortable, and the pocketssss!
I'm a size UK18 and grabbed a C, but honestly could have gone one down with the amount of stretch the waistband has. My only issue is heavy items in the pockets pull it down, but that's expected and again, would have been saved if I ordered smaller. Cannot recommend enough!!
Hiss from a Rose: Valentine Midi Skirt
New Fave!!
Oh. My. Word. I dithered and debated on this skirt because I'm not…really a pink person, but I'm trying to add color to my wardrobe, so I thought, let's go with this colorway.
And now this is my favorite skirt. The snakes!!! I adore them; the white snakes in the pink flowers make for a lovely surprise. Everyone who has complimented the skirt has Lit Up with excitement when I declare both: "thanks! It's got snakes!" as well as the instinctive "thanks! It's got pockets!" - AND WHAT POCKETS! I have to *reach* to get my keys from the bottom and it's a wonder. Plus the fabric! Smooth and pleasant against my legs, just the right kind of slippy especially when driving in this southern summer heat, and everyone who's touched it marvels at the fabric.
All this to say I haven't had the skirt that long but it ends up back in my laundry for every laundry day, because I adore it 💚
💙💙💙
I absolutely love my skirt! The new material is really nice and slippy so it doesn't nearly as staticky as a lot of my older skirts. The colours are so bright and I have been eyeing this colourway of Hiss From A Rose since Maya posted it on her blog 🩷