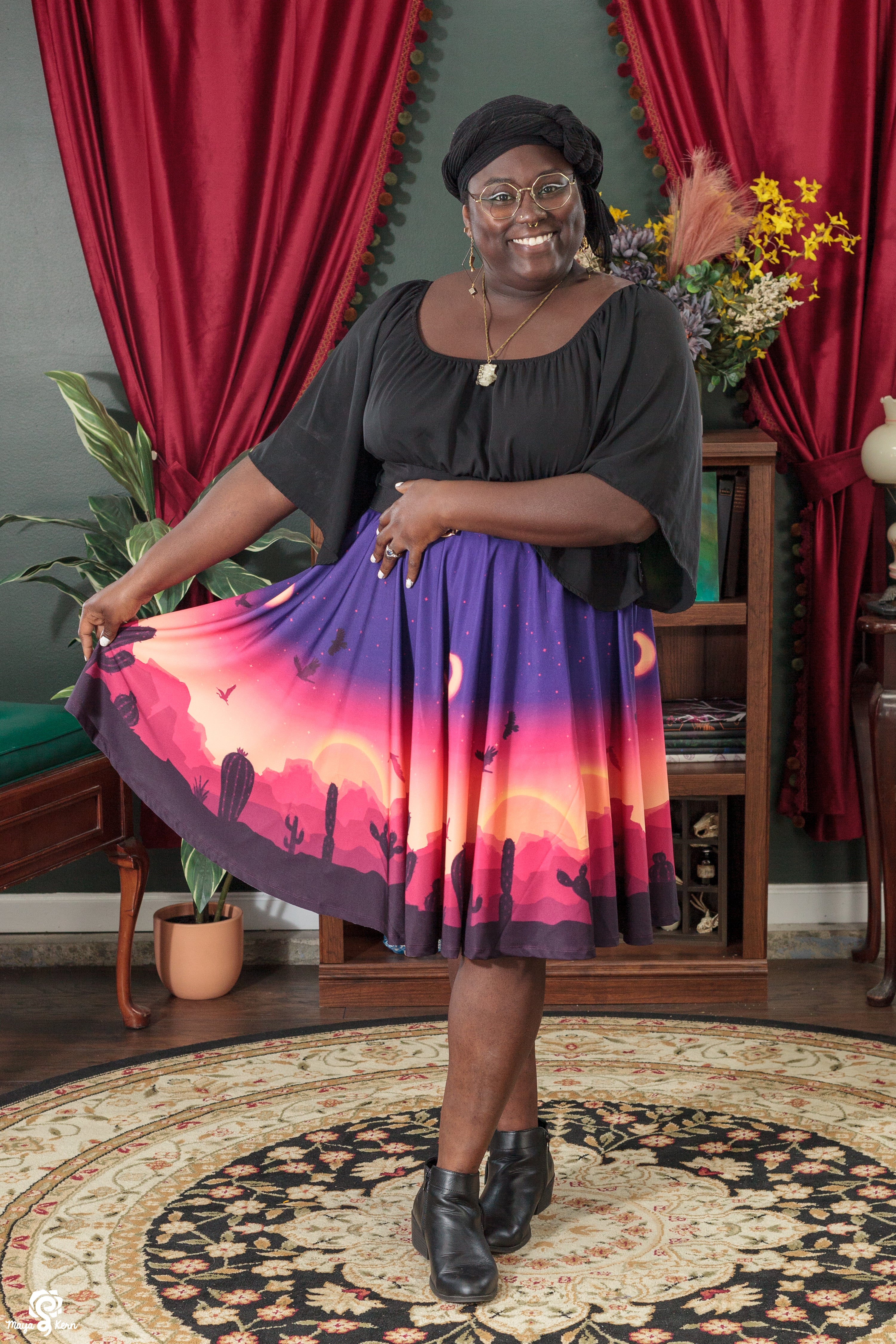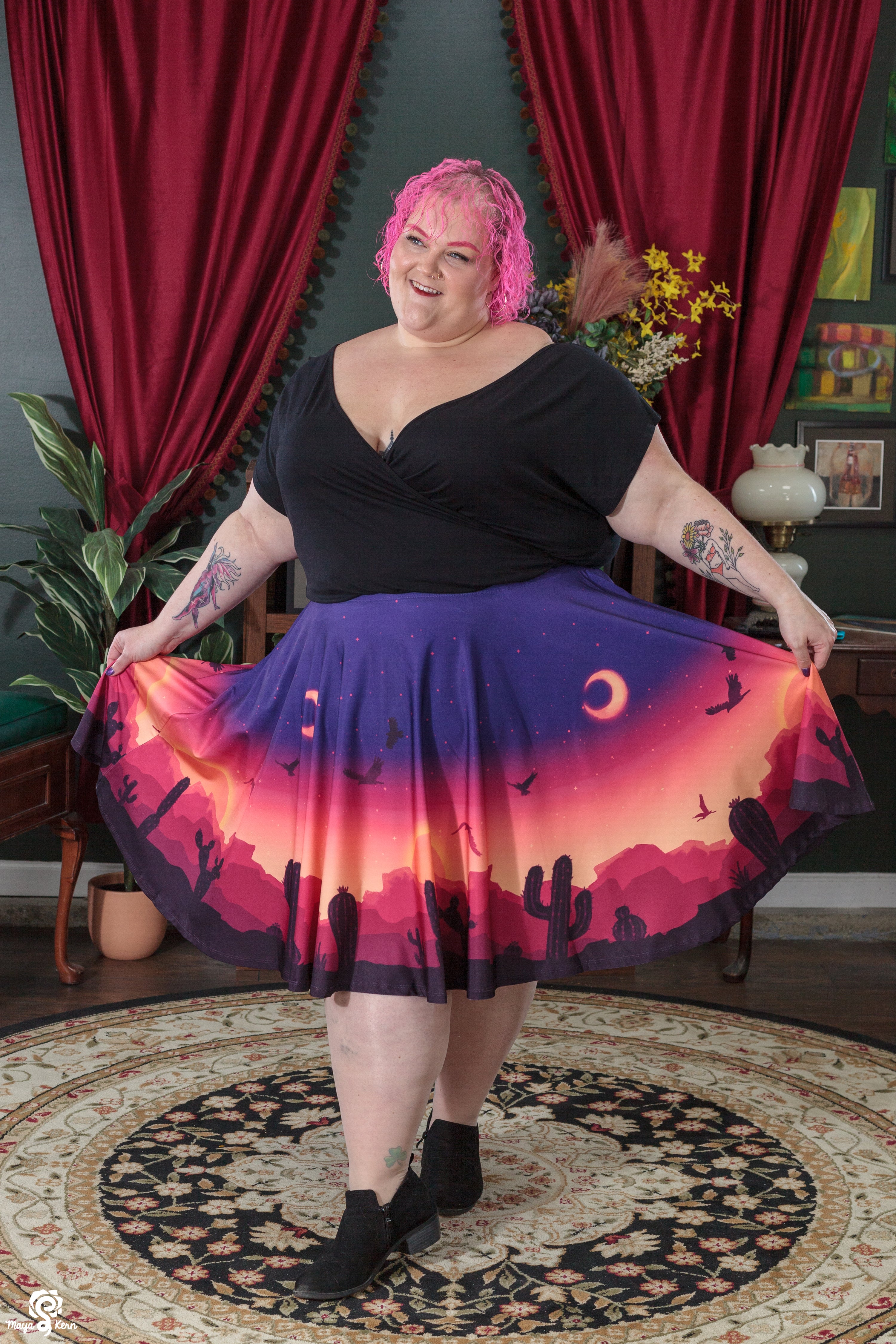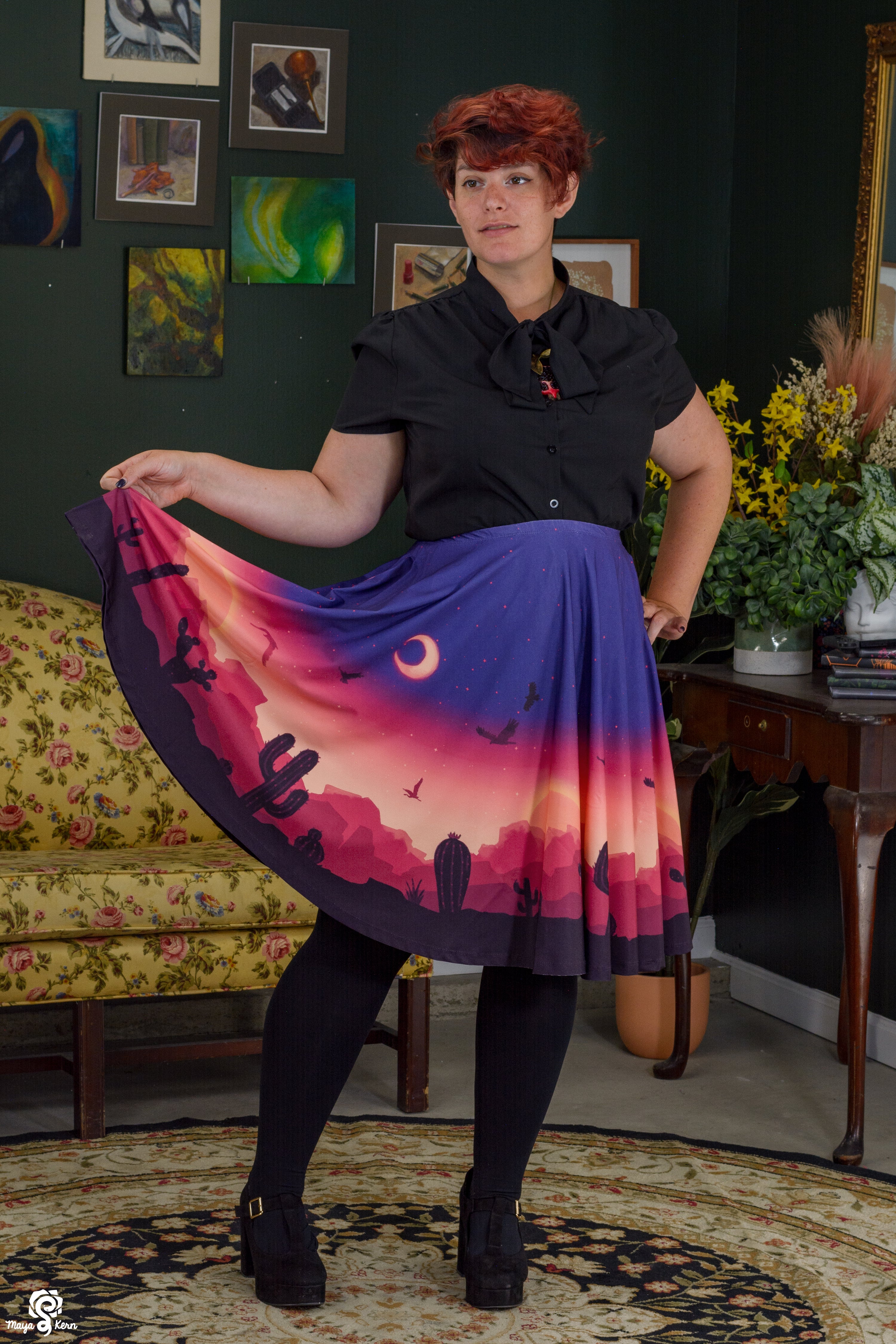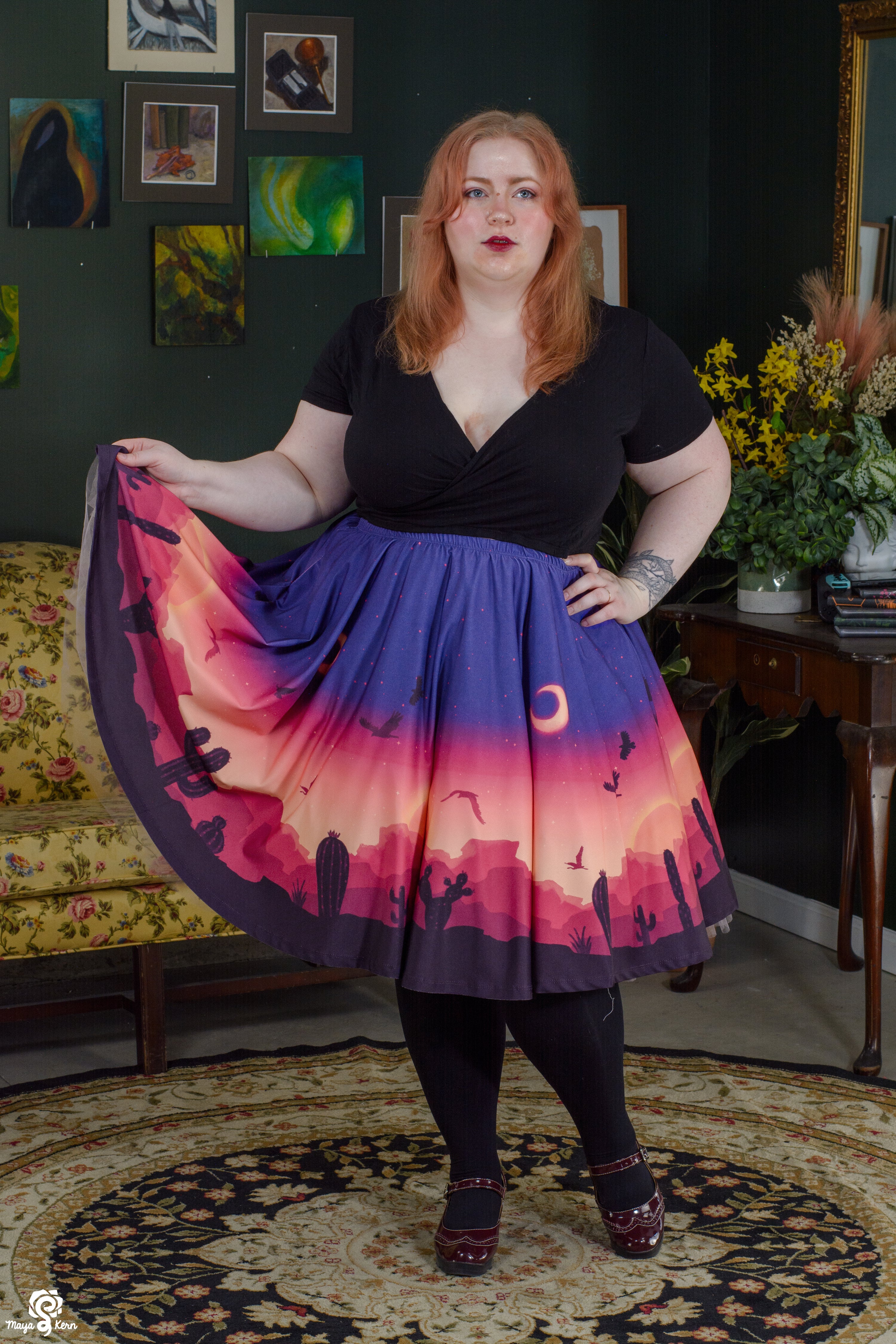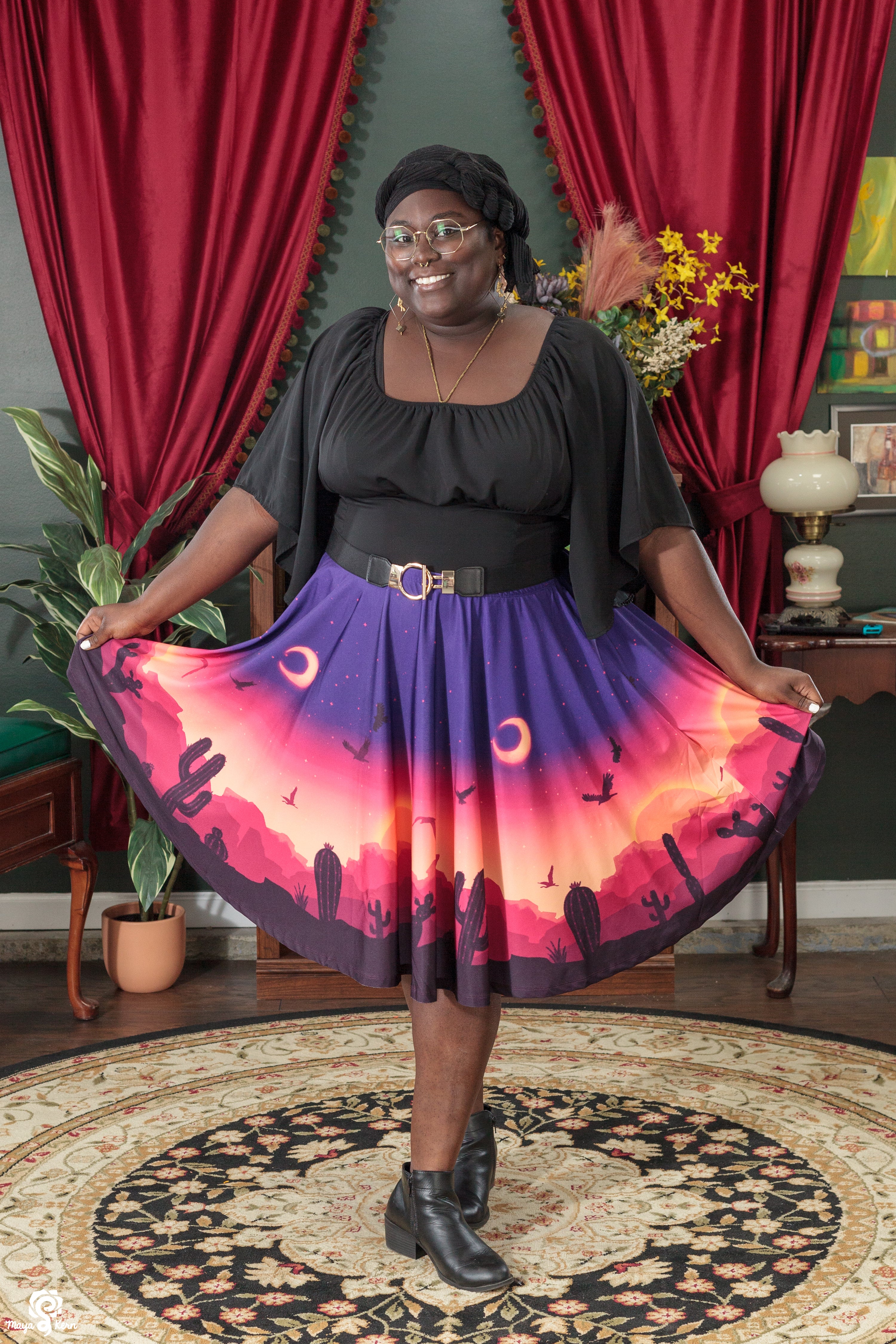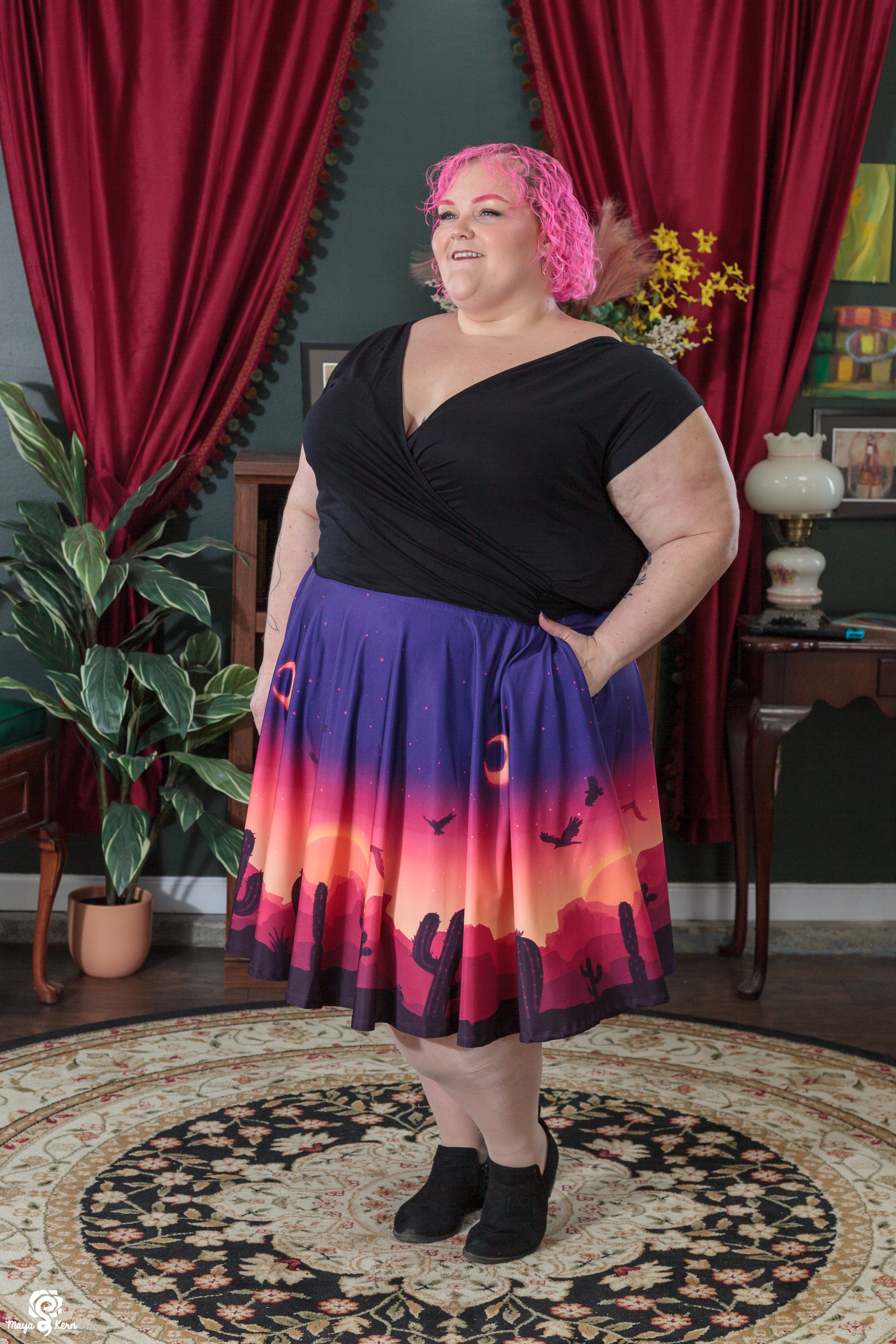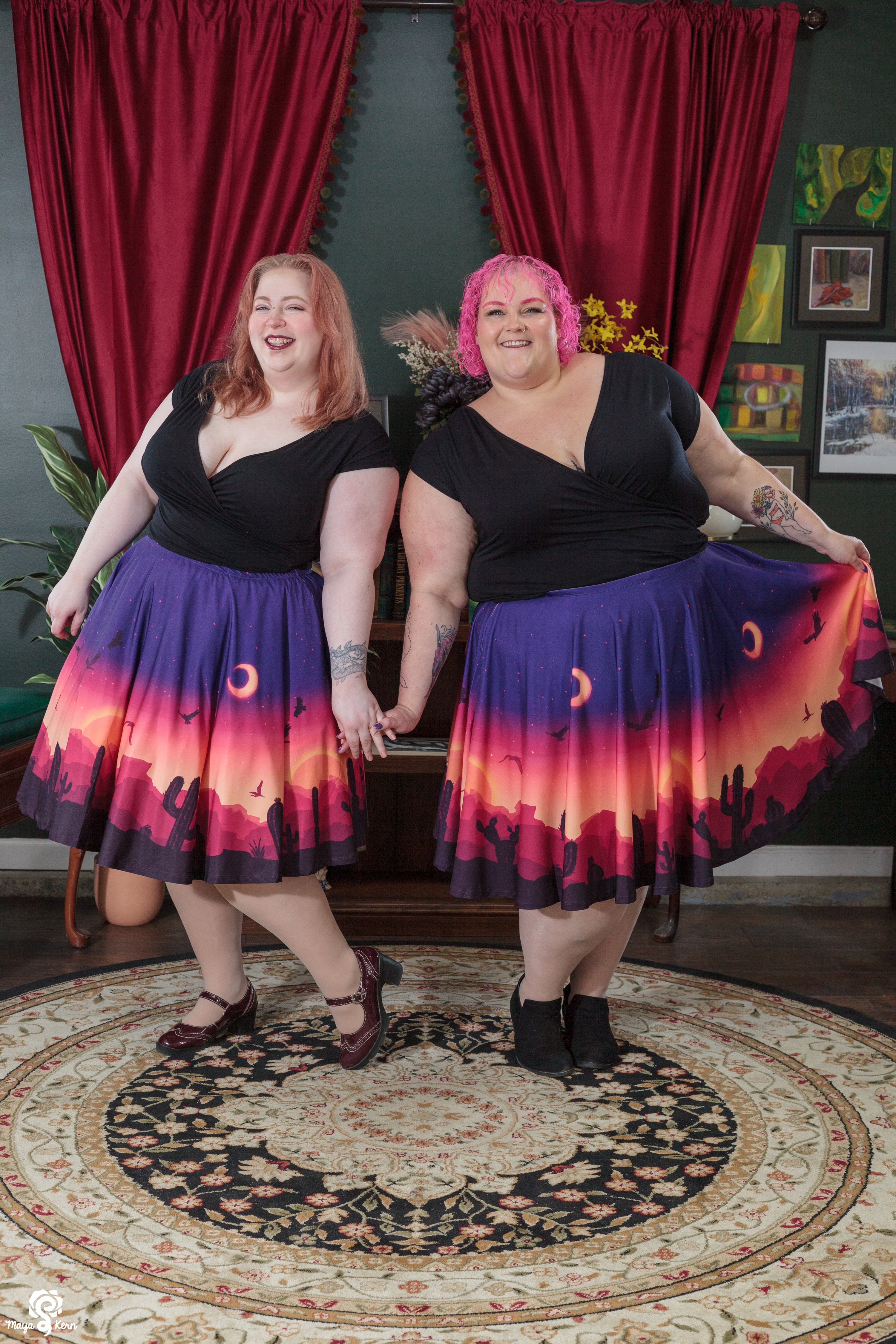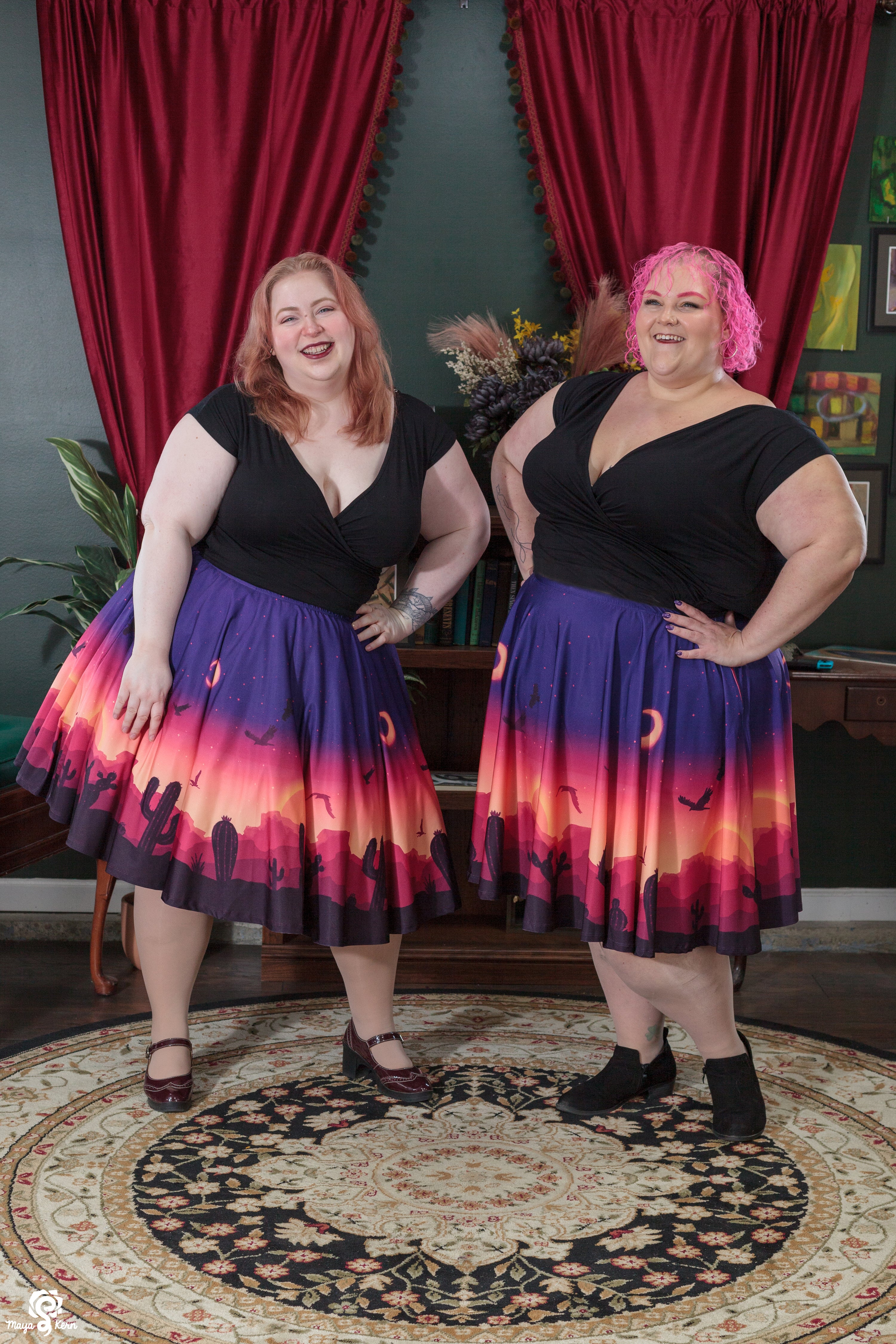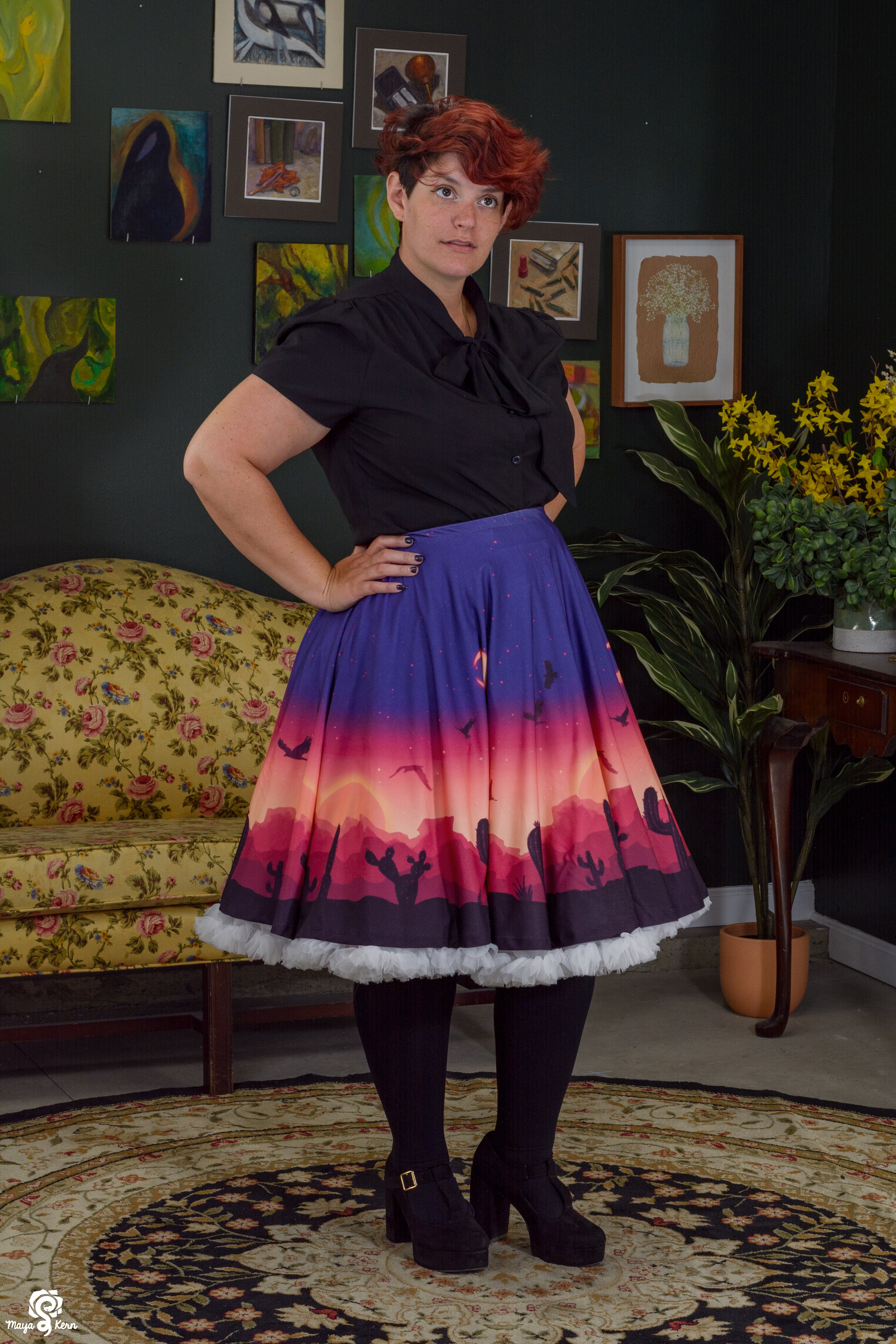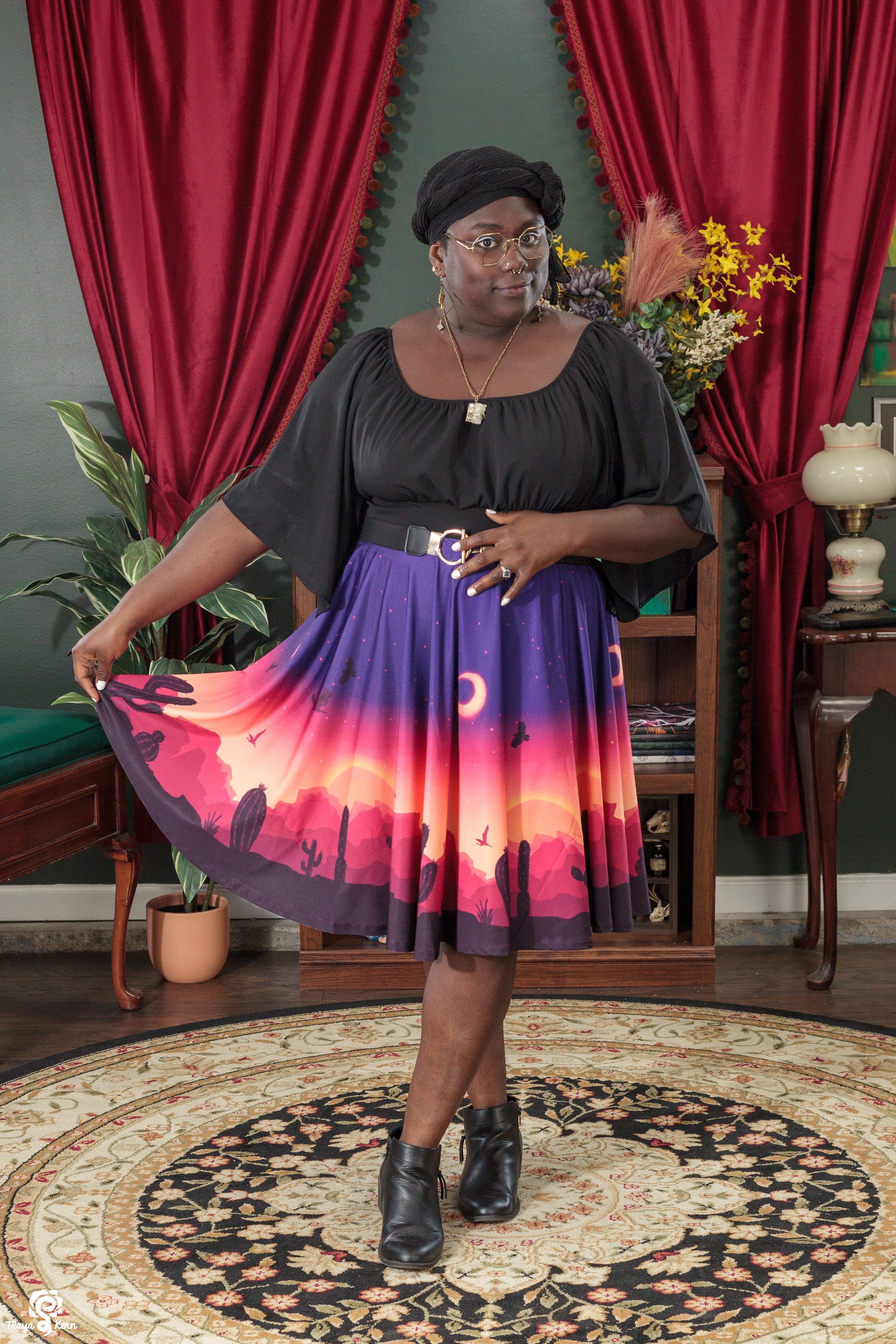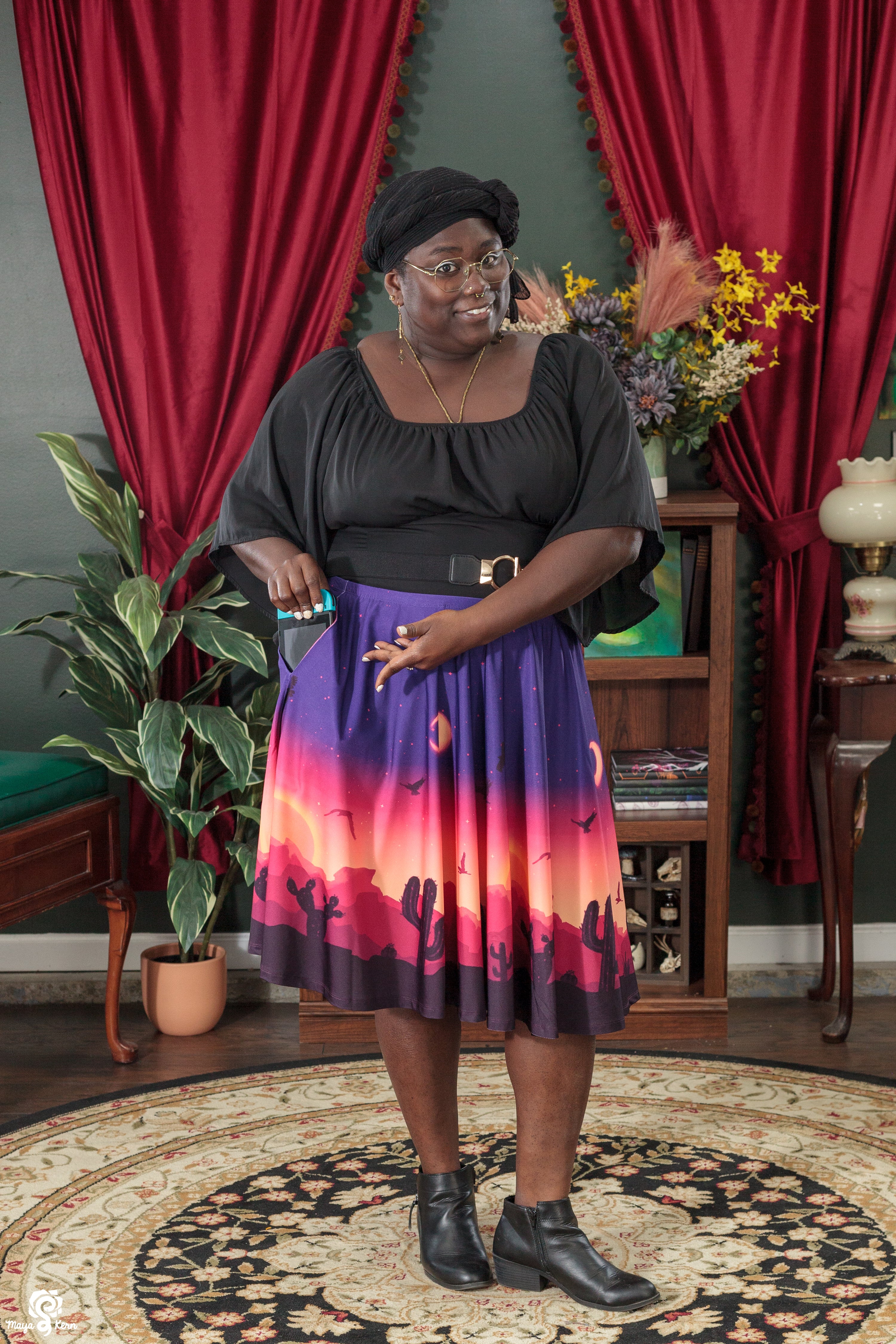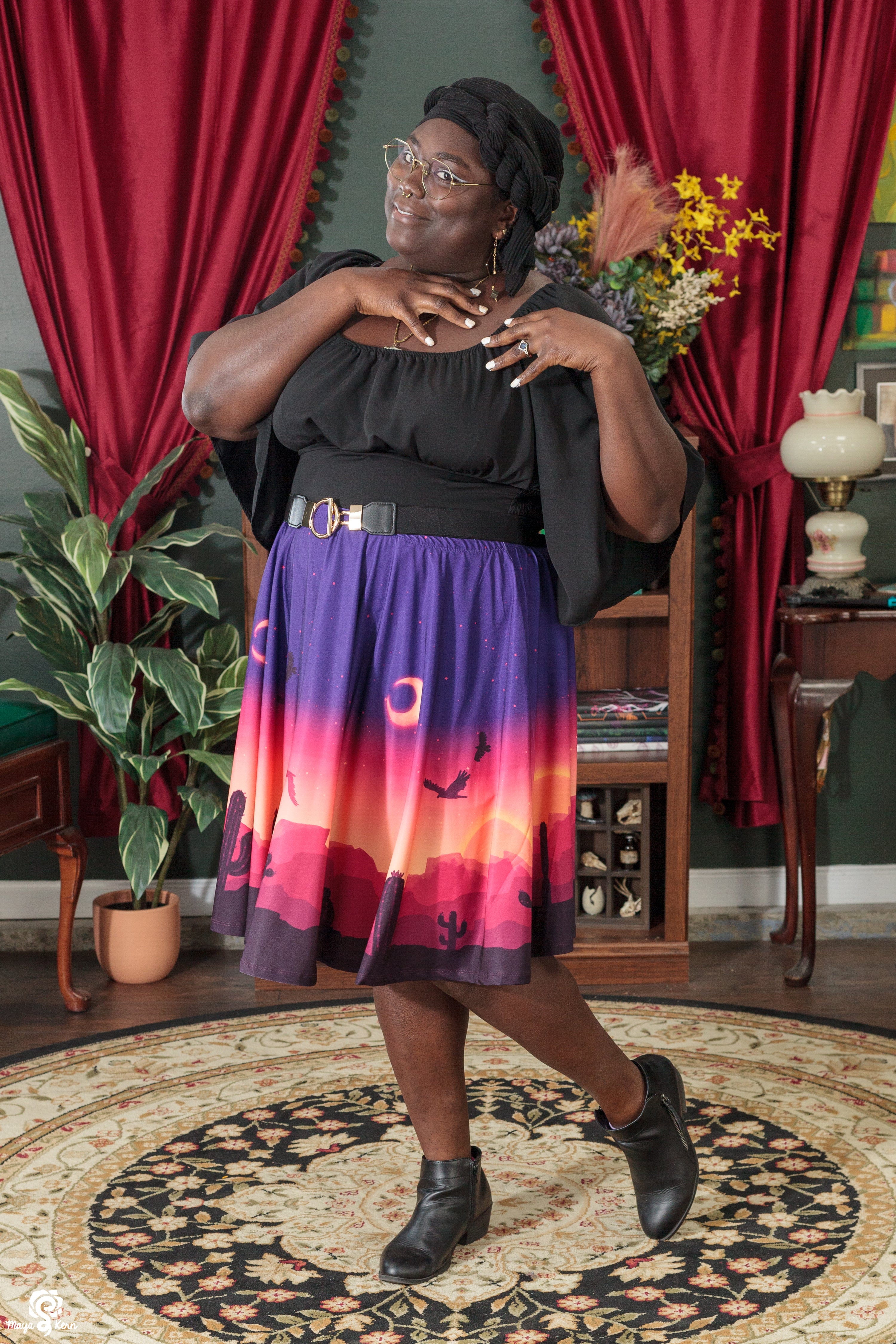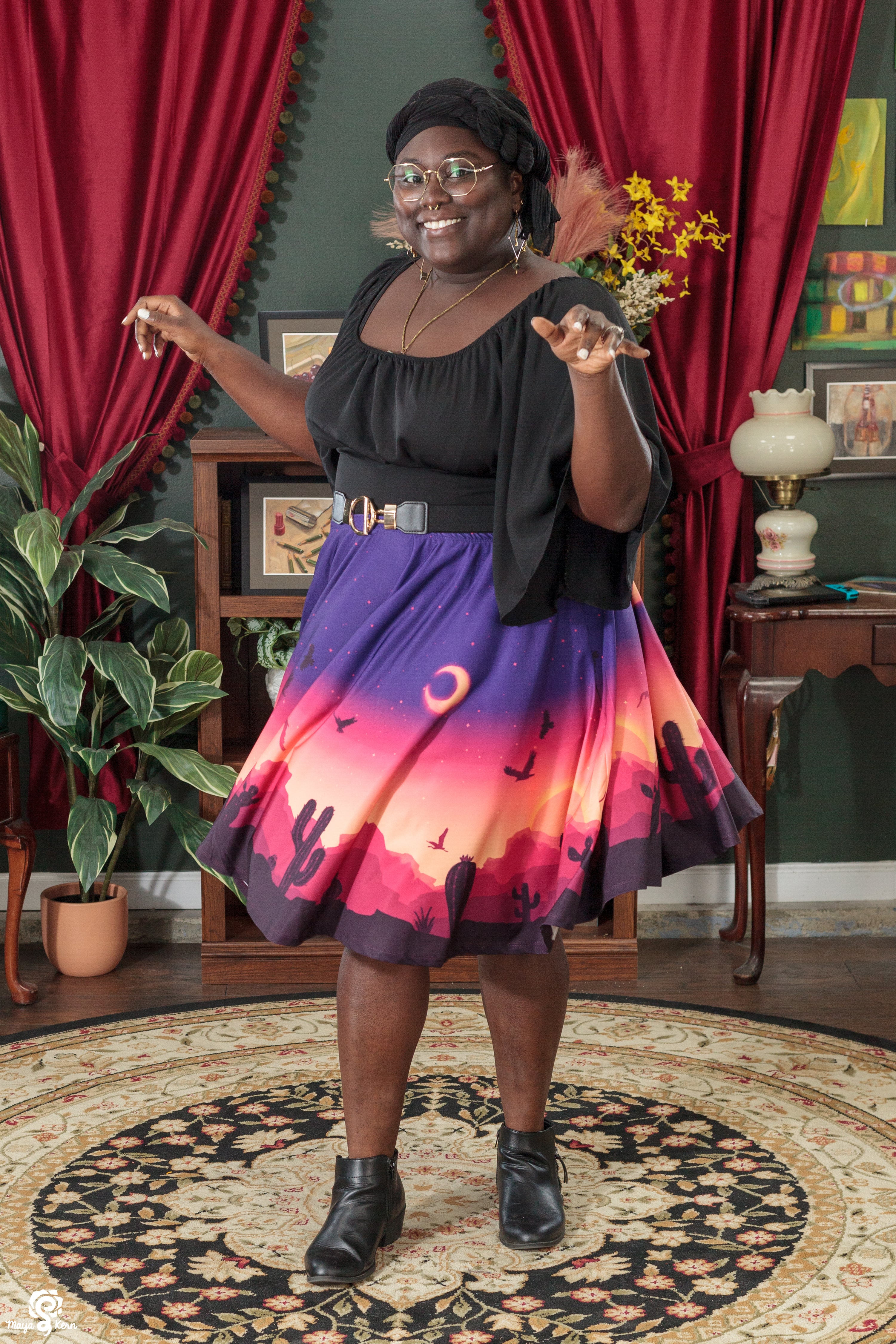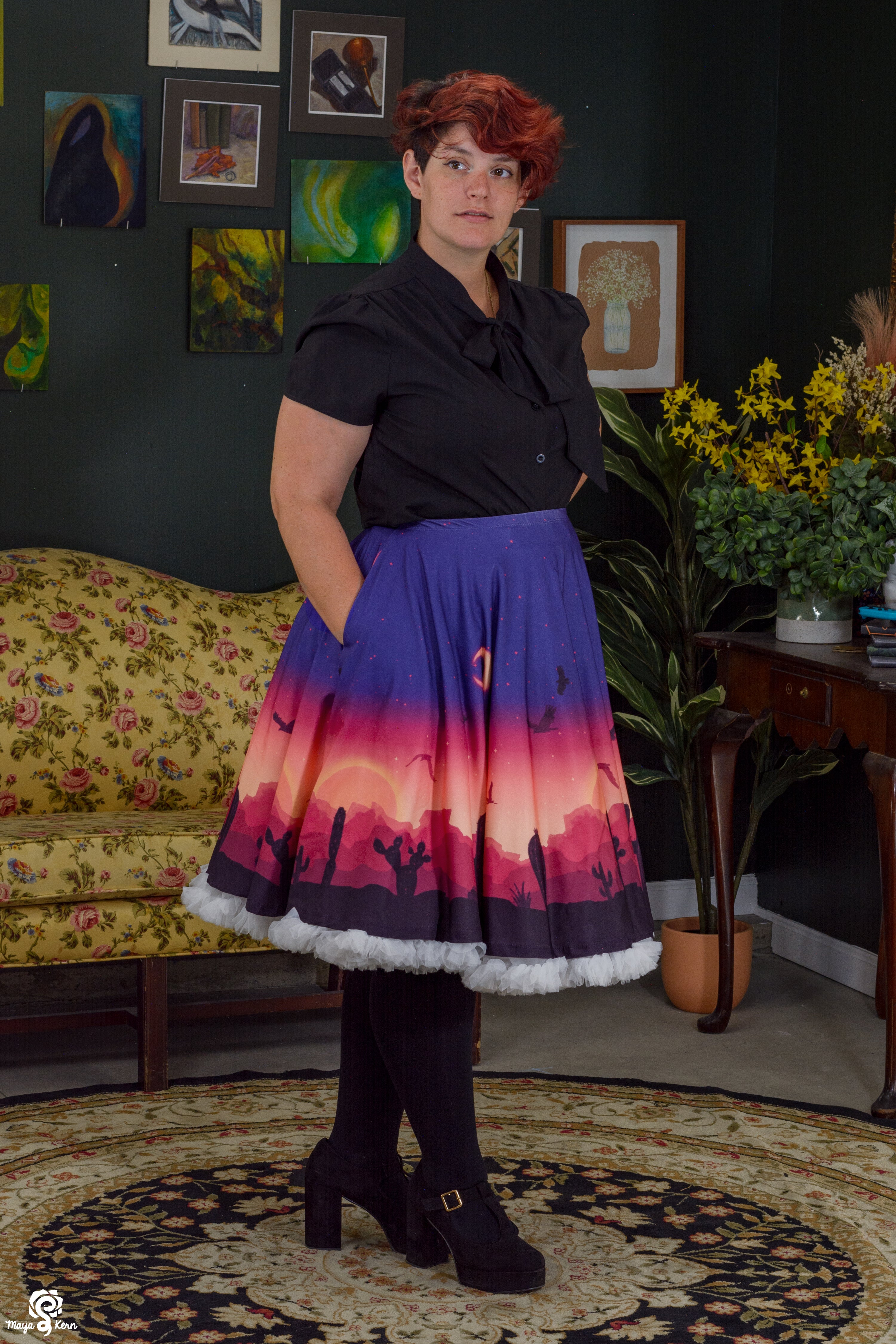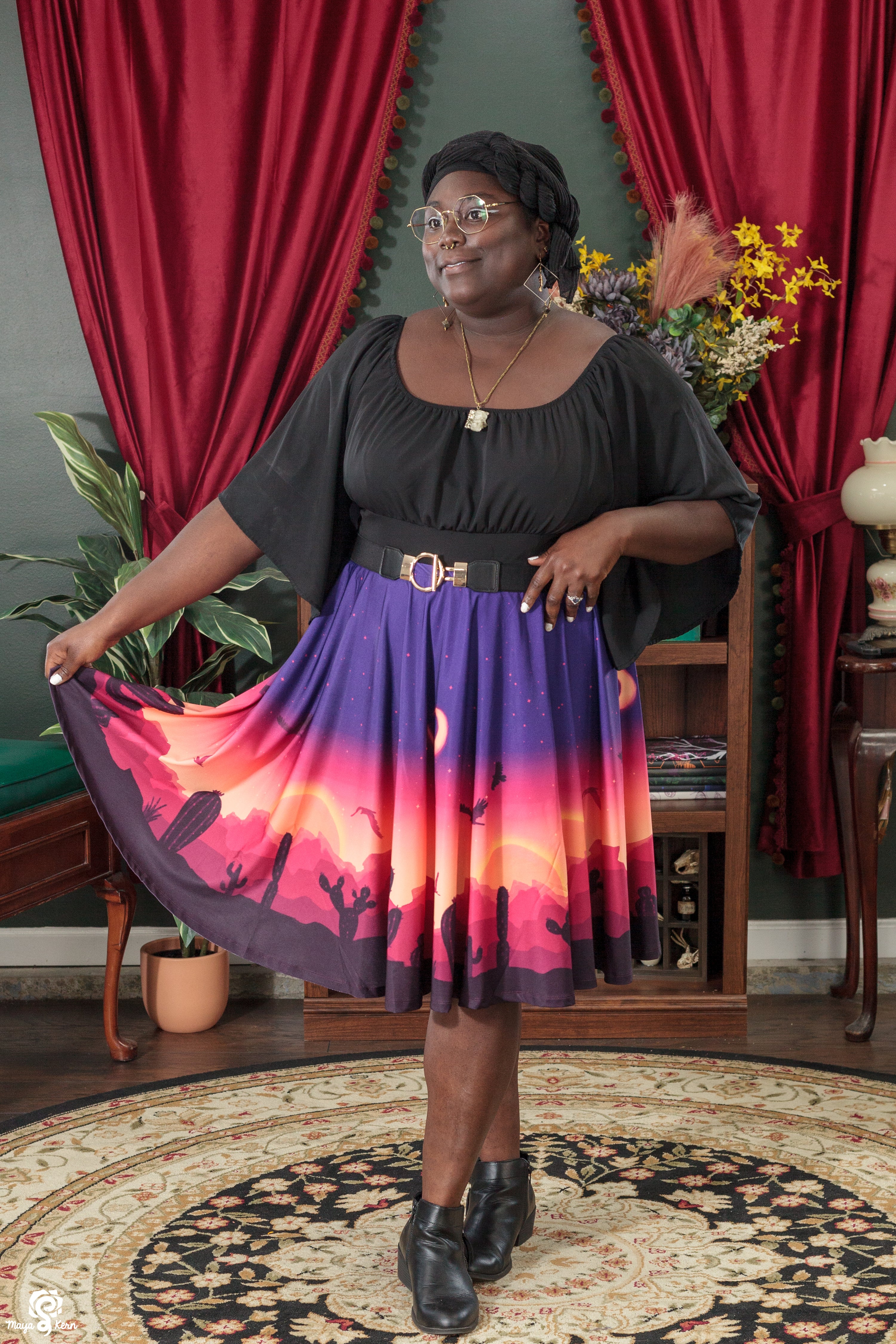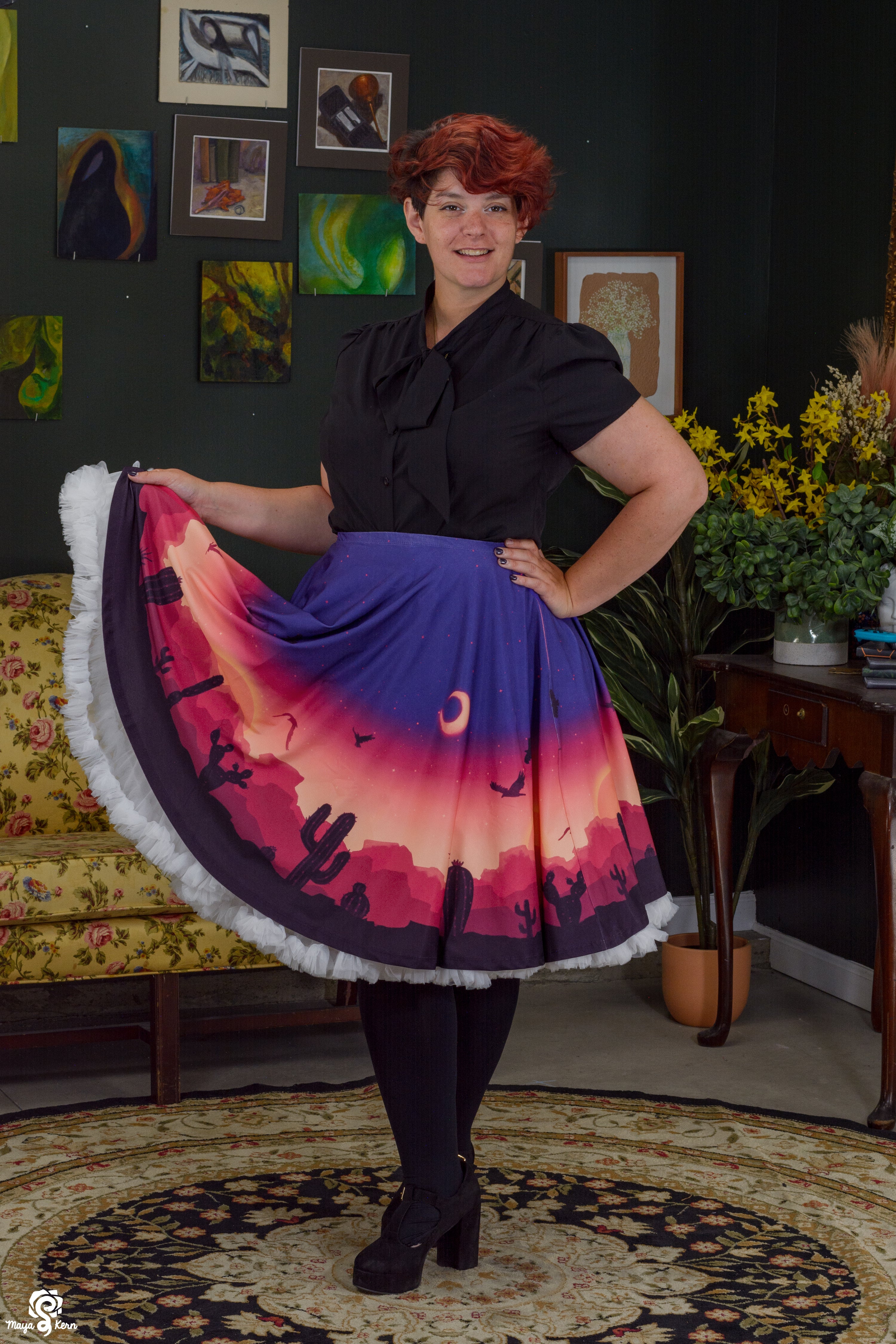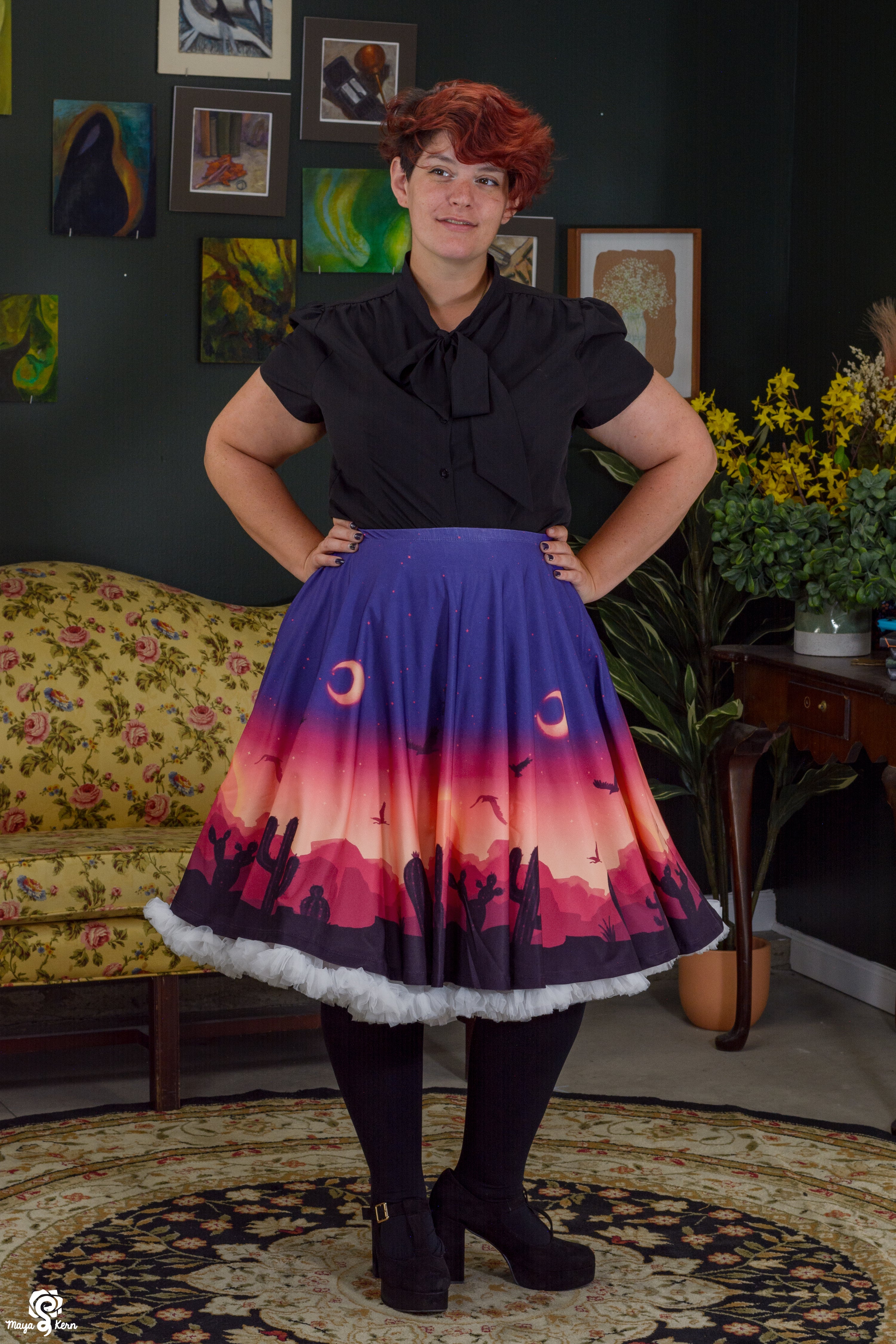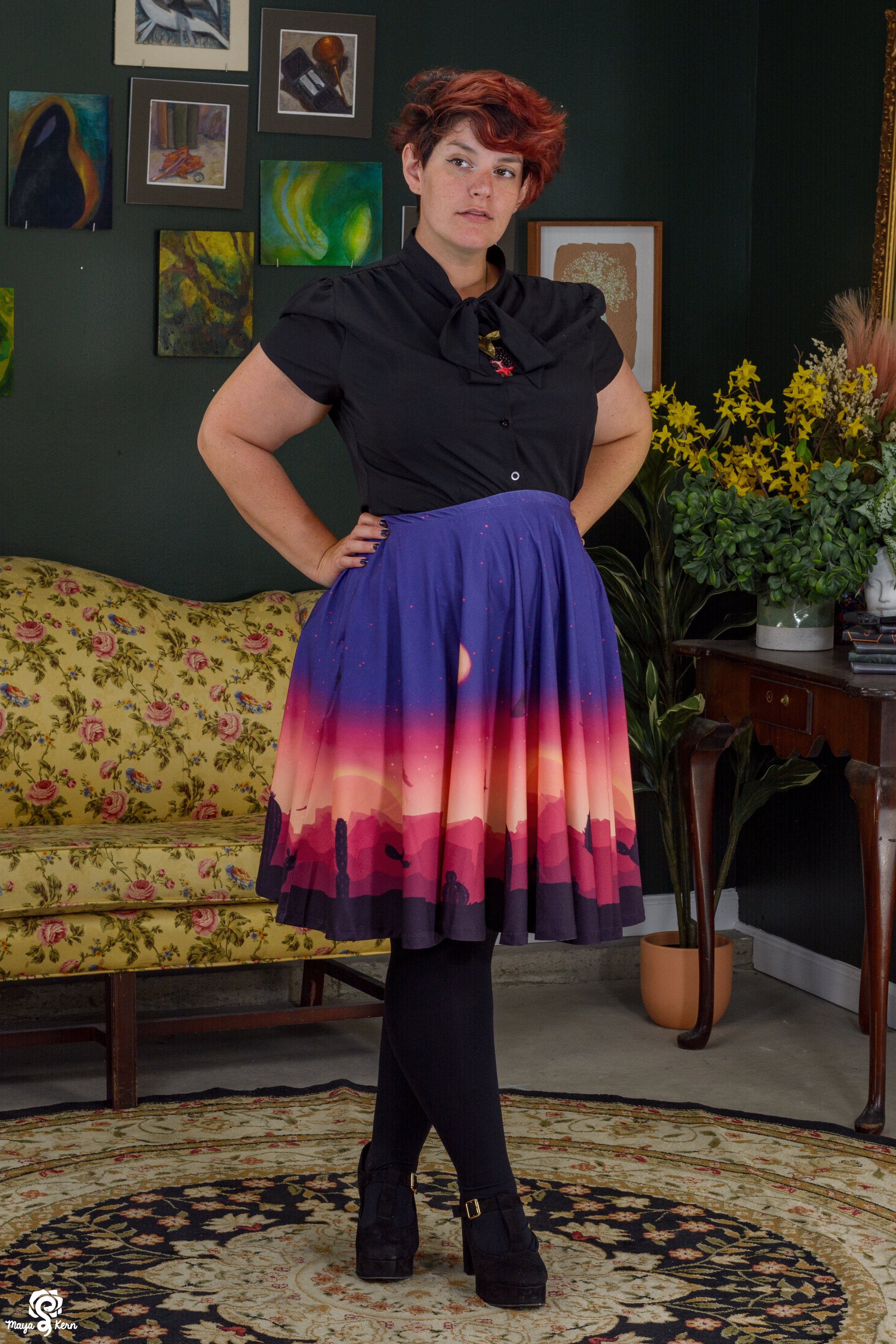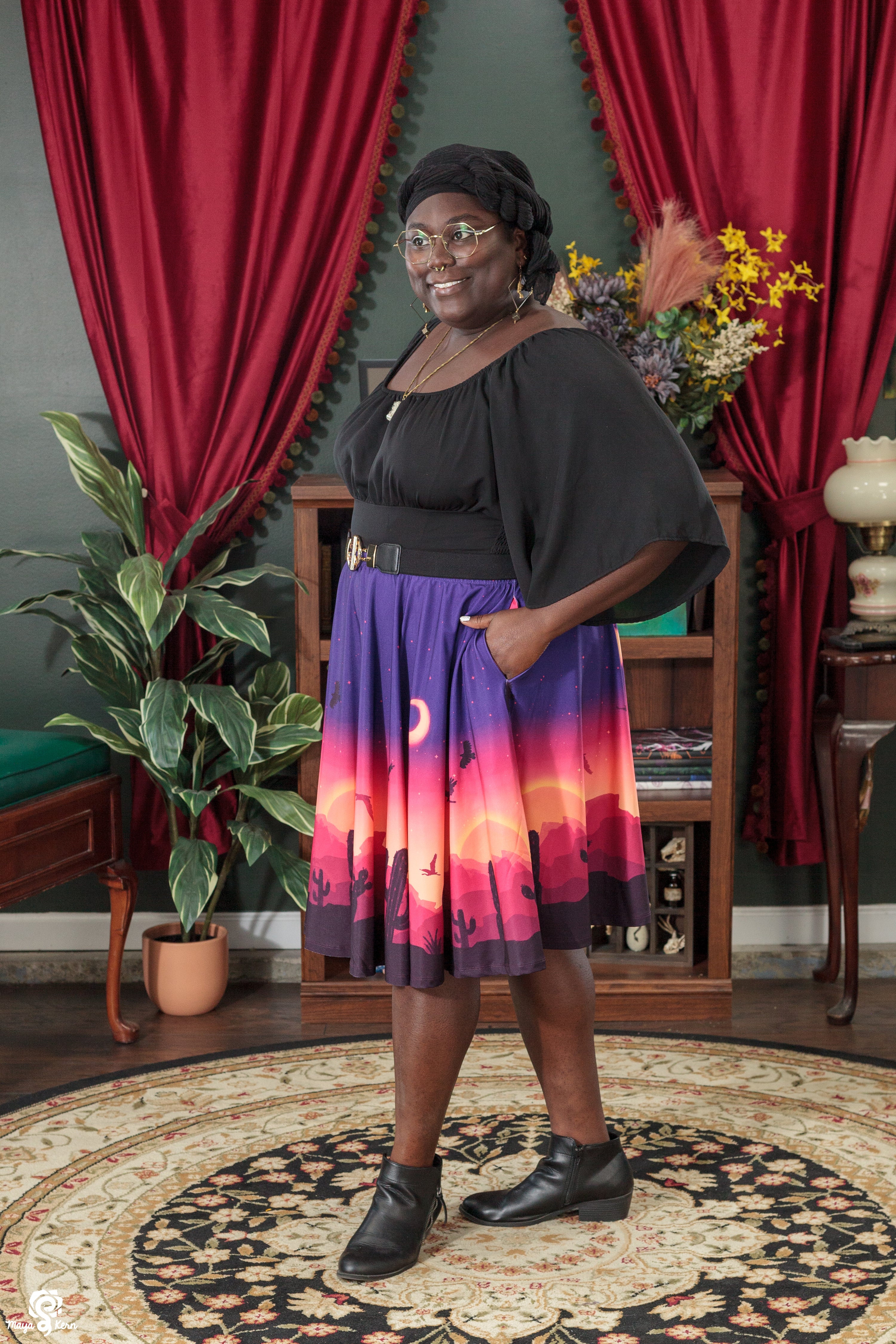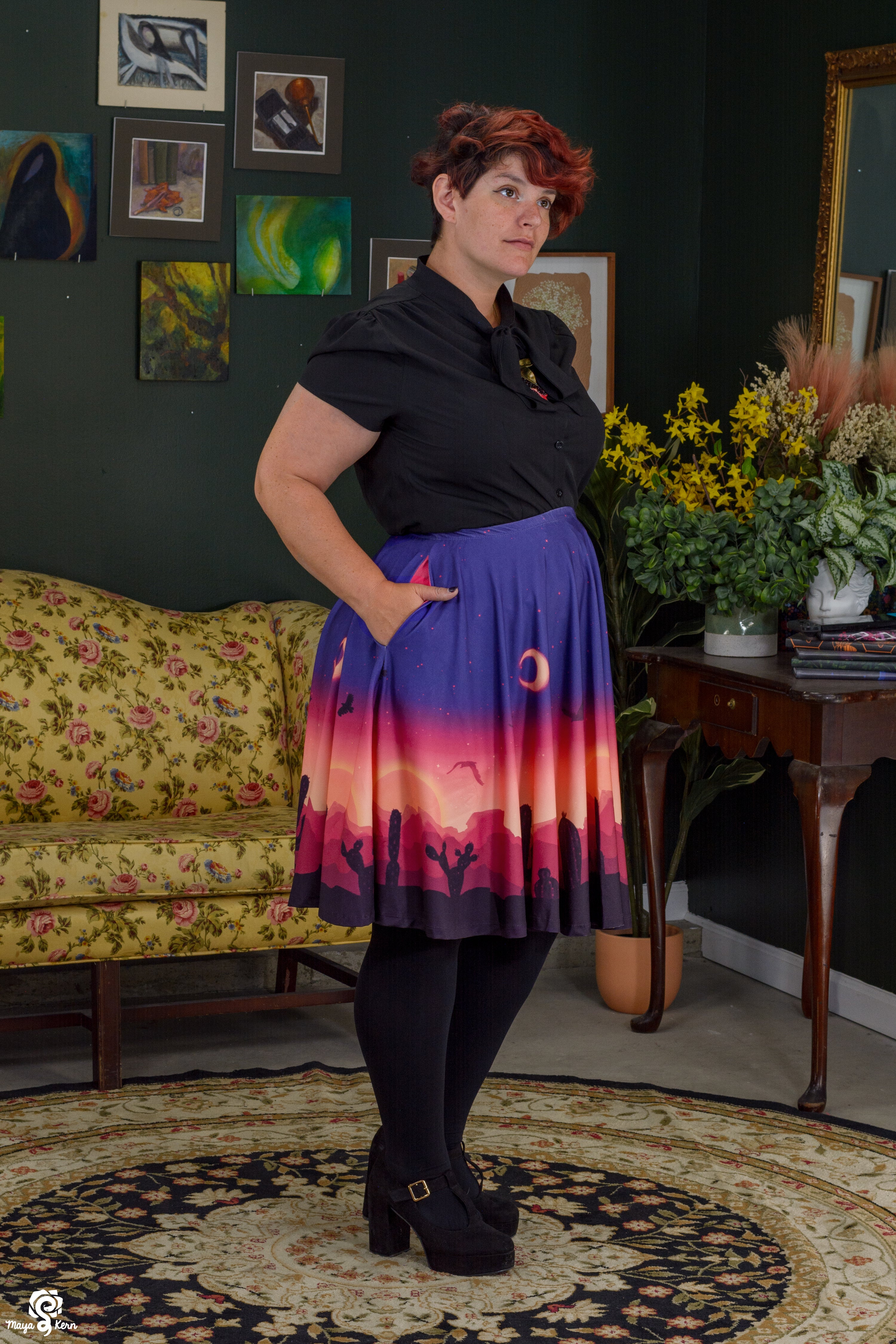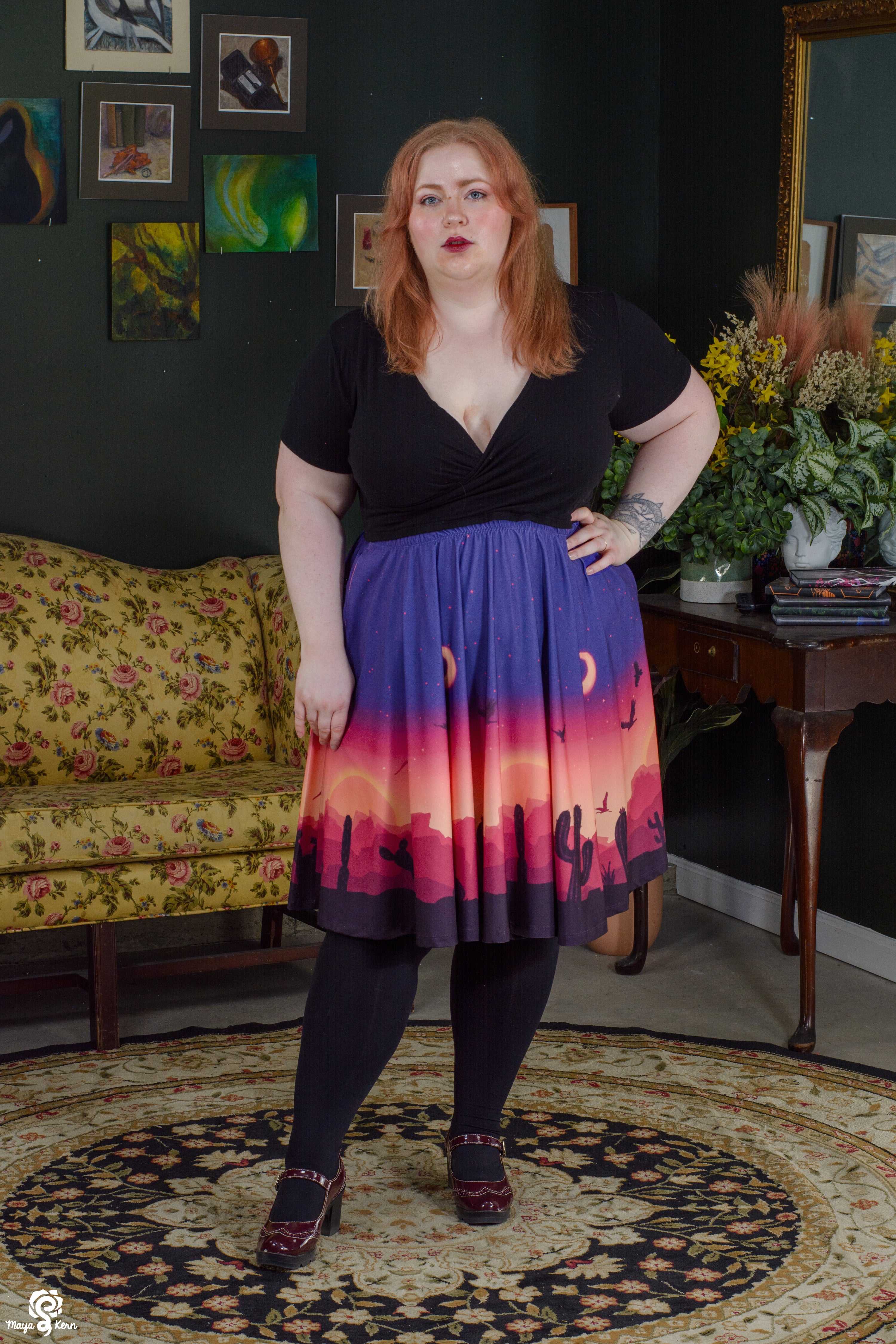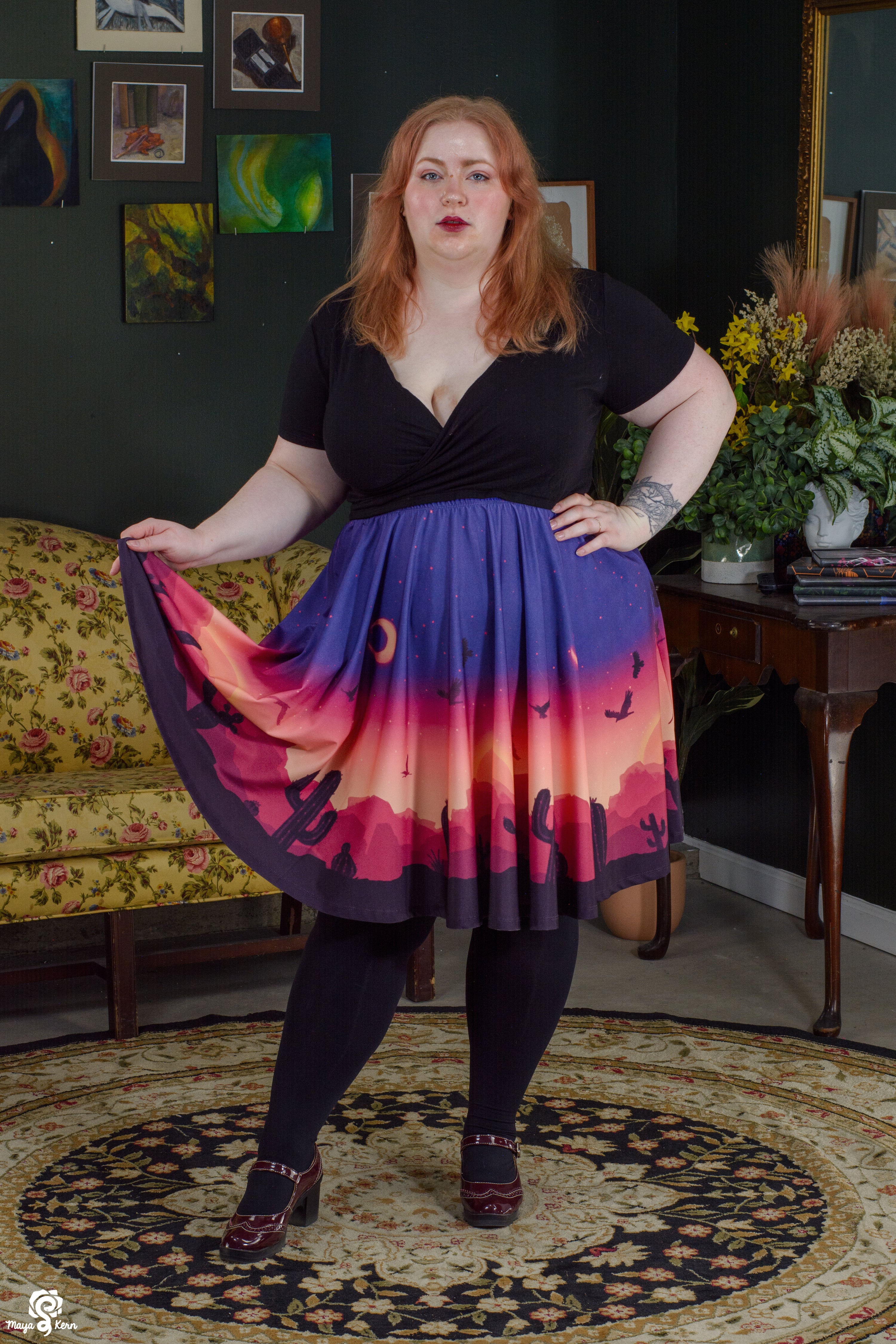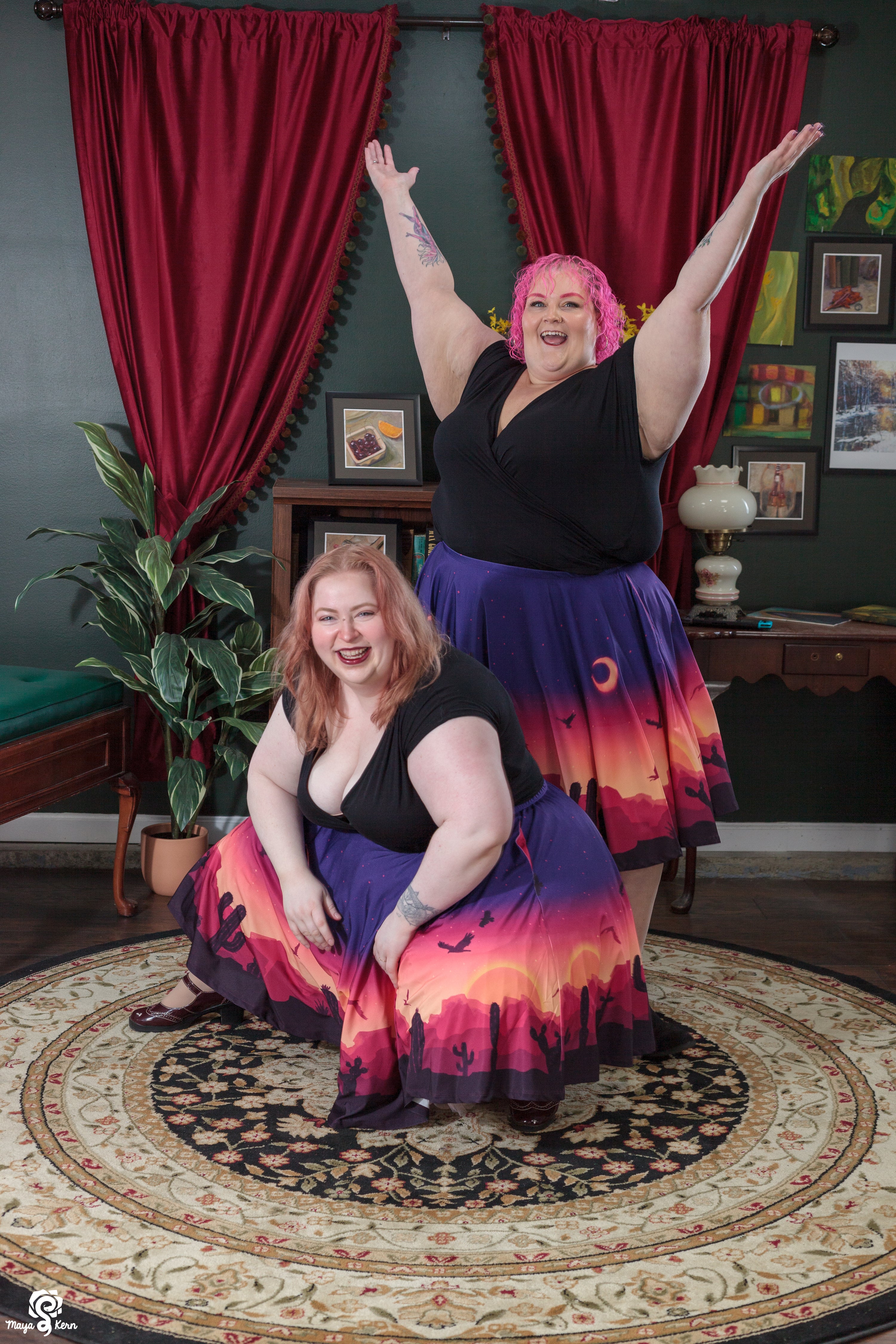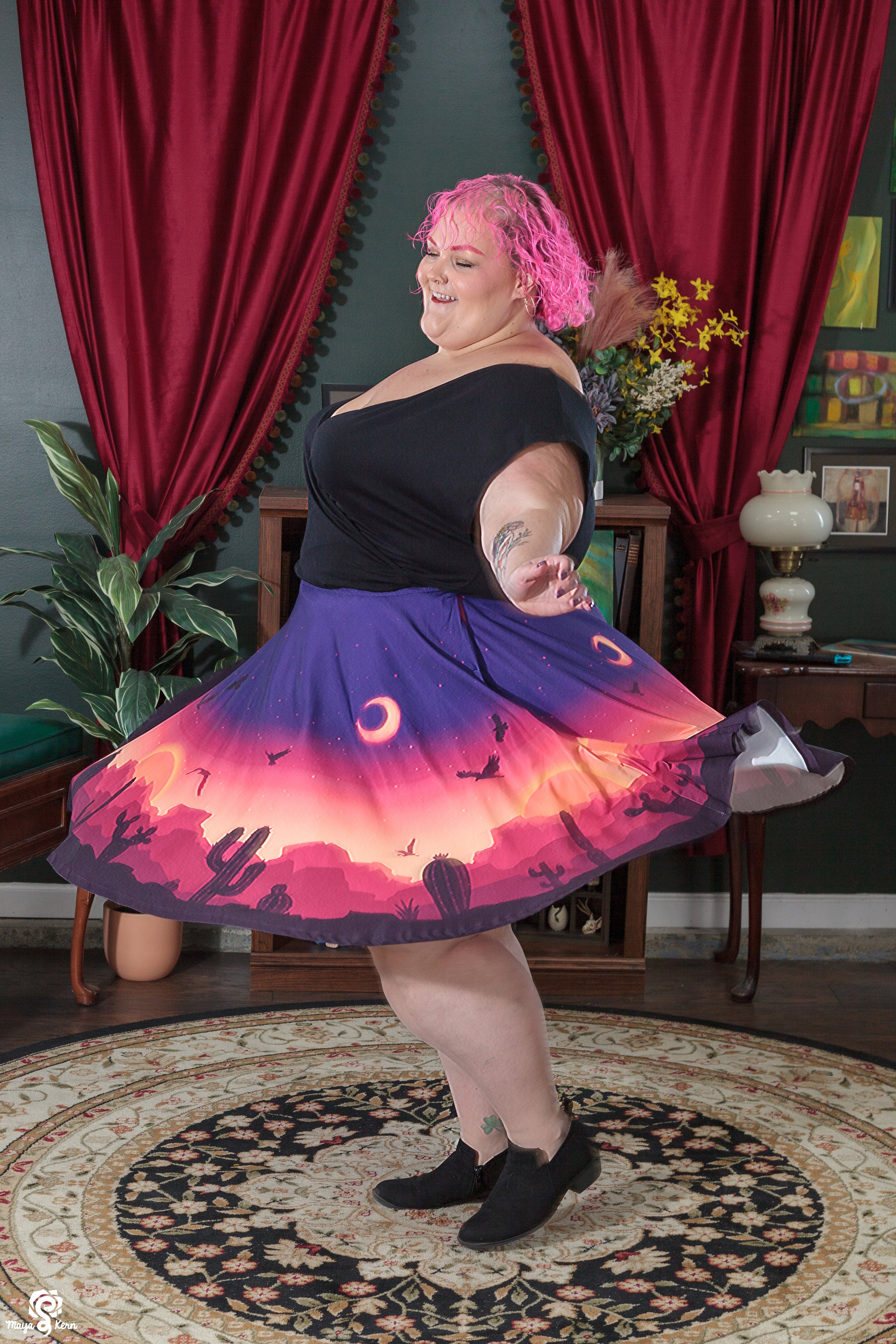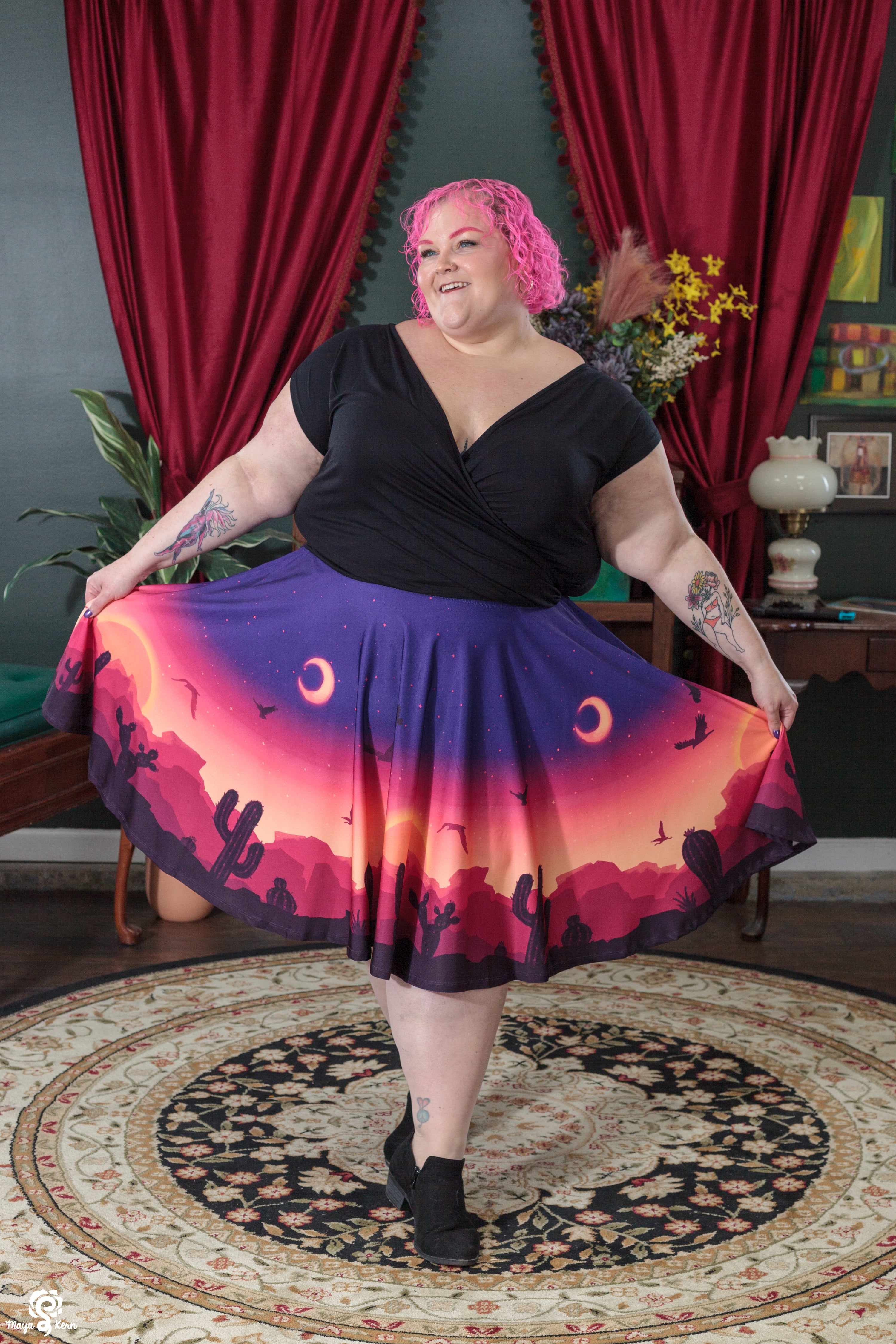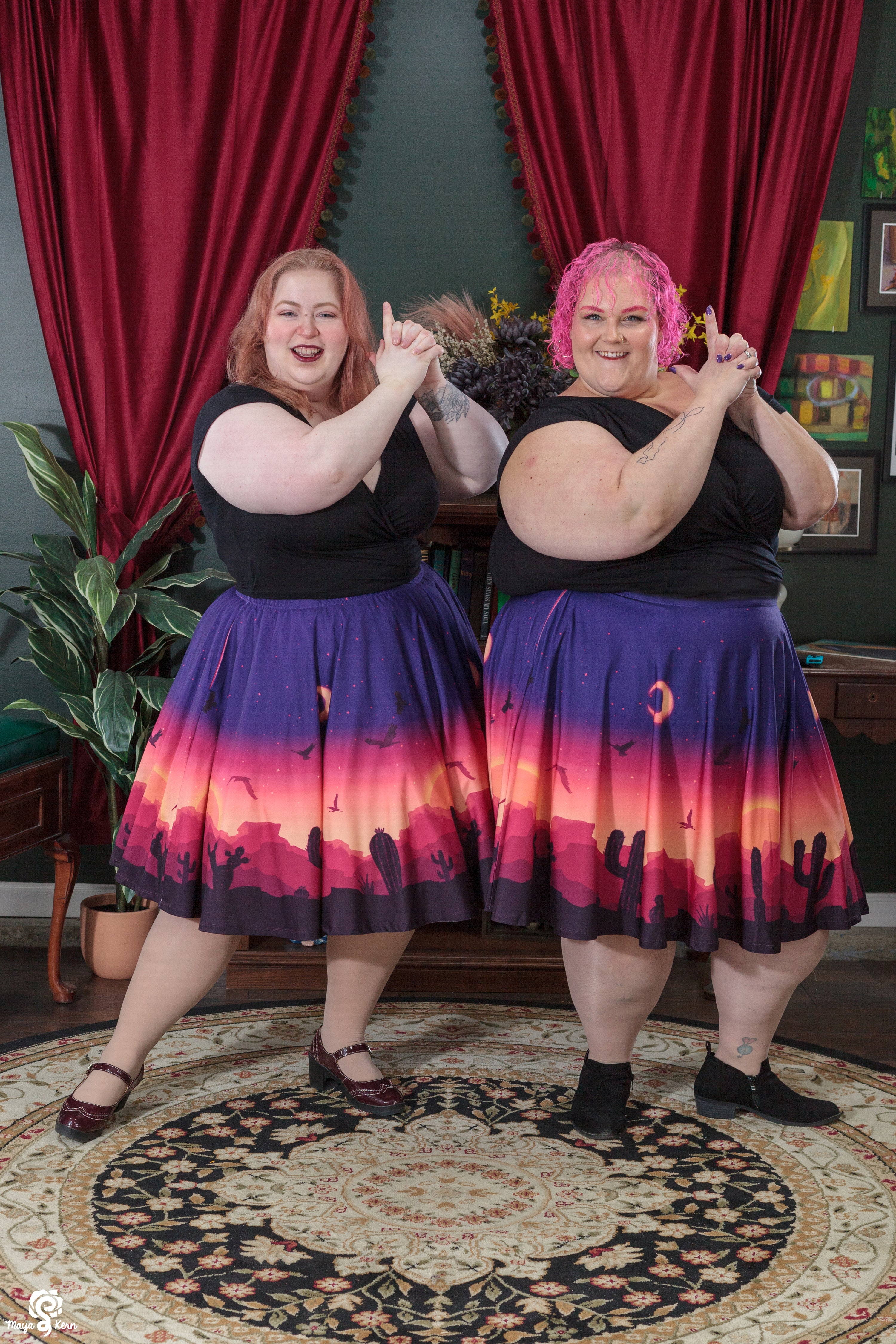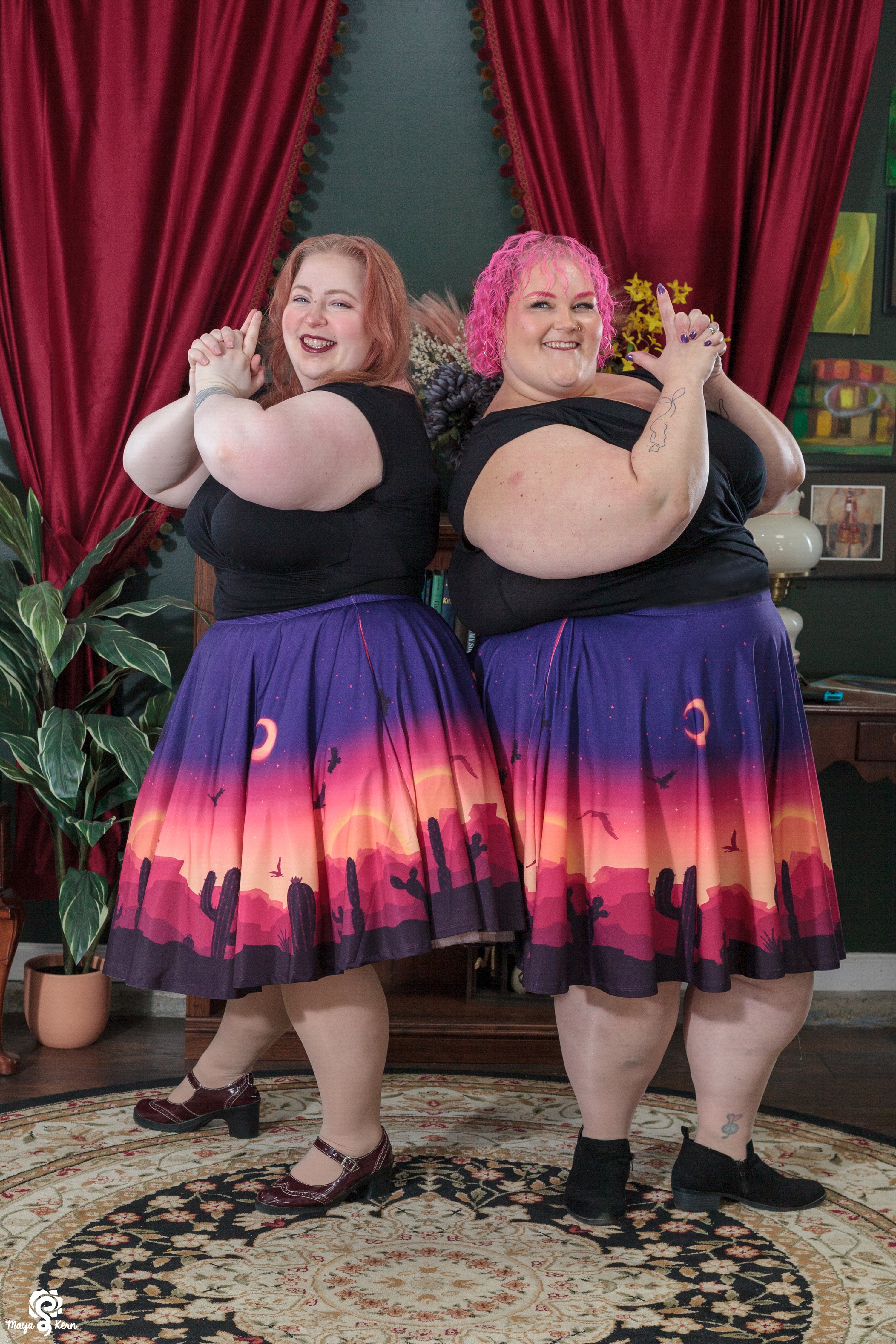 Maya Kern
Desert Sunset Midi Skirt
Sale price
$45.00 USD
Regular price
$60.00
Stretchy circle skirt featuring my Desert Sunset design. These skirts have pockets large enough to fit your phone, DS, Switch, hands, and maybe a small cat.  Petticoat not included.
These skirts come in four sizes:
SIZE A
15"-32" (38cm-81cm)
waist

25″ length
SIZE B
30"-45" (76cm-114cm) waist
25″ length
SIZE C
40"-60" (101cm-152cm)
waist 25″ length
SIZE D
55"-70" (139cm-216cm) waist*
27" length
*This batch of skirts was made with faulty elastic and doesn't stretch up to our typical 85" waist

These skirts are very stretchy and the sizes have a lot of overlap! If you can't decide between sizes it comes down to preference; a smaller size will fit tighter and may stay up easier if you plan on filling your pockets, and a larger size will fit looser!
These skirts are made of a polyester/spandex blend
Made in Turkey in a Supplier Ethical Data Exchange and OEKO-TEX Standard 100 certified factory. SEDEX certifies ethical labor practices and OEKO-TEX Standard 100 certifies responsible textile production, ensuring there are no harmful substances present.
Maya
Wearing skirt size C, shirt size 2X
Height: 5'5" (165cm)
Bust: 52" (132cm)
Waist: 42" (106cm)
Hips: 58" (147cm)

Ariel
Wearing skirt size A, shirt size L
Height: 5'5" (165cm)
Bust: 41" (104cm)
Waist: 30" (76cm)
Hips: 50" (127cm)

Melquea


Wearing skirt size B




Height: 5'5" (165cm)




Bust: 52" (132cm)




Waist: 46" (117cm)




Hips: 49" (124cm)

Meagan
Wearing skirt size D, shirt size 4X
Height: 5'7" (170cm)
Bust: 58" (147cm)
Waist: 56" (142cm)
Hips: 72" (182cm)
--CARE--
Wash skirts in cold water and tumble dry normally.
Having a lovely day because of my new skirt
These skirts are so wonderful, especially in the new material. The print fidelity is amazing, and the colours really pop. Even with the accidentally shortened elastic, I was more than comfortable in this skirt and I am on the larger end of the size measurements. It feels like wearing twirly air, to be honest. Perfect for hot or cold climates, depending on layering preferences. I was so impressed with the construction and sewing; I have seen many more expensive garments with far shoddier work. The serging along the waistband and hem actually looked and felt like it would last years, rather than months. The pockets are fantastic, and feel well-reinforced and not just that they're large enough to hold four rats or a kitten or a Nintendo Switch, but that they could SAFELY do so, without the threat of tearing. I don't have a picture yet, but I'm planning on seeing how it goes when I put my Playstation Portal in one. The skirts really are as good as everyone says.
What's more valuable to me as a customer is that I feel pretty when wearing a Maya Kern skirt. The patterns are cute and I love them, but more than that, there's no bones about what size I need. There's no fat tax on larger sizes, and it is so clear from the sizing guidelines that every effort was made to include as many actual humans as possible. That kind of affirmation is priceless and not something I often get to feel, even from other plus brands, as my size usually restricts me to black or maybe one or two other neutrals. Pretty is usually well beyond my reach, especially because I can't afford much. I wish I could buy all of my clothes from Maya. They're well worth the price. Plus, I get to buy from a queer indie designer running her own small business, which I enjoy doing.
Wonderful!
One of the first skirts I got from this shop and it's one of my favorites! The material is comfortable with a good texture, the colors and design are gorgeous and I love the deep pockets. Absolutely worth buying!
Beautiful!
The colors are so much more vibrant in person than in the photos! Whenever I wear this I get compliments from strangers of all genders. The fabric weight and feel is nice and the pockets are sturdy. Highly recommend!
:3
soft, comfy, lightweight, not see-through, bright colours, good pockets. ver nice :3