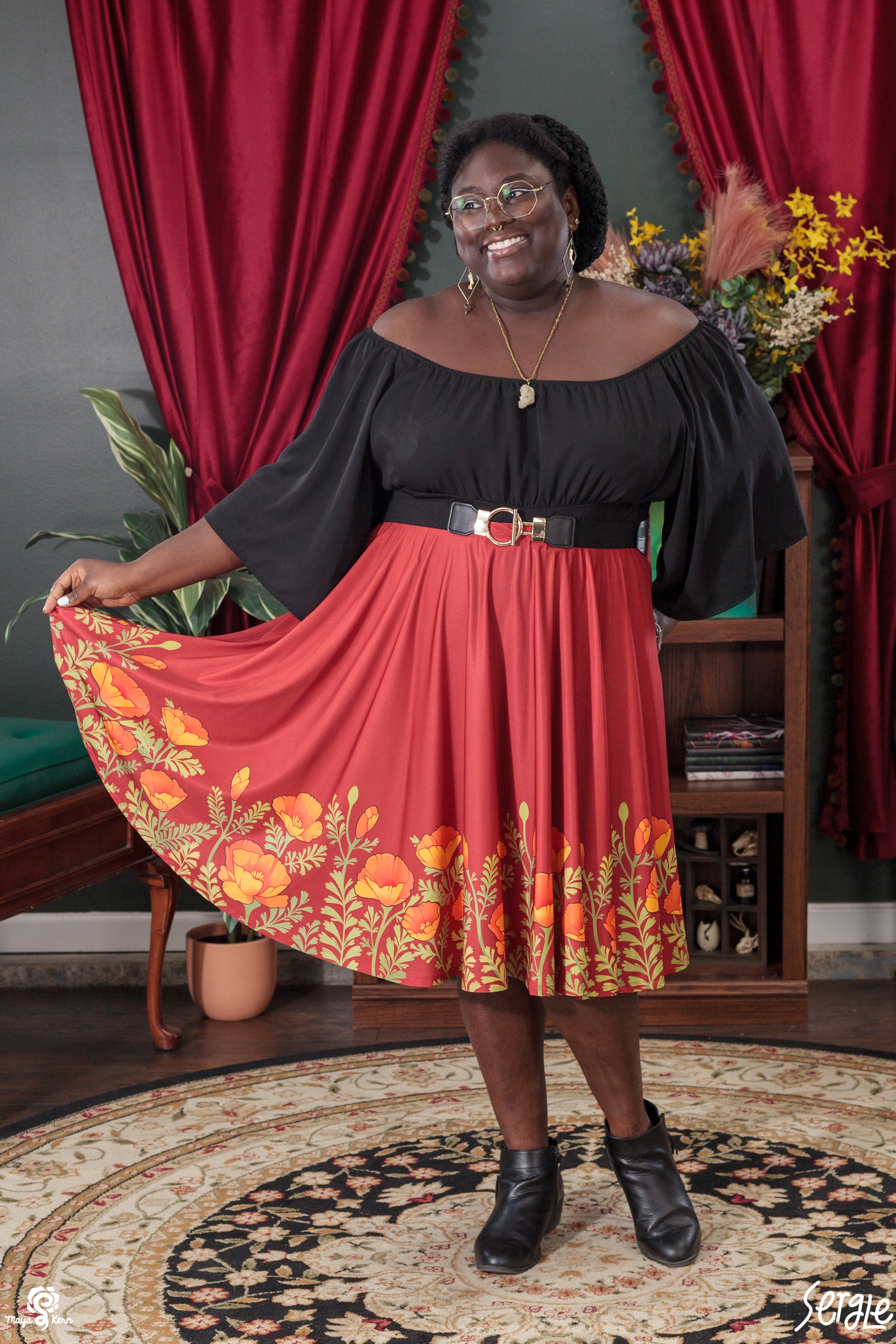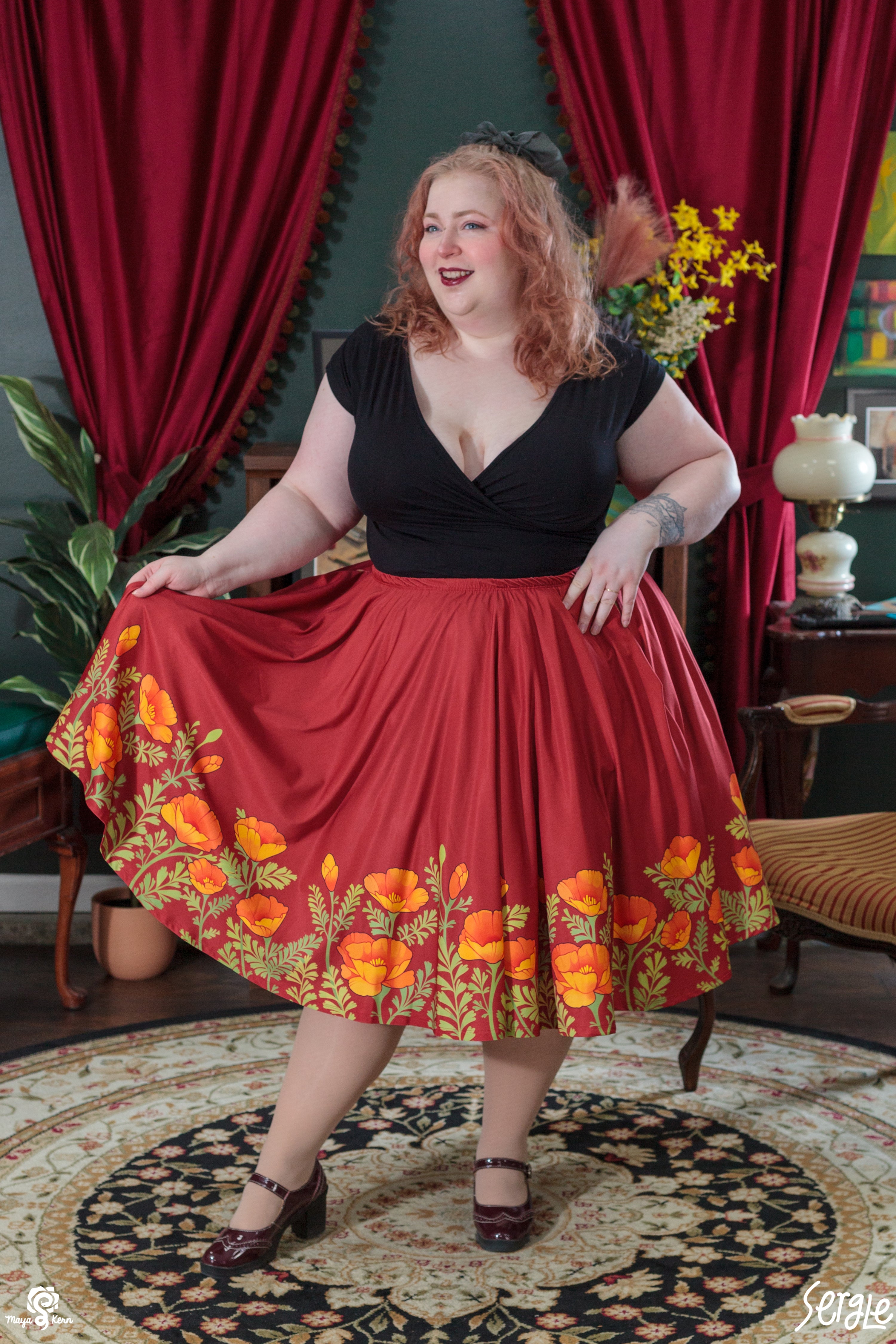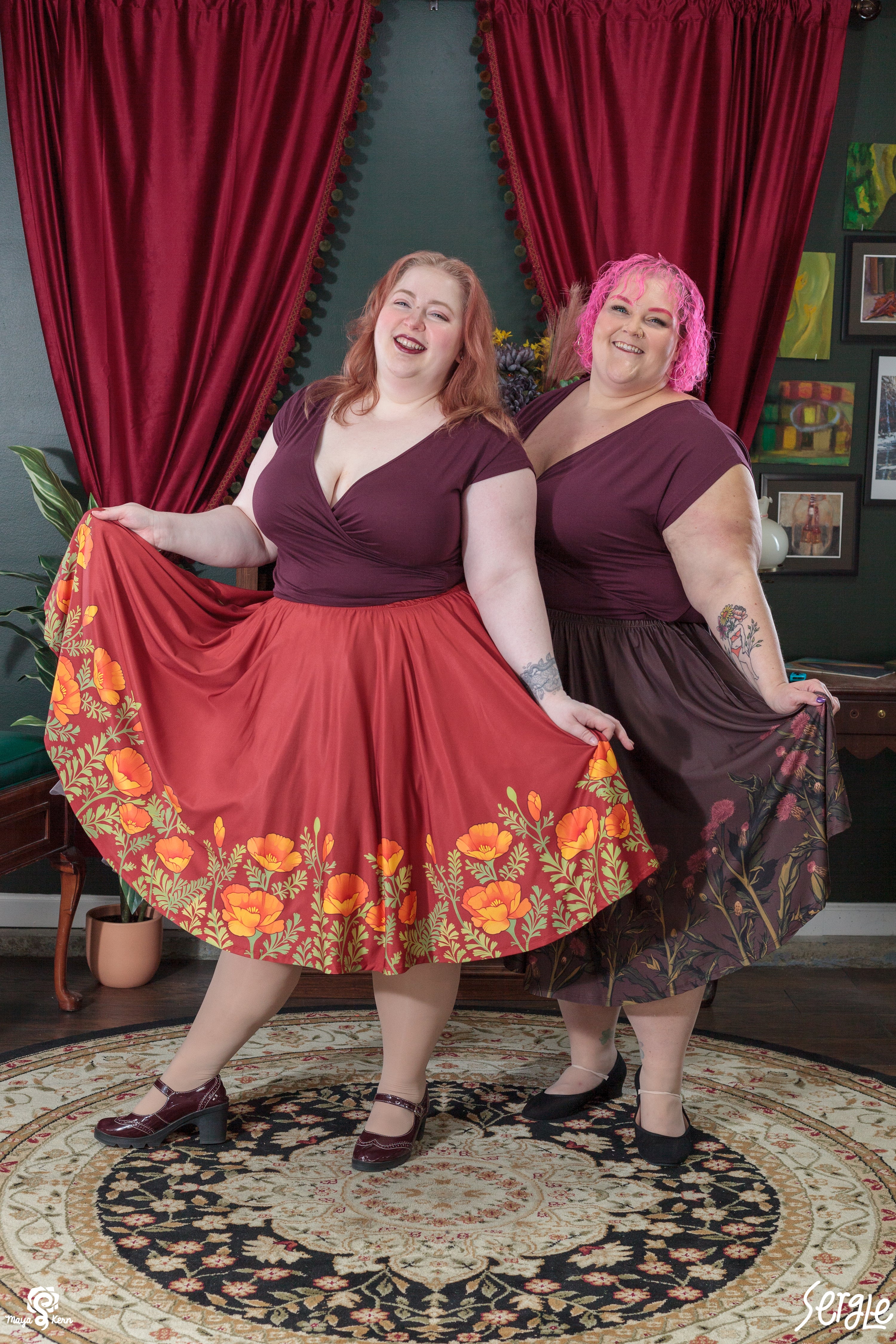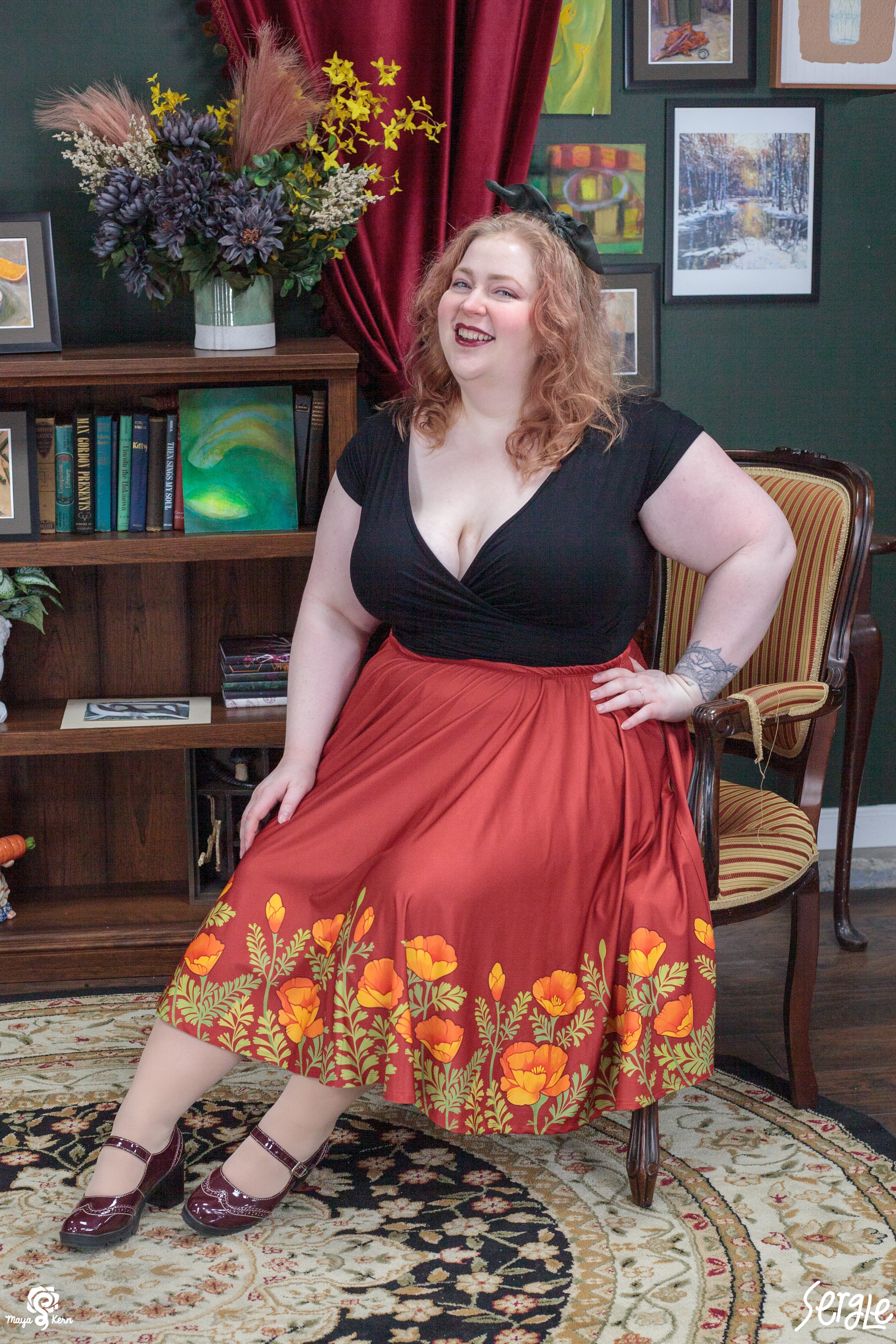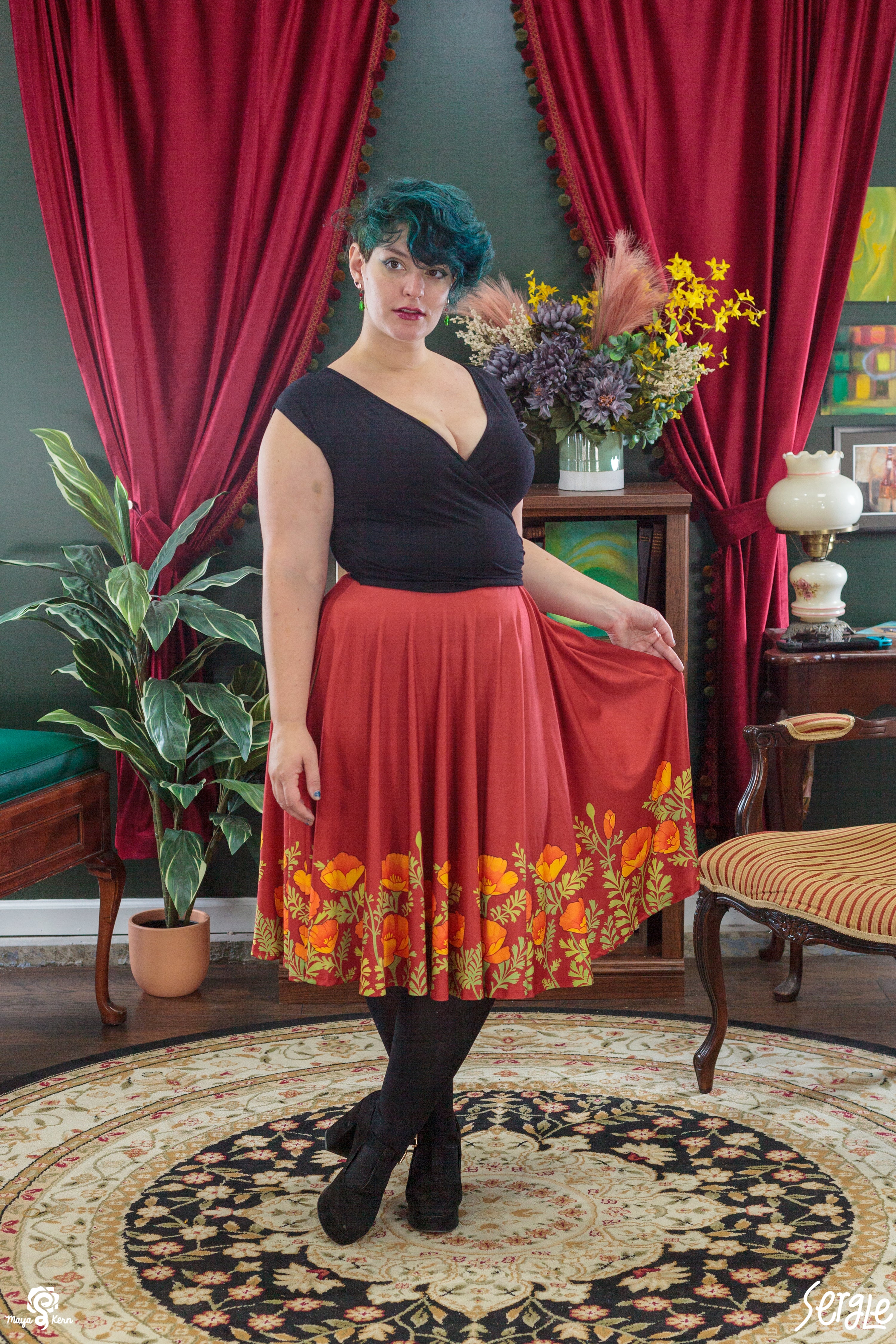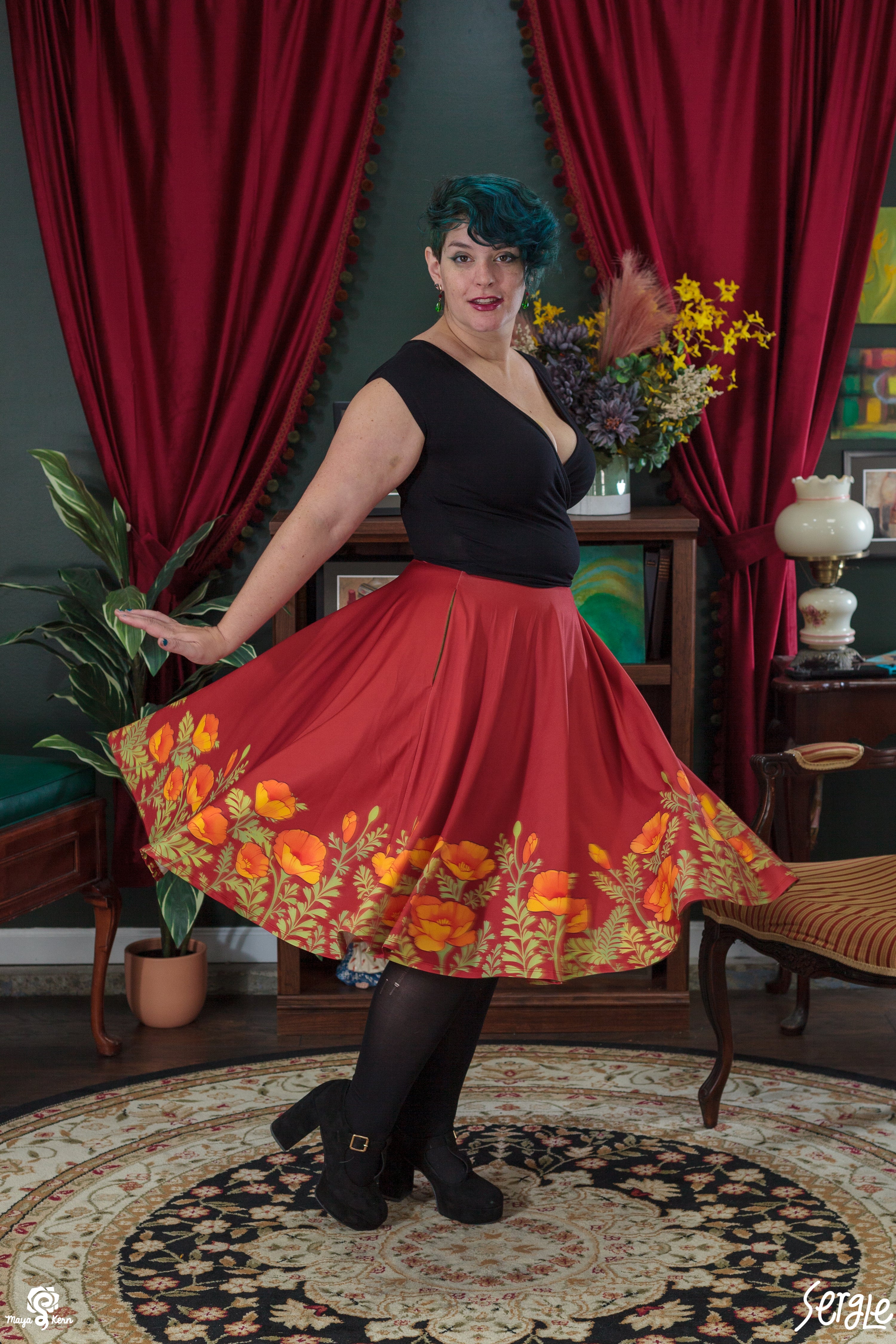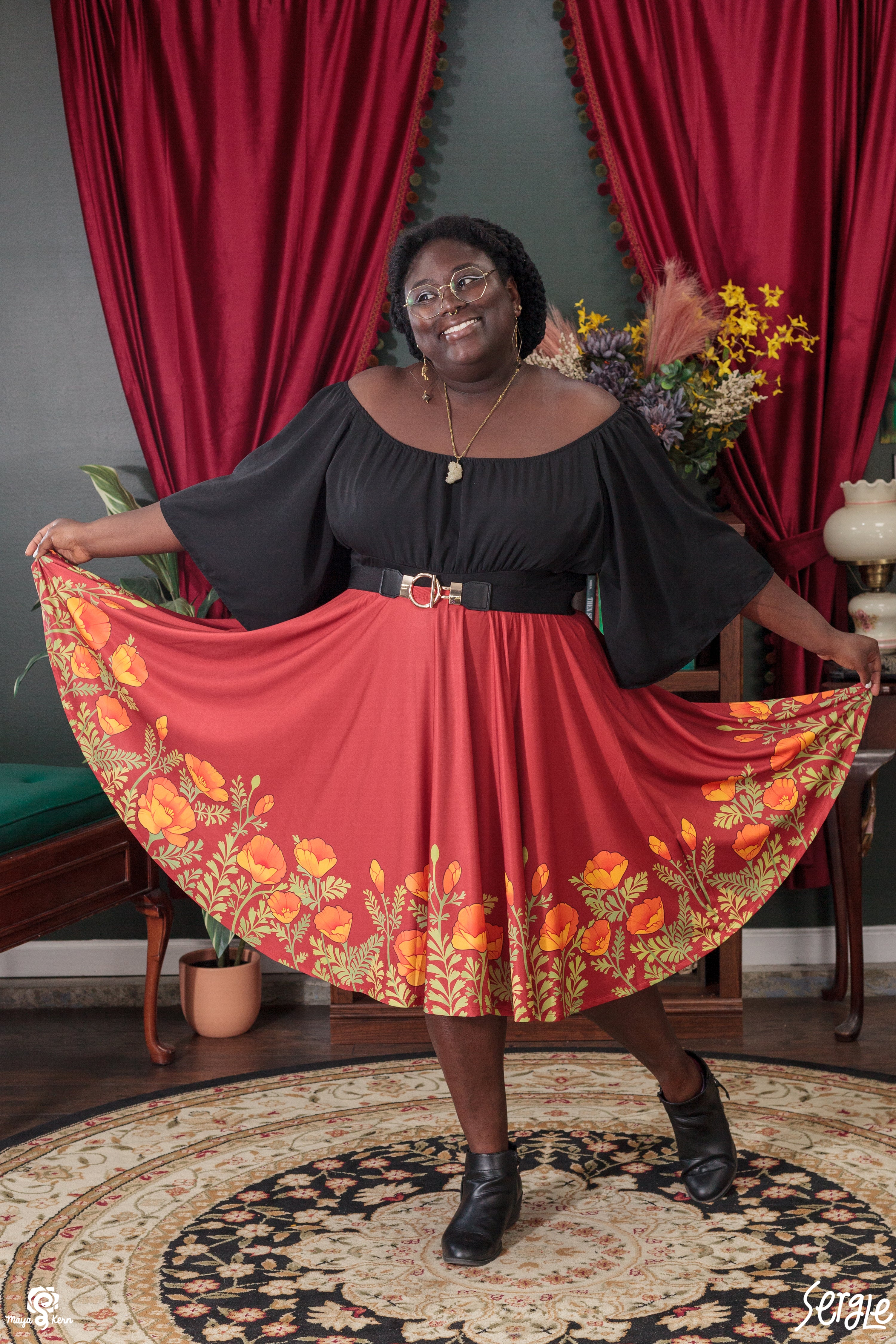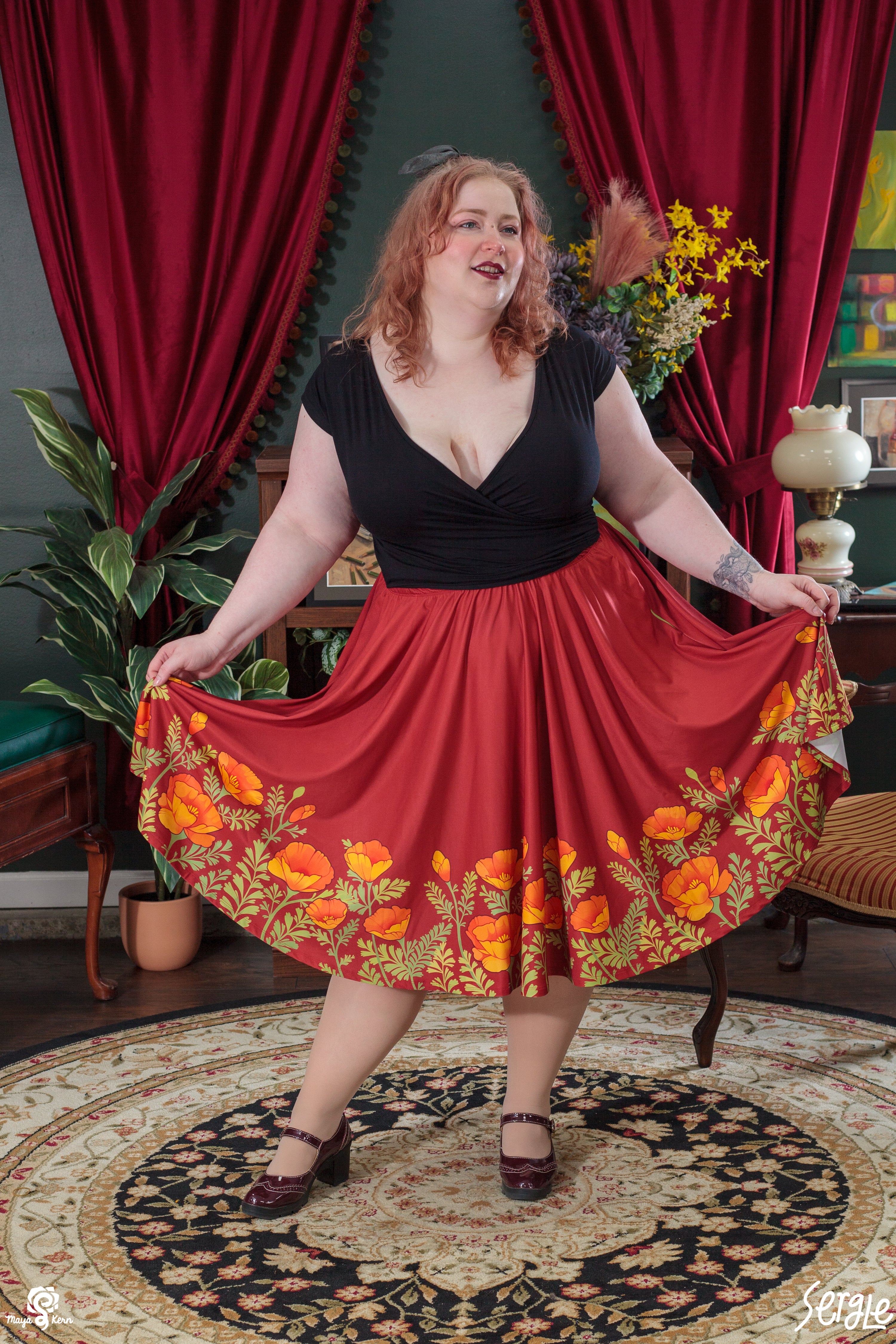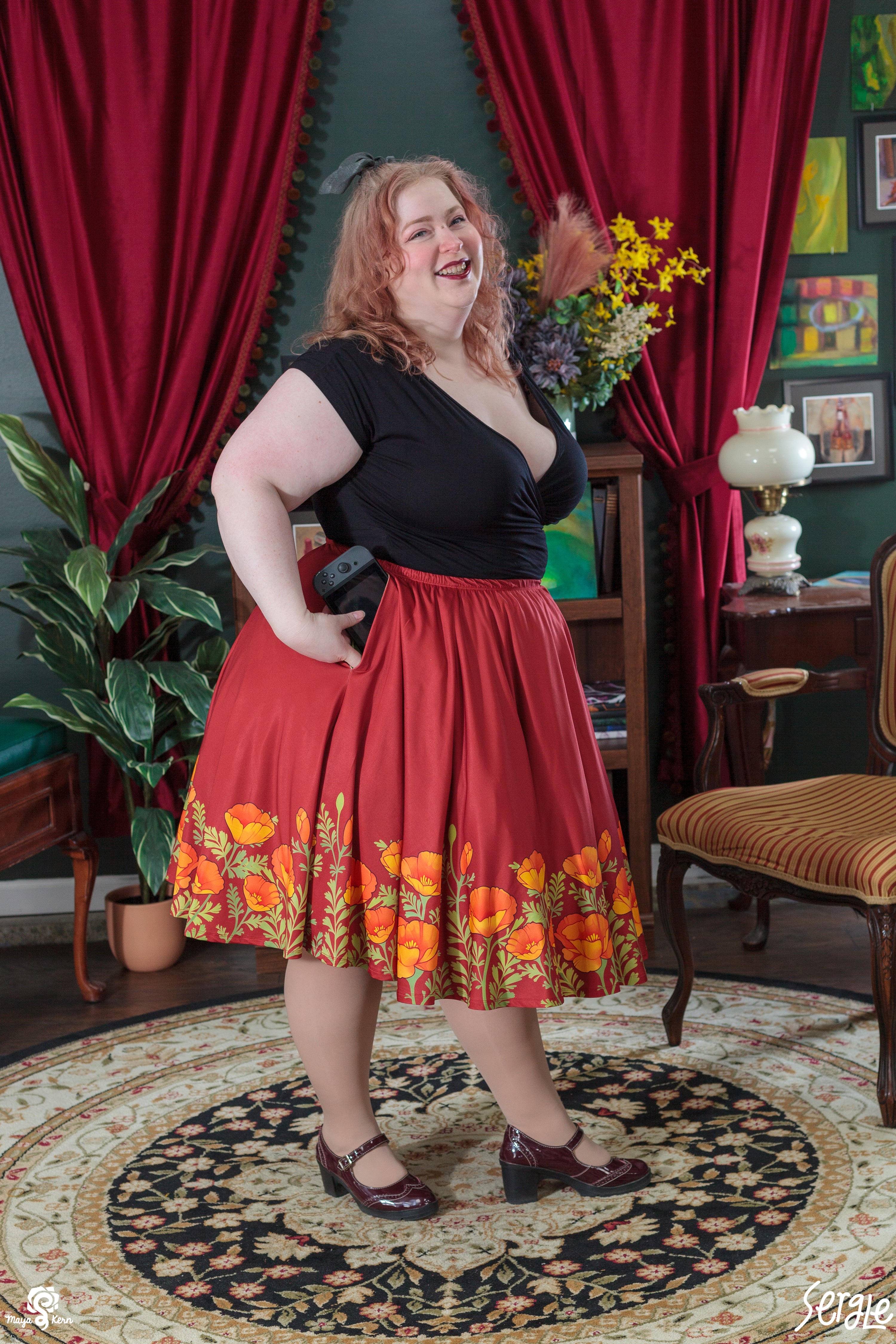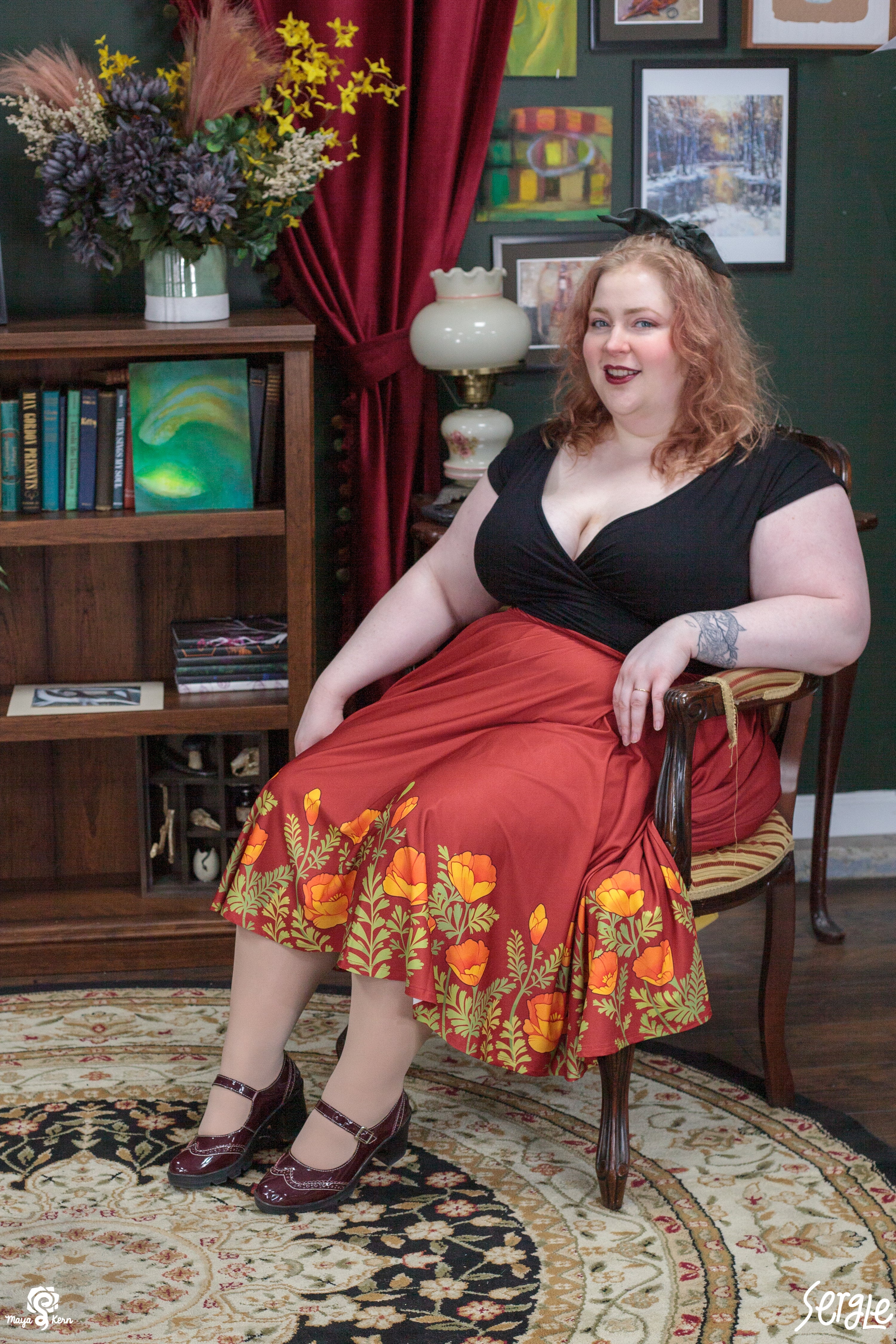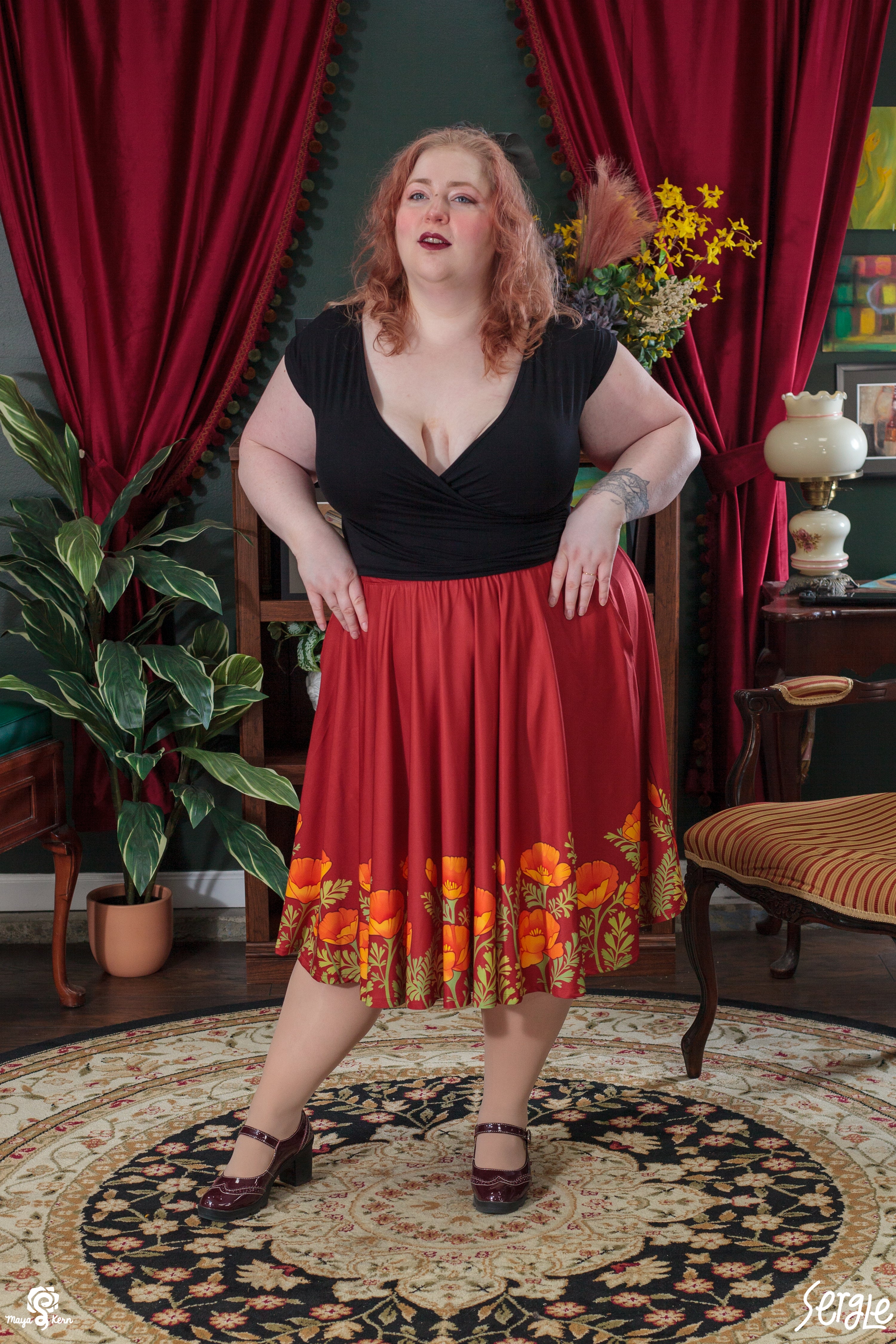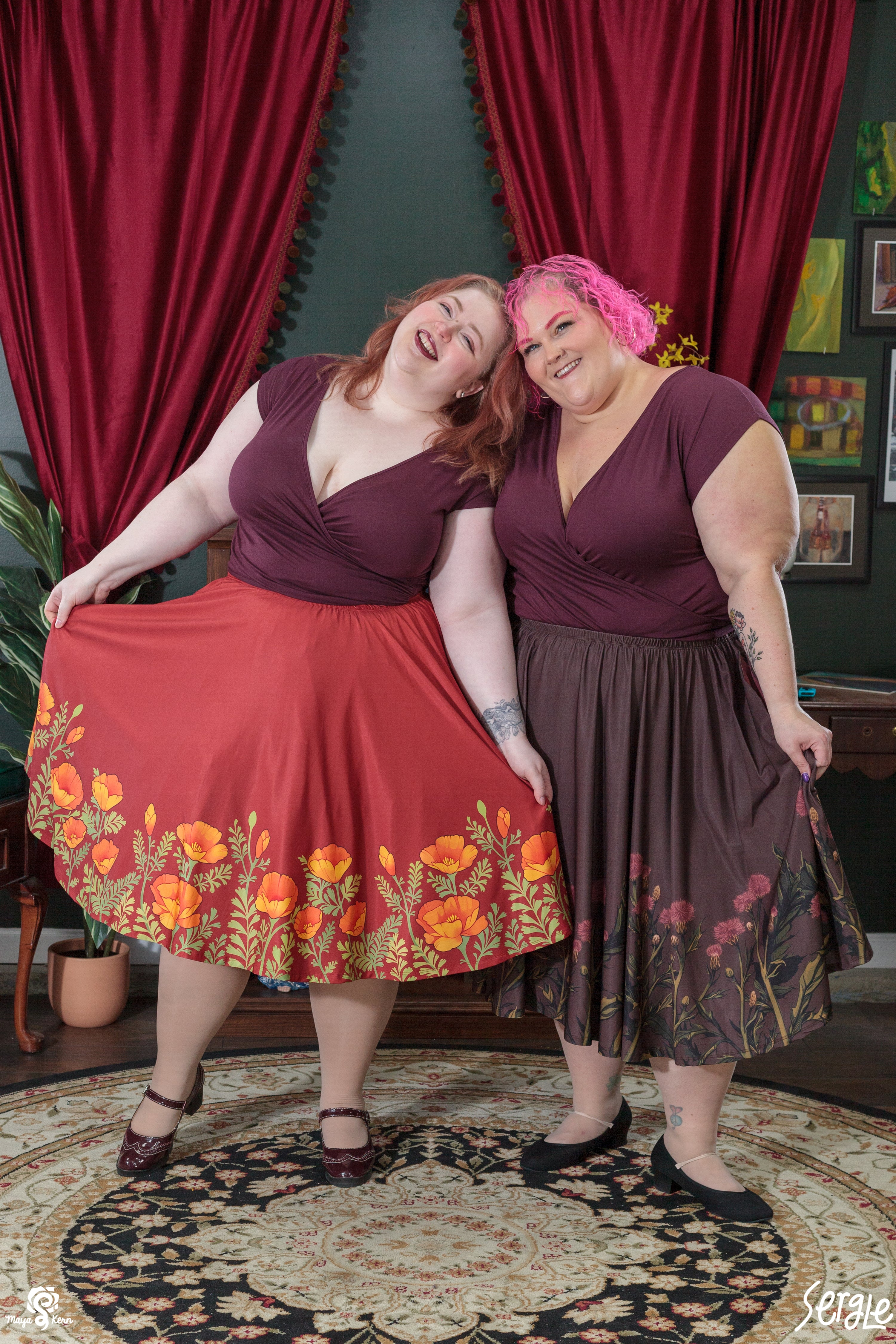 Maya Kern
COLLAB: Sergle Poppies Midi Skirt
Sale price
$45.00 USD
Regular price
$60.00
Stretchy circle skirt featuring Sergle's Poppies design on a red-orange background. These skirts have pockets large enough to fit your phone, DS, Switch, hands, and maybe a small cat.  Petticoat not included.
These skirts come in four sizes:
SIZE A
15"-32" (38cm-81cm) waist
25″ length
SIZE B
30"-45" (76cm-114cm) waist
25″ length
SIZE C
40"-60" (101cm-152cm) waist
25″ length
SIZE D
55"-84" (139cm-213cm) waist*
27" length
These skirts are very stretchy and the sizes have a lot of overlap! If you can't decide between sizes it comes down to preference; a smaller size will fit tighter and may stay up easier if you plan on filling your pockets, and a larger size will fit looser!
These skirts are made of a polyester/spandex blend
Made in Turkey in a Supplier Ethical Data Exchange and OEKO-TEX Standard 100 certified factory. SEDEX certifies ethical labor practices and OEKO-TEX Standard 100 certifies responsible textile production, ensuring there are no harmful substances present.
Maya
Wearing skirt size C, shirt size 2X
Height: 5'5" (165cm)
Bust: 52" (132cm)
Waist: 42" (106cm)
Hips: 58" (147cm)

Ariel
Wearing skirt size A, shirt size L
Height: 5'5" (165cm)
Bust: 41" (104cm)
Waist: 30" (76cm)
Hips: 50" (127cm)

Melquea


Wearing skirt size B




Height: 5'5" (165cm)




Bust: 52" (132cm)




Waist: 46" (117cm)




Hips: 49" (124cm)

Meagan
Wearing skirt size D, shirt size 4X
Height: 5'7" (170cm)
Bust: 58" (147cm)
Waist: 56" (142cm)
Hips: 72" (182cm)
--CARE--
Wash skirts in cold water and tumble dry normally.
A gorgeous skirt that I do not have the right outfit combos for (yet)
A beautiful skirt that is a warm hue and, of course, from this shop so it has been made with love- The design is fantastic, the pockets are deep enough to store enough snacks to feed a small army. I just need to find good outfits to pair with it as it's very much outside my usual wardrobe of hue.
Love it!!
It's fabric is awesome - falls great on the body- the colors are vibrant and what I expected
A+
Absolutely love this skirt! Think it's my first one from the new manu too. Wore it to work and got All the Compliments :) 10/10 have recommended to so many people lmao.
Amazing Line work
The line work is very clean and helps the flowers pop. We really like that the colors are a nice mellow fall tone, but still read easy from afar. Also, as always, the pockets are as big as advertised! Will definitely add more to our already building collection in the future :)
Skirt is lovely, waistband is tighter than original sizing
Print is good quality, skirt fabric is lovely and pockets rock as per usual! However, the waistband—which fit me last time quite well—was too tight and I had to stretch it with my hands before I could get it on over my hips. More than likely a manufacturing error and I will still be happily wearing it for years to come!