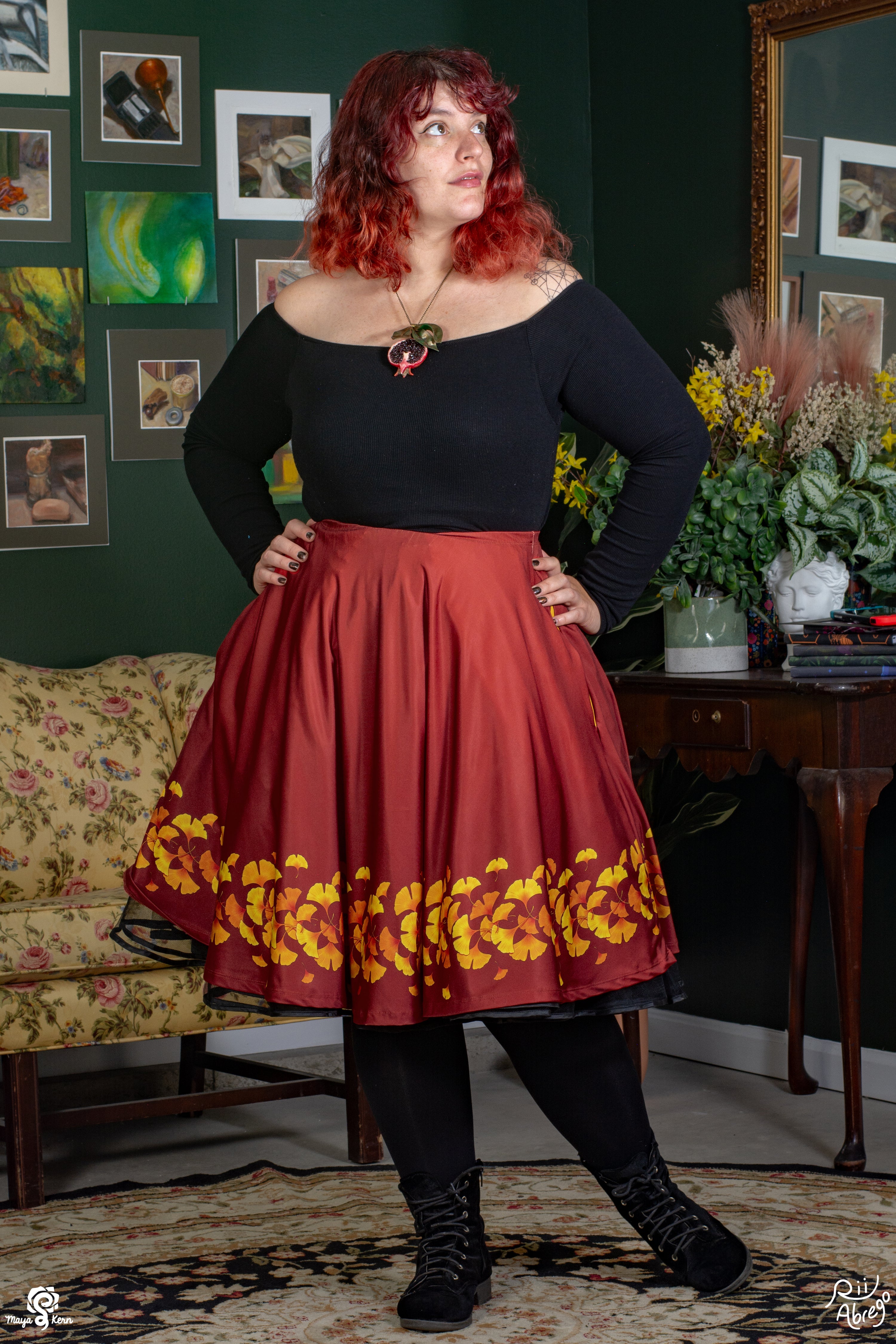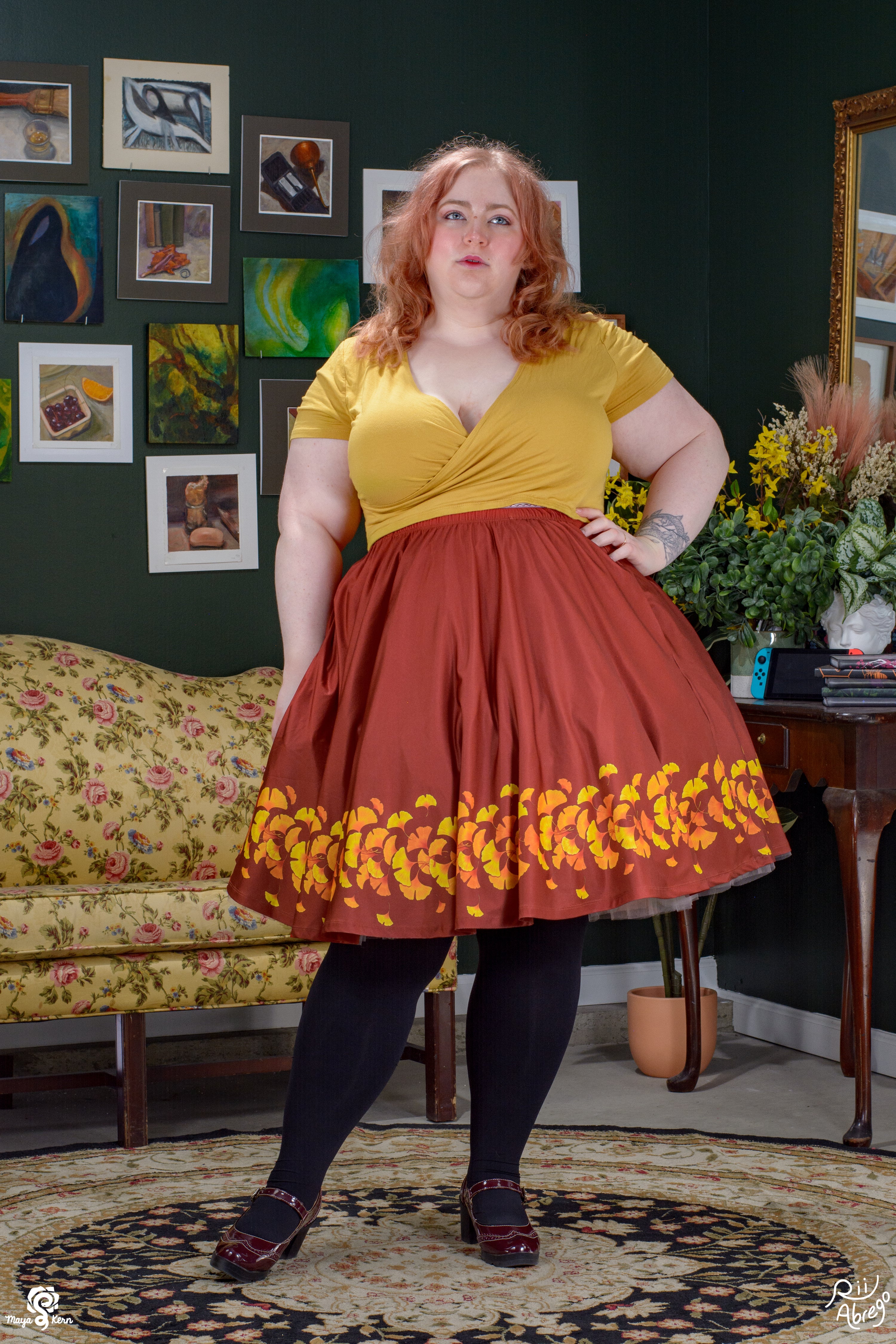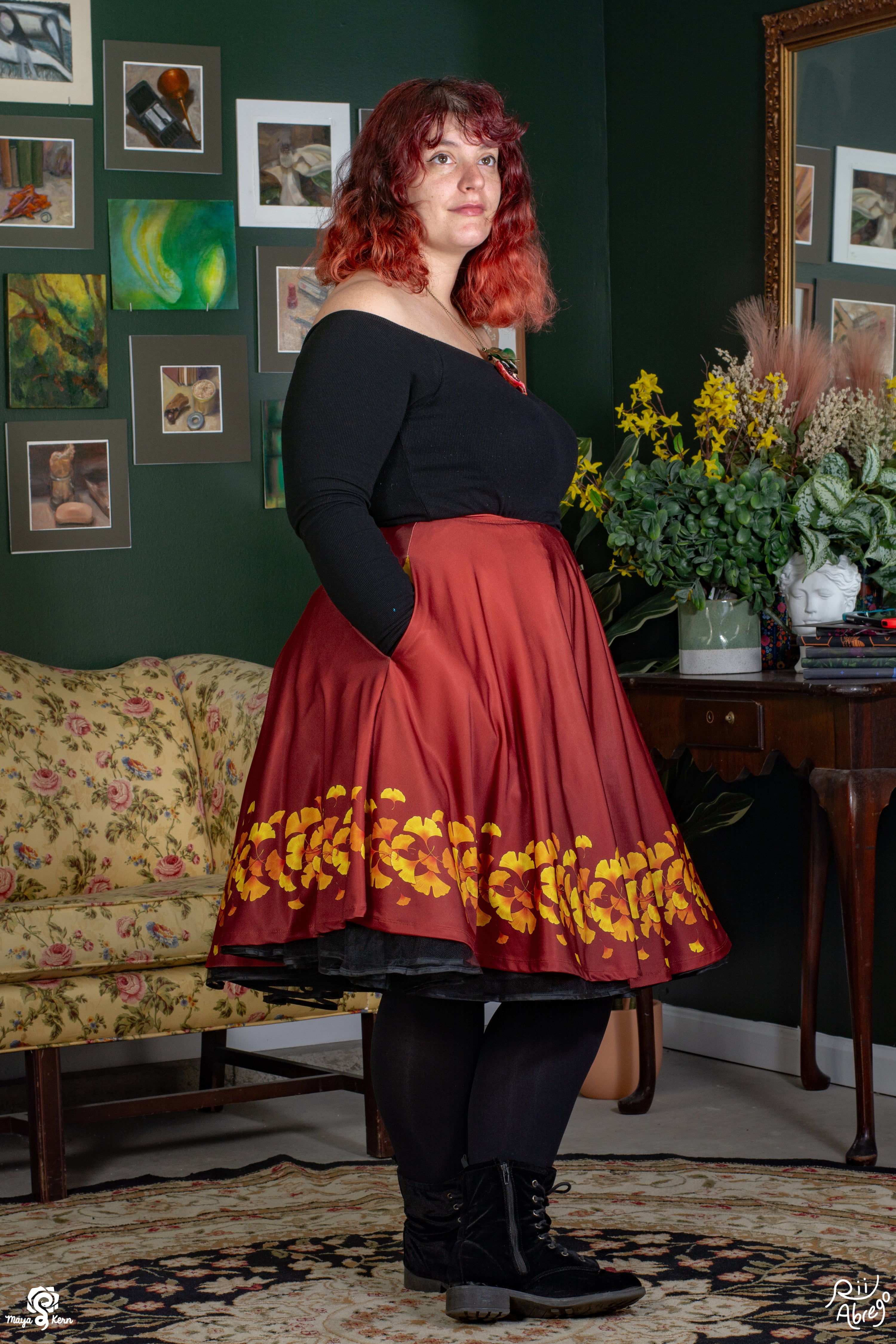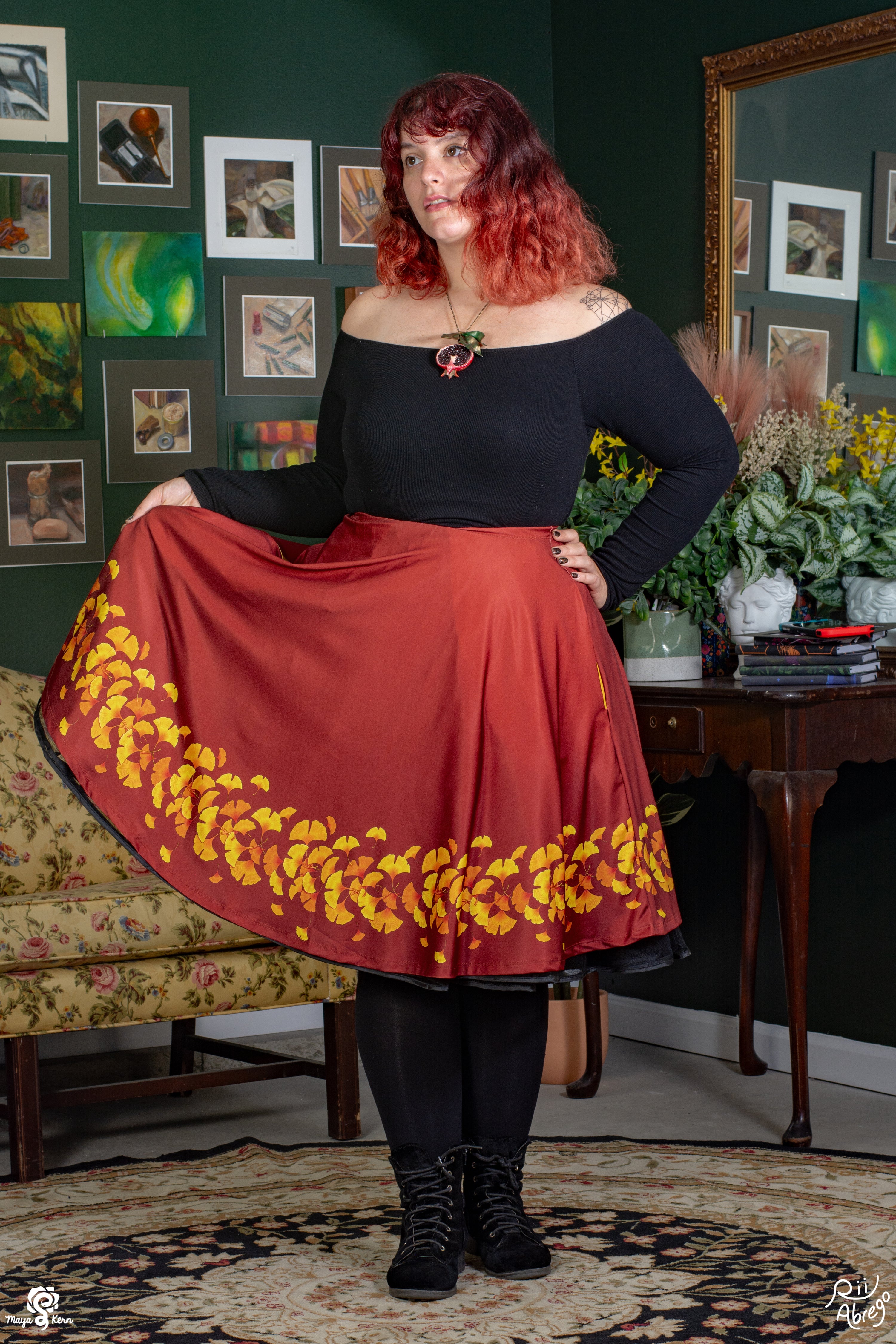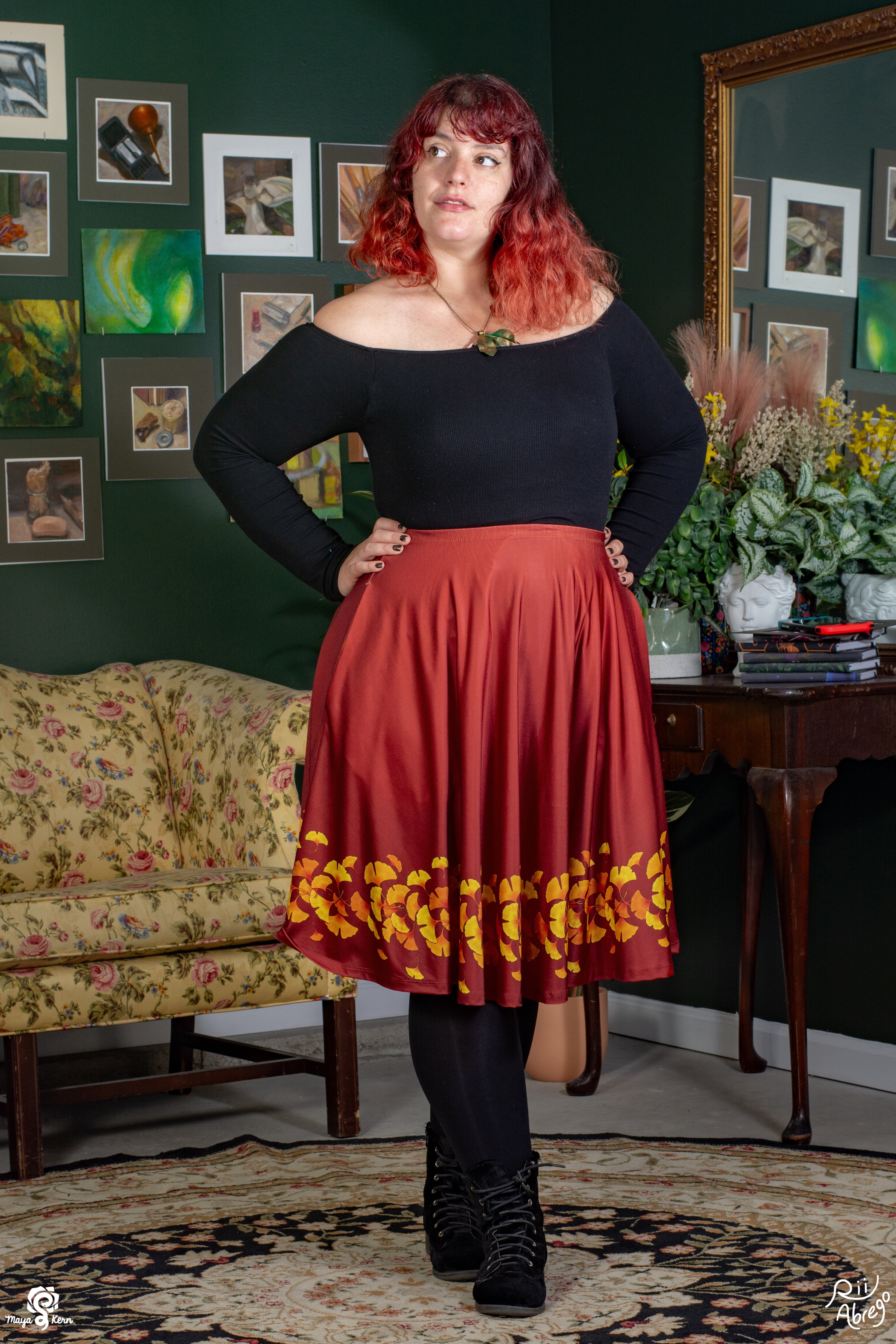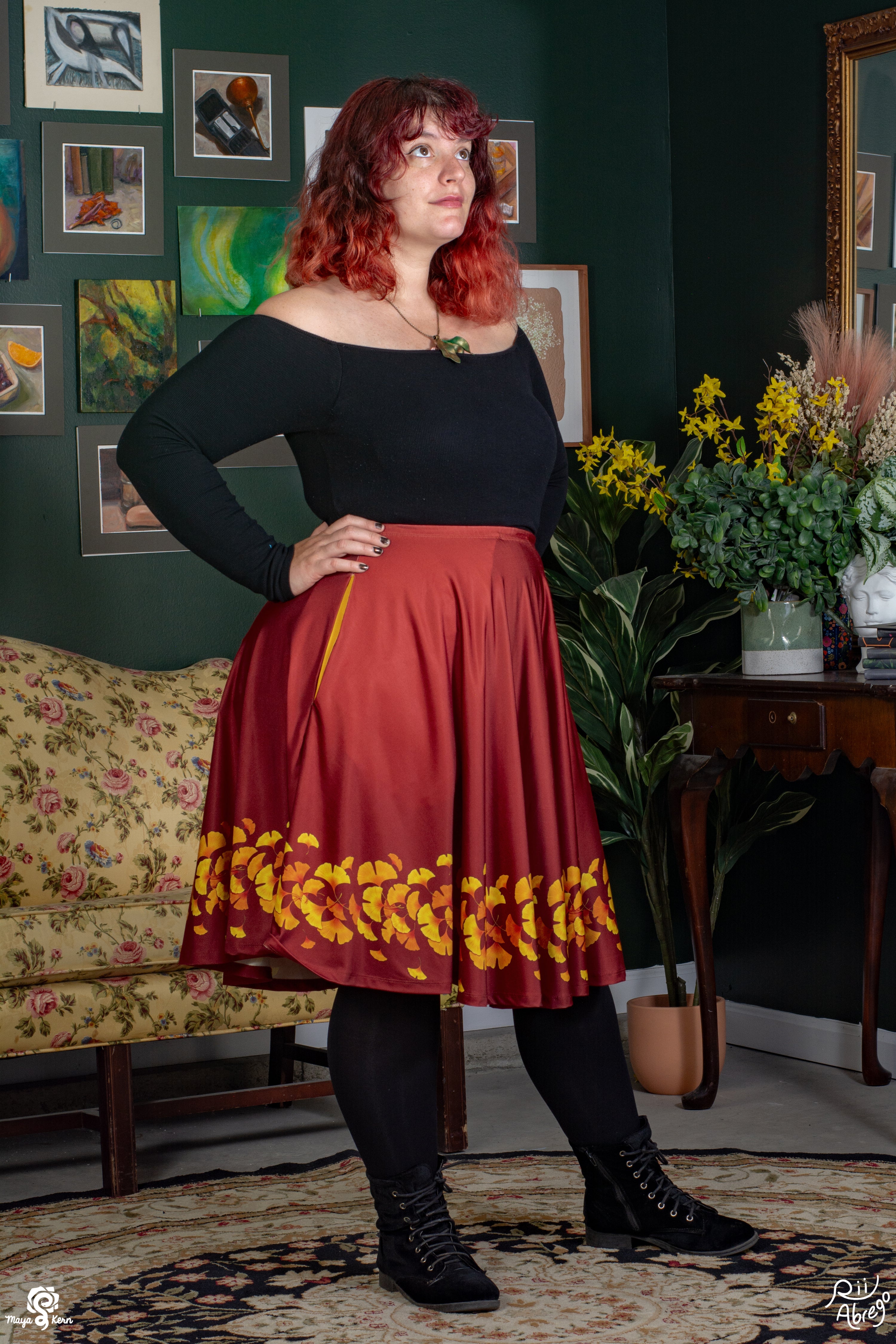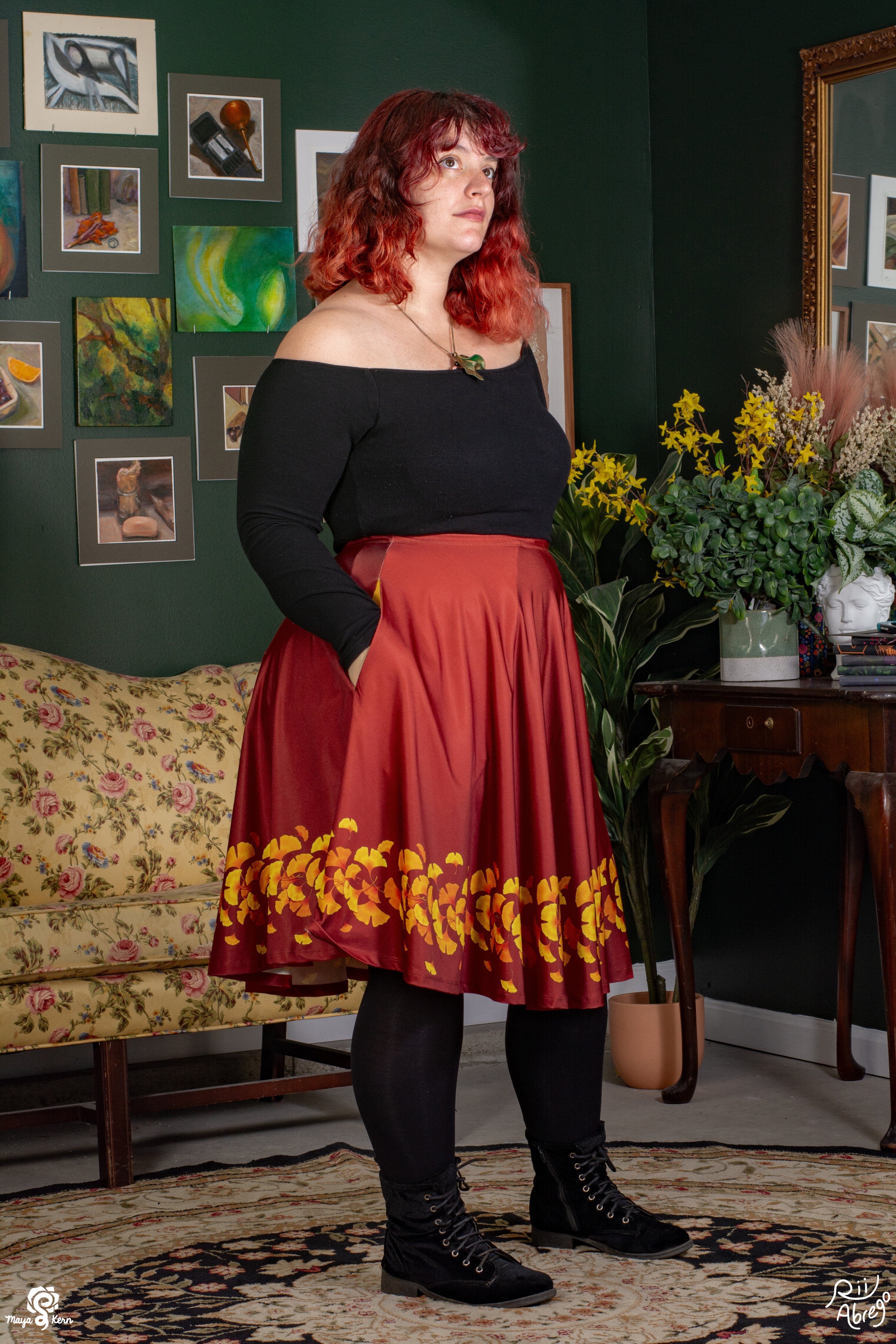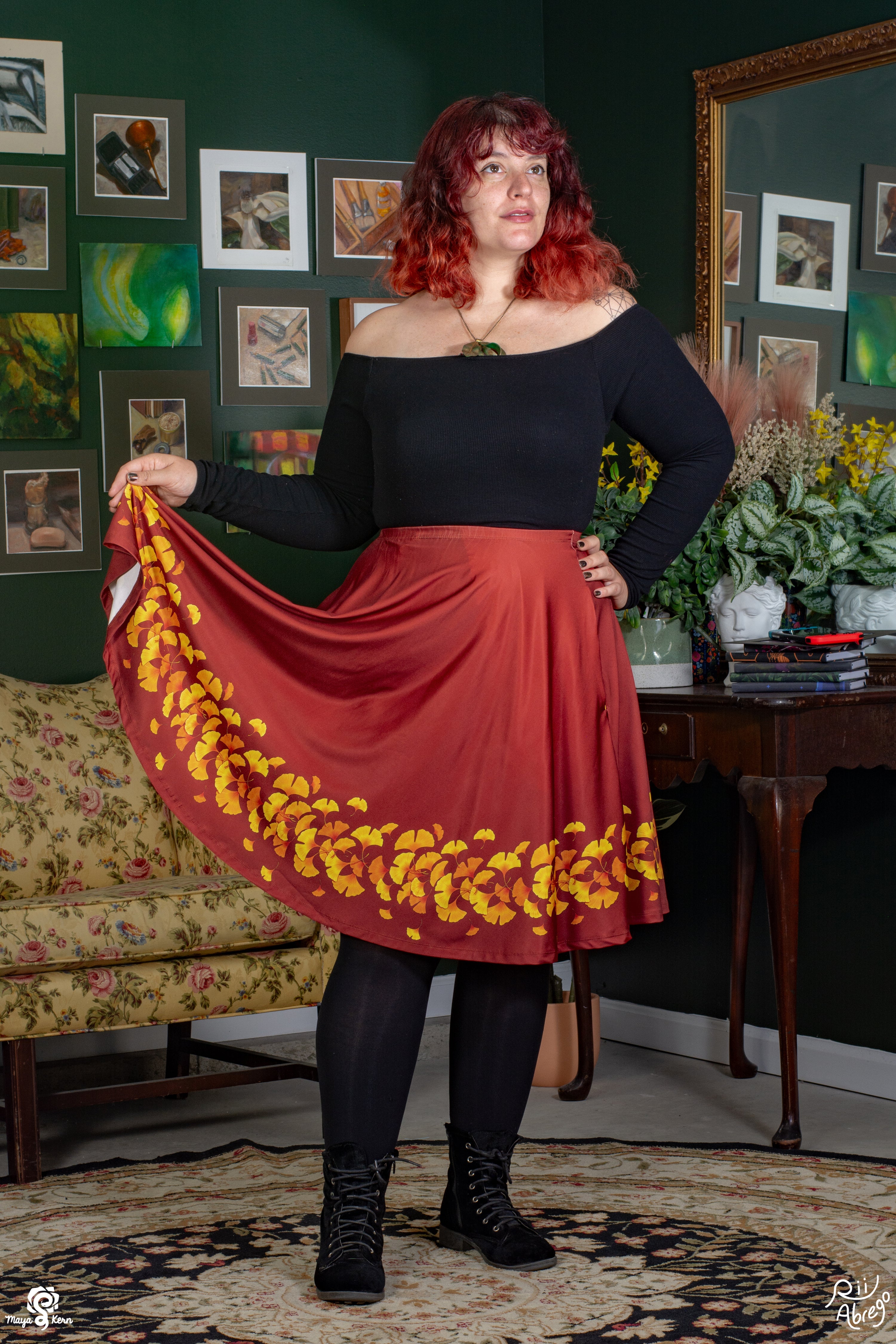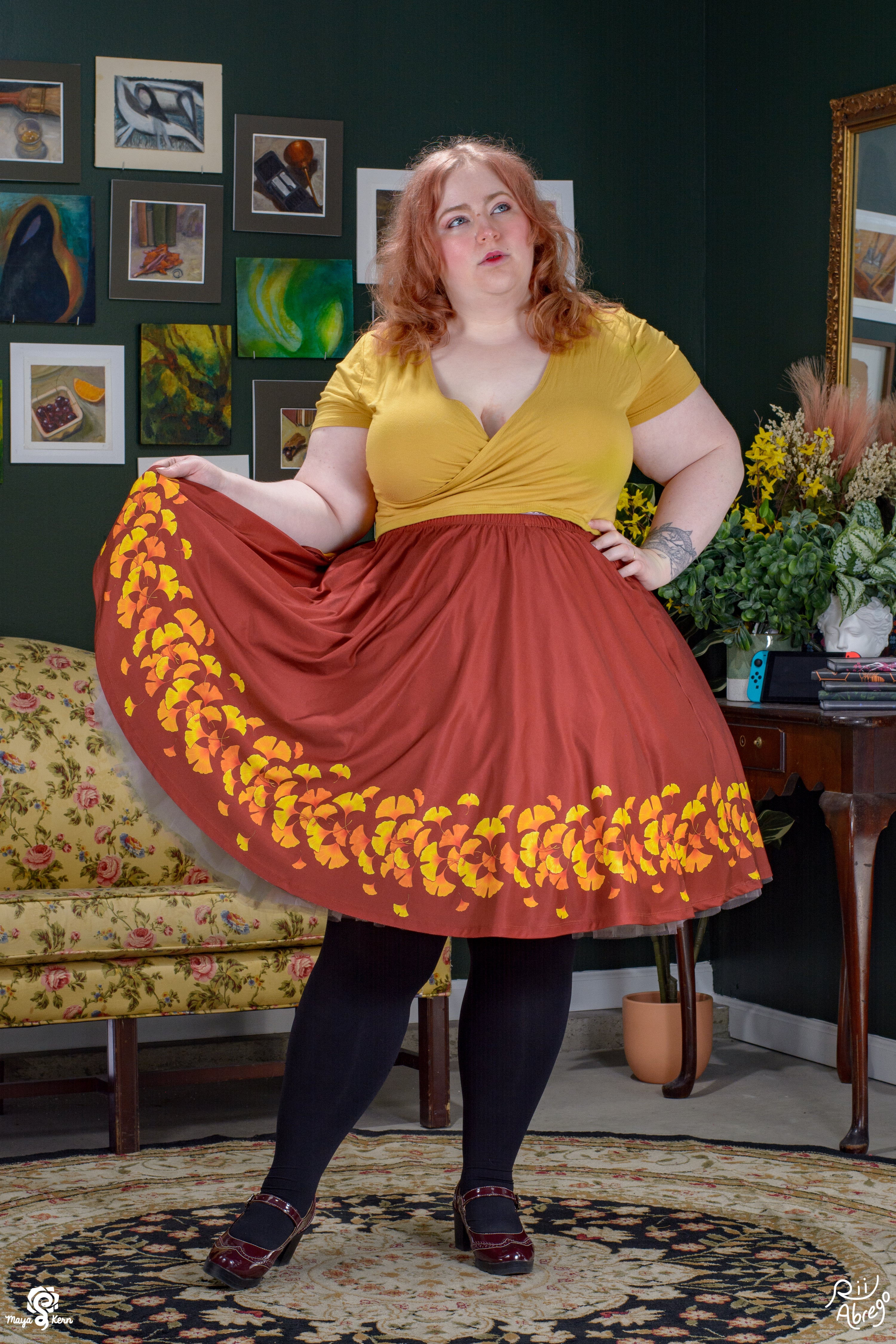 Maya Kern
COLLAB: Rii Abrego Ginkgo Midi Skirt
Sale price
$60.00 USD
Regular price
Stretchy circle skirt featuring a collab with Rii Abrego and their Ginkgo design on a rust red background. These skirts have pockets large enough to fit your phone, DS, Switch, hands, and maybe a small cat.  Petticoat not included.
These skirts come in four sizes:
SIZE A
15-30" (38cm-76cm) waist
25″ length
SIZE B
30"-45" (76cm-114cm) waist
25″ length
SIZE C
40"-60" (101cm-152cm) waist
25″ length
SIZE D
55"-70" (139cm-216cm) waist*
27" length
*This batch of skirts was made with faulty elastic and doesn't stretch up to our typical 85" waist
These skirts are very stretchy and the sizes have a lot of overlap! If you can't decide between sizes it comes down to preference; a smaller size will fit tighter and may stay up easier if you plan on filling your pockets, and a larger size will fit looser!
These skirts are made of a polyester/spandex blend
Made in Turkey in a Supplier Ethical Data Exchange and OEKO-TEX Standard 100 certified factory. SEDEX certifies ethical labor practices and OEKO-TEX Standard 100 certifies responsible textile production, ensuring there are no harmful substances present.
Maya
Wearing skirt size B, shirt size 2XL
Height: 5' 5" (165cm)
Bust: 52" (132cm)
Waist: 42" (106cm)
Hips: 58" (147cm)

Ariel
Wearing skirt size A, shirt size L
Height: 5' 5" (165cm)
Bust: 41" (104cm)
Waist: 30" (76cm)
Hips: 50" (127cm)

Devin
Wearing skirt size A, shirt size S
Height: 5' 7" (170cm)
Bust: 32" (81cm)
Waist: 27" (68cm)
Hips: 37" (94cm)
--CARE--
Wash skirts in cold water and tumble dry normally.
Excellent quality, pockets are huge and lined on the inside with a fun color, very swishy and comfy ❤️
Very Comfortable!!
This is my first skirt from the new manufacturer! It's very soft and light, and great to wear during summer. As someone on the lower end of one of the new sizes, I can't put anything heavy in my pockets like my phone, otherwise the skirt will drag down. Aside from that, this is a fantastic skirt.
Very awesome
Got it for a friend of mine, and she loved it!! Beautiful as always.
Beautiful art
I love the colour, but I wish that the fabric was heavier, and the skirt was longer. As a tall wheelchair user, length is important to me to cover my bum. I maybe should have sized down for the waist, it's a little slack if I stand with things in my pockets, but I try to get get as much length as possible. Fabric is quite lightweight, more so than I expected. Pocket lining is yellow (like the leaves), so show easily against the red.
Absolutely beautiful! A little thin for my liking.
This skirt is just as gorgeous in person as it is online. The new sizing system gives me a more snug (but still very comfy w/lots of stretch) fit, which is nice. My only complaint is with the thickness of the fabric - it is so thin that I almost feel like I'm not wearing it, which bodes poorly for noticing if it's blown up by the wind in the back! It also means that tucking shirts into the skirt is visible, albeit not super noticeable unless you're looking. Even the seams of the skirt's pockets themselves show through the skirt towards the top where the skirt is against my stomach more, but again it is minimal. I was rather upset when I first noticed it, but I got over it pretty quickly - you won't notice it unless you're really looking.