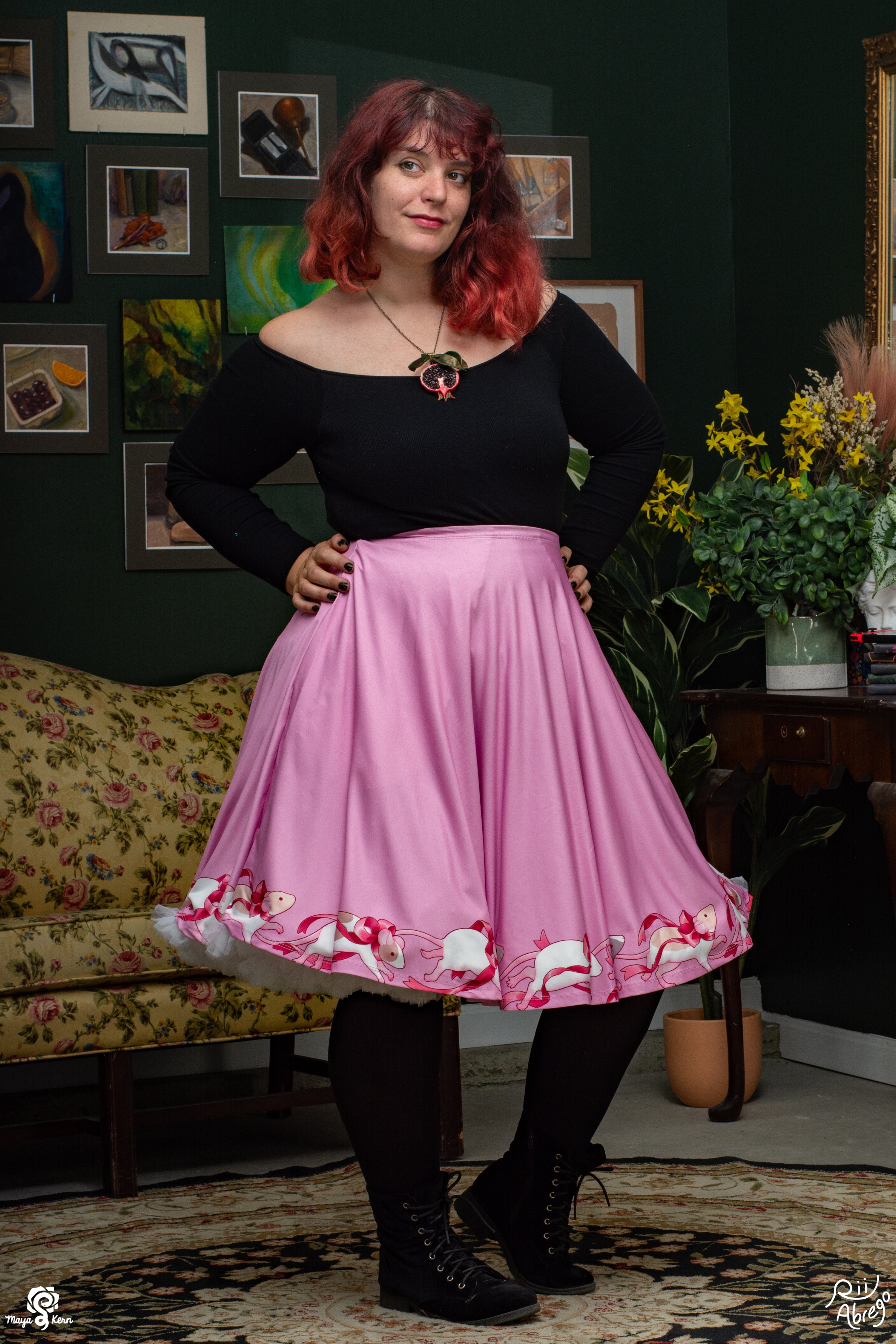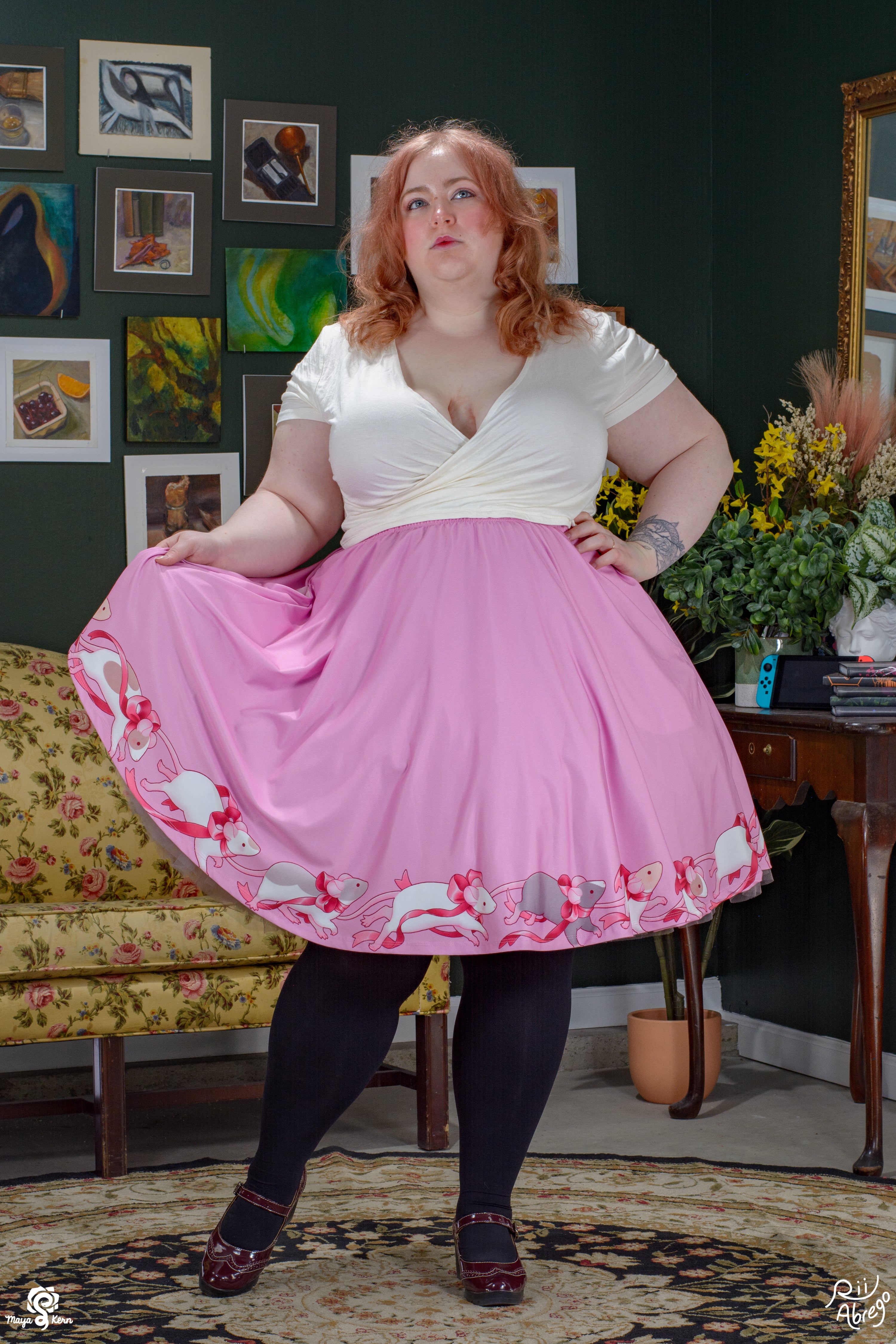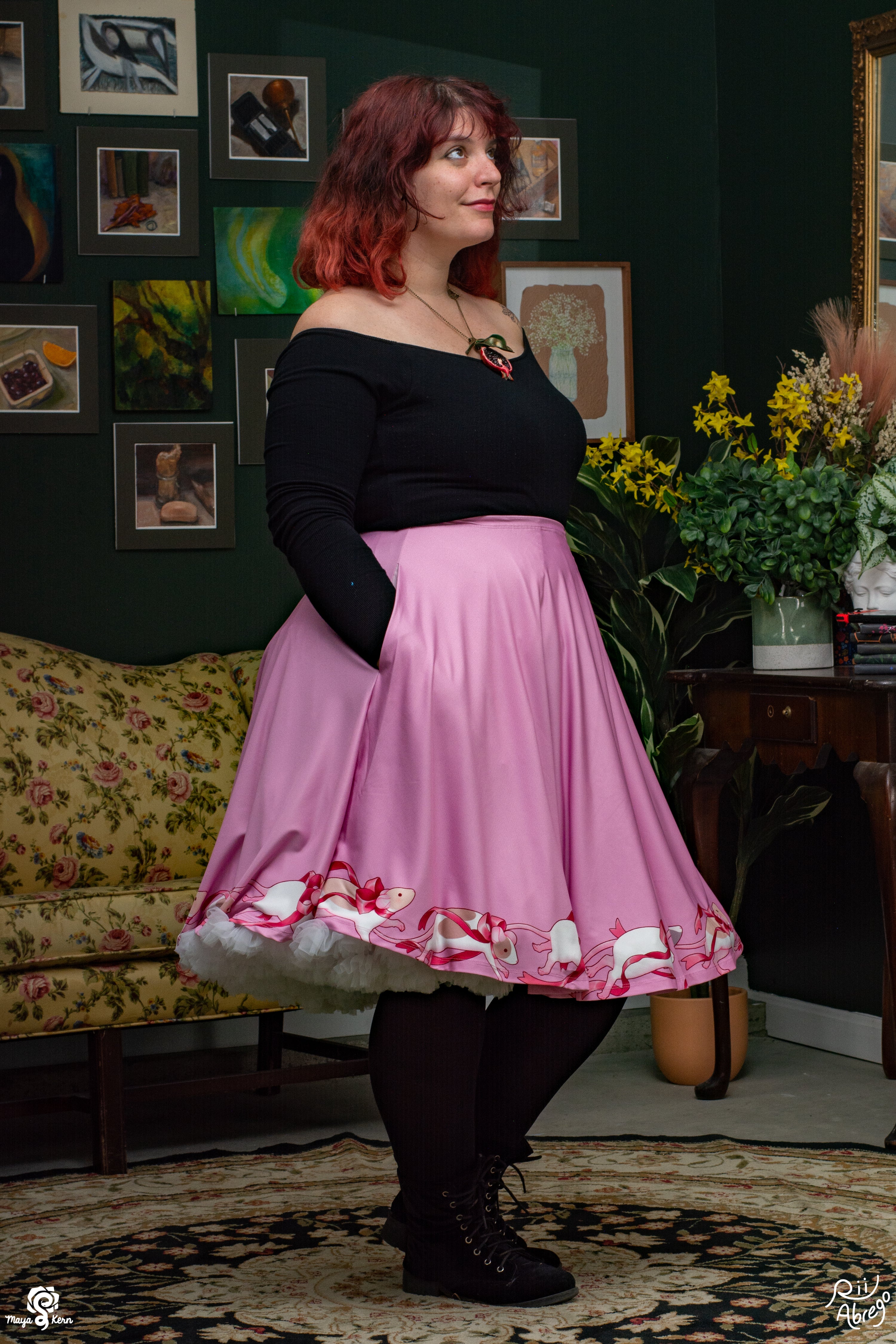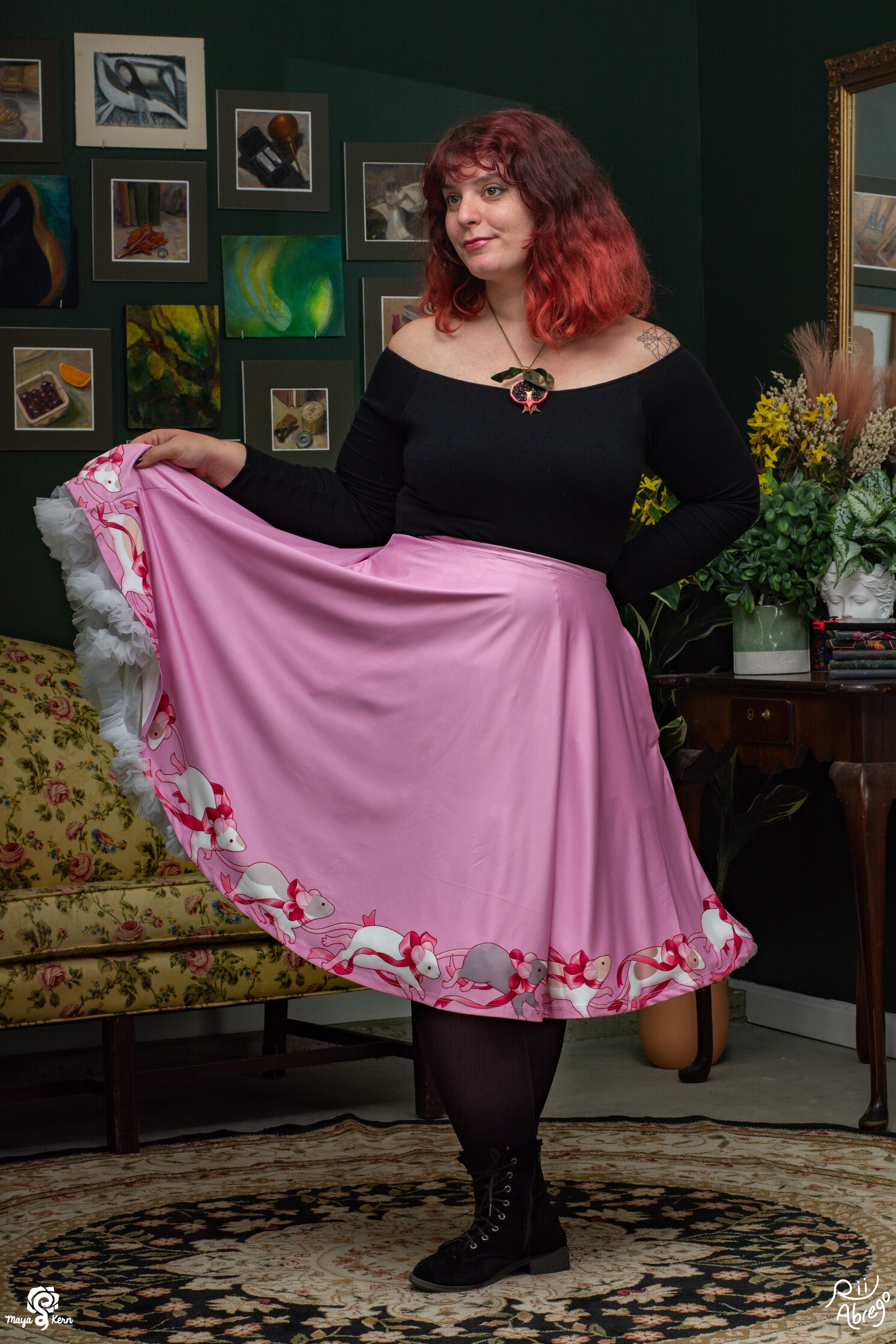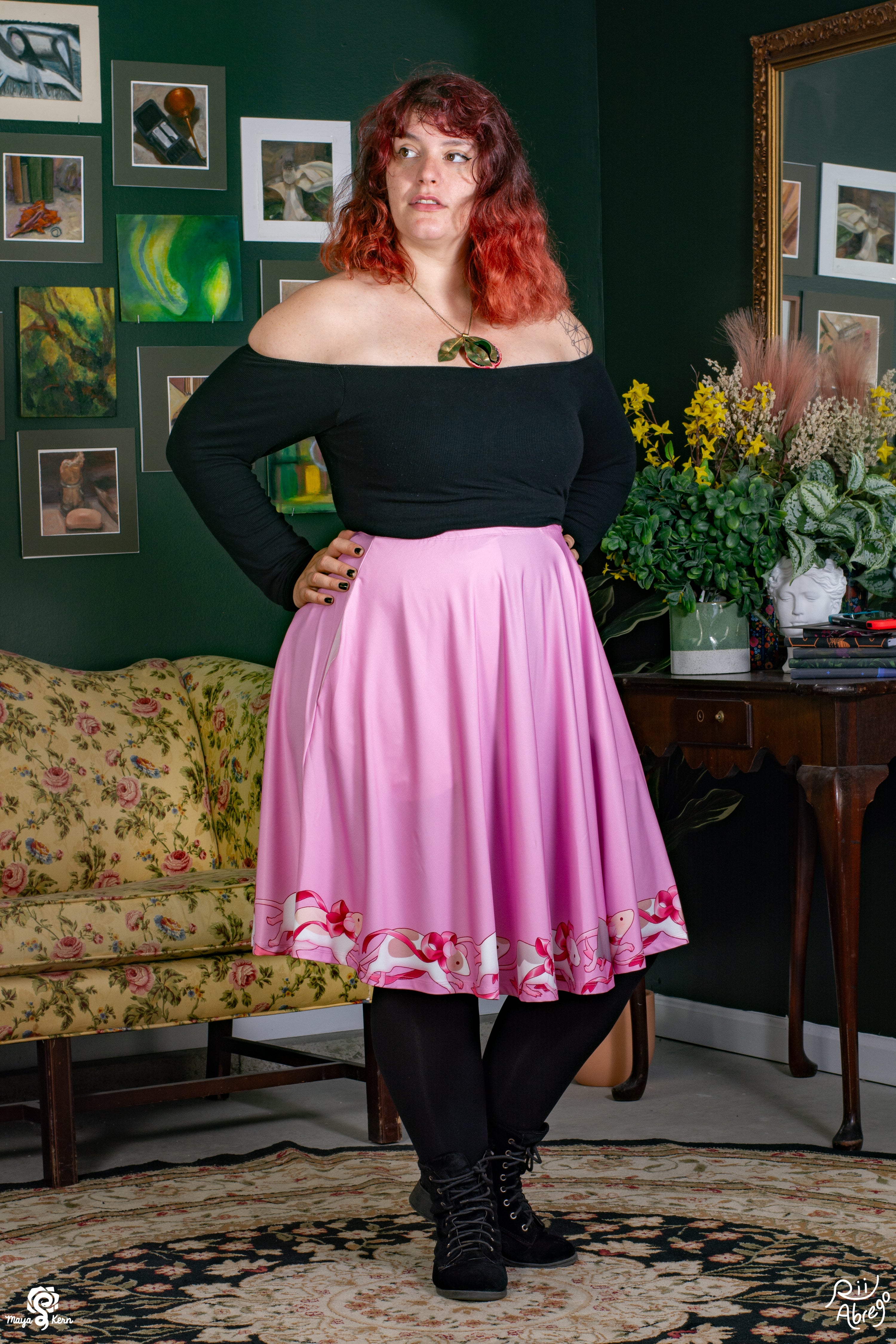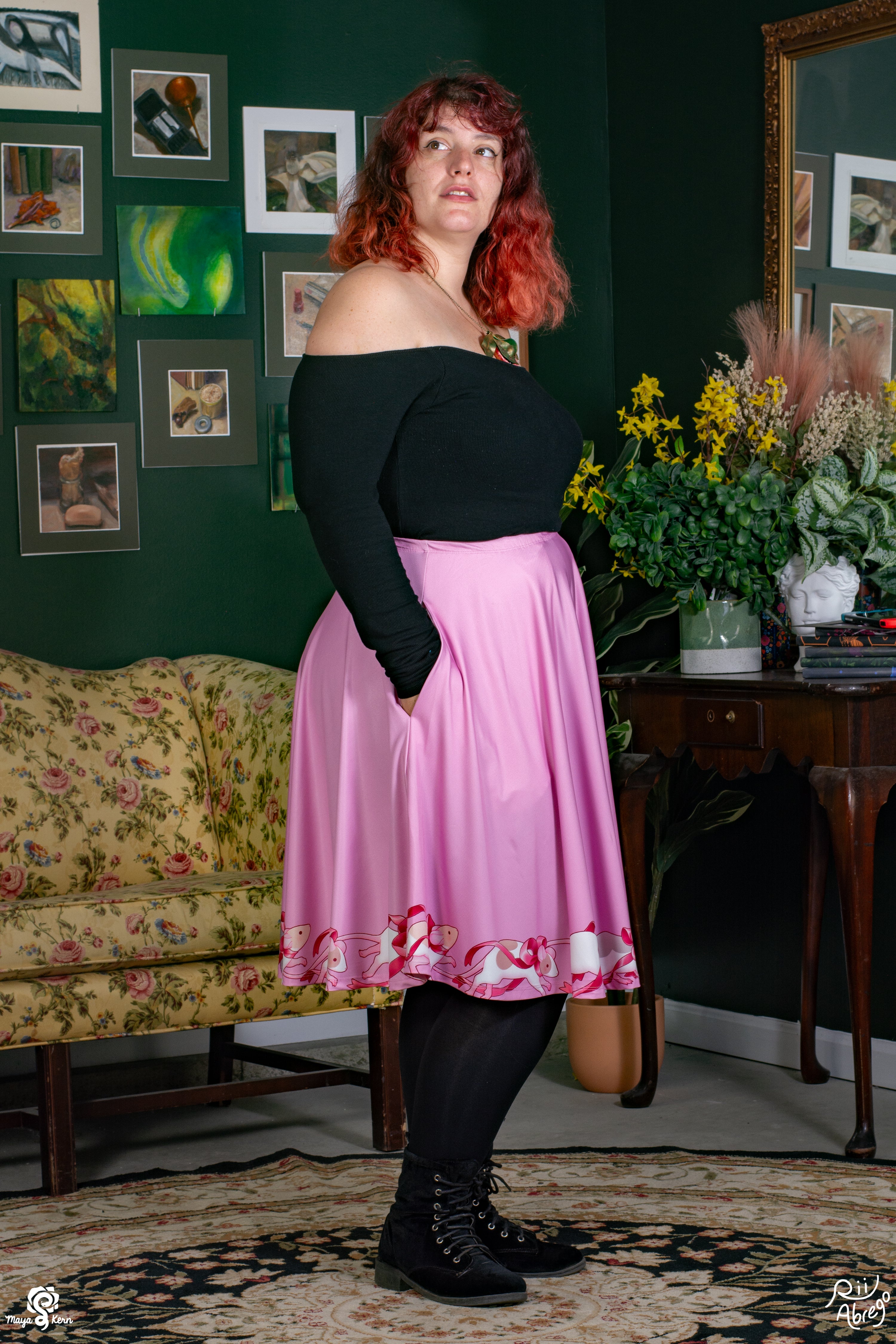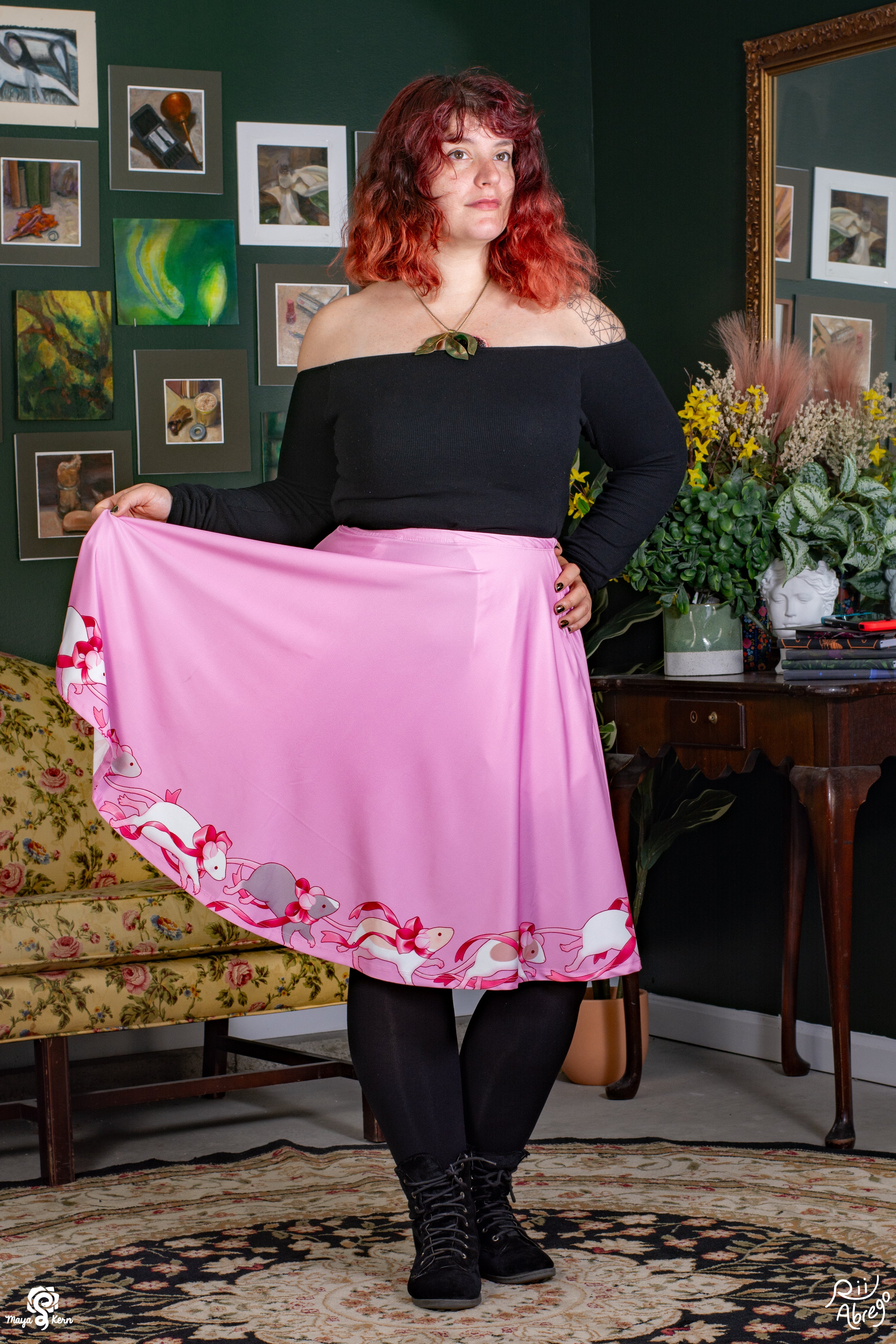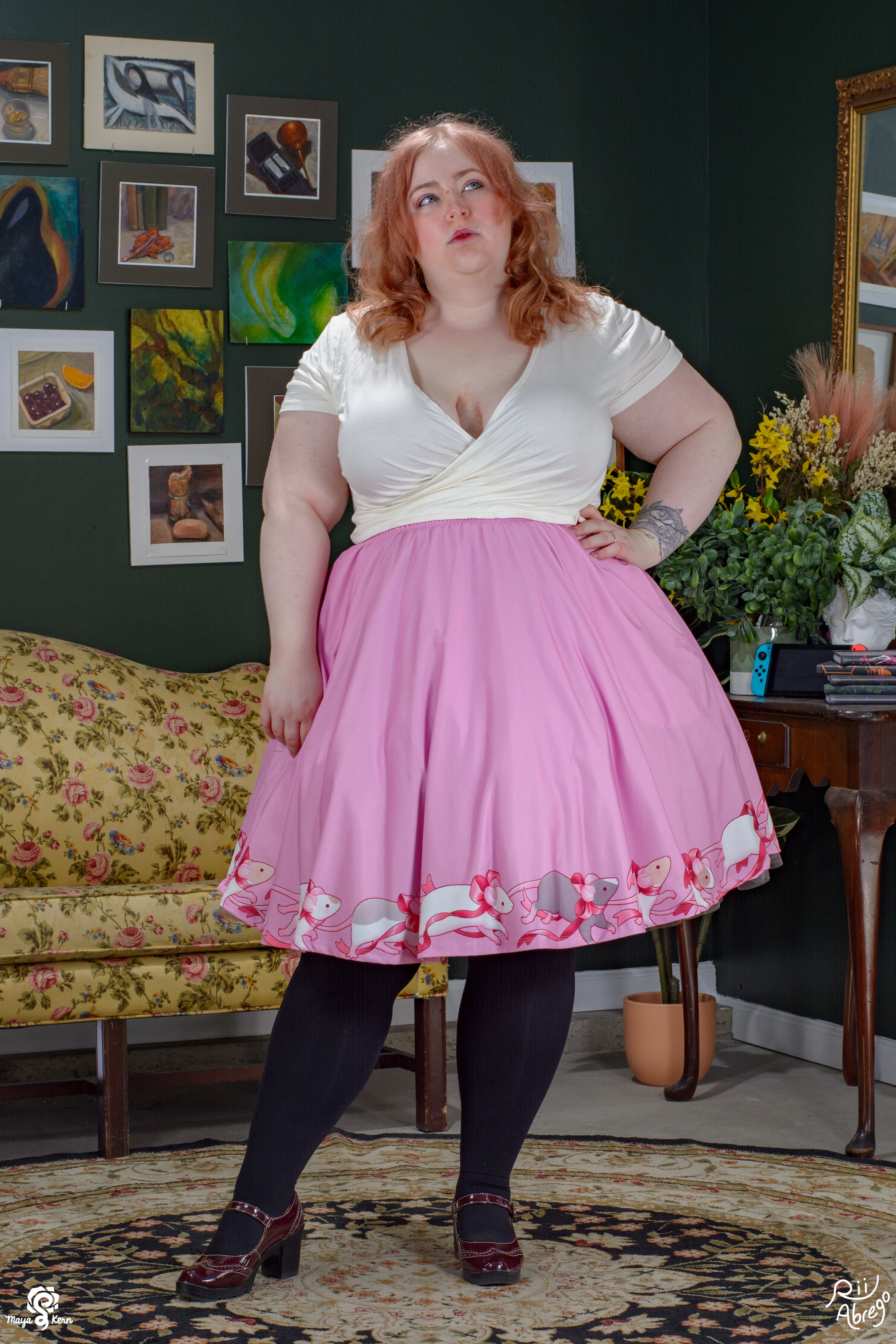 Maya Kern
COLLAB: Rii Abrego Fancy Rats Midi Skirt
Sale price
$60.00 USD
Regular price
Stretchy circle skirt featuring a collab with Rii Abrego and their Fancy Rats design on a light pink background. These skirts have pockets large enough to fit your phone, DS, Switch, hands, and maybe a small cat.  Petticoat not included.
These skirts come in four sizes:
SIZE A
15-30" (38cm-76cm) waist
25″ length
SIZE B
30"-45" (76cm-114cm) waist
25″ length
SIZE C
40"-60" (101cm-152cm) waist
25″ length
SIZE D
55"-85" (139cm-216cm) waist
27" length
These skirts are very stretchy and the sizes have a lot of overlap! If you can't decide between sizes it comes down to preference; a smaller size will fit tighter and may stay up easier if you plan on filling your pockets, and a larger size will fit looser!
These skirts are made of a polyester/spandex blend
Made in Turkey in a Supplier Ethical Data Exchange and OEKO-TEX Standard 100 certified factory. SEDEX certifies ethical labor practices and OEKO-TEX Standard 100 certifies responsible textile production, ensuring there are no harmful substances present.
Maya
Wearing skirt size B, shirt size 2XL
Height: 5' 5" (165cm)
Bust: 52" (132cm)
Waist: 42" (106cm)
Hips: 58" (147cm)

Ariel
Wearing skirt size A, shirt size L
Height: 5' 5" (165cm)
Bust: 41" (104cm)
Waist: 30" (76cm)
Hips: 50" (127cm)

Devin
Wearing skirt size A, shirt size S
Height: 5' 7" (170cm)
Bust: 32" (81cm)
Waist: 27" (68cm)
Hips: 37" (94cm)
--CARE--
Wash skirts in cold water and tumble dry normally.
So cute!
This is such a cute skirt. I was immediately stopped at the farmers market by someone who needed to know where I got it.
ADORABLE
I love this skirt so much, it's absolutely adorable and I wear it all the time!! I got it pretty soon after I got the cats skirt and I'm gonna go another skirt soon tbh 👀 payday is comin!
super high quality!! fits my huge phone case/wallet perfectly.
Dancing Rats
Fantastic skirt - comfy, great twirl action, massive pockets and a swirl of dainty rats to dance around the hem
Very popular at the Barbie movie :)
Cute skirts, cute rats
I don't usually wear pink but how could I resist these lovable rats? It's another great skirt from Maya Kern, comfortable and swishy and practical too, thanks to the stretchy, zero-fastening waistband and deep pockets.