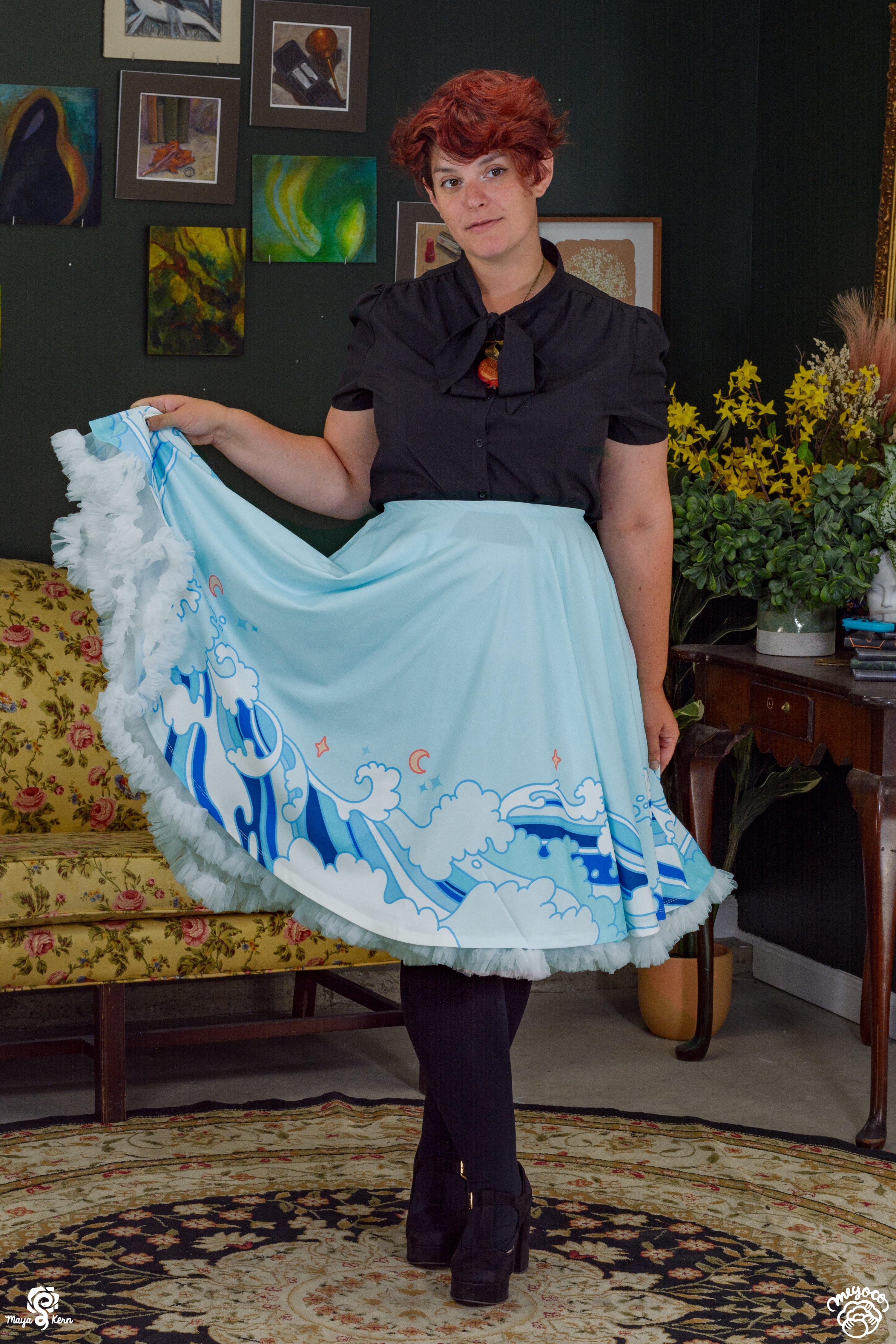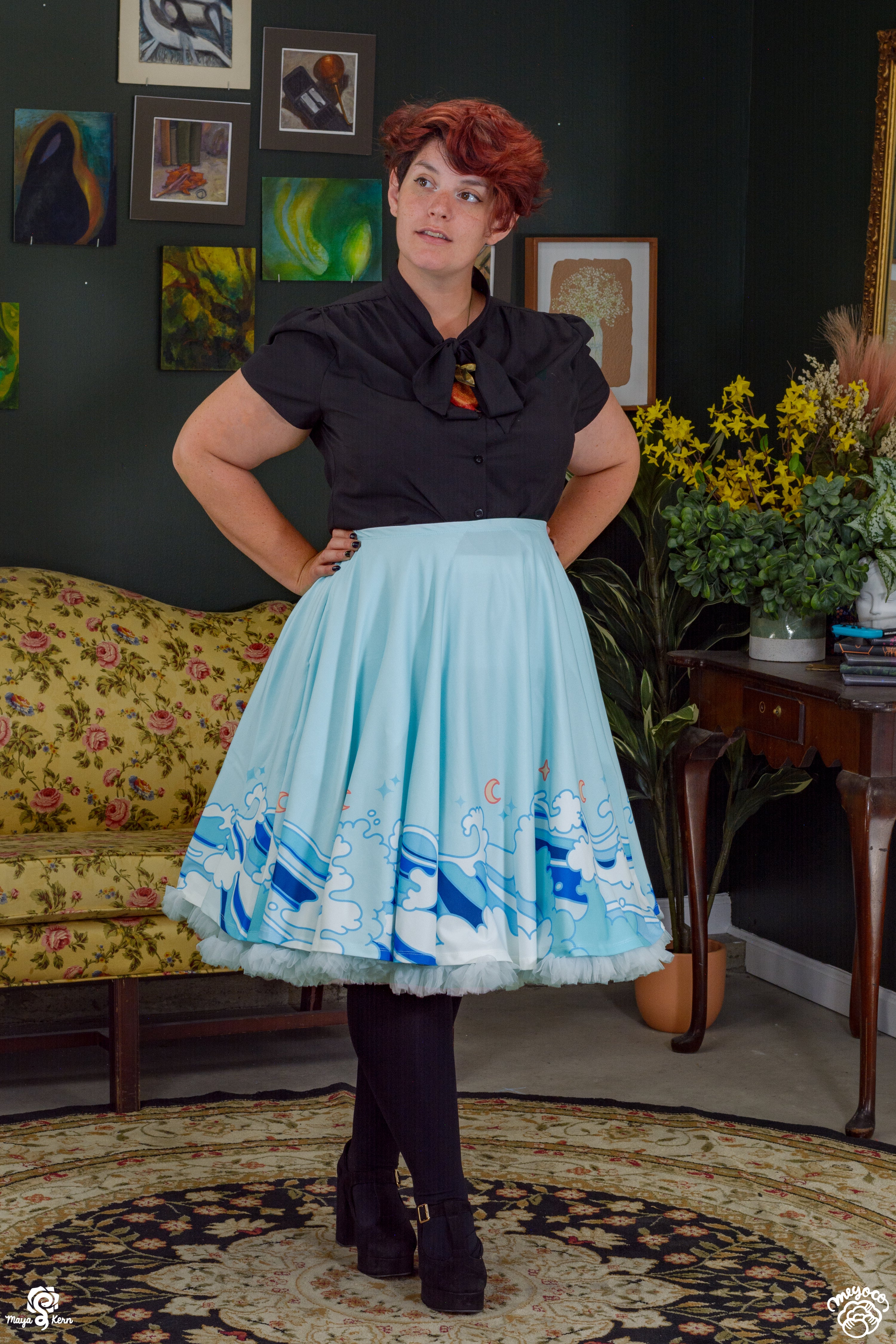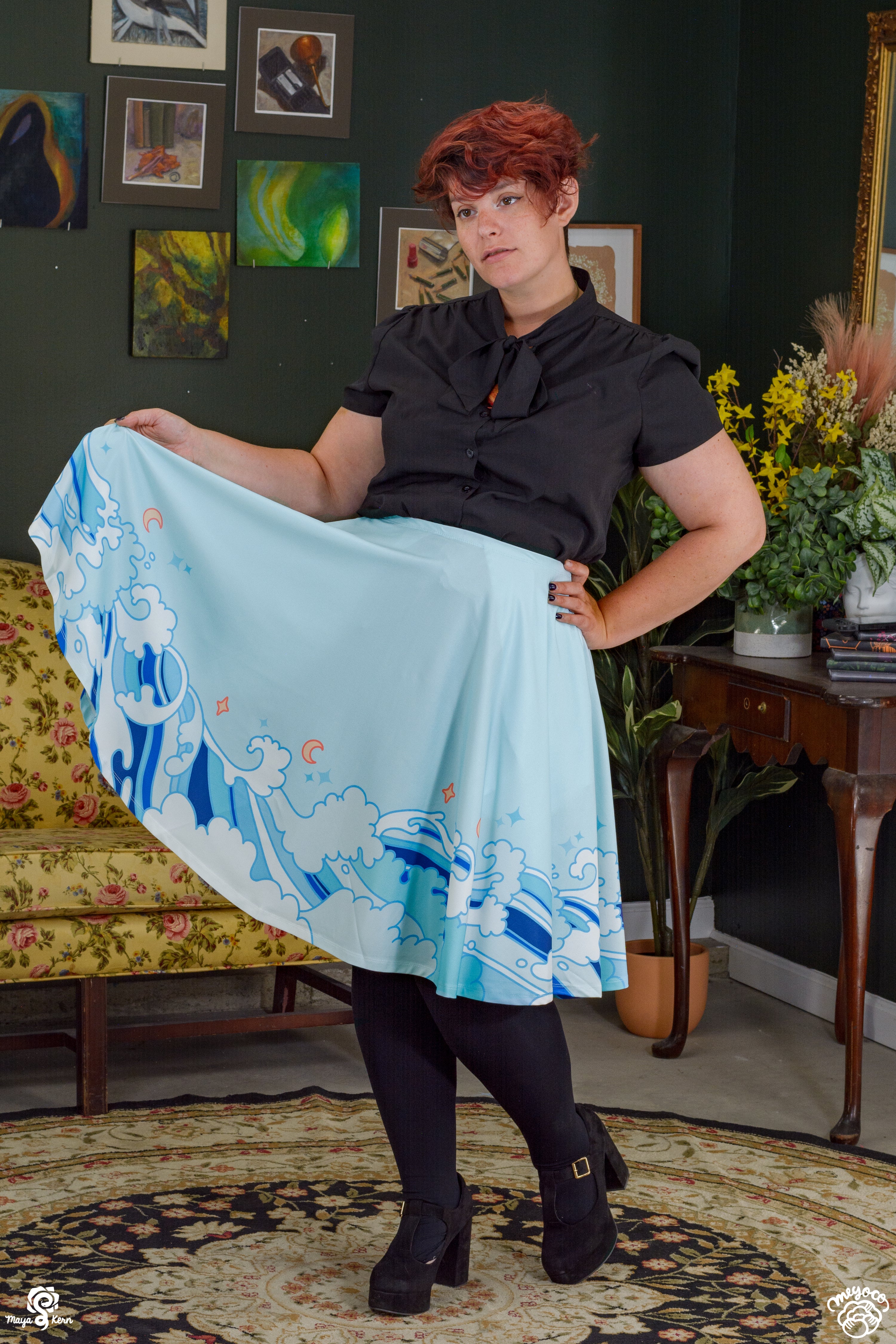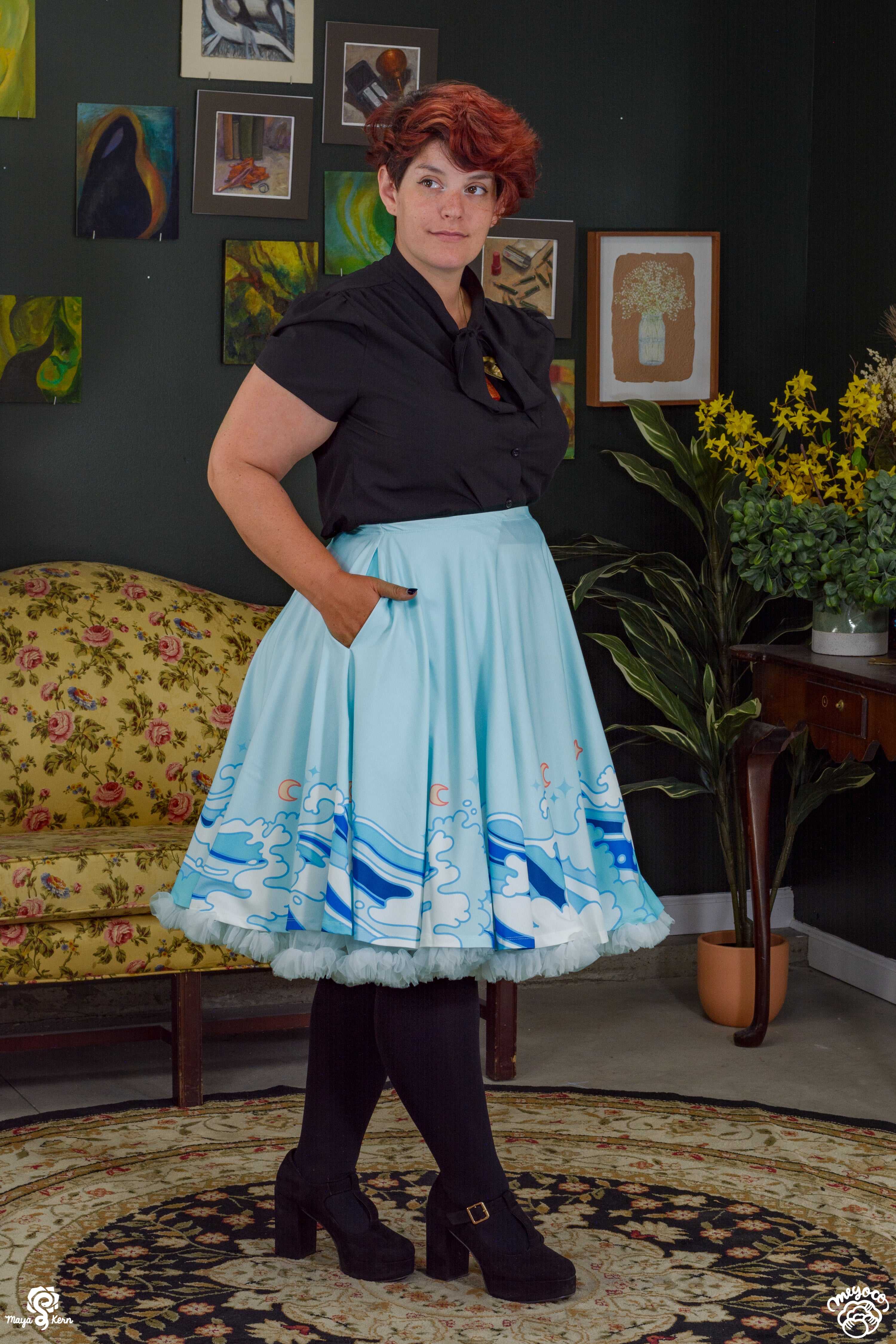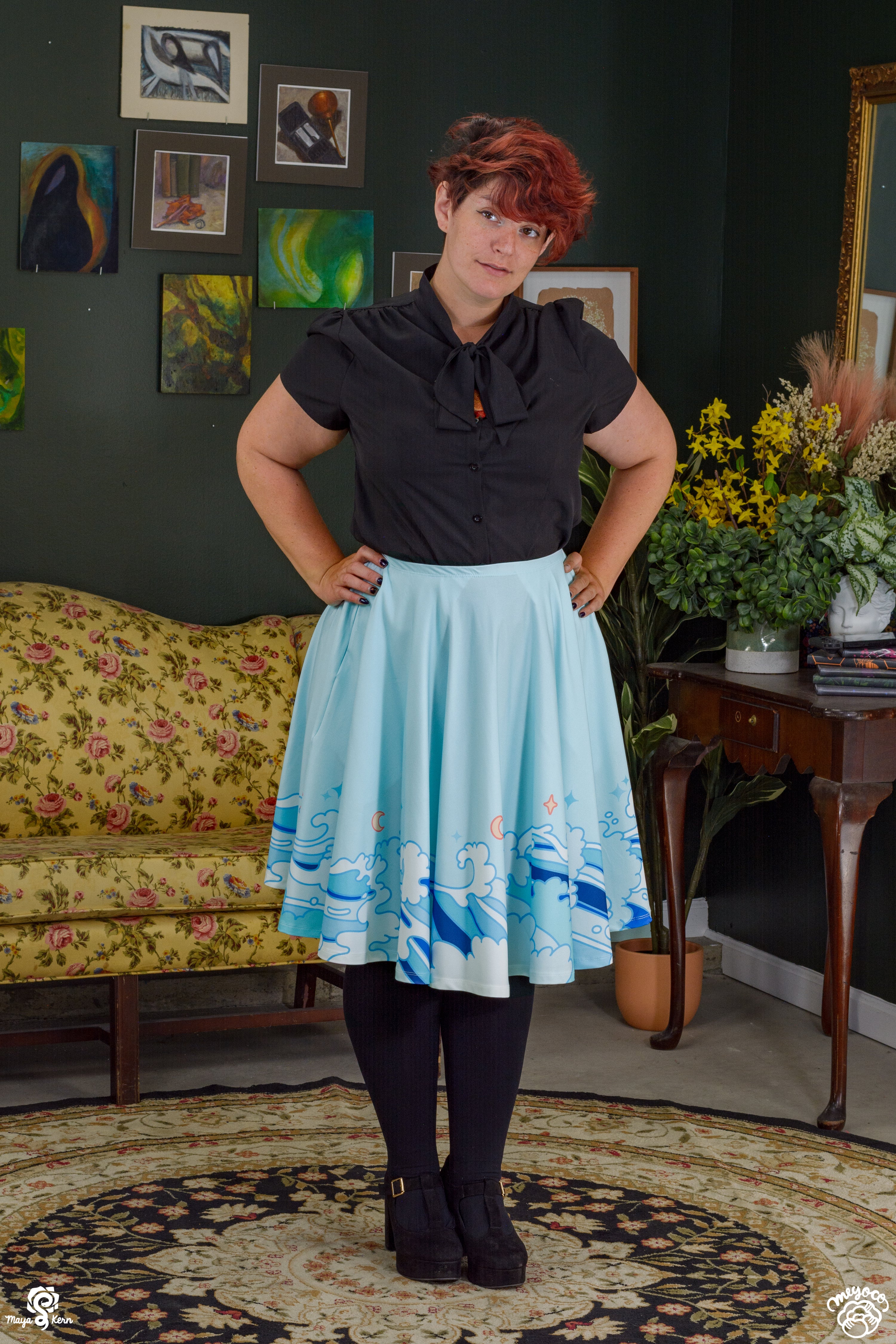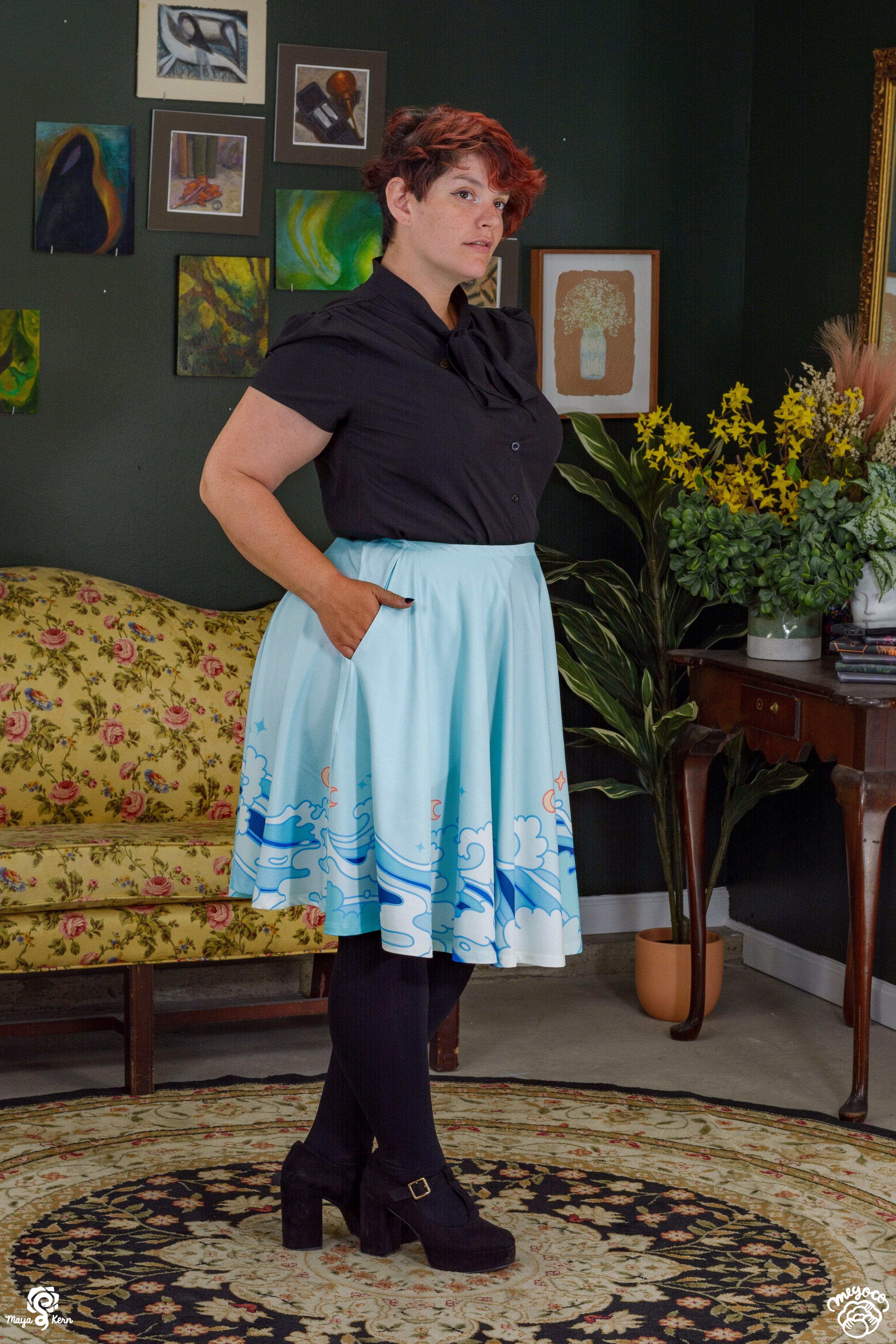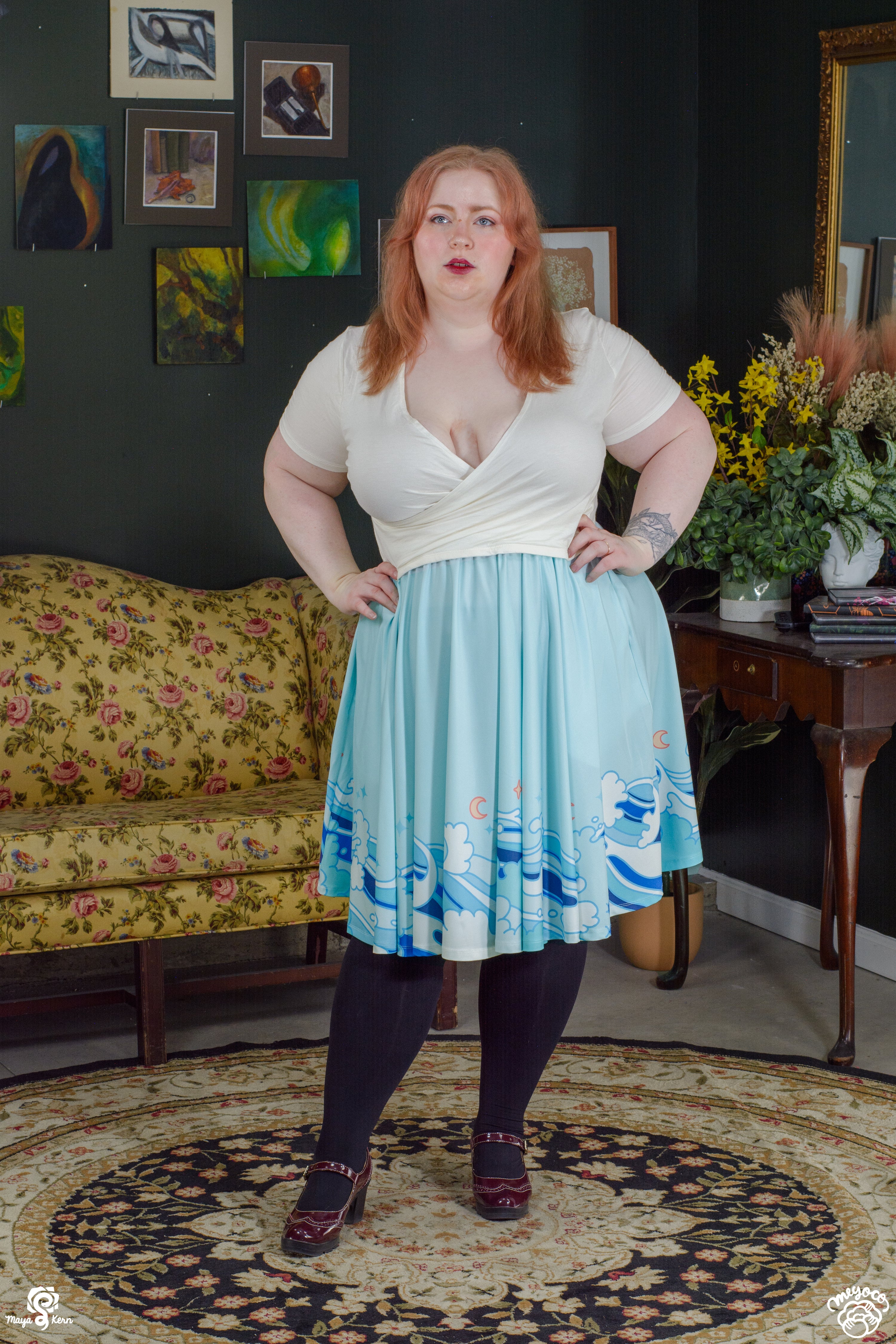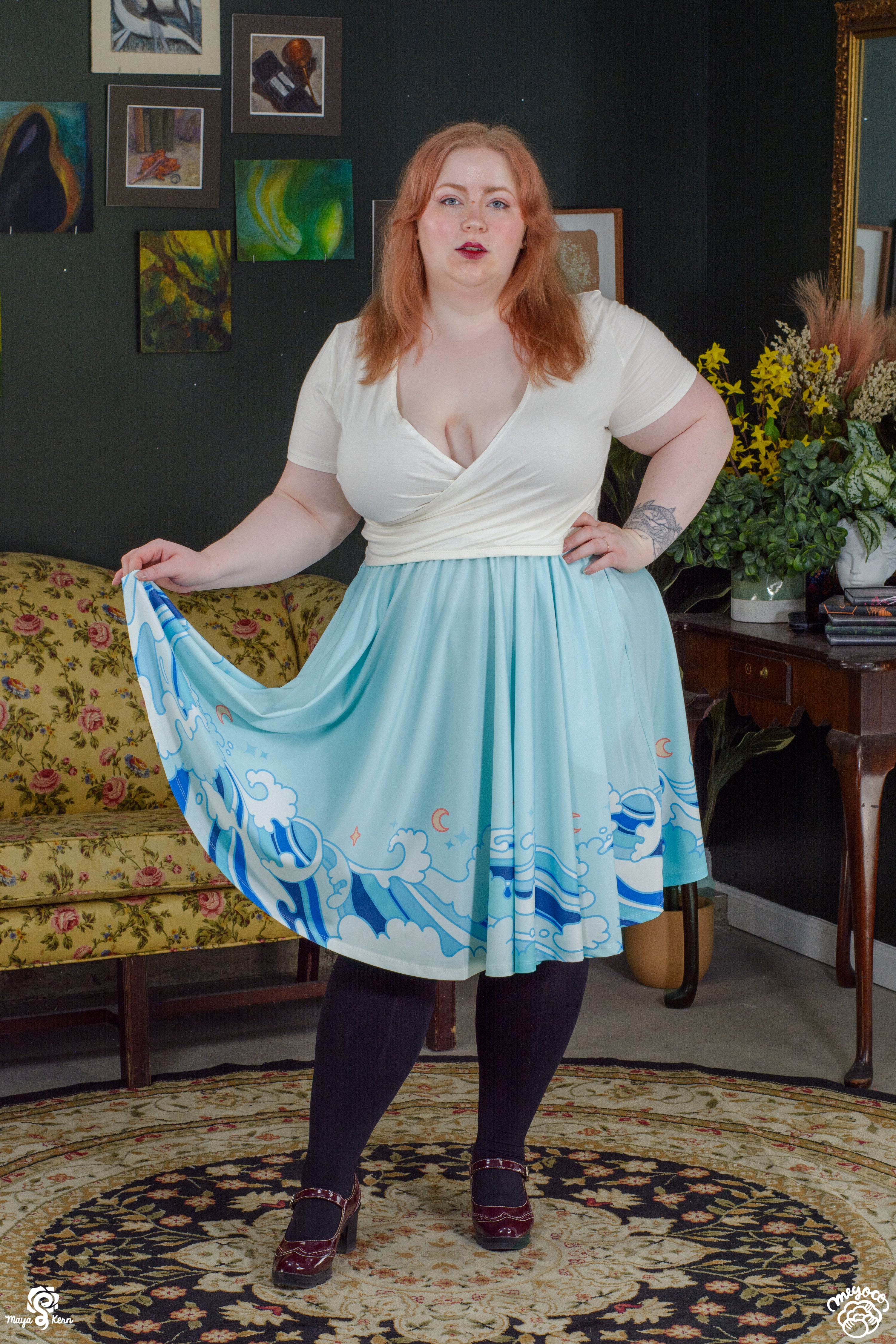 Maya Kern
COLLAB: Meyoco Waves Midi Skirt
Sale price
$60.00 USD
Regular price
Stretchy circle skirt featuring a collab with Meyoco and their Waves design on a dusty purple background. These skirts have pockets large enough to fit your phone, DS, Switch, hands, and maybe a small cat.  Petticoat not included.
These skirts come in four sizes:
SIZE A
15-30" (38cm-76cm) waist
25″ length
SIZE B
30"-45" (76cm-114cm) waist
25″ length
SIZE C
40"-60" (101cm-152cm) waist
25″ length
SIZE D
55"-70" (139cm-216cm) waist*
27" length
*This batch of skirts was made with faulty elastic and doesn't stretch up to our typical 85" waist
These skirts are very stretchy and the sizes have a lot of overlap! If you can't decide between sizes it comes down to preference; a smaller size will fit tighter and may stay up easier if you plan on filling your pockets, and a larger size will fit looser!
These skirts are made of a polyester/spandex blend
Made in Turkey in a Supplier Ethical Data Exchange and OEKO-TEX Standard 100 certified factory. SEDEX certifies ethical labor practices and OEKO-TEX Standard 100 certifies responsible textile production, ensuring there are no harmful substances present.
Maya
Wearing midi skirt size C
Height: 5' 5" (165cm)
Bust: 52" (132cm)
Waist: 42" (106cm)
Hips: 58" (147cm)

Ariel
Wearing midi skirt size B
Height: 5' 5" (165cm)
Bust: 41" (104cm)
Waist: 30" (76cm)
Hips: 50" (127cm)
--CARE--
Wash skirts in cold water and tumble dry normally.
Perfect gift for my sister!
I ordered this for my sister who doesn't get to wear lolita as much due to chronic pain and the summer/fall heat. It was an early birthday gift and she absolutely loves the fabric and of course the pockets!! definitely going to buy her more in the future, so she can dress up without having to put together a whole coord all the time!
Super comfy skirt!
I love the skirt so much! It's very comfy and the print was very clear. Also, I know the care instructions said to wash in cold water but I threw it in the normal hot water cycle and it was fine afterwards.
Love the soft colors!
It's such a nice skirt! The material is so flows so well even with out a petty coat it flares nicely
COLLAB: Meyoco Waves Midi Skirt
The pockets on this are absolutely amazing! The material is soft and it is so much fun to make it "shwish"! Comfortable and light weight. I had to get it when I saw it was a wave print pattern from Meyoco! It's such a lovely and calming print.