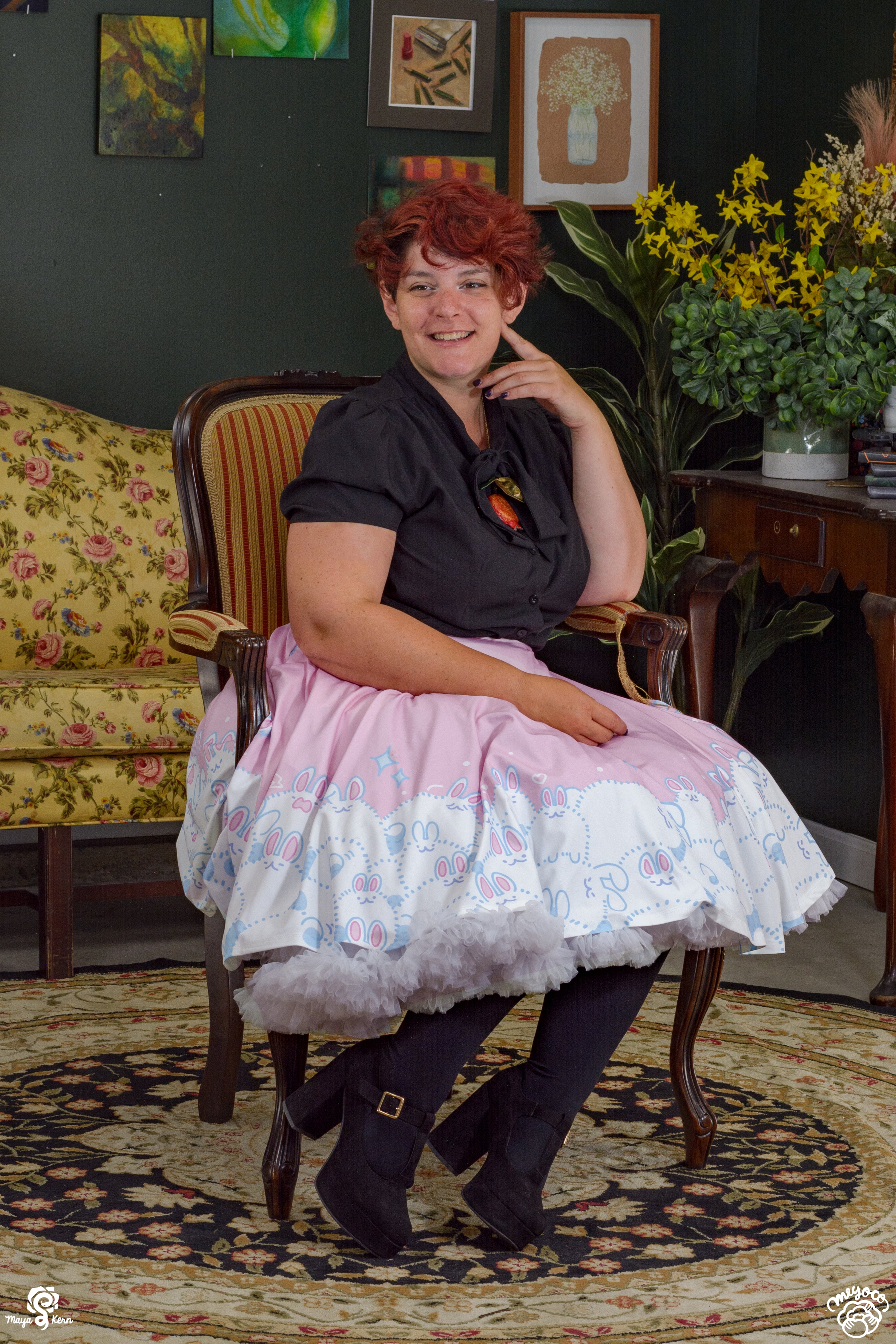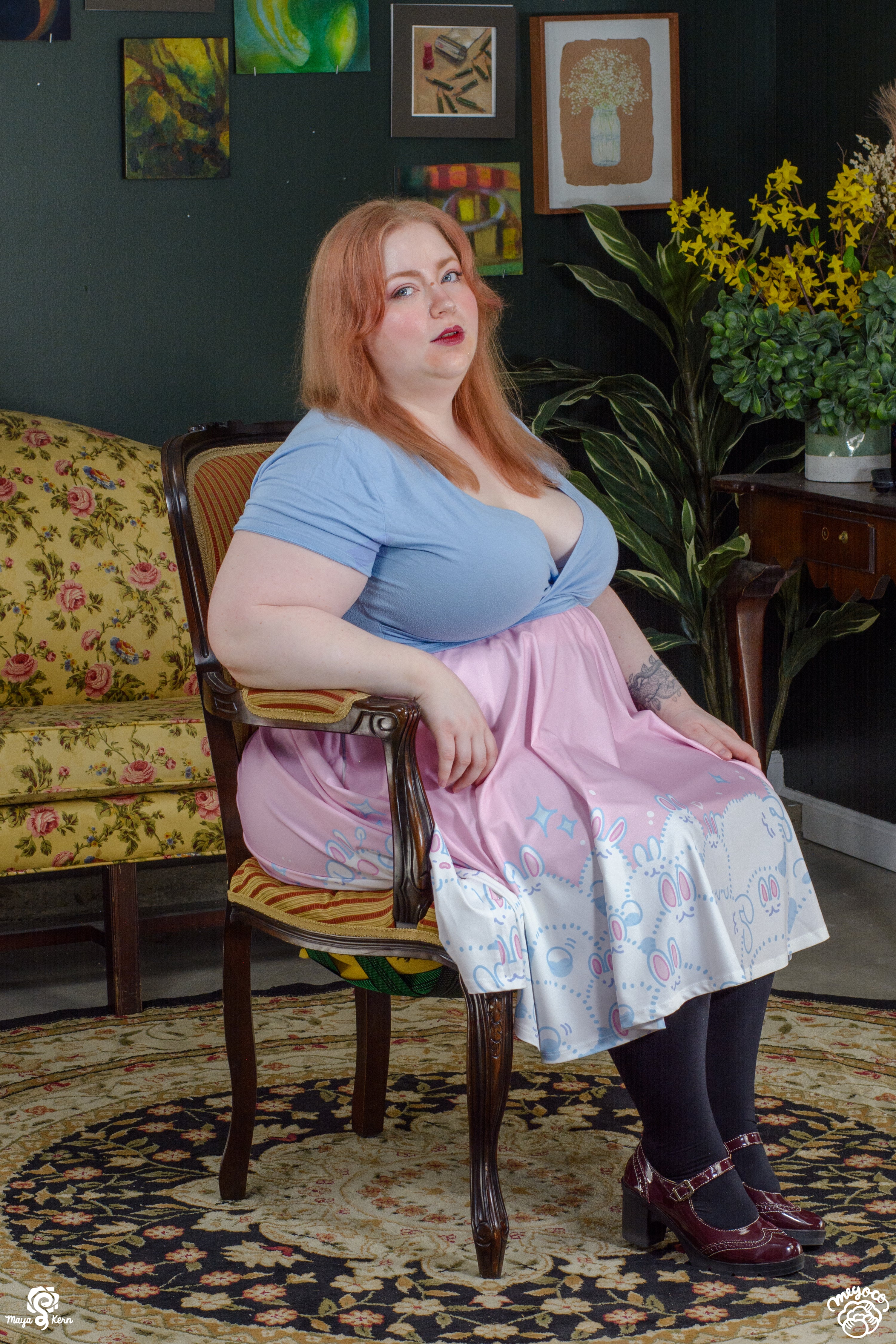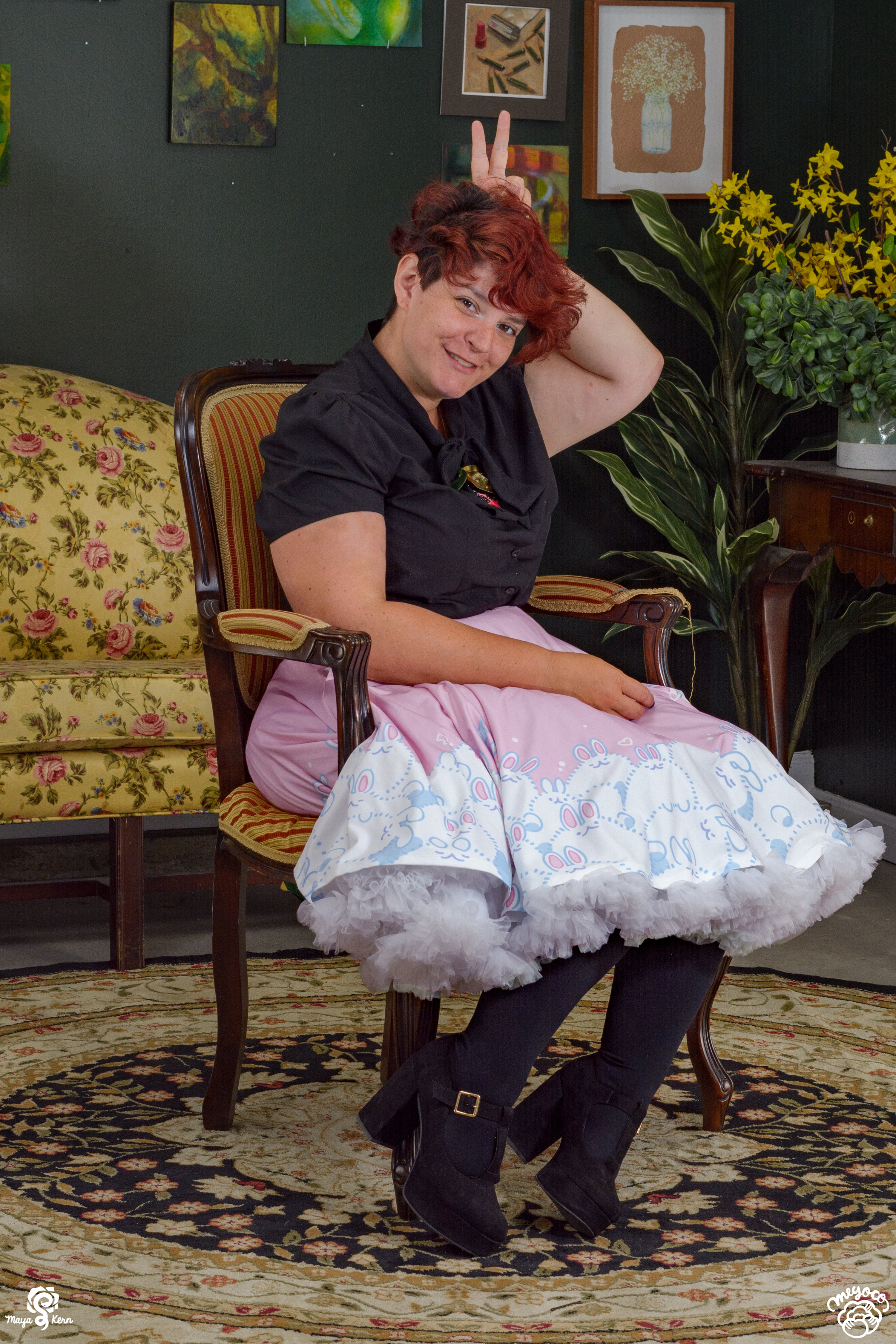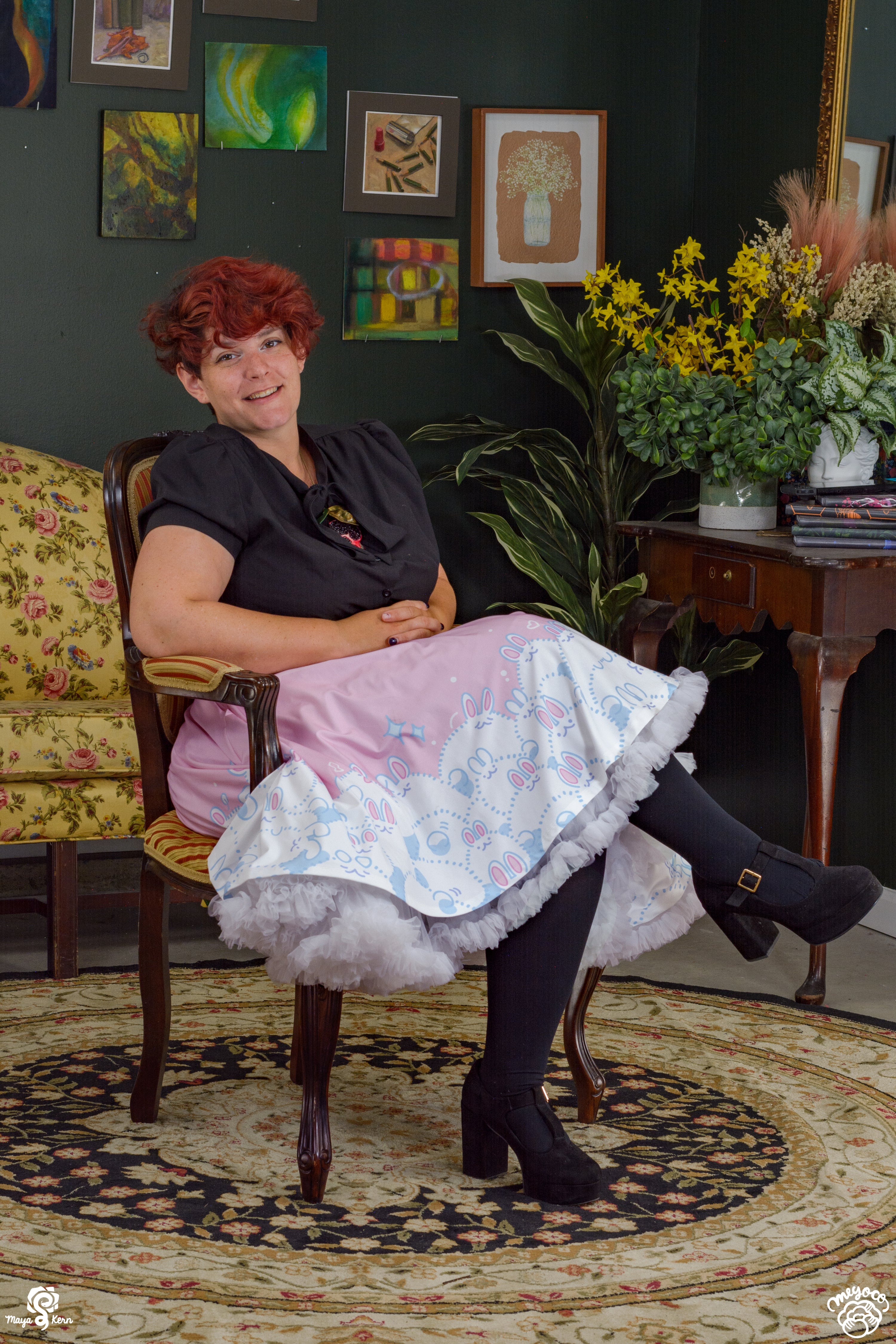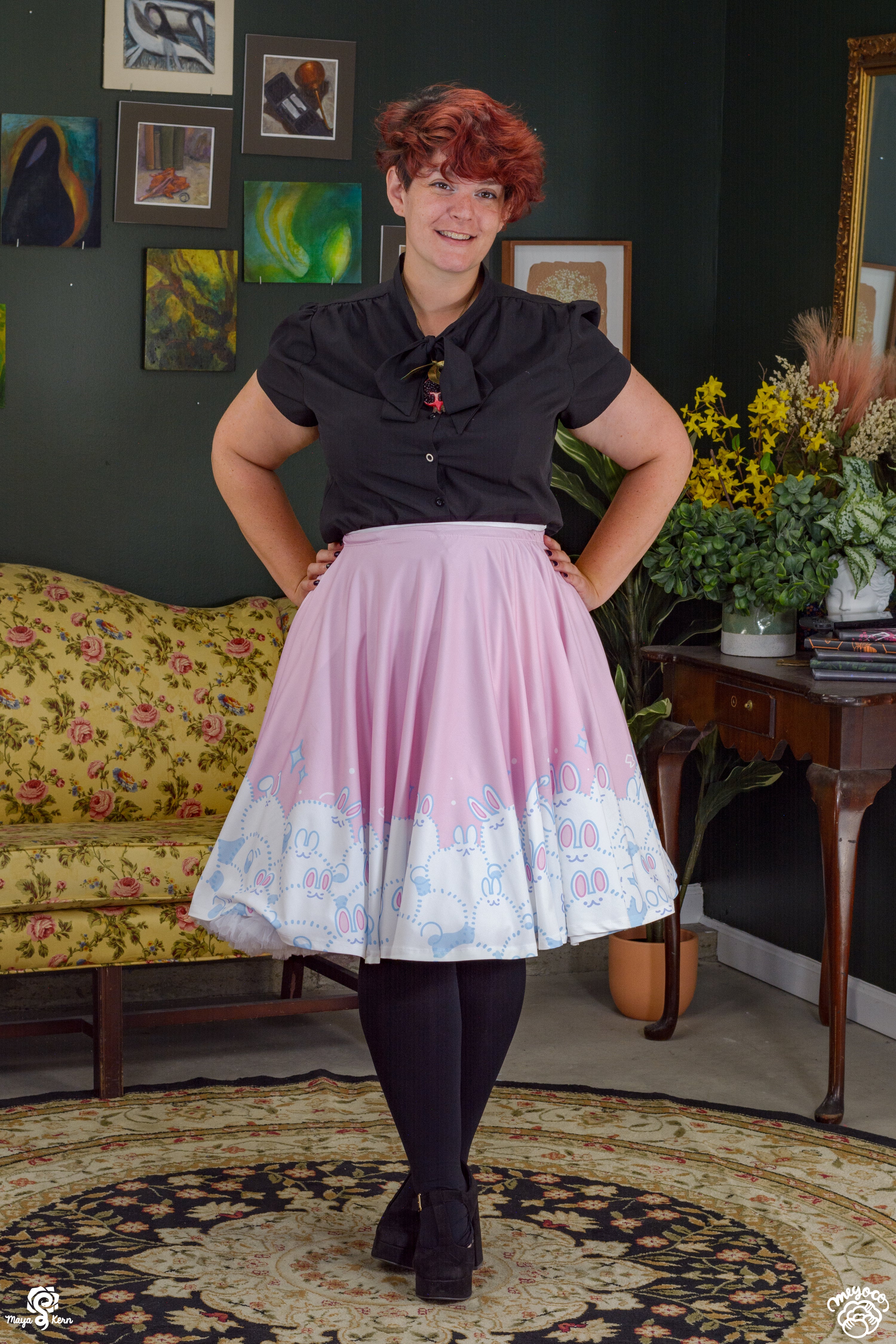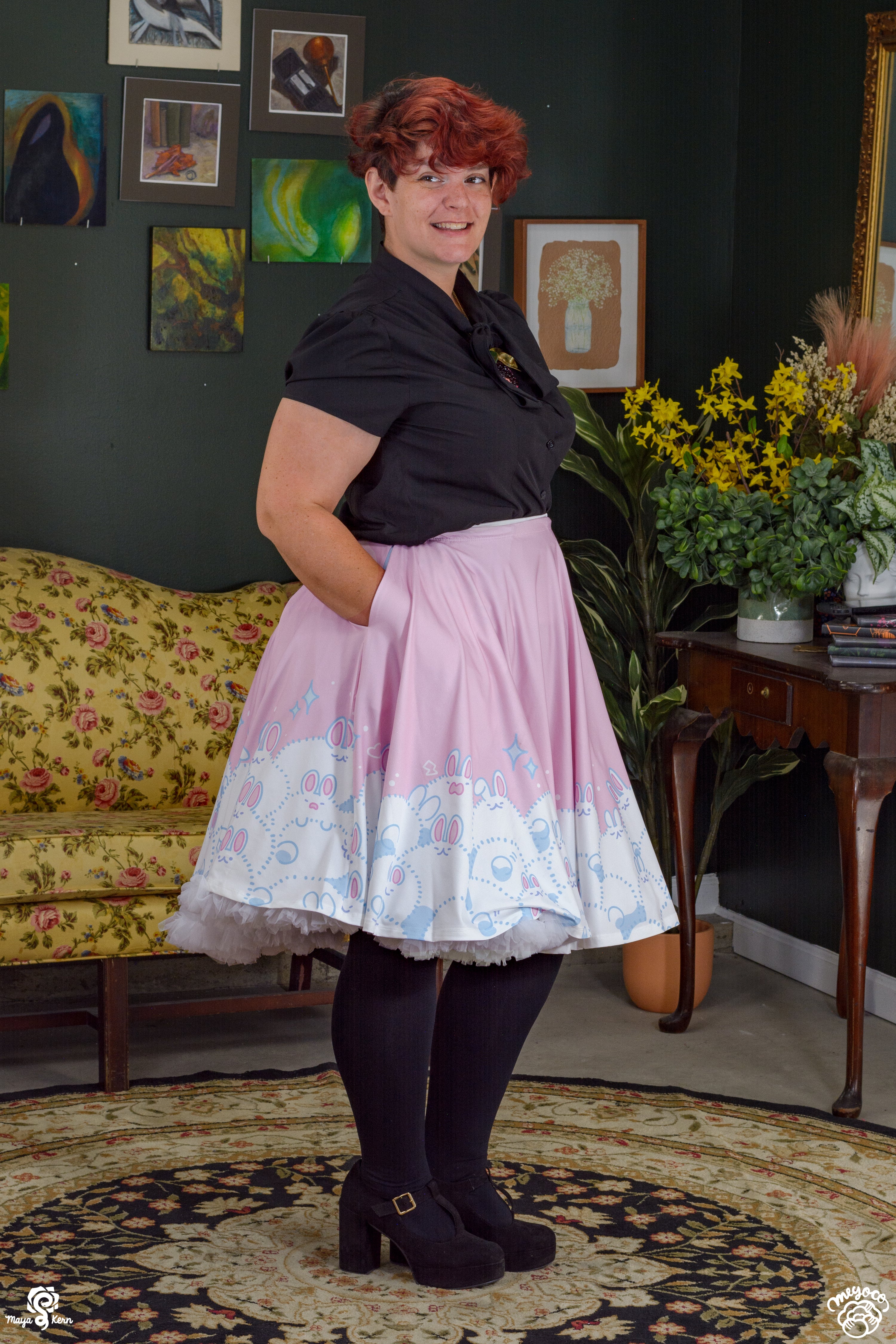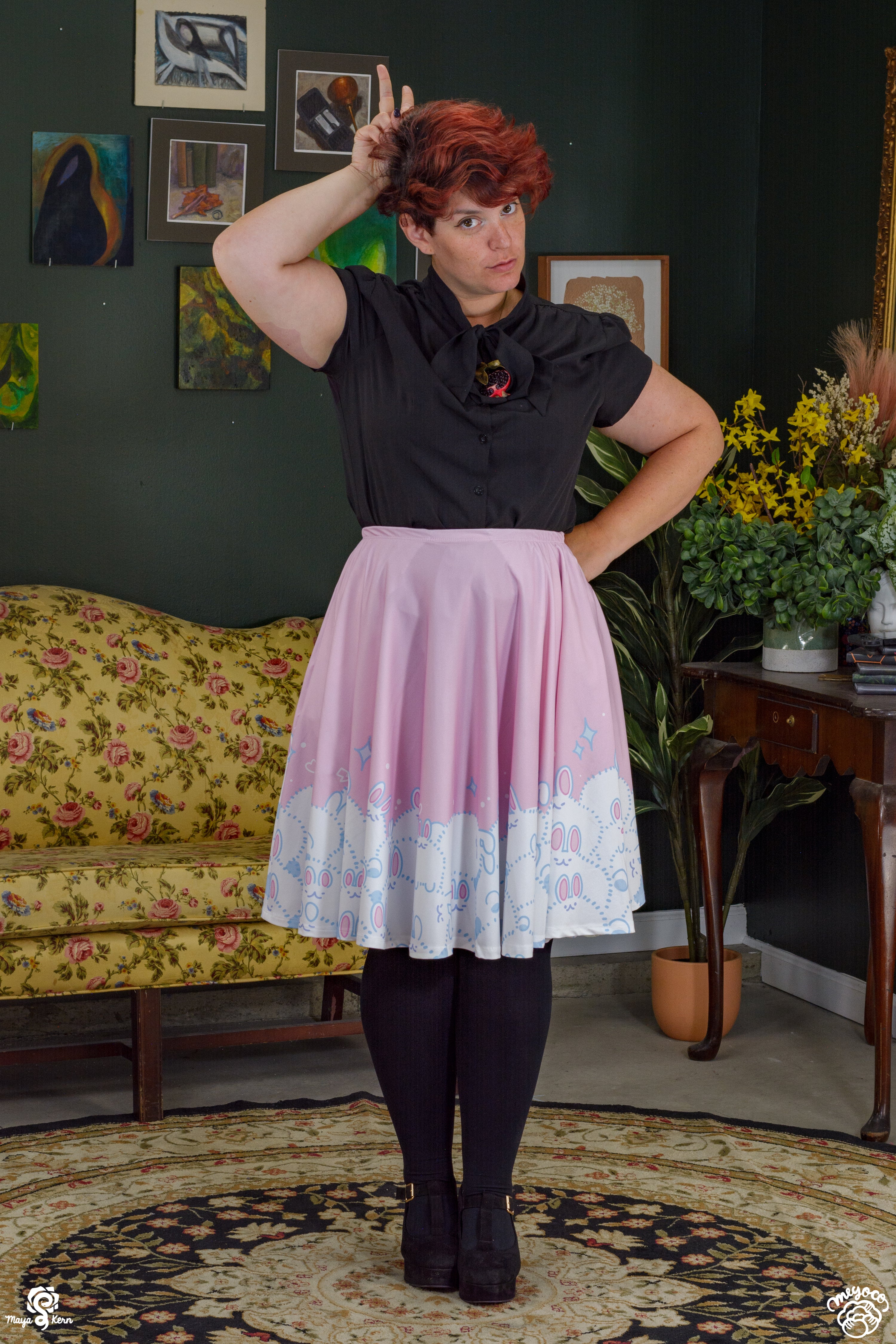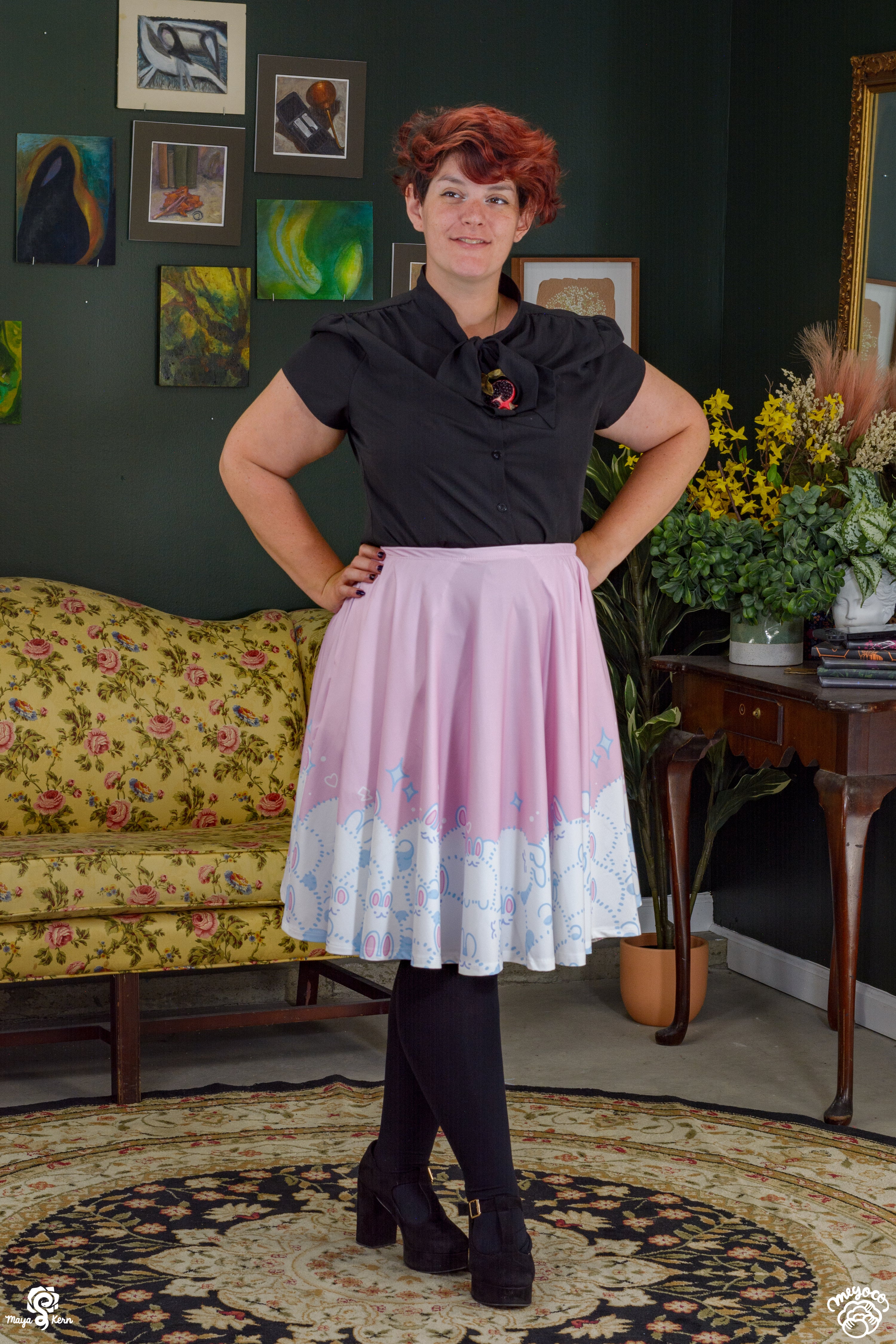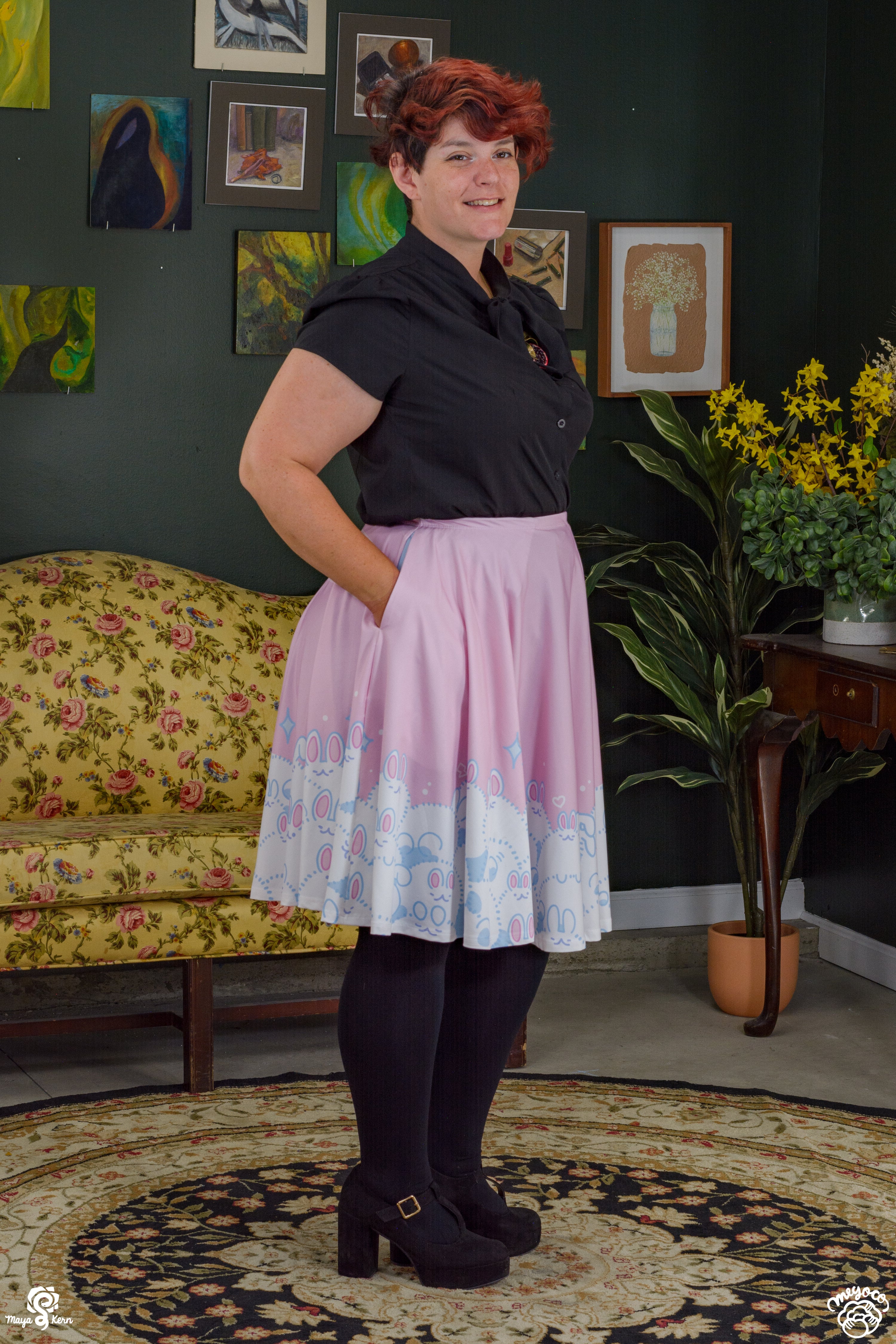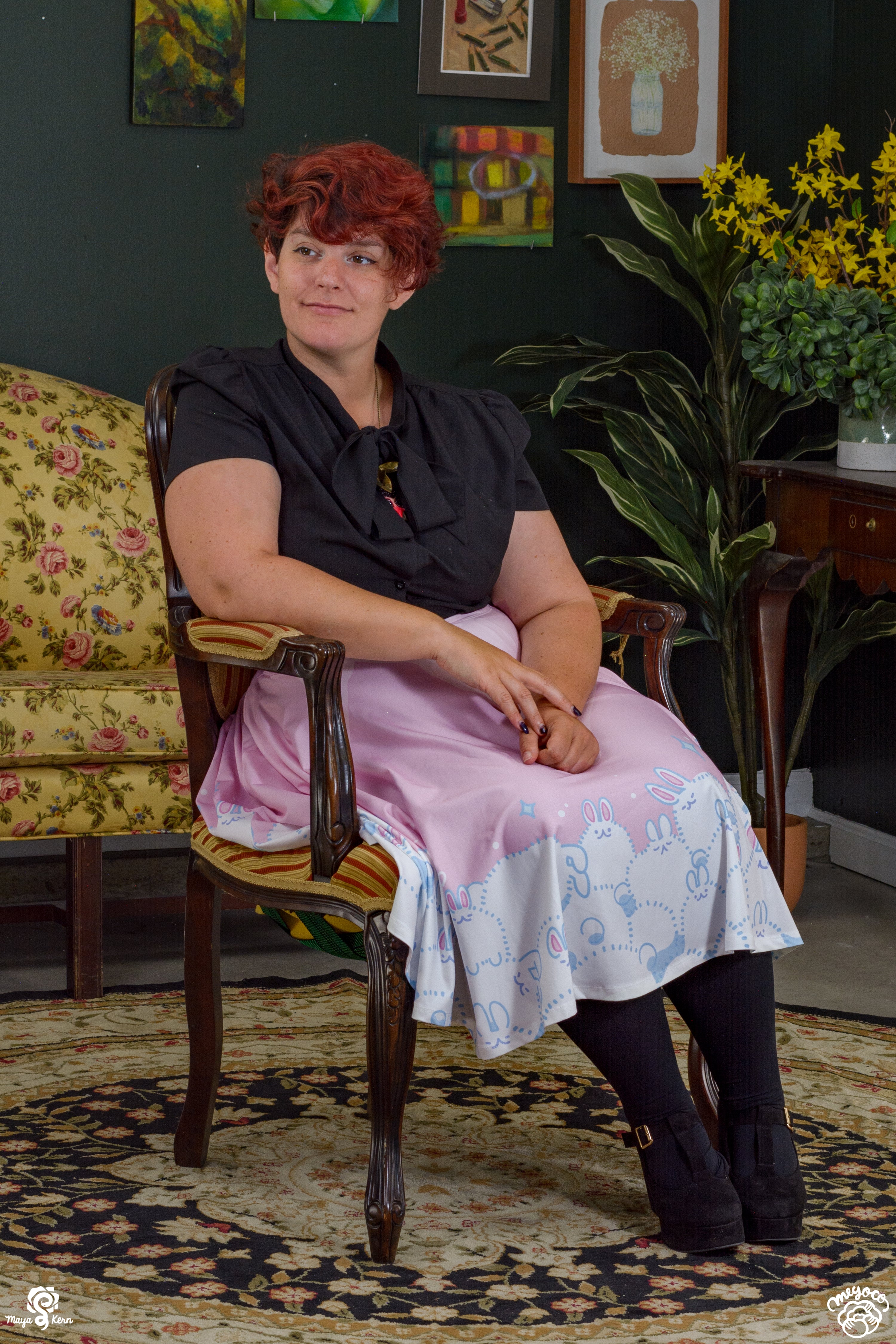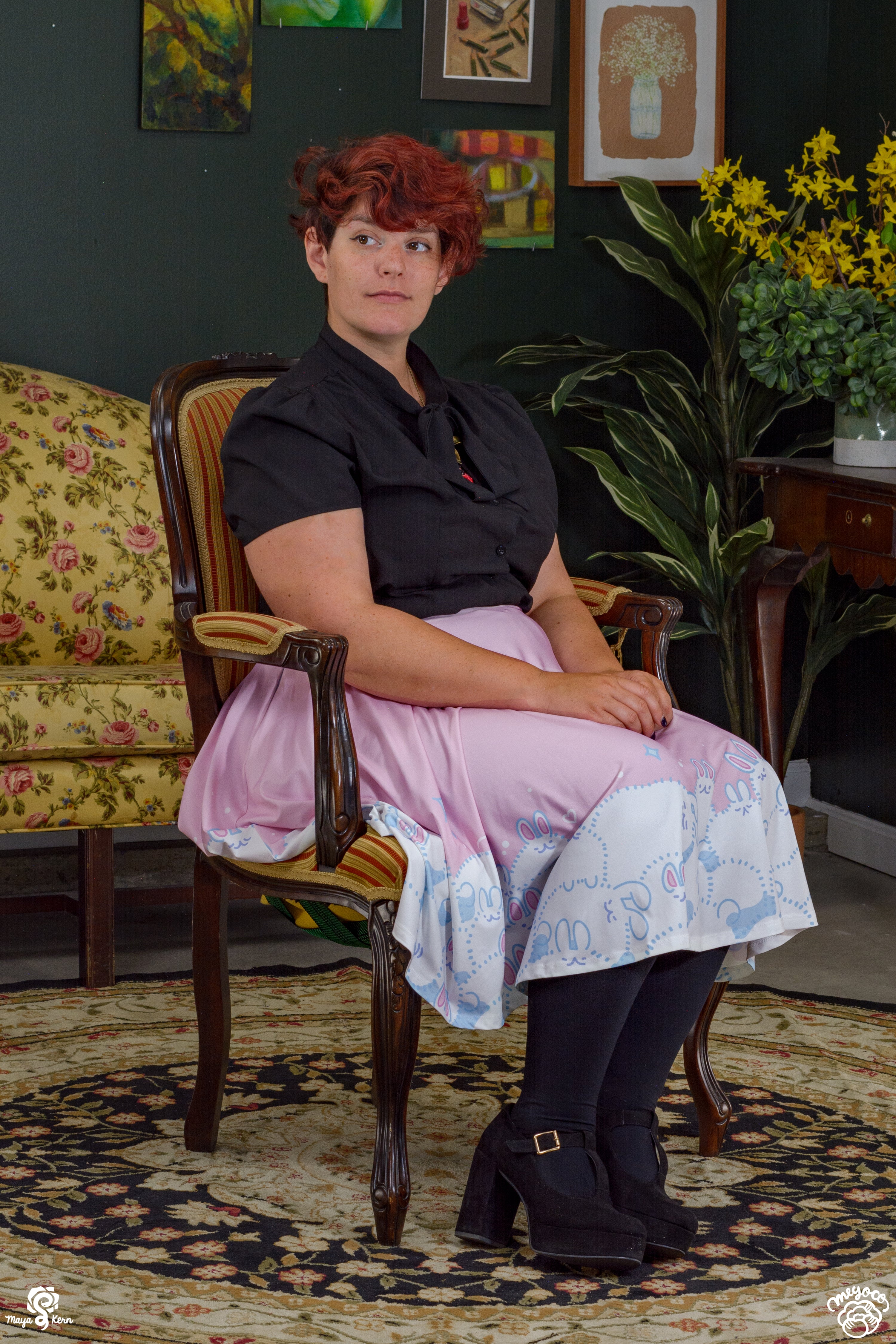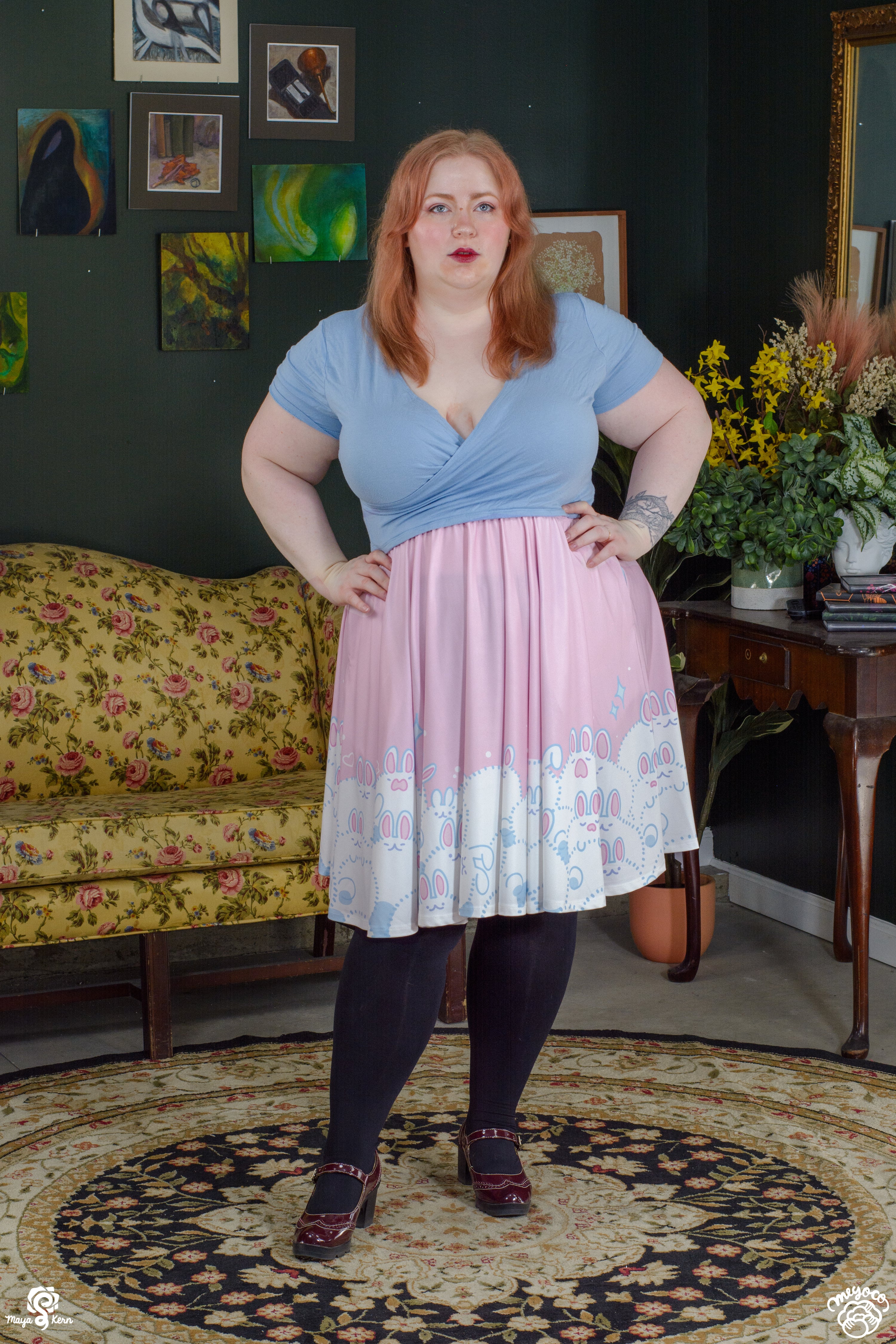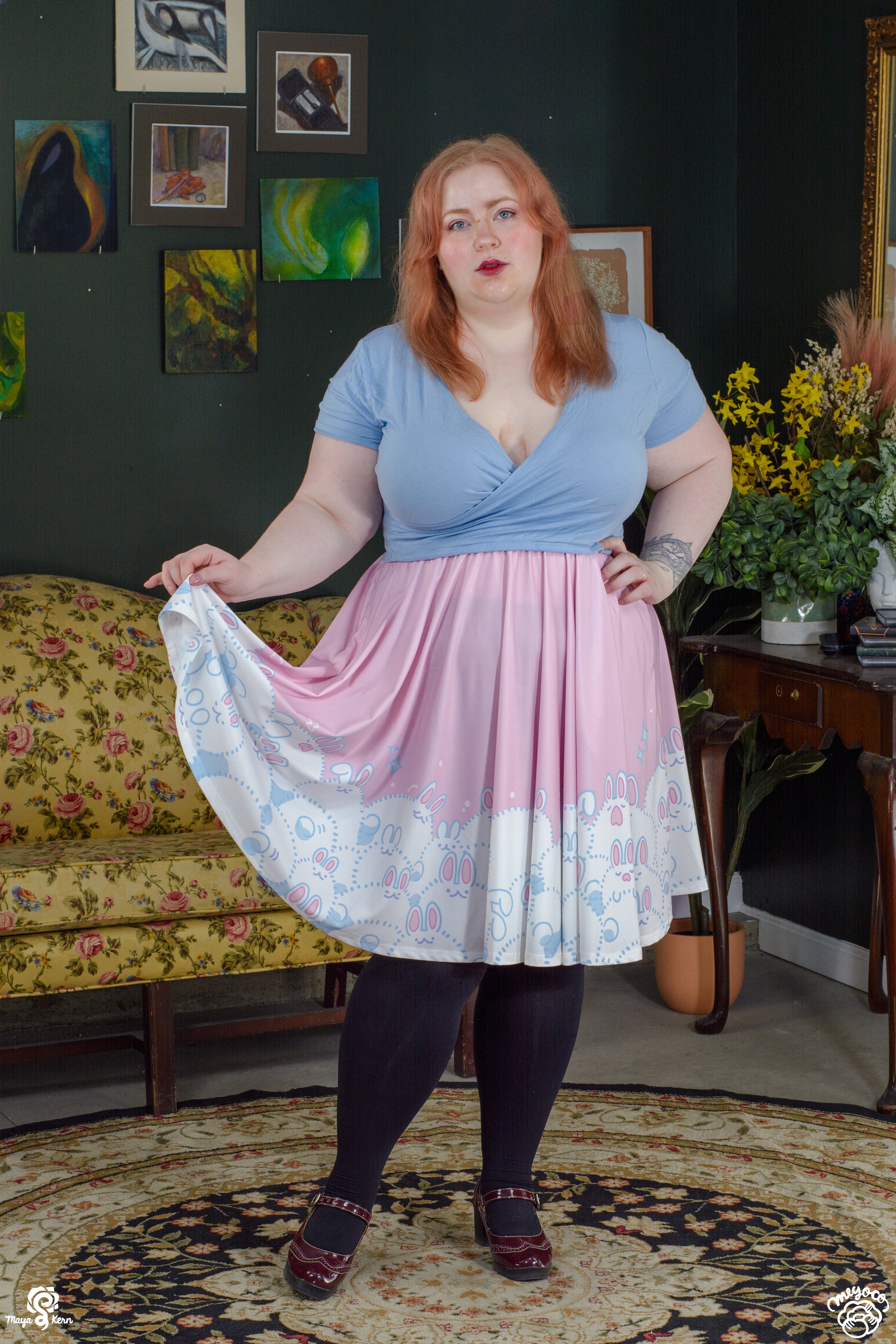 Maya Kern
COLLAB: Meyoco Bunnies Midi Skirt
Sale price
$60.00 USD
Regular price
Stretchy circle skirt featuring a collab with Meyoco and their Bunnies design on a pastel pink background. These skirts have pockets large enough to fit your phone, DS, Switch, hands, and maybe a small cat.  Petticoat not included.
These skirts come in four sizes:
SIZE A
15-30" (38cm-76cm) waist
25″ length
SIZE B
30"-45" (76cm-114cm) waist
25″ length
SIZE C
40"-60" (101cm-152cm) waist
25″ length
SIZE D
55"-70" (139cm-216cm) waist*
27" length
*This batch of skirts was made with faulty elastic and doesn't stretch up to our typical 85" waist
These skirts are very stretchy and the sizes have a lot of overlap! If you can't decide between sizes it comes down to preference; a smaller size will fit tighter and may stay up easier if you plan on filling your pockets, and a larger size will fit looser!
These skirts are made of a polyester/spandex blend
Made in Turkey in a Supplier Ethical Data Exchange and OEKO-TEX Standard 100 certified factory. SEDEX certifies ethical labor practices and OEKO-TEX Standard 100 certifies responsible textile production, ensuring there are no harmful substances present.
Maya
Wearing midi skirt size C
Height: 5' 5" (165cm)
Bust: 52" (132cm)
Waist: 42" (106cm)
Hips: 58" (147cm)

Ariel
Wearing midi skirt size B
Height: 5' 5" (165cm)
Bust: 41" (104cm)
Waist: 30" (76cm)
Hips: 50" (127cm)
--CARE--
Wash skirts in cold water and tumble dry normally.
I love it
Smooth material, easy to put on, and the pockets are as big as they say!
So many bunnies!
There is a lovely wide variety of bunny faces (and even a couple of butts) and while it's paler than I'd intended, it's got nice stitching and ample fabric for twirling. The fabric in the pocket even features a bunny!
Obsessed!
It's so cute I love the bunnies inside the pockets, it's such beautiful quality and it's absolutely darling.
Forever a Happy customer!
I've been ordering Maya Kern skirts for YEARS now and I've never been unsatisfied with my purchase! When I saw this bunny collab skirt I absolutely made the loudest gasp because bunnies are my absolutely favorite animal. Just as advertised and shown the print on the skirt is as cute as can be! Of course the skirt is just perfect as always. Can't recommend enough!
Be prepared to be asked about where you got your skirt from because boy howdy do I get a lot of people asking along with sweet compliments. 10/10 always recommend!
COLLAB: Meyoco Bunnies Midi Skirt