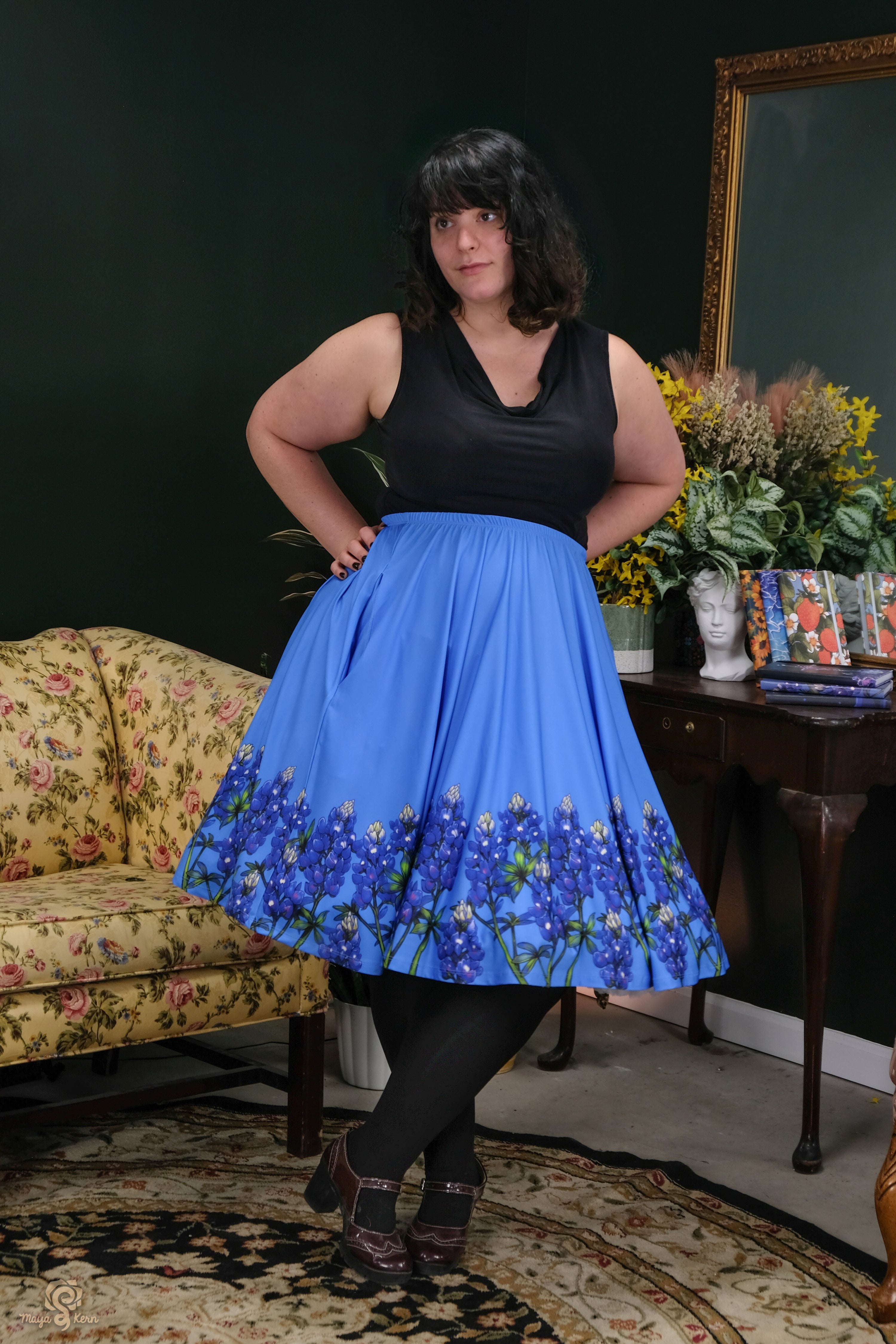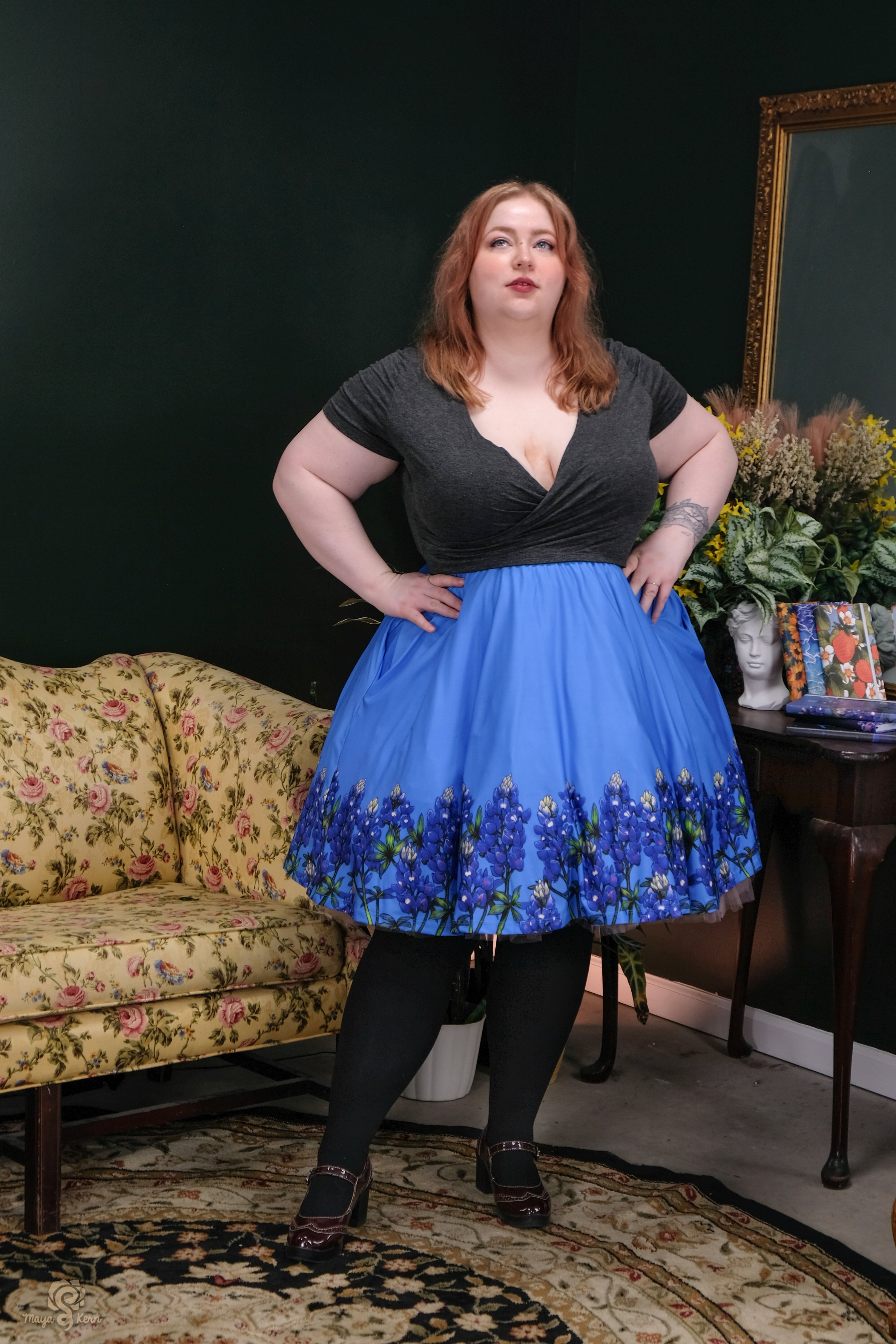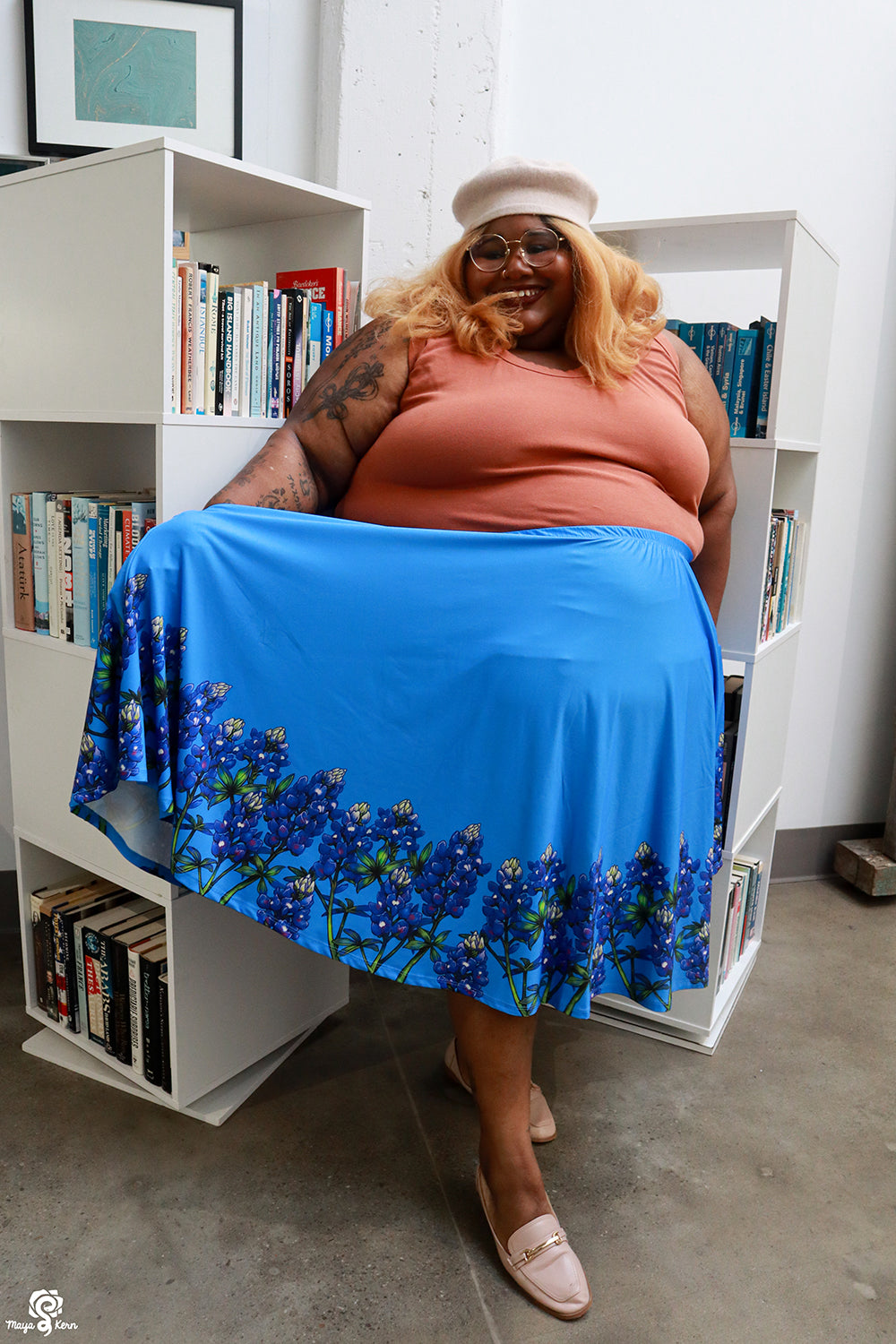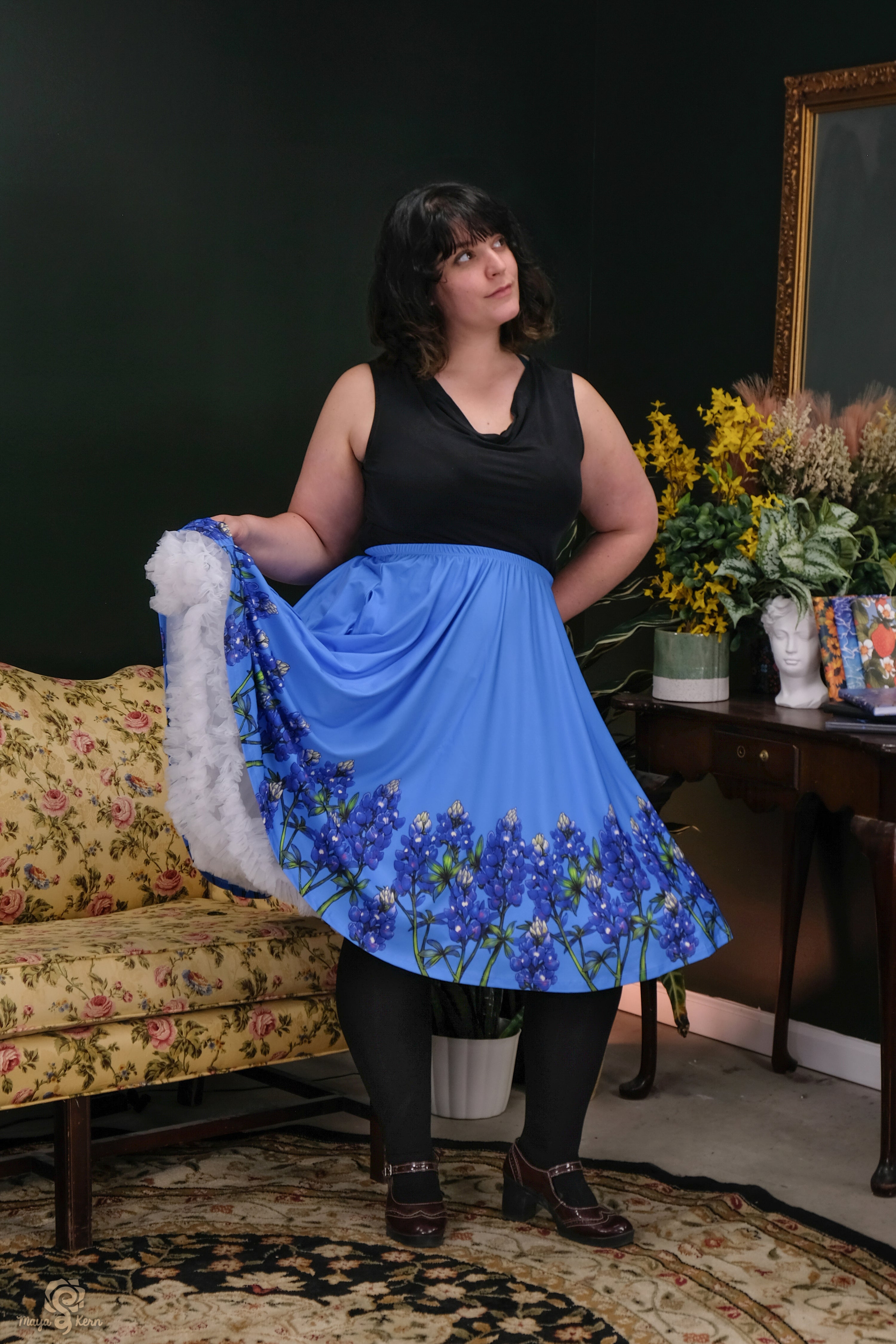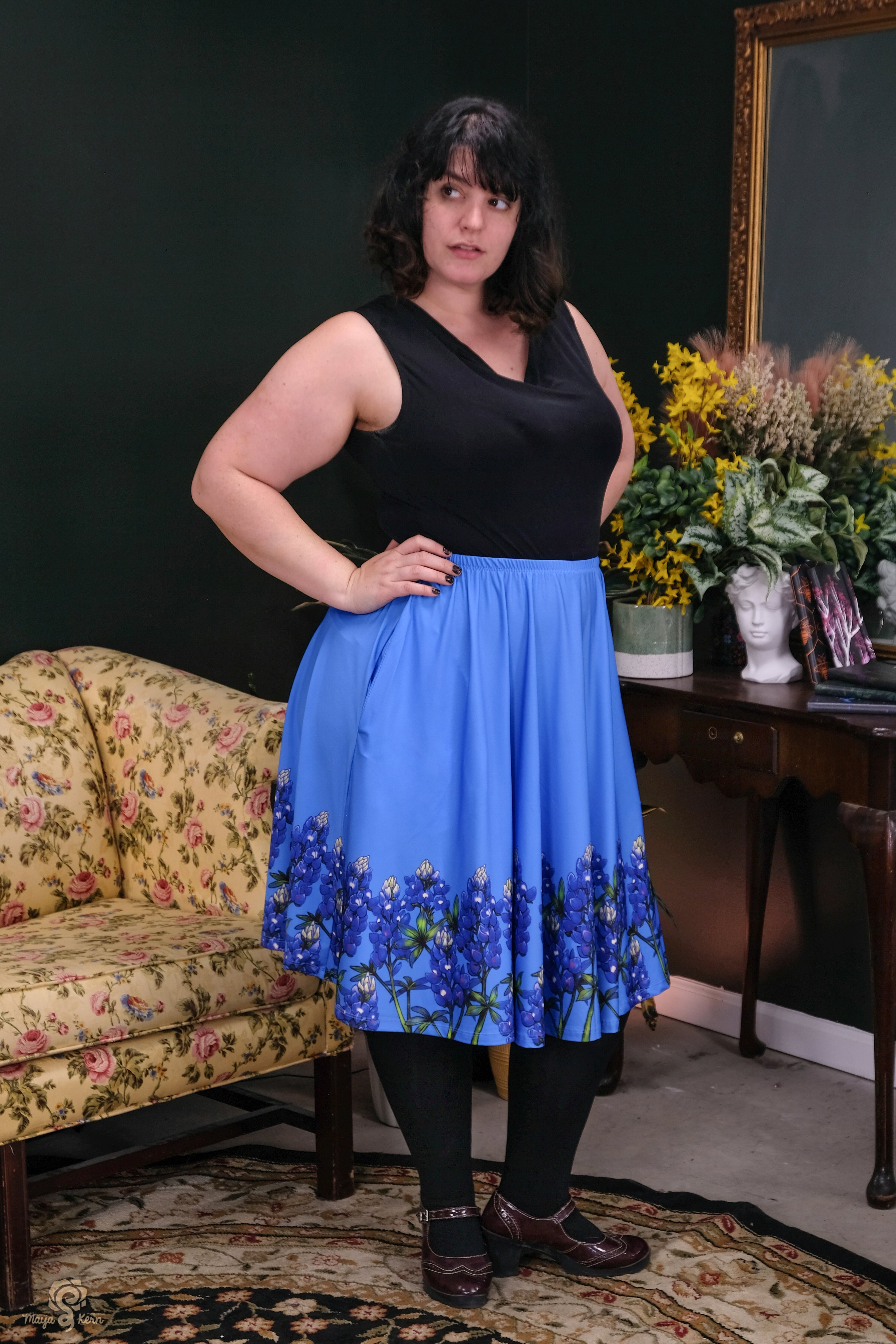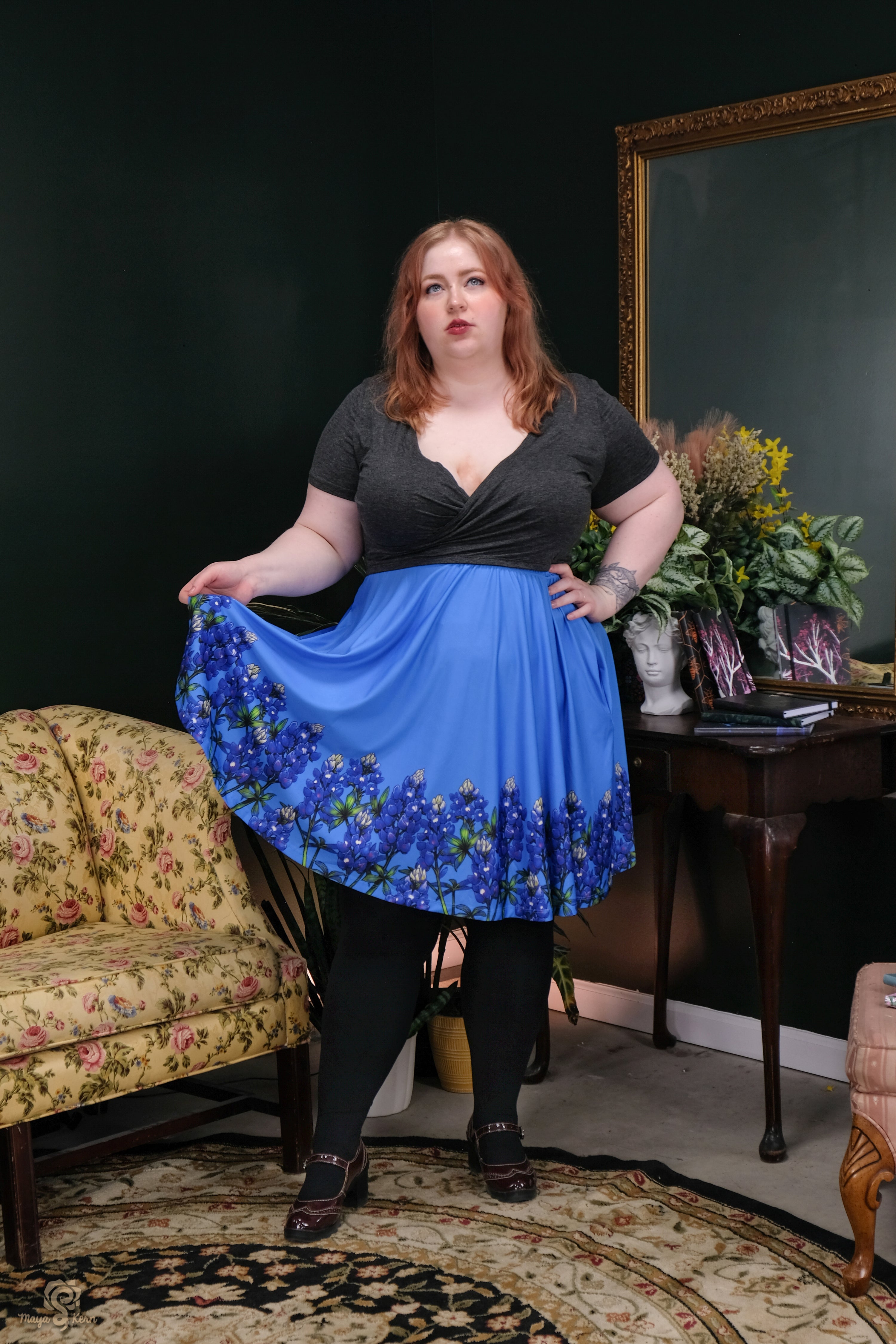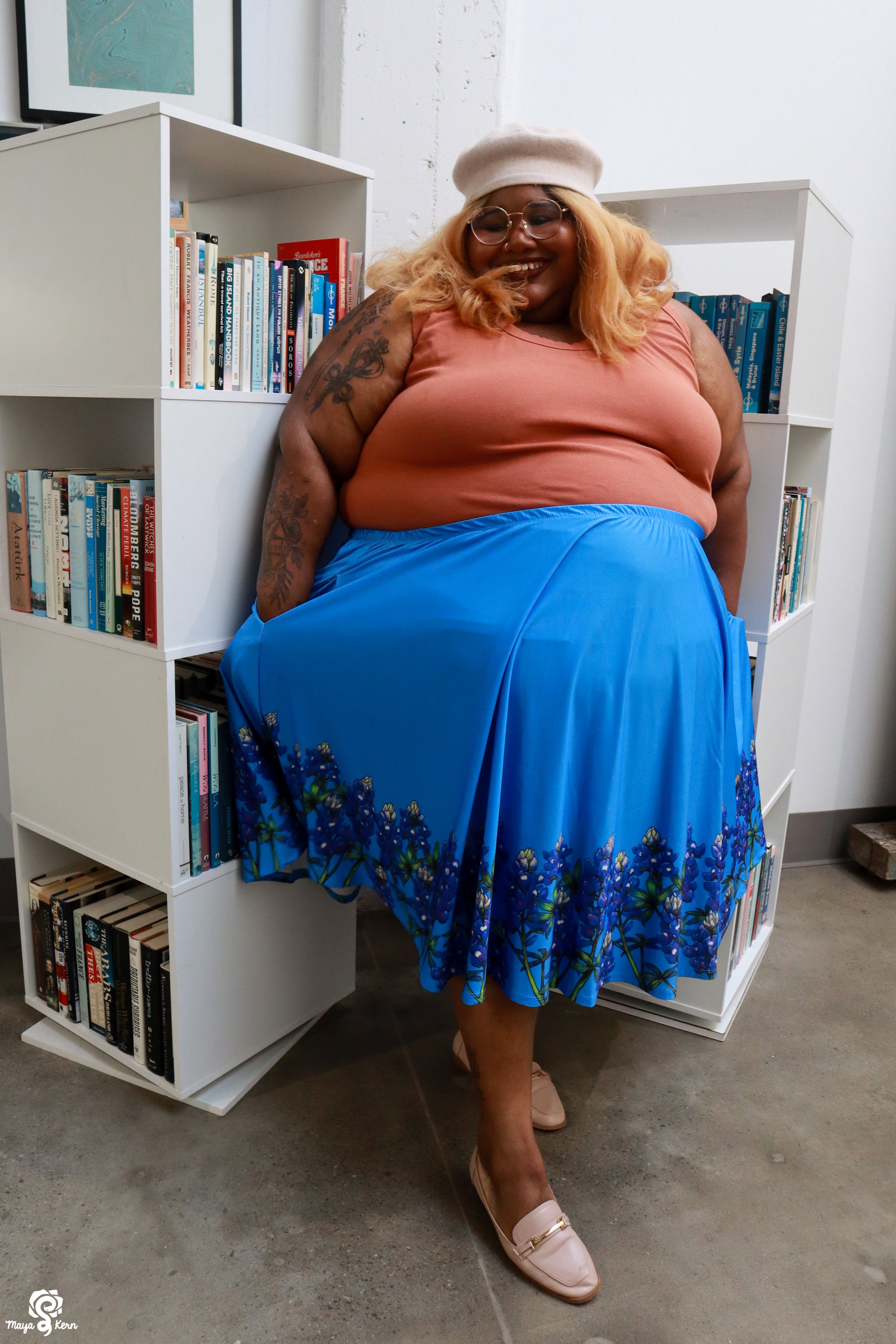 Maya Kern
Bluebonnets Midi Skirt
Sale price
$60.00 USD
Regular price
Stretchy circle skirt featuring my Bluebonnets design. These skirts have pockets large enough to fit your phone, DS, Switch, hands, and maybe a small cat.  Petticoat not included.
This first batch of skirts from our new manufacturer has different pocket placement from our classic skirts. The pockets are sewn into the side seam and are not attached to the waistband. Future skirt batches will have the pocket attached to the waistband.
These skirts come in four sizes:
SIZE A
22"-35" (56cm-89cm) waist
25″ length
SIZE B
30"-45" (76cm-114cm) waist
25″ length
SIZE C
40"-60" (101cm-152cm) waist
25″ length
SIZE D
55"-85" (139cm-216cm) waist
27" length
These skirts are very stretchy and the sizes have a lot of overlap! If you can't decide between sizes it comes down to preference; a smaller size will fit tighter and may stay up easier if you plan on filling your pockets, and a larger size will fit looser!
These skirts are made of a polyester/spandex blend
Made in Turkey in a Supplier Ethical Data Exchange and OEKO-TEX Standard 100 certified factory. SEDEX certifies ethical labor practices and OEKO-TEX Standard 100 certifies responsible textile production, ensuring there are no harmful substances present.
Maya
Wearing skirt size B, shirt size 2XL
Height: 5' 5" (165cm)
Bust: 52" (132cm)
Waist: 42" (106cm)
Hips: 58" (147cm)

Ariel
Wearing skirt size A, shirt size L
Height: 5' 5" (165cm)
Bust: 41" (104cm)
Waist: 30" (76cm)
Hips: 50" (127cm)

Devin
Wearing skirt size A, shirt size S
Height: 5' 7" (170cm)
Bust: 32" (81cm)
Waist: 27" (68cm)
Hips: 37" (94cm)

Keda


Wearing skirt size D




Height: 5' 3" (160cm)




Bust: 64" (164cm)




Waist: 65" (165cm)




Hips: 69" (175cm)
--CARE--
Wash skirts in cold water and tumble dry normally.
I definitely should have checked the pockets on this skirt :P
I love these skirts, despite accidentally ordering the type with the pockets I prefer slightly less. They are quite swishy and very comfortable!
Not in the LEAST overhyped
I've been dreaming over these skirts for years. Finally told myself I was gonna get a few for a trip, just to see if they were really as pretty and nice as they seemed online. Yall, there is so much fabric. It's so twirly. It fits like perfection. I cannot overstate how worth the money they are. The bluebonnet skirt print is so beautiful, and its so effortless. And POCKETS. POCKETS that don't look like and afterthought! Pockets that can fit stuff! Seriously, if you're on the fence, let this be your sign. Do the thing.
Great gift
Comfy waist, big useful pockets, slightly stretchy material, and most of all beautiful rich color and design. Can go from super casual to dressy, always fun. My giftee loves it.
Perfect fit!
I just got the Bluebell skirt and it fits better than I expected!! I realized I just guessed my size since I had recently gain weight and the measurements listed for size A were showing just a few inches smaller around than I realized I was! Oops! I decided it was worth trying on what I had ordered and I'm so glad I did!! The pockets are perfectly huge too, I'm definitely recommending all Maya Kern skirts to my friends. The fabric is soft and the pattern is so detailed! Pictures do not do it justice! While I was waiting I ordered more, hopefully the skirts I got in the size B also fit haha
Jill's Review
Let me start off by saying I absolutely adore this skirt.
My measurements are 36-33-44 so you can imagine, it's usually very difficult for me to find bottoms (pants, skirts, dresses, undies) that actually fit without some at-home manipulation.
I got the size B skirt and I am pleased to say it fits perfectly :)
Not only that, but it goes about to my shins (I'm 5' 5") and is extremely fun to twirl and spin in due to the soft, smooth texture and vibrant design.
I already gave 5 stars, but here again!
⭐️⭐️⭐️⭐️⭐️