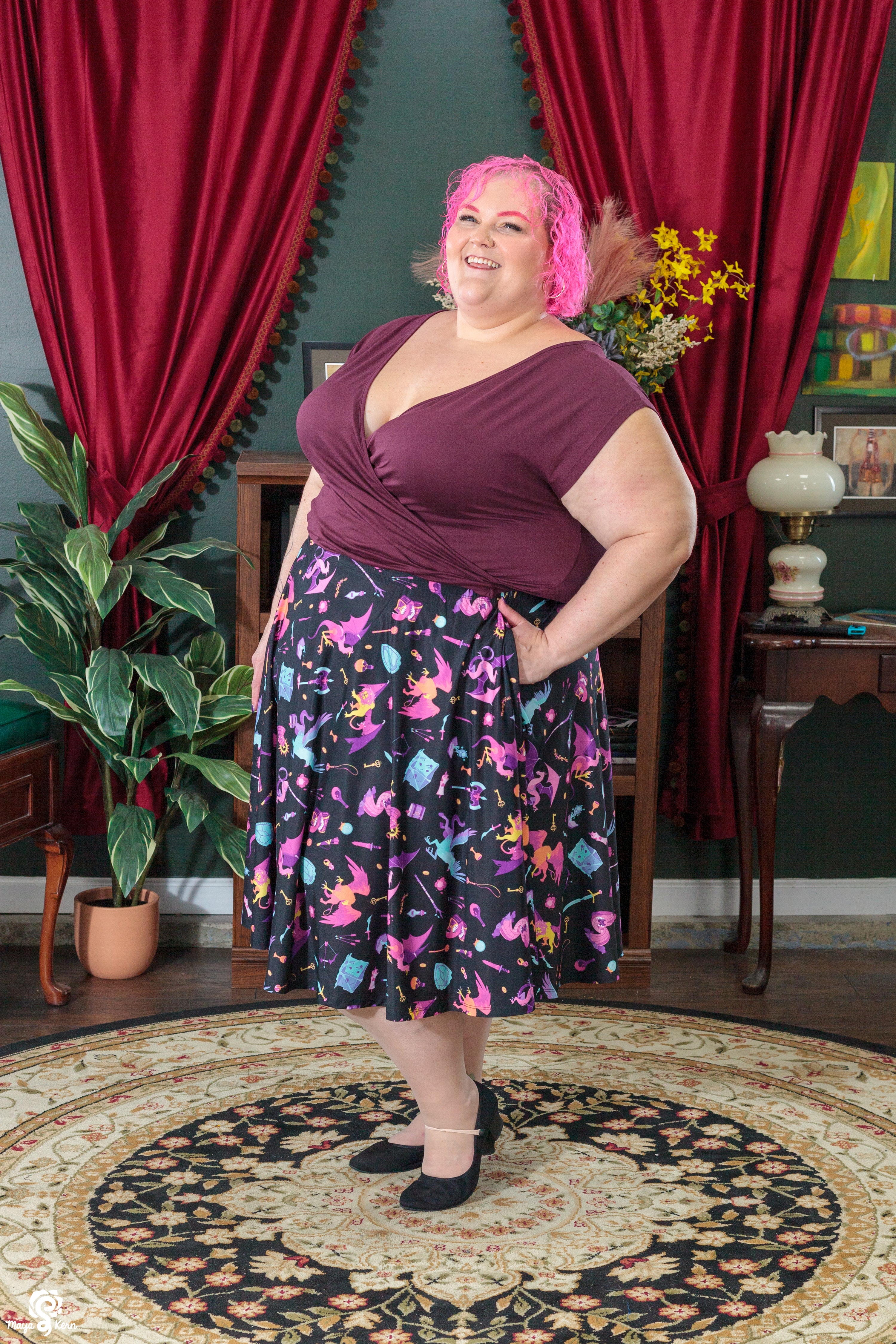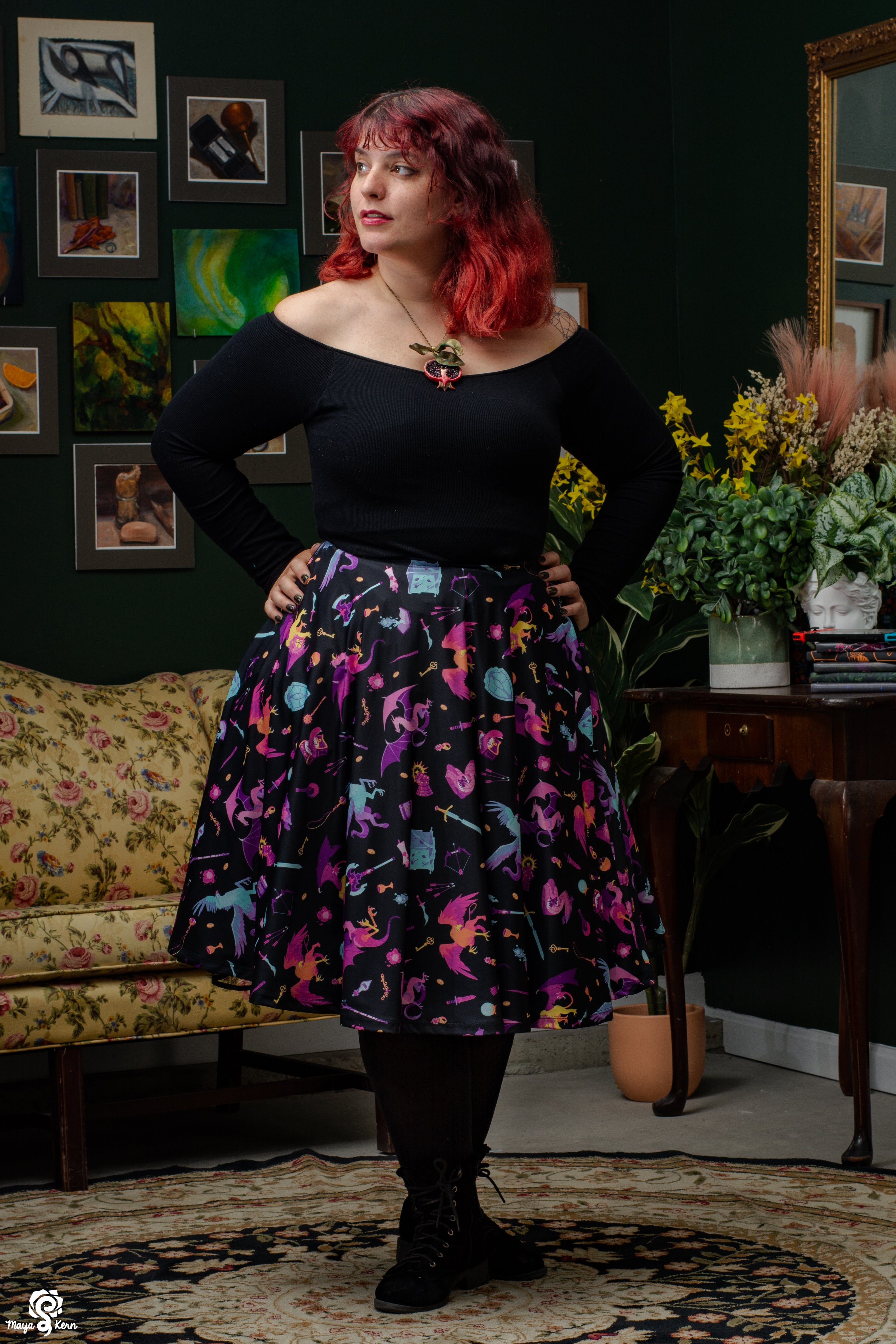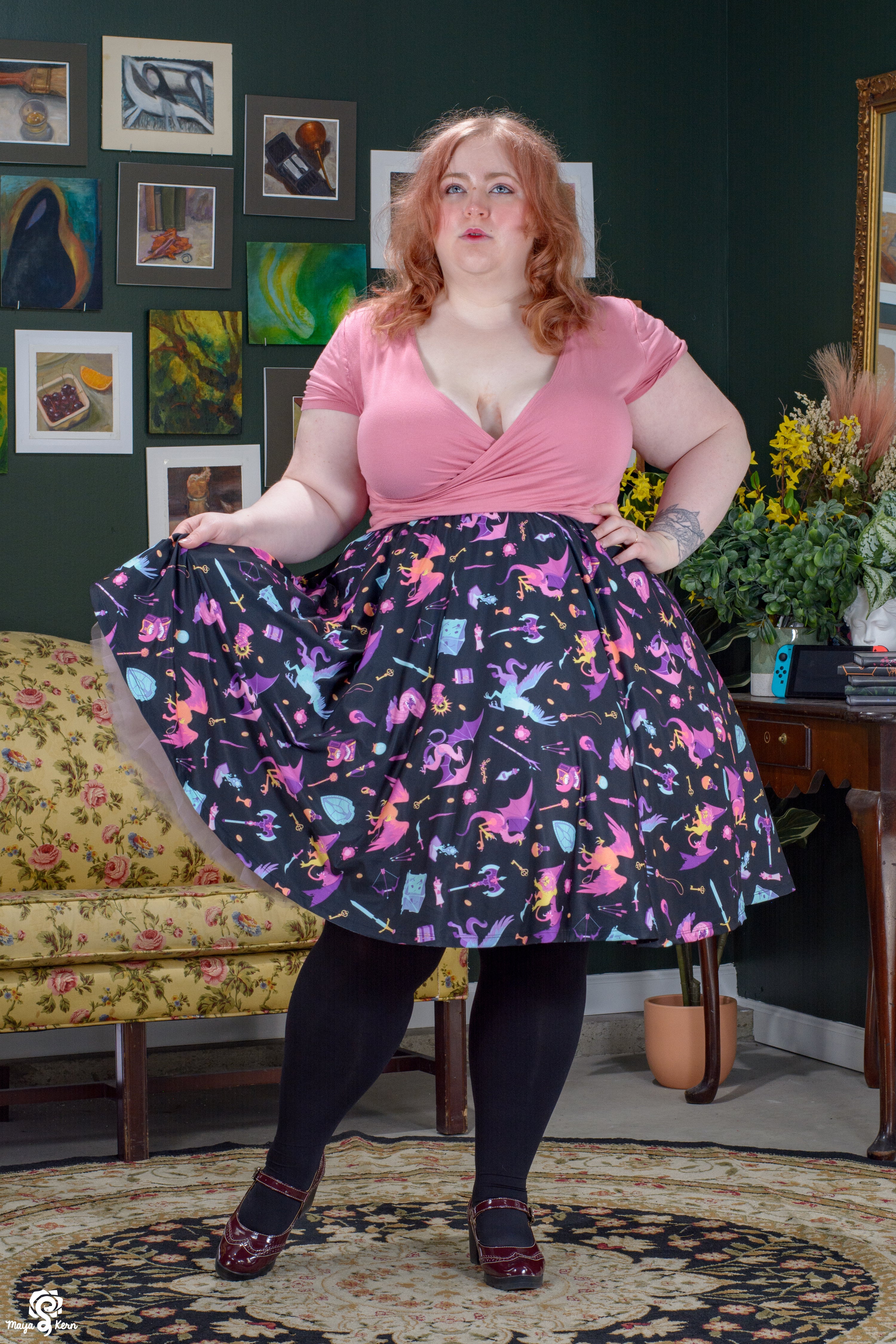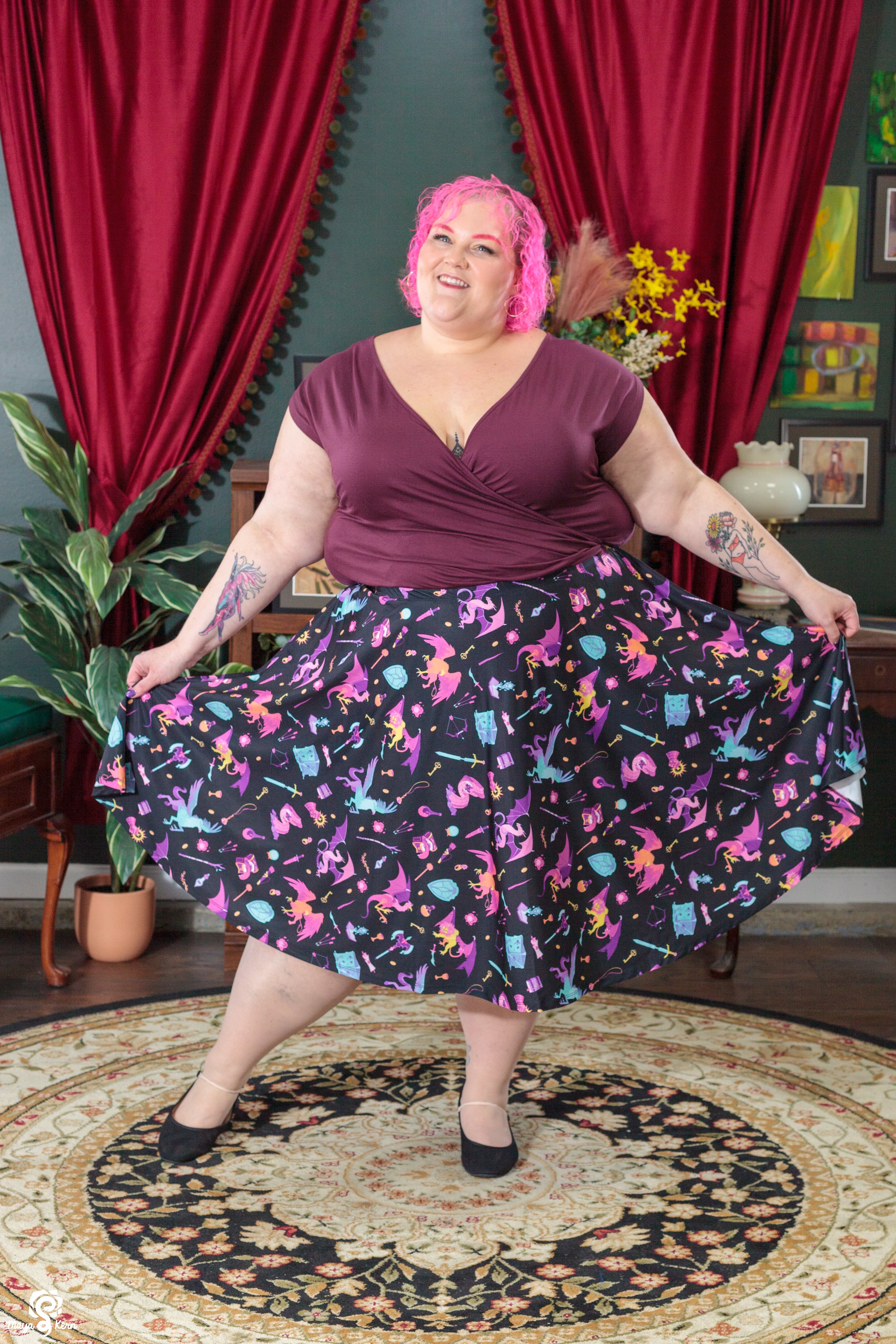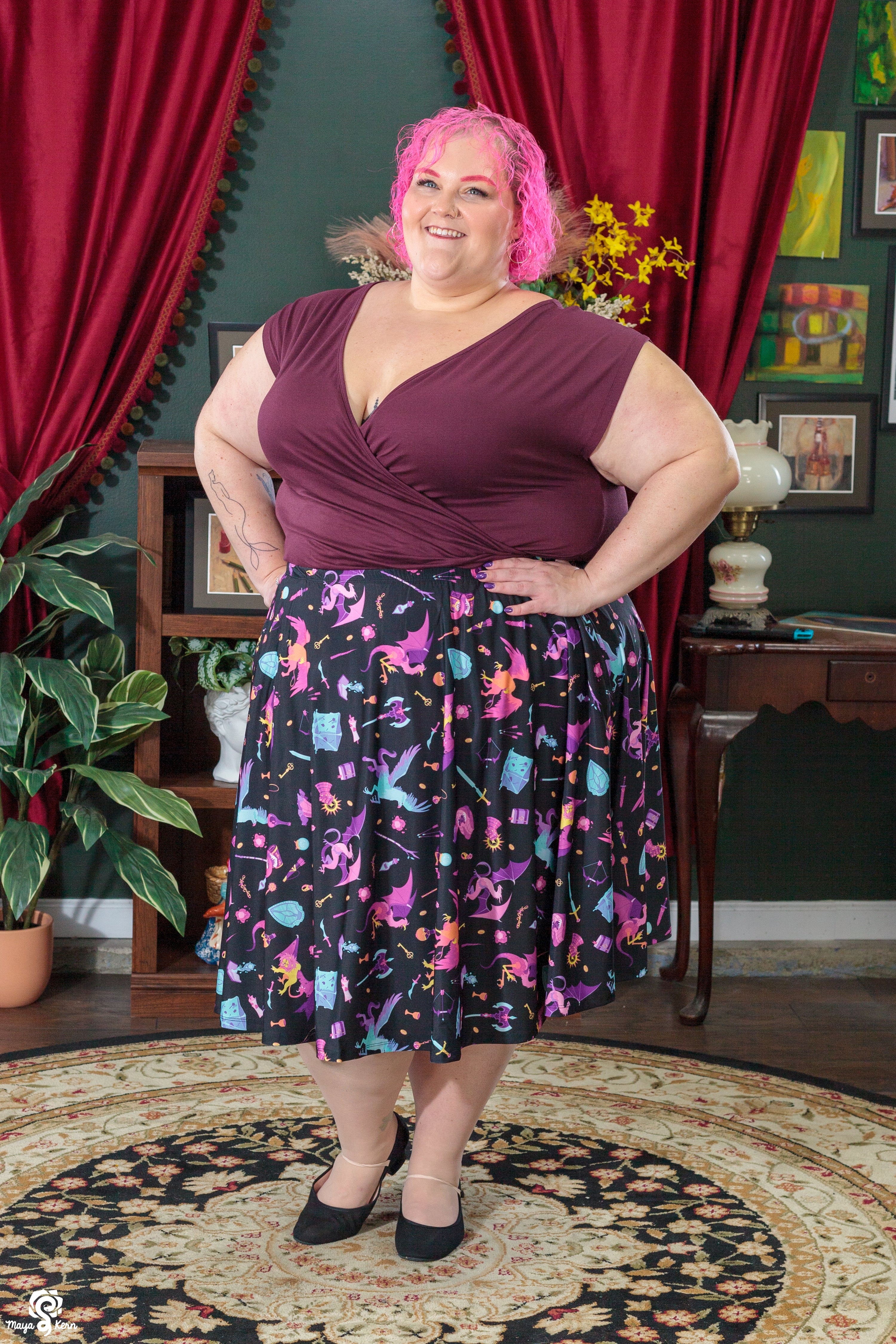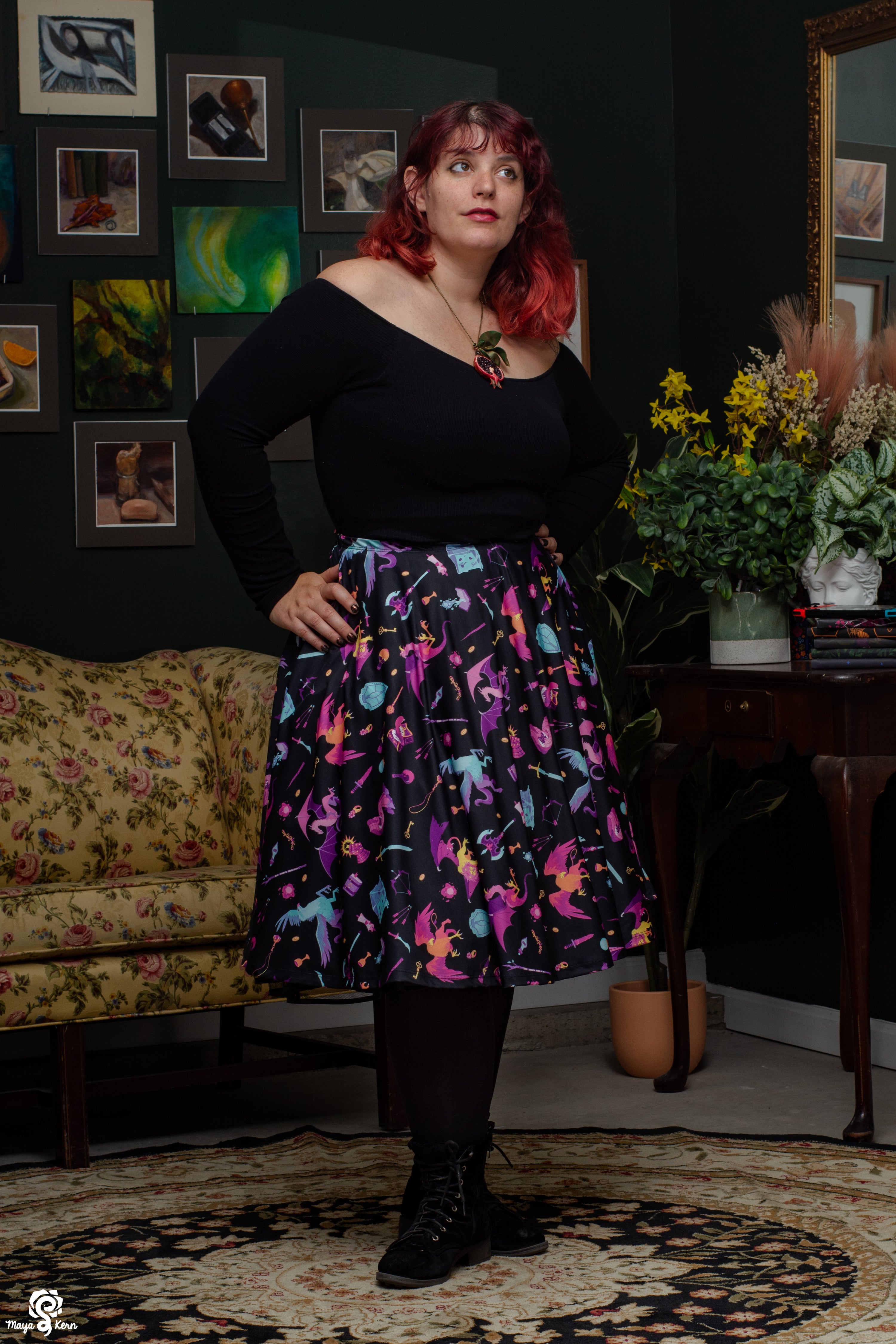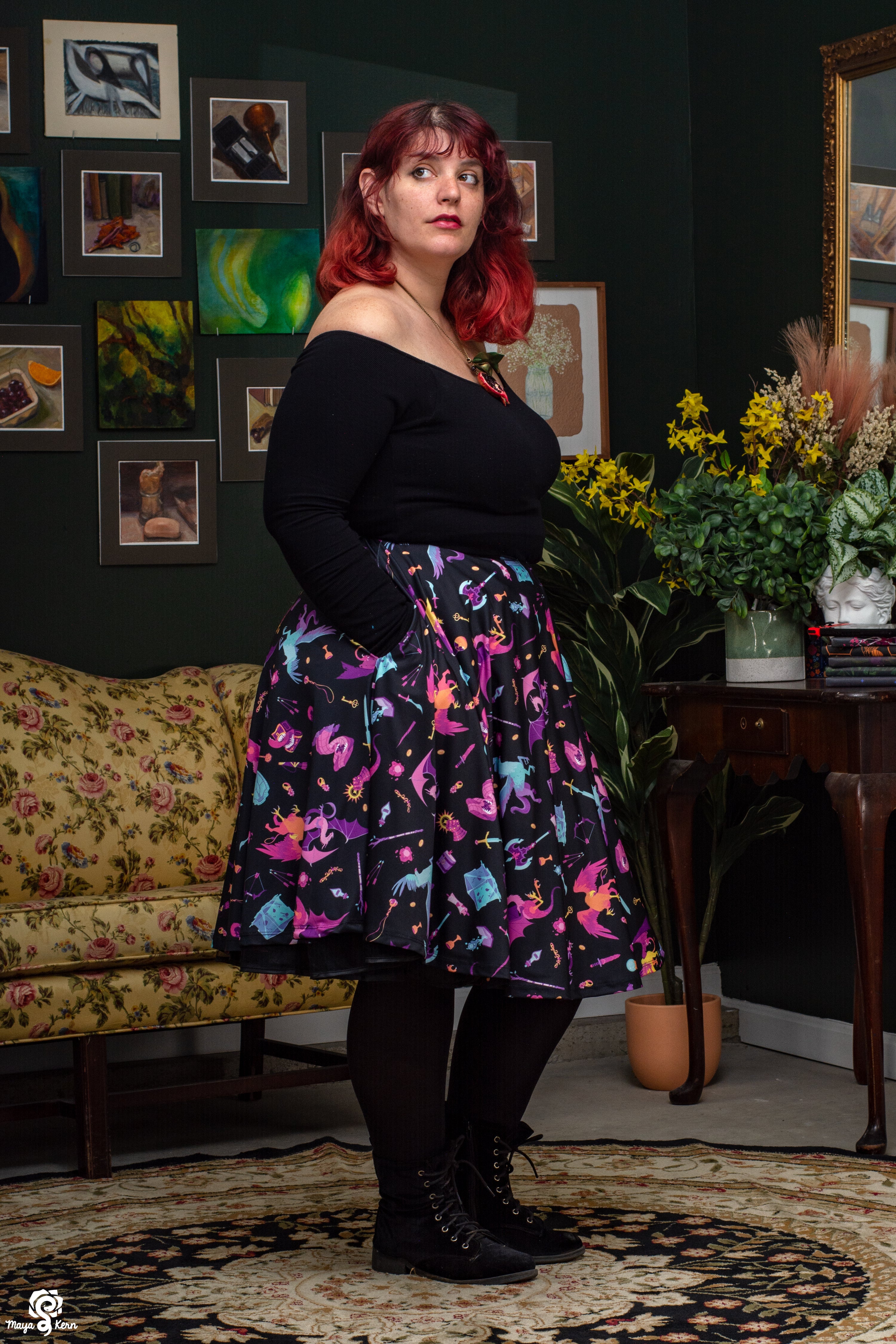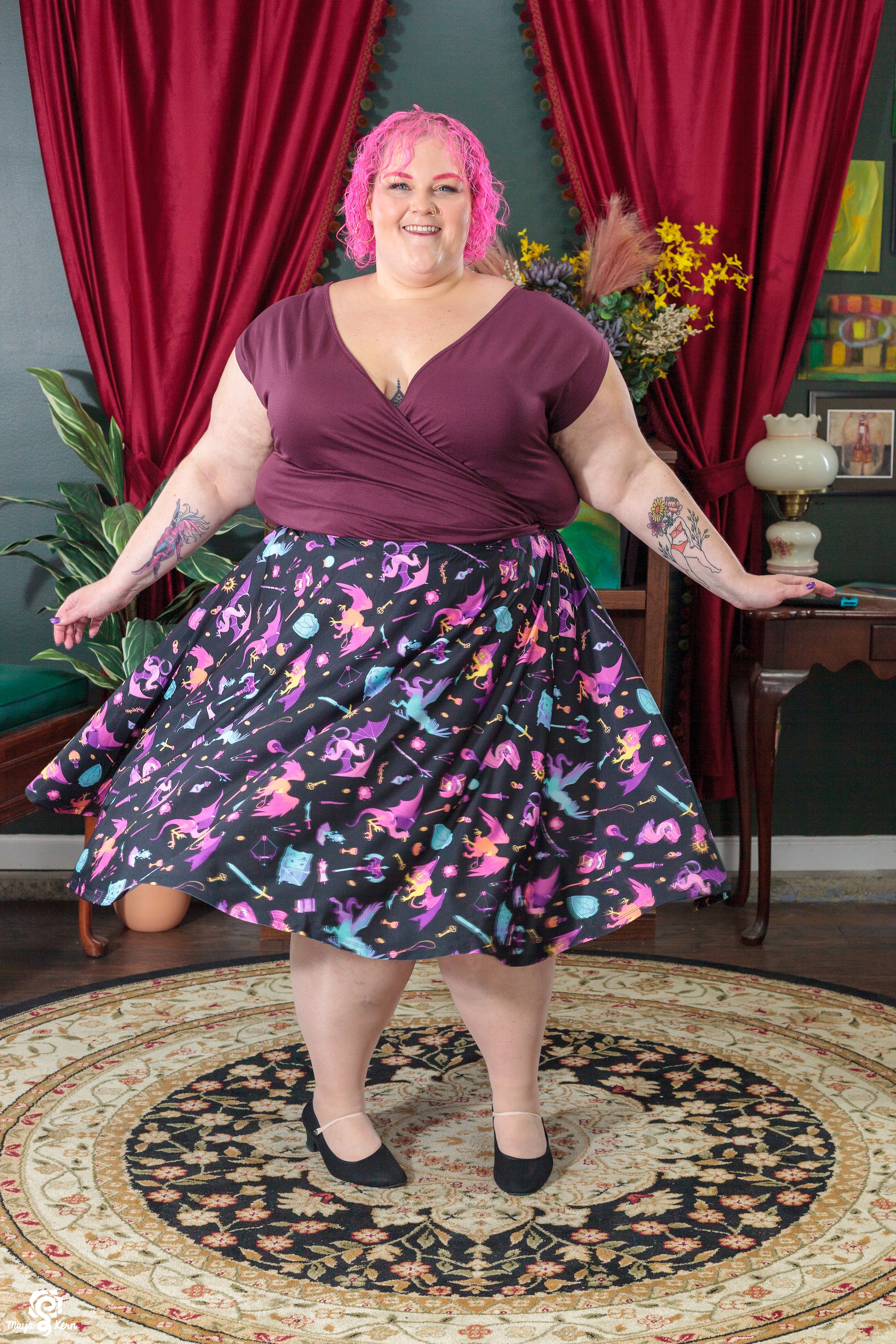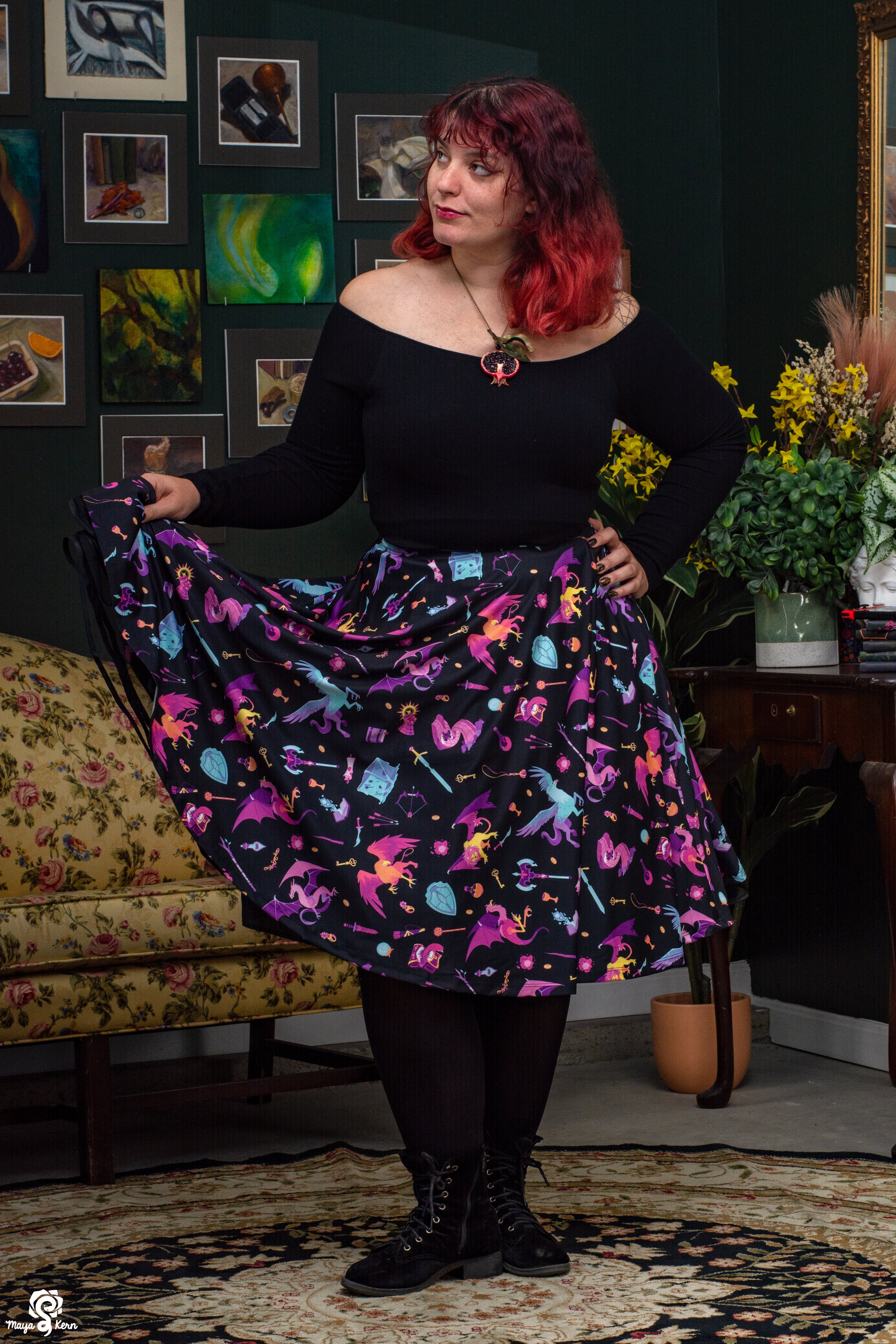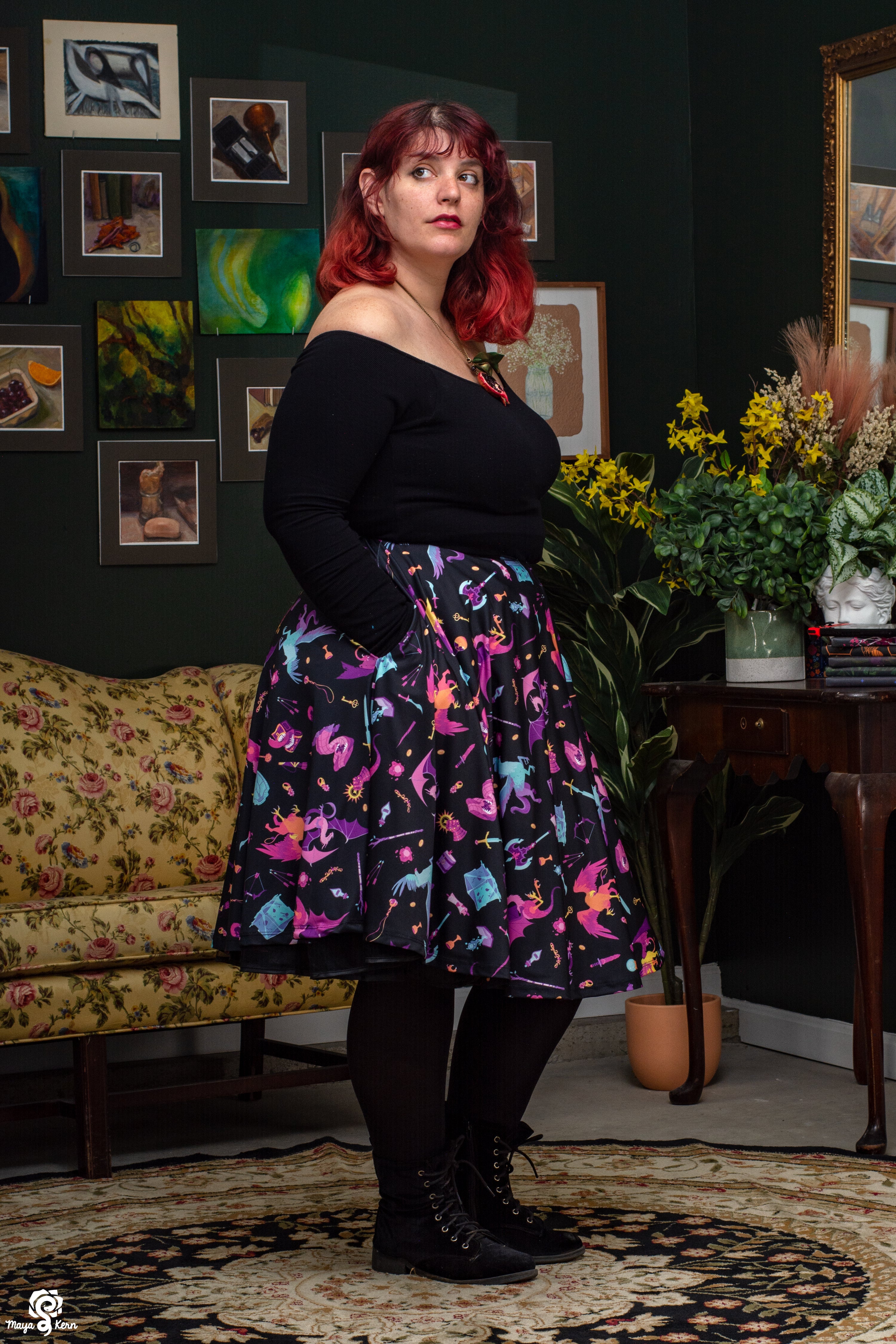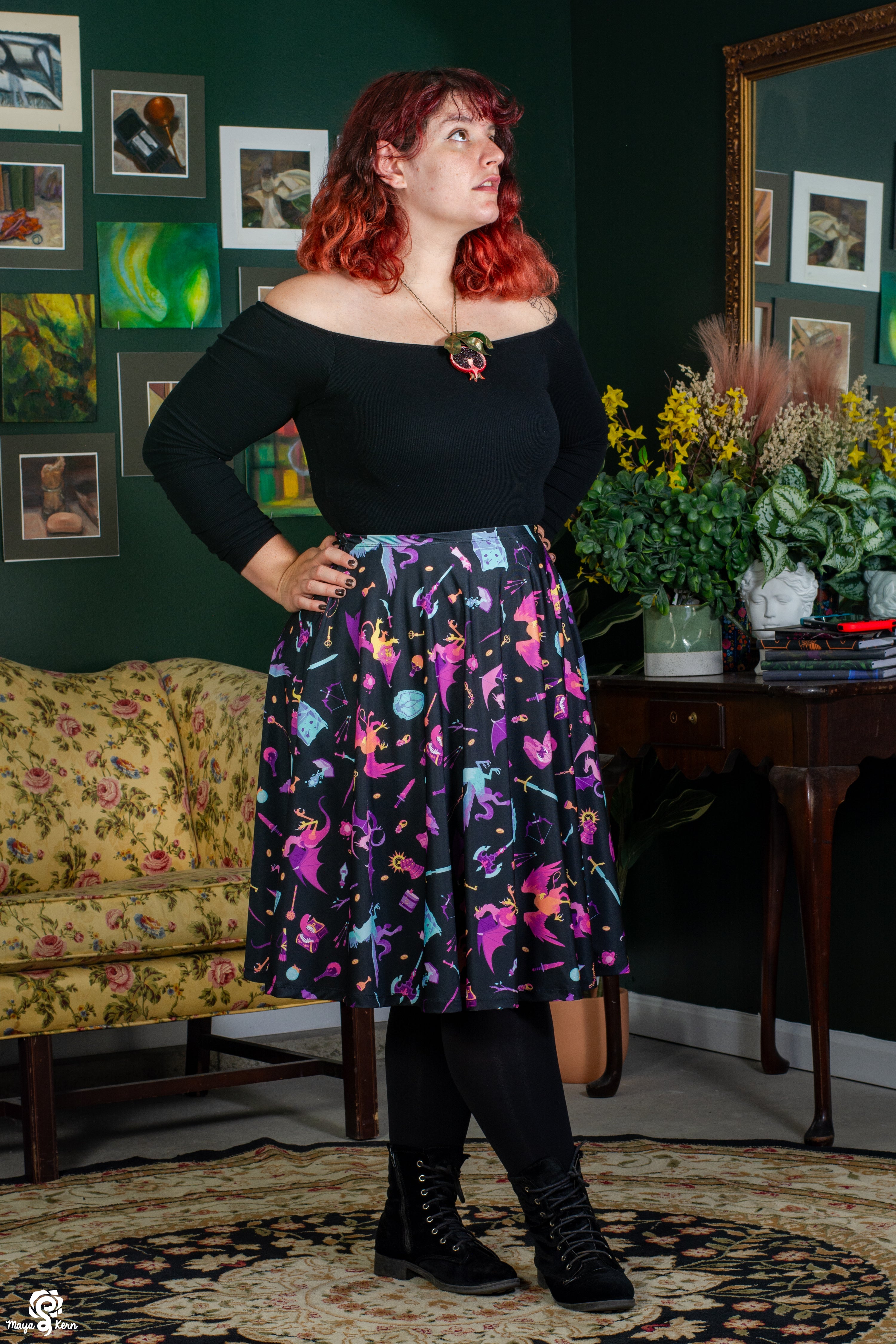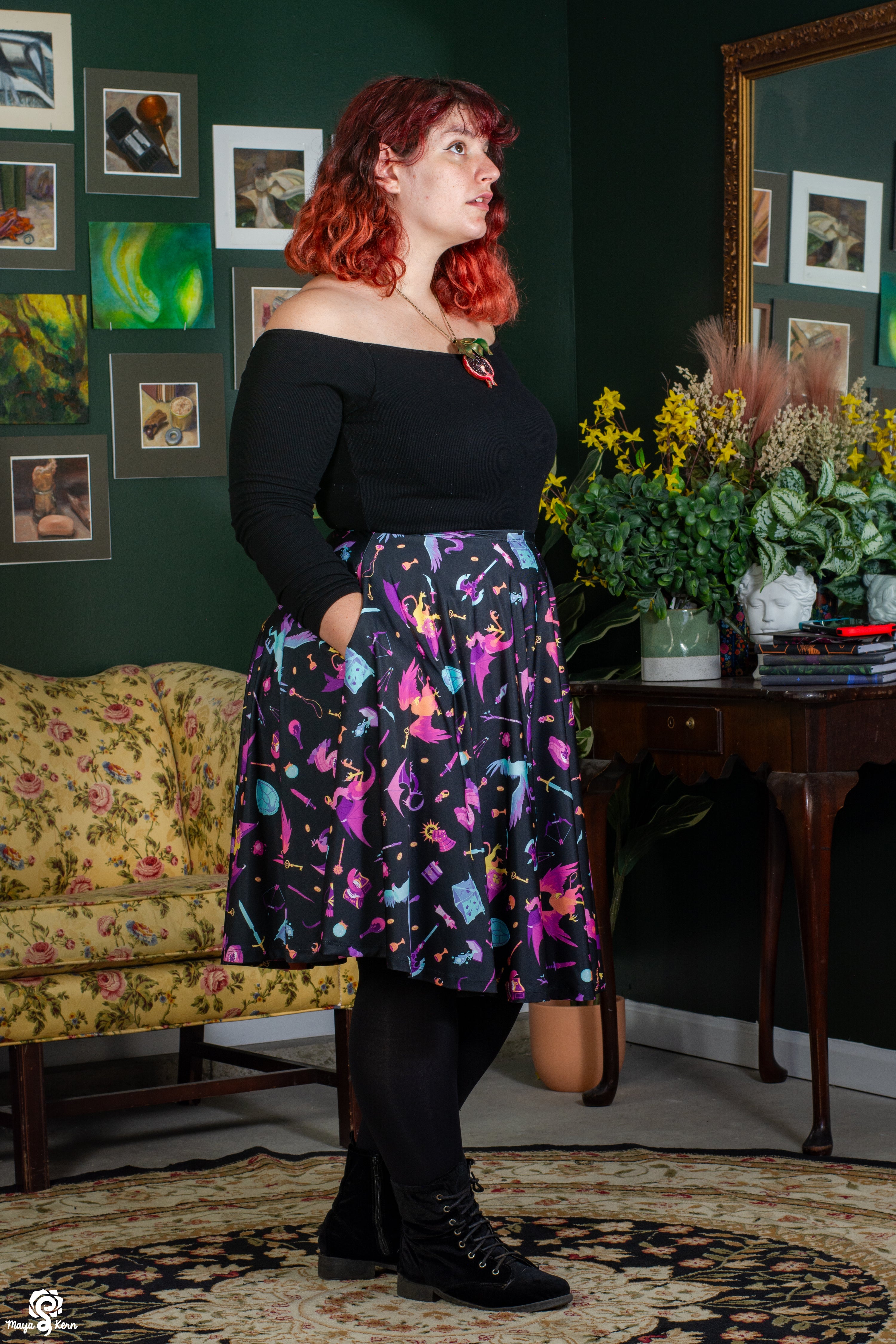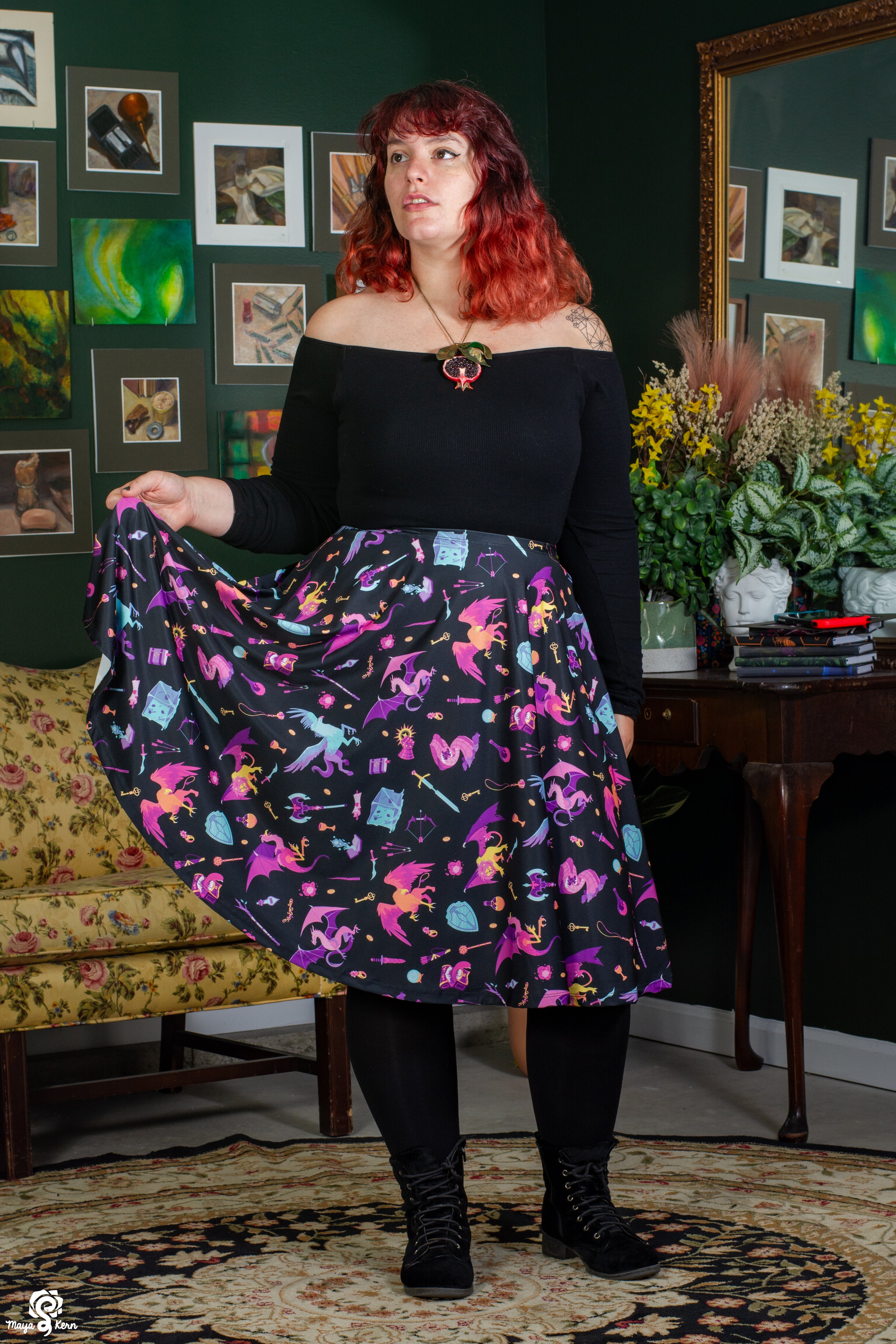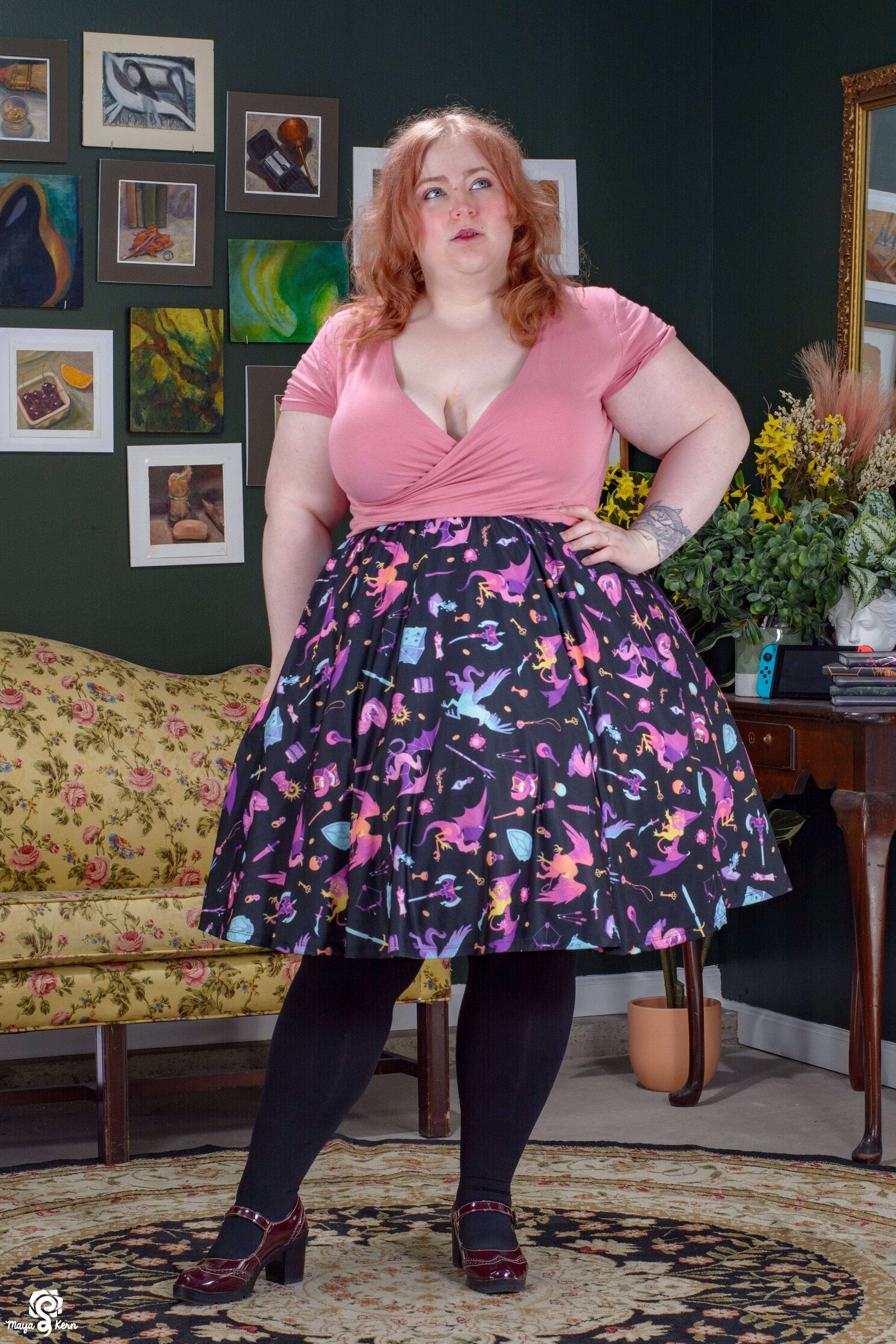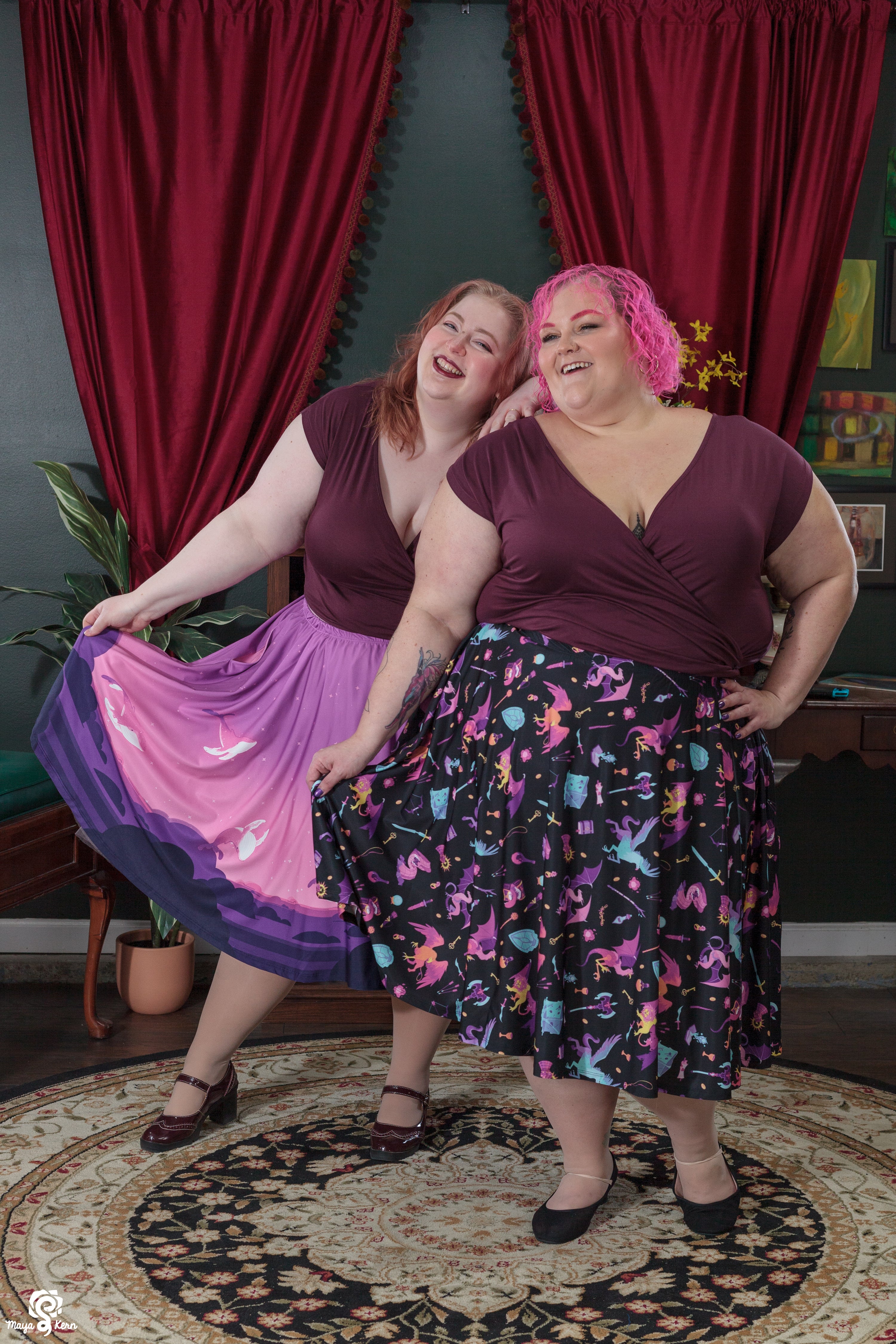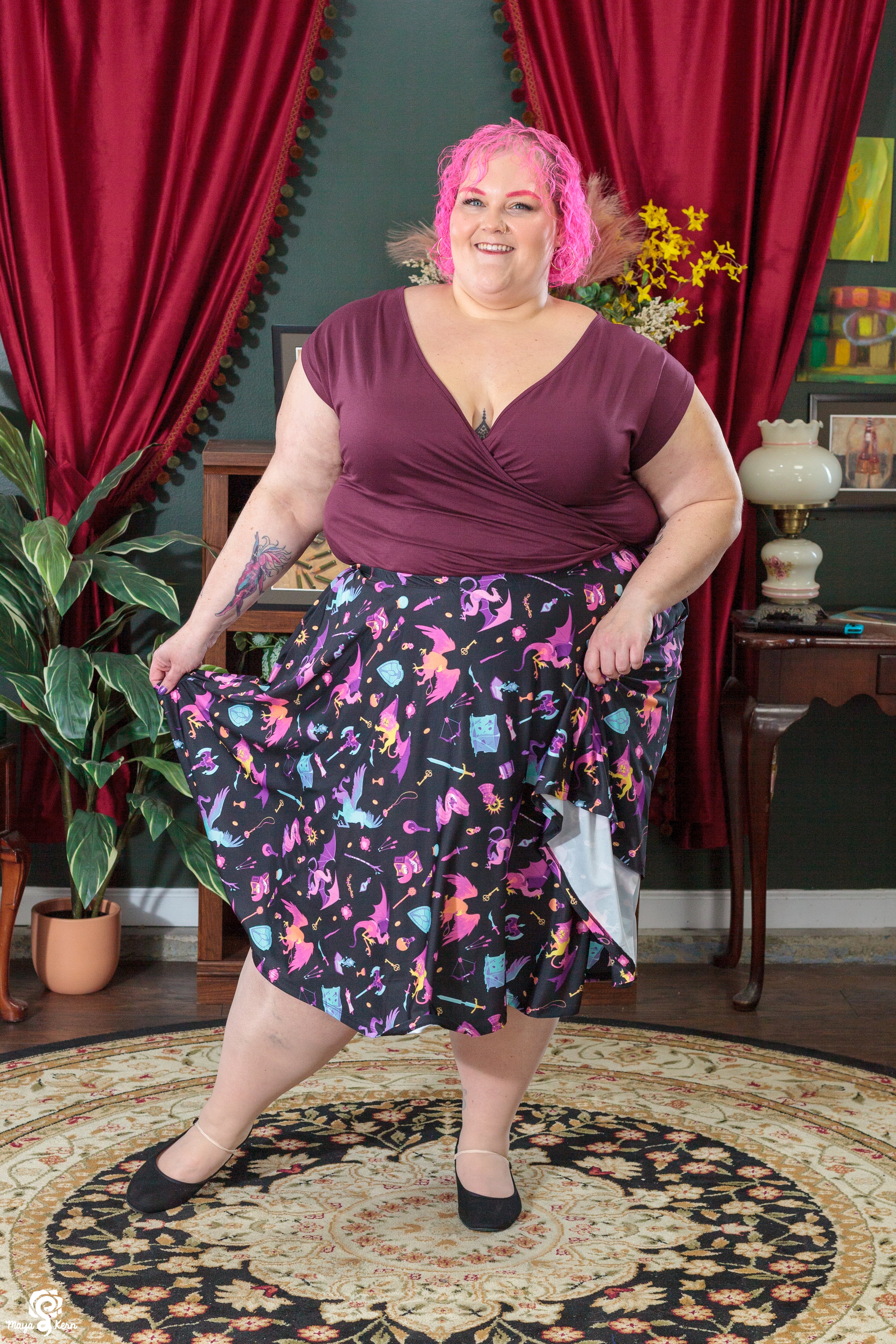 Maya Kern
Dungeon Delver: TPK Midi Skirt - Final Sale
Sale price
$45.00 USD
Regular price
$60.00
Stretchy circle skirt featuring my Dungeon Delver: TPK design on a black background. These skirts have pockets large enough to fit your phone, DS, Switch, hands, and maybe a small cat.  Petticoat not included.
These skirts come in four sizes:
SIZE A


15"-32" (38cm-81cm) waist


Length: 25.5" (64cm)

SIZE B
30"-45" (76cm-114cm) waist
Length: 25.5" (64cm)

SIZE C
40"-60" (101cm-152cm) waist
Length: 26" (66cm)

SIZE D
55"-80" (139cm-203cm) waist
Length: 27" (68cm)

These skirts are very stretchy and the sizes have a lot of overlap! If you can't decide between sizes it comes down to preference; a smaller size will fit tighter and may stay up easier if you plan on filling your pockets, and a larger size will fit looser!
These skirts are made of a polyester/spandex blend
Made in Turkey in a Supplier Ethical Data Exchange and OEKO-TEX Standard 100 certified factory. SEDEX certifies ethical labor practices and OEKO-TEX Standard 100 certifies responsible textile production, ensuring there are no harmful substances present.
Maya
Wearing skirt size C, shirt size 2X
Height: 5'5" (165cm)
Bust: 52" (132cm)
Waist: 42" (106cm)
Hips: 58" (147cm)

Ariel
Wearing skirt size A, shirt size L
Height: 5'5" (165cm)
Bust: 41" (104cm)
Waist: 30" (76cm)
Hips: 50" (127cm)

Melquea


Wearing skirt size B




Height: 5'5" (165cm)




Bust: 52" (132cm)




Waist: 46" (117cm)




Hips: 49" (124cm)

Meagan
Wearing skirt size D, shirt size 4X
Height: 5'7" (170cm)
Bust: 58" (147cm)
Waist: 56" (142cm)
Hips: 72" (182cm)
--CARE--
Wash skirts in cold water and tumble dry normally.
Best skirt ever!
I love the length, the feel how much it twirls and the pockets! It's both lightweight but durable and so comfortable to wear! Absolutely the best skirt I have ever owned, so happy I made this purchase qnd can't wait to buy more!
Pretty
Love the color. I already wore it to my D&D session to show it off.
Dungeon Devler Delivers.
I LOVE LOVE LOVE the way this skirt fits. Super comfortable and amazing quailty! The pockets are wonderful as always. I own a few of these skirts and I fall in love with them each and every time I buy one
(Photo below)
I'm also wearing one of the new wrap shirts in the photo
Love it!
Honeslty the design and size is perfect and the fact that it has pockets is even better and they are FULL sized pockets!!! Love these skirts!!!
Always Perfect
These skirts are my favorite pieces now. They've always been comfortable as well as stylish, and the new fabric is perfect for the hot summers in my neck of the woods, but the midis are long enough to good in cooler temps, too. I've never had any complaints and I don't think I ever will.